WinDaily Sports Bankroll Management- DFS 101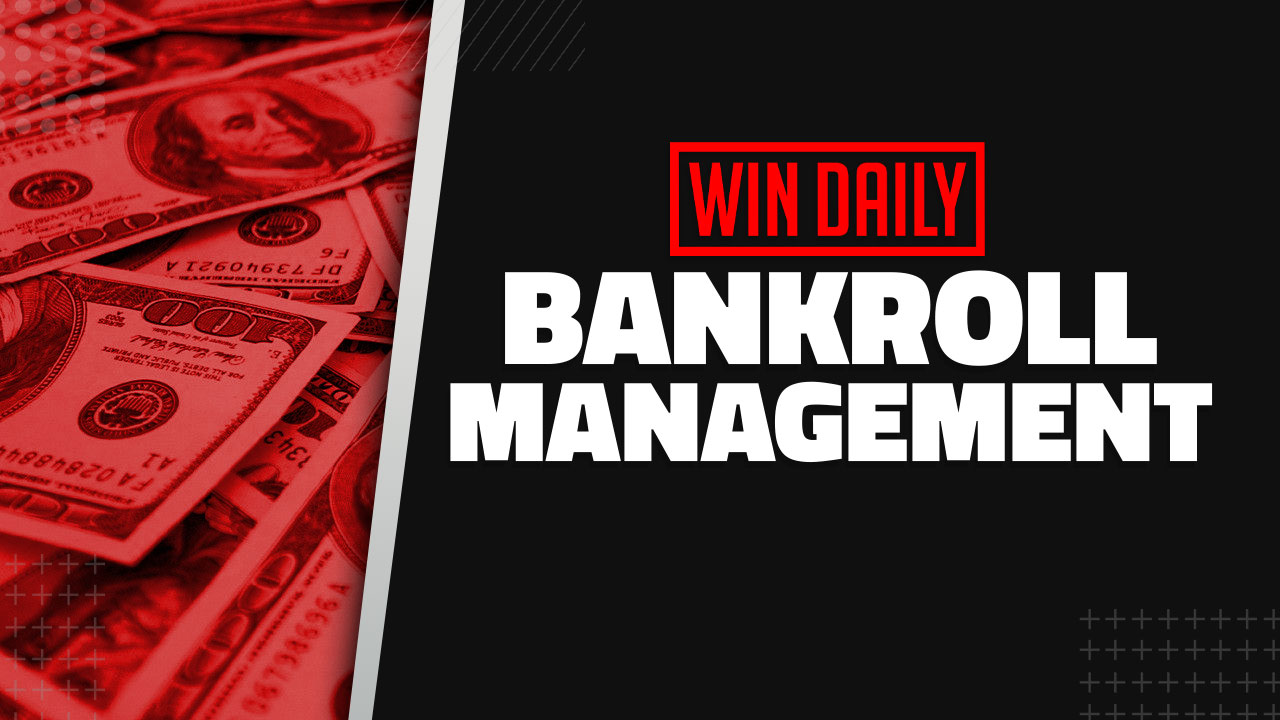 We spend endless hours here at Win Daily Sports breaking down every detail of every sport for every slate. 365 days a year we comb through injury news, matchup data, weather reports, depth charts, and coaching styles to give the the best chance to Win Daily. Our name is more than just a catchy title to grab your attention. It is a mantra that we aim to live up to inside and outside of fantasy sports. For this reason we are going to start taking deeper dives into fundamentals that you may not always think about but are no less important than the lineups that you build and WinDaily Sports Bankroll Management- DFS 101 is a step towards helping you have long term success.
If your goal is to have long term success in Fantasy Sports there are good habits that you need to develop and bad habits that you need to actively avoid. Bankroll Management is rarely talked about outside of generalized statements in most of the community but if you listen to Jason talk on our show on SiriusXM during the NFL season I know for a fact that you have heard it. He talks about taking the budget that you are willing to spend and breaking it down either into 16 smaller weekly budgets so that you don't overextend yourself in any given week. In the explanation below for ease of explanation I'll talk about a sample NFL budget 10 weeks long but you can apply this in whatever segments work best for you (by day, week, month, by sport broken down by day/week/month) so that you can understand where your budget is at any given point so that can see where you should adjust.
WinDaily Sports Bankroll Management- DFS 101 Bankroll Overview:
First thing that you need to do is take an honest stock of your financial situation. Everyone is different. Some of us can play $100 dollars a night and not think twice. Others play the quarters or dollar. The process remains the same. The one thing that you can not do is throw all of you money into a slate at any given night. We all want to hit it big but there is no worse long term choice.
Let's say for this ten week stretch you can commit $1,000 dollars to your bankroll. At this baseline you should divide this up into close to equal segments (you can move up or down on a given week based on an honest assessment of you confidence in a given slate but don't go crazy) so $100 dollars per week so here is
Money/Time= Budget or (M/T)=B or 1000/10= $100 per week
WinDaily Sports Bankroll Management- DFS 101 Contest Selection:
Everyone wants the big win, I get it. That $1,000,000 top prize is enticing. It is also no better than a lottery ticket if you are putting one or two entries in it. The players you always see up top are putting 150 entries into EVERY SINGLE CONTEST IN EVERY SINGLE SPORT. That means at the exact same skill level if you enter two lineups you have a .013% chance of winning before even taking skill, other players, contest size, or pay line into consideration. That's just head to head. Do you understand why we want you to avoid until you have the bankroll to do it? You should live in single entry in both cash and GPP until you can go toe to toe with these guys/gals. Those contests also have the worst pay structure and they take the highest percentage of cash out as rake (payment to the dfs site pulled from player entries) sometimes reaching as much as 18% of the prize pool. The question you need to ask next is how much of your money should you put in each type of contest below.
WinDaily Sports Bankroll Management- DFS 101 The 80/20/10 Rule
Here is where the rubber meets the road. How do we finally divide this up. The standard rule for the longest time was 80/20/10 but now the game has changed over the years to be a little more advantageous towards GPP's so people have started going with 75/25/10 or even 70/30/10 but the premise is the same and it just depends on your risk tolerance. The 10 is simple. It is the percentage of your total bankroll that you should spend during any predetermined period of time that you selected. We already did that when we took our $1,000 budget and divided it up over 10 weeks so $100 per the example. Of that $100 you should split it between 80% Cash games (50/50's, Double-Ups) and 20% GPP's (Single Entry). If you want to take 5% of the GPP's and apply it to the lottery tickets to have some fun have at it, we all love the big win. So taking the earlier formula (M/T) and apply the 80/20 (we already have the 10 for budget) rule and we get $80 dollars for for Single entry cash games and $20 dollars for single entry GPP's or $18 for Single entry GPP's and $2 for the lotto tickets.
(M/T)=B, then (C/B), (G/B), (B/MG) or (1000/10)= $100, then (80/100)= .08 or $80 (move the decimal two spaces to the right for your dollar number) then (20/100)= .2 or $20 for GPP, or $15 for SE GPP and $5 for Multi Entry GPP if putting the 5% in the lotto tickets. I know that sounds confusing so without the word salad it's:$1,000 total, $100 per slate, $80 to cash, and $20 to GPP's for any slate over your chosen budget period.
WHY?
The most important question, Why? Simple, we all experience periods where we struggle to hit that cash line and bankroll management aims to minimize the amount of money you lose during these down periods. In some cases, you can continue to make a small consistent profit in your cash games while not cashing in your tournaments allowing you to grow your bankroll and capitalize on GPP's easier once you have that perfect lineup.
Hope you enjoyed my Win Daily Sports Bankroll Management- DFS 101. I hope this has been an informative article for you all and that you can take the guidelines I have provided and apply them for your long-term benefit. Any questions about this or any other general strategies, any of our team members will be available all day in the WinDaily Discord chat. Don't forget to subscribe to the WinDaily Youtube channel and follow me @stoweby and @WinDailySports on Twitter to stay current and up to date on all of our fresh new content!
NFL, MLB, and Prop content creator for Win Daily Sports since early 2020. Active Army Veteran 2002-2010. 18 years as an Aerospace Structures R&D Technician (If you've flown, my hands have likely been on it). Small Business Owner. Animal Rescue Volunteer. Foster Parent. I study way to much film to not be a football coach somewhere but I still can use it to teach you all Fantasy Sports.