NFL DFS Strategy Guide: Win Daily Fantasy Football
Published
11 months ago
on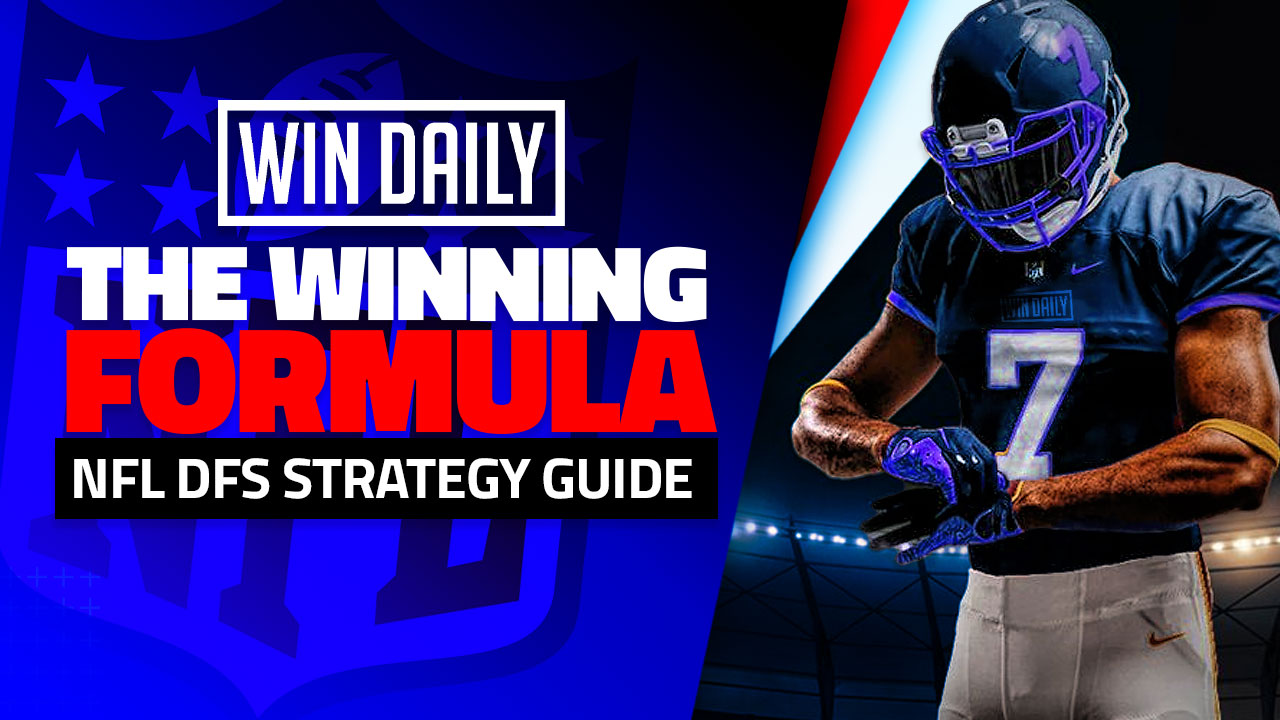 Thanks for checking out this article all about NFL DFS Strategy Guide, it's an excerpt directly from my book Win Daily: Winning At Daily Fantasy Sports And Life. Make sure to sign up for a FREE or Gold Membership here to get slate specific advice from myself and our other DFS and Sports Betting Pros!
One-week Fantasy Football has grown in popularity over the last few years and for good reason. The money being awarded to the winners of tournaments has exploded, reaching its peak when DraftKings hosted their Daily Fantasy Football World Championship, with a $15 million prize pool that awarded $5 million to the lucky first-place winner. DraftKings and FanDuel are now running weekly Millionaire Makers awarding $1 million to first-place finishers every week this season. What better way to enjoy the NFL season than to go after a million-dollar prize. It's more appealing, too, because you can draft a new team each week and not have to worry about shuffling around injured players and draft busts. What you will read below is a step by step guide to NFL DFS Strategy Guide.
Many DFS players consider NFL DFS preferable to MLB and NBA DFS because fantasy players get multiple days between games to research their teams. In addition, there are many great resources out there to break down players' performances from the previous week and to project their success moving forward. For the casual player who wants to dabble in DFS, I always suggest starting with the NFL. It's the same advice I give to family and friends. There are plenty of statistical considerations to get into, but first let's break down the differences between DraftKings' and FanDuel's scoring systems.
| | | |
| --- | --- | --- |
| Offensive Scoring | DraftKings | FanDuel |
| Passing TD | +4 | +4 |
| Passing Yards | +0.04/Yard | +0.04/Yard |
| 300 Yards Passing | +3 | N/A |
| Interception Allowed | -1 | -1 |
| Rushing TD | +6 | +6 |
| Rushing Yards | +0.1/Yard | +0.1/Yard |
| 100 Yards Rushing | +3 | N/A |
| Receiving TD | +6 | +6 |
| Receiving Yards | +0.1/Yard | +0.1/Yard |
| Reception | +1 | +0.5 |
| 100 Yards Receiving | +3 | N/A |
| Punt/Kickoff/FG Return for TD | +6 | +6 |
| Fumble Lost | -1 | -2 |
| 2-Point Conversion | +2 | +2 |
| Offensive Fumble Recovery TD | +6 | +6 |
Something that immediately stands out here is that the two systems are very similar, down to the points per yard on passing, receiving, and rushing yards. However, you'll see that DraftKings awards a full point per reception, while FanDuel gives 0.5 points, a seemingly small distinction but one that may play into your roster construction, as your high-volume receivers, running backs, and tight ends are twice as valuable on DraftKings.
Another key distinction here is that DraftKings awards an extra three points for the milestones of three hundred passing yards, one hundred receiving yards, and one hundred rushing yards. This should definitely factor into your lineup construction, as you're looking for players on DraftKings who are likely to have a huge breakout game, so you can get those bonus points on top of all the points they've already accumulated for you with their raw yardage.
| | | |
| --- | --- | --- |
| Defensive Scoring | DraftKings | FanDuel |
| Sack | +1 | +1 |
| Interception | +2 | +2 |
| Fumble Recovery | +2 | +2 |
| Interception for TD | +6 | +6 |
| Fumble Recovery for TD | +6 | +6 |
| Blocked Punt or FG Return for TD | +6 | +6 |
| Safety | +2 | +2 |
| Blocked Punt or FG | +2 | +2 |
| 2-Point Conversion / Extra Point Return | +2 | +2 |
| 0 Points Allowed | +10 | +10 |
| 1-6 Points Allowed | +7 | +7 |
| 7-13 Points Allowed | +4 | +4 |
| 14-20 Points Allowed | +1 | +1 |
| 21-27 Points Allowed | 0 | 0 |
| 28-34 Points Allowed | -1 | -1 |
| 35+ Points Allowed | -4 | -4 |
Defensive scoring is exactly the same. You'll get big points from defenses who don't give up many points and get a lot of turnovers. This shouldn't be all that surprising for you, though, so let's take a look at roster construction for the two sites.
As we get into rosters, it's important to note that neither league includes kickers anymore on classic slates, a change that went into effect for FanDuel in 2018. The positions you must fill on each site are:
| | |
| --- | --- |
| DraftKings | FanDuel |
| QB | QB |
| RB | RB |
| RB | RB |
| WR | WR |
| WR | WR |
| WR | WR |
| TE | TE |
| FLEX | FLEX |
| Defense/Special Teams | Defense/Special Teams |
The lineup construction has changed over the years, so now the two leagues are exactly the same in this regard. If you're familiar with football, you should recognize all these positions. Except one, that is. Let's talk about the FLEX. The FLEX spot for both sites can be filled with either an RB, WR, or TE. This gives you the opportunity to have three RB's in your lineup, something that may pay off for you if you identify backs who are lining up against weak run defenses, especially in games their teams are favored to win, likely resulting in heavy second half touches during garbage time to run the clock down and preserve the win. If you remember the scoring breakdown, though, DraftKings awards a full point per reception while FanDuel gives only 0.5 and DraftKings gives bonuses for yardage milestones, so the way you use this FLEX position should differ between the two leagues. When you're on DraftKings, you should strongly consider using the FLEX for pass-catching running backs and highly targeted receivers and tight ends.
" If what you did yesterday seems big, you haven't done anything today."
–Lou Holtz
Football is a shorter season than other sports, with each team only playing sixteen games, so you have plenty of time for research, but every game counts quite a bit more than in baseball. There are certain statistics you should focus on to be successful. First, take a look at a player's fantasy points per game. You can see how many fantasy points players average and what their totals are from week to week. If you're looking for a place to start, here you go. This is where you'll begin to get a feel for who the top performers are. As you get into your research, you can make the distinction between them and your value picks that may be less obvious. Our site provides projection models that estimate weekly scoring for each player on the slate. I make my own personal adjustments based on my research and update that daily as the week goes on. My goal is to narrow the player pool down by Saturday night. Of course, the more time I have on a given week affects the number of players I may have to choose from. Football is a sport with a great amount of variance, so I try to be selective with my player pool. At the same time, though, I want to add in potential low-owned high-value players that could be in line for a breakout game. To get a sense of a player's consistency, take a look at their variation from week to week, which is usually represented by standard deviation. When you draft a high-priced player, you want to be sure that even if they have a down week, they'll bring you at least fifteen to twenty points and won't kill the rest of your lineup.
Quarterbacks (QB's) are essential and less volatile than other positions in your lineup because they get so many opportunities to succeed each week. Not all QB's are consistent, of course, but you won't see many QB's get pulled out of games at halftime or see their attempts fluctuate too wildly from one start to another. Typically, quarterbacks on losing teams perform better in fantasy than quarterbacks on winning ones. This makes sense because when teams are losing, they are going to adopt a more pass-heavy game plan in order to score as quickly as possible, and when they are winning, they will turn to the running game to drain the clock. However, this fact doesn't mean you should target every underdog quarterback over the favored ones. If the matchup looks great for a certain quarterback, you should take him even if he's favored to win the game. The team may shut down the passing game with a lead later on, but they likely will have built that lead with a strong aerial attack. Game script matters, but not so much to keep you from taking a great matchup. Ideally, you want a good QB on a team with a weak defense and no good RB's. That way, the team will be down frequently in games and have to throw more often. Because fantasy points are all about accumulation, it doesn't matter if his completion percentage is terrible, as long as he's racking up yards and TD's for you.
Mobile quarterbacks are great picks for DFS because they can rack up points for you in multiple ways. Passing yards are worth 0.04 pts/yard, but rushing yards are worth 2.5 times more at 0.1 pts/yard. So, if you're choosing between two QB's, you should take the one who might be able to get outside the pocket and break out for fifty yards rushing at some point during the game—if he does, that scramble would be worth five points for you. On good days, a dual-threat QB like Cam Newton will rush for eighty yards with a rushing TD, giving you a fourteen-point boost in addition to all his passing yards and TD's. Touchdowns are hard to predict on a week-to week basis but there are certain factors we can look at with QB's to help us predict who's going to rack up TD's that week. First, you can look at scoring rates. What percentage of the team's scores come from the passing game? What percentage of the red-zone scores are through the air? Looking at scoring rates of both the quarterback's offense and the defense he's facing that week can give you an idea of how often he'll get into the end zone.
As you choose your RB's, WR's, and TE's, take a look at snap counts, touches, and targets per game. You want guys who are on the field, get handed the ball, and get thrown the ball a lot. Snap totals are really important for offensive players. If a player is in a timeshare situation or is battling an injury that's affecting his snaps each week, he may not be out there when the defense shows a weakness and the offensive coordinator figures out how to exploit it. You might have a guy in a new system who hasn't won over his coaches yet, or is dealing with a nagging injury, or is just getting outplayed by somebody else at his position.
You can also see how those snap totals are trending. If a player is staying on the field more and more in recent weeks, that's great, as he's keeping himself in a position to rack up points. However, if he's seeing less and less time, you should fade that player, even if he's a big name. Go with the guys who are going to be in the middle of things all the time. Remember that fantasy points aren't based on averages. If a certain back is averaging four yards per carry, that's great, but doesn't do much for your fantasy team if he only gets ten touches in a game. Avoid these kinds of timeshare players who split their action with another guy in their position. A bell cow-type RB who gets closer to three yards per carry but gets the ball thirty times a game is the type of guy you want to target. Volume, volume, volume. Take a look at those touches per game and target those guys week in and week out.
Something to remember as you look at your options, though, is that just like with QB's, many factors can affect a back's touches throughout the game. If a team is up a lot of points early in the game, even the most pass heavy offenses will pull back in their offensive approach and start handing the ball off more frequently to their running backs. The converse is true, as well. If you target an RB who usually gets thirty touches a game, but his team is down twenty-one points heading into the second half, it's unlikely that the player will get many rushes. His teams will likely try to make up the difference with downfield passing plays, leaving him out of the offensive scheme unless the team has dual-threat receiving backs.
The same is true for receivers: go after the guys who get targeted a lot. The number of targets a particular receiver totals indicates how useful he is to the team. With receivers, you should consider Receiver Air Yards (RAY). The statistic adds up the total number of yards thrown toward a receiver on plays in which he's targeted—both completed passes and incomplete ones. Basically, it gives you a raw number of what would happen if all his targets had turned into catches. This gives you a sense of how much a receiver is a part of his offense's scheme and helps you compare value between different types of receivers. An important thing to note about choosing a receiver, though, is that the two systems reward different types of receivers. With the yardage milestone bonuses and a full point per reception, DraftKings rewards possession receivers who get targeted a lot. For instance, a guy who gets ten catches for one hundred yards, basically just moving the chains, would rack up twenty-three points on DraftKings compared to fifteen on FanDuel. So, on DraftKings, the better pick isn't the exciting player who can stretch the field on long passing plays once or twice per game, tempting as they might be to add to your squad.
Speaking of long passing plays, a statistic to keep in mind is yards per catch (YPC). A player who is near the top of the league in YPC is more likely to get open down the field for a long touchdown catch than a possession receiver whose game is more geared toward getting first down catches to keep the chains moving. If you're looking for deep threats, YPC is where you want to look. If you're not sure about a deep threat receiver, take a look at his quarterback's yards per attempt (YPA). A quarterback who's averaging around five YPA is simply not looking to stretch the field with deep passes, but if he's up closer to ten, there's some big-play potential for that receiver of yours. A player's success depends on his quarterback and team's offensive schemes. Take, for instance, TE Jimmy Graham. He put up great numbers while in New Orleans in a pass-heavy offense centered around Drew Brees. After going to Seattle, his production plummeted. The Seahawks' system wasn't as compatible with his strengths, since he preys on slower linebackers who are forced to cover him down the field.
As you target players, take a look at how they've performed in their current system as well as their historical performance. Something that made Jimmy Graham so effective in New Orleans was that he was targeted in the red zone nearly every time because of his height and ability to high-point a catch for a TD.
Red zone targets are another important statistic to look at, as you want the guys who get the ball around the goal line, so you can rack up those six point TD's. There have been quite a few NFL rule changes over the past few years that benefit offensive players. Defensive backs aren't allowed to hand check and hold nearly as much as they used to, and pass rushers basically can't touch the quarterback at all. Both of these changes have made passing easier. Rule changes to protect receivers, making it illegal to hit defenseless receivers or hit them in the neck/head region, have resulted in more missed tackles and bigger windows for receptions, too. These changes have raised the stakes on your offensive drafting. Offense in NFL DFS has always been important, but these rule changes have made it even more so.
When putting together your team, choosing the right defense will also be important. Because you get points for sacks and turnovers as well as for holding opposing offenses to fewer points, it's a smart strategy to target teams who get great pressure on the quarterback to force turnovers and hold offenses to low point output. Taking a look at defense value over average (DVOA) is a good place to start when researching defenses. DVOA calculates a team's success each play during the season and how successful they are compared to the league average for that down and distance. A defense that ranks near the top in DVOA is better on average week in and week out than the rest of the league.
Go after the defense that has proven to be able to game plan against their opponents to hold them to fewer points than other defenses. Also check out what they defend against well and what they don't. Some teams are really good against the run but have a weak secondary, and vice versa. A team may have a great DVOA because of their secondary, but if they have an average defensive line and linebacking core and are facing off against a team that's averaging well over one hundred yards in rushing each week, they're likely to see that DVOA ranking drop after giving up a lot of points on the ground.
The same is true with passing defense numbers. Remember that the game is skewed toward the offense now, and the best offensive teams in each category will beat the best defensive teams in that category. The best way to target your defense, though, isn't really about the defense at all. It's most important to pick your defense based on their opponent. Low-scoring offenses rarely have breakout performances, no matter who they're up against. So, as you pick your defense, start your research by taking a look at the worst-performing offenses and who they're playing that week. Especially look to target teams missing their starting QB, key pieces of their offensive line, or their stud RB.
As you identify good matchups, be aware that weather can have an effect although not as much as you might think. Light rain, snow, or wind doesn't have much of an effect on offensive players. However, heavy snow and rain can make it more difficult for quarterbacks to throw well, for running backs to hold on to the ball, and for receivers to complete receptions. During snowy games, the amount of accumulation on the ground is very important: while offensive players may be slowed down a bit, defensive players are too, which can open up some great opportunities for long catch and-run TD's.
Heavy winds over 20 mph are rare but do occur several times throughout each season. Strong wind will have the worst effect on the offense, affecting quarterbacks and the receiving core most. Be sure to check out the weather reports the day of the games to see if any weather threats are affecting the players you have chosen. Games played in domes are typically good for offenses, as players will be able to play faster with more sure footing. Identifying offenses with fast skill players who are playing inside that week is a good plan: their speedy guys might be able to break through for big gains during the winter months when other teams' offenses will be slowed down by heavy snow, rain, and frigid temperatures.
Something else to keep in mind is that injuries are common in the NFL. Reading the practice reports as they come out during the week will be crucial to your success. If a player is inactive or if he's questionable, take a look at his replacement, especially if it's an RB in a run-heavy offense or a WR in a pass-heavy one. Teams won't change their entire offensive structure just because a player is out that week. They will plug the next guy in and keep right on going. These players will typically be flying under the radar, as low-owned backups. However, be careful about reading too much into these reports, as teams are deceptive in their approach and disclose as little as possible about their players' injuries so that their upcoming opponents don't catch wind of a crucial injury.
Bye weeks are crucial for players who are battling nagging injuries. If there's a player who's been listed on his team's practice report as question- able for a couple weeks due to a minor injury, but he gets a full bye week to rest, he could be a good buy-low candidate if the team goes into a matchup that will favor them. After an extra week of rest and treatment, he might be lined up for a breakout performance. The converse of that is when players are coming off a short week or flying cross-country, getting less rest between games. Be especially aware of which direction teams are flying each week. If one of the players you're considering is on a West Coast team and is heading east to play an early game in the 1:00 p.m. slot, you may want to slide down his projection a tad. That's a tough adjustment for the player to make, and if you're considering two players side by side, that might make the difference for you.
Low-owned players in general should be a place for you to look for value picks. If somebody is struggling early on in a new system or battling injuries but is facing off against a weak defense or other conditions that favor him, it would be a good bet to take a flier on him as a value pick who may break out. This is especially true when players face off against defenses with certain weaknesses. Maybe an RB is having a tough season but is playing a team with a weak defensive line. That's a great opportunity to get some value out of a cheaper pick. Similarly, middling receivers versus banged-up secondaries are worth checking out.
We talked about stacking with the MLB, and you can stack in football as well. Stacking your QB with your receiving core is a great idea, as you'll get points on both ends. In 2017, QB/WR stacks earned 20+ points fifty-two times, or 3.05 times per week. This is a tried-and-true strategy for racking up big points.
Stacking QB/RB is a little more complicated. If the RB on the team catches the ball well out of the backfield, something players like Alvin Kamara do on a consistent basis, you can stack the QB with the RB. This is especially true if the defense they're facing that day runs a scheme that leaves RB's out of the backfield uncovered or left to a slower linebacker. You can uncover a great matchup by researching little tidbits like this. However, the only time you'd want to stack a QB with an RB is if he catches the ball out of the backfield a lot. In 2017, there were only twenty-five occurrences of twenty point QB/RB stacks, or 1.47 per week. There just aren't that many Alvin Kamaras and Christian McCaffreys out there who are heavily involved in their team's passing offense. Because you're looking for an accumulation of points, you don't want to take a QB and an RB out of a balanced offense and get a marginal return from both. It would be better for you to take a QB from a pass-heavy offense and an RB from a run-heavy one. That way, you're taking the biggest producers from each offensive scheme.
You can also stack the entire game, just like with baseball. If you take a look at the Vegas line and the game is projected to be close and high-scoring, you might have a shootout on your hands like Super Bowl LII in 2018. As long as you don't pick either of the defenses, this situation could really pay off for you. You'll get points from both offenses as they go back and forth throughout the game. The longer defenses stay on the field, the more tired they get, so that production is only going to increase as you head into the second half. Think about stacking as a series of correlations. If you stack your QB and WR, you're betting that they're going to connect for a lot of passing yards and a couple TD's. You want these sorts of dependent relationships. Look at how good the two future Hall of Famers Tom Brady and Randy Moss were when they were in New England together. If you took Brady and Moss, not only were you getting two players at the top of their game, every time they connected you would rack up points with a compounding effect.
You can think about correlations for defenses, too. If you pick a defense to hold their opponent to a few points, the correlation strategy would be to pick that team's RB as well. If the defense does what it's supposed to, the team will likely maintain a lead throughout the game and run the ball a lot to wind down the clock. You'll also want to examine Vegas lines for all the games on the slate to look for potential full game stacks, to note games to avoid, and to help predict game flow. If the over/under for the game is in the mid to high 50s and the spread is minimal, the betting world is expecting a back-and-forth shootout, an ideal situation for DFS and full game stack purposes.
Vegas is only a prediction tool, though, and games with lower totals could provide the same high-scoring shootout with the added bonus of low ownership, so don't be afraid to full game stack a lower Vegas total game. You can also take a look at the games with a low over/under and pick up one of those defenses. Use the over/under as a reference point for the players and team projections you are crunching.
Check out the spreads as well. If a team is heavily favored, you can use that information to your advantage, as we discussed with blowouts, and pick up the RB that will get a lot of touches late in the game to run down the clock. Likewise, if a team is expected to lose big, that would be a good sign that you should target their QB or top WR. For full game stacks to pay off, though, you want the game where two bad defenses are squaring off, and you can anticipate a shootout. Then the plan is to stack four to six players with proper correlations. A good combination would be two to four QB-WR TE from your predicted trailing team along with one to three RB-WR-TE from your predicted leading team. Simply put, combine whoever you think will come out on top with an RB and some receivers, along with the trailing team's QB and receivers. Then, to round out your team, you can sprinkle in some value players or high-end guys from other games.
Your strategy should be different depending on the kind of game you're playing, though. In 50/50s and Double Ups, where half of the field is getting a payout and you just need to finish somewhere in the top half in order to get paid, you want consistency. Take the players who perform well week in, week out and who are in great matchups. Don't take chances in these games, as it doesn't pay to gamble on the hopes of finishing first, but it does pay to raise your floor and minimize your risk.
With GPP tournaments, though, you're trying to win the whole thing and beat the field. This is where taking risks will pay off for you. Identifying more high-risk, high-reward players will be worth your time. Players who aren't highly owned would be a good fit for these tournaments, as every point you accumulate with them will jump you up the rankings, as you'll be one of few players with them on your roster. These high-risk players could be guys who have been injured but are coming off bye weeks or guys who haven't produced very much thus far but are facing an exploitable defense. For both DraftKings and FanDuel, you can swap out players until their game starts at kickoff. A great way to use this window to your advantage in tournaments is by filling your FLEX position wisely. If you put the player with the latest start time in that spot, you can sub in an RB, WR, or TE if your FLEX player goes down to illness or injury, giving the FLEX position even more flexibility with swaps later on in the day pending injury news or where your lineup stands. It will open up more players for you to choose from and more opportunities to make late swaps to low-owned players. If you're way out of contention heading into the last games of the slate, this is your opportunity to find players who aren't owned very heavily but have the ability to break out for a huge game and swap them into your lineup. Assuming that you are almost drawing dead and you need a miracle, your best possible scenario is to take a shot on a high-risk, boom-or-bust player who you believe will be low-owned. You have nothing to lose and everything to gain, so if you find yourself in this position, roll the dice and take a chance.
To help you make decisions, you should also know what the pros in the field are saying. Follow the news and insider reports as they come out throughout the week. Things change in the NFL with each passing day and practice. Watch the one-on-one matchups and break each matchup down to its core. Be leery of shutdown cornerbacks and strong linebacking cures. Unlike in baseball, good offense beats good defense. So, if you have a great WR going up against a great shutdown CB, he's probably still going to get points for you. Stick with that pick if the correlation makes sense and your gut tells you to.
"Today I will do what others won't, so tomorrow I can do what others can't." –Jerry Rice
Just like with MLB DFS, the more research you do and the more you play, the easier all of this will get. There are many sources out there with a ton of articles, podcasts, and optimizers to help you out. If you spend some time each week reading the tips from the experts before you make up your lineups, you should see some improvement as you go. Develop a routine you use every week you play and designate ample time each week to do your research. Continue to refine your process and make the necessary changes week to week until you perfect your process. Before you know it, you'll have the week where all the stars align, you get a top finish in a big tournament, and cash in your first big payout.
FREE EXPERT DISCORD CHAT: discord.com/invite/KEFD2Kr
FOLLOW Win Daily Sports: https://www.youtube.com/channel/UCY2I3VNyf_dtW-2xl5vwv0Q
CHANGE YOUR GAME & CHANGE YOUR LIFE
FIND WIN DAILY SPORTS SHOW ON APPLE PODCAST: https://podcasts.apple.com/us/podcast/win-daily/id1461164275?ign-mpt=uo%3D4
FOLLOW WIN DAILY SPORTS ON TWITTER: https://twitter.com/windailysports