NASCAR DFS Pit Stop: Xfinity Series Phoenix 11/5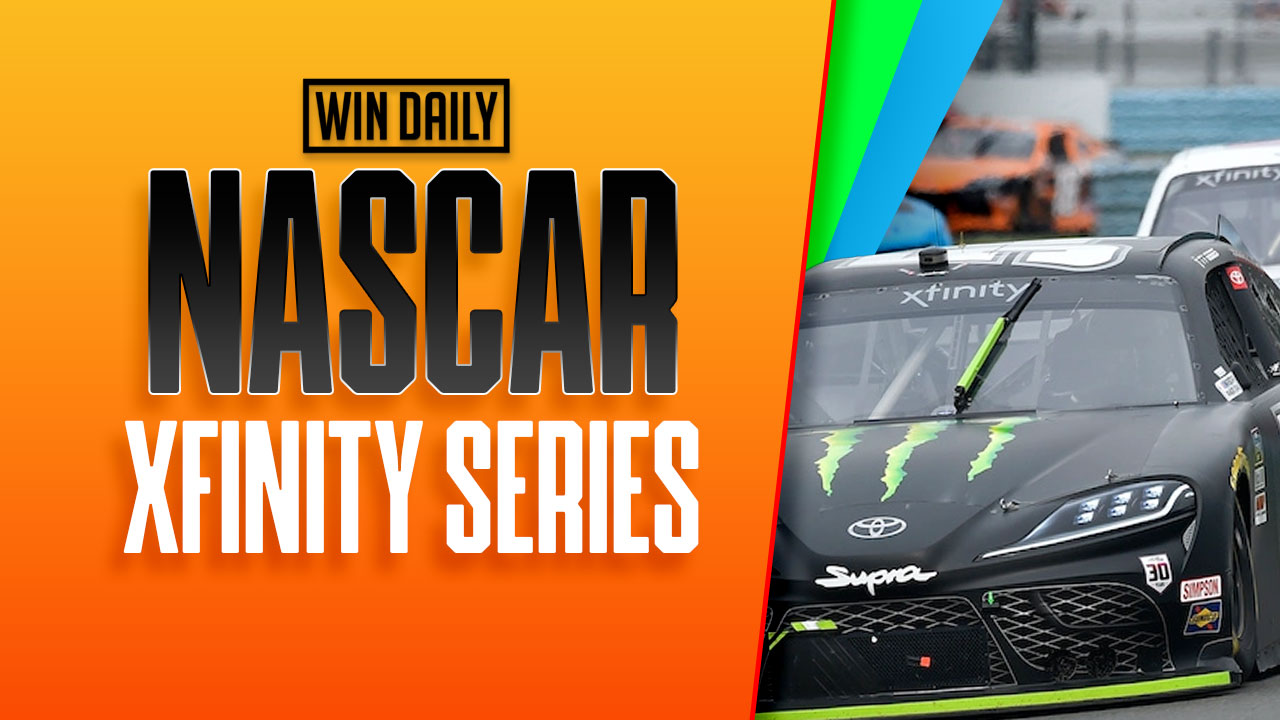 Welcome to the NASCAR DFS Pit Stop for Saturday's Xfinity Series Championship race from Phoenix!
This is it, we have made it through another season of NASCAR DFS! We saw some crazy action last week when Ty Gibbs, or Jesus as he prefers, spun his own teammate to win the race and knock said teammate (Brandon Jones) out of the final four. Gibbs did not need to do this as his spot in the final four was already secured earlier in that race at Martinsville. By doing that, Gibbs allowed a third Junior Motorsports car in Justin Allgaier to join Noah Gragson and Josh Berry in the final four. It will be a fun finale to the Xfinity season with two major questions still left to answer, who will win the title, and will anyone spin Gibbs on purpose costing him the championship?
As for the actual race, as I said in the Truck Series article, this is a short track that is not really like many others and because of that, there will be a lot of laps run. For Saturday evenings race, there will be 200 laps of action leading to 140 dominator points available. Also like in the Truck Series, we should expect the championship four drivers to be right at the front most of the night and be the ones collecting those dominator points. There should be a lot of long runs in Saturday's race and all four of the championship drivers ran 10-lap average speeds inside the top 10.
NASCAR DFS: Championship 4
*** All four drivers are potential dominators ***
Noah Gragson ($11,400)
Starting Position: 4th
Gragson has been the class of the Xfinity Series and is the favorite, in my eyes at least, coming into Saturday's championship. This will be Gragsons last time piloting the #9 for JRM as he moves into the #42 for PettyGMS in the Cup Series next season and what better way to go out then with a championship. Earlier this season, Gragson won here at Phoenix in dominating fashion. In that spring race, Gragson started from P2, led 114 laps, and racked up 93.4 DK points on his way to victory lane. If you go all the back to Darlington, Gragson has won five times, had eight top 5s, and nine top 10s in NINE races. If you combine his dominance at Phoenix this season with his dominance in his current run it is hard to pick anyone else to win this race and championship.
Josh Berry ($10,300)
Starting Position: 9th
Josh Berry is a driver who specializes on short tracks. Berry has one win (Martinsvile) and five top 10s in 11 career short track races as well as leading 136 laps. Earlier this season at this track, Berry earned one of those top 10s when he finished 3rd. In that race, Berry wasn't spectacular, but he did manage to pick a +5 place differential and 50.1 DKFP. Berry was solid on this track in 2022 with finishes of 3rd and 7th at Phoenix and Richmond respectively and he was running well at New Hampshire until he got caught up in a wreck on lap 126 that involved eight cars in total. Berry winning this championship would be a great cinderella story and if it's not Gragson lifting the trophy at race end, I want it to be Berry.
Other Options: Ty Gibbs ($11,000 – P1), Justin Allgaier ($10,600 – P11)
I will have exposure to at least two drivers in this tier in all my lineups and will have exposure to all four
NASCAR DFS: Top Tier
Brandon Jones ($9,400) – Potential Dominator
Starting Position: 5th
If someone other than the drivers in the championship four could steal the race win away from them, it could be Jones. Earlier at Phoenix this season, Jones finished 2nd to Gragson and led 30 laps. In that race, Jones also had an average running position of 2.4 and finished with 62 DKFP. In Friday's practice session, Jones had the second fastest single-lap and the third best 10-lap average.
AJ Allmendinger ($9,900)
Starting Position: 16th
Allmendinger is not typically a great short track racer, but at this track type in 2022, he has been good. In three races on this track type, Allmendinger has an average finish of 11th (6th best among ful-time drivers) and an average running position of 7.1 (2nd among full-time drivers). In the spring race here, Dinger finished 7th and was top 10 in both green flag speed and speed late in a run.
Other Options: Sam Mayer ($9,200 – P13), Austin Hill ($9,600 – P14), Daniel Hemric ($9,100 – P10)
NASCAR DFS: Mid Tier
Kyle Weatherman ($7,300)
Starting Position: 35th
Weatherman has looked good week after week in this #34 car in the Xfinity Series. This week is no exception as Weatherman put up some fast laps in practice. In Friday's session, Weatherman had the 10th quickest single-lap and the 14th best 10-lap average. Unfortunately, Weatherman had a poor qualifying effort which will make him chalky, but for his salary I can't find a better play in this range and I wil just eat the chalk here and look to be different elsewhere.
Sammy Smith ($8,500) – Potential Dominator
Starting Position: 2nd
Trevor Bayne won the pole in this #18 car in the spring and had a great day coming home P4 in that race. Smith showed similar speed to what Bayne had in the spring. Smith put up the top single-lap and 2nd best 10-lap average. This play is risky and is only for GPP's.
Riley Herbst ($8,700)
Starting Position: 19th
Herbst had a bad day here in the spring but he generally runs well at Phoenix. In his six career races at Phoenix, Herbst has two top 5s and three top 10s. In Friday's practice, Herbst was 5th in single lap speed and was just outside the top 10 in 10-lap average (11th).
Other Options: Jeremy Clements ($7,900 – P28), Anthony Alfredo ($7,800 – P23), Nick Sanchez ($7,500 – P3)
Value Tier Rankings:
Myatt Snider ($6,900) – P36
Rajah Caruth ($6,000) – P37
Alex Labbe ($6,300) – P33
Joe Graf Jr. ($4,900) – P38
Mason Massey ($5,000) – P34
Bayley Currey ($5,200) – P20
Josh Williams ($5,600) – P30
Make sure you head to the Win DaiBly Sports Discord for up-to-date info and help directly from our pros! Head over to Twitter and give the @WinDailySports account and me (@MVecchio81) a follow for all things Fantasy Sports! You can find more FREE NASCAR content over at WinDailySports.com!
Check out my NASCAR DFS Tutorial to ensure you are ready and understand how I break down the races and build lineups (https://windailysports.com/nascar-dfs-pit-stop-2021-introduction-to-nascar-dfs/).
There were a lot of changes in the cars and what driver is in what car/truck in 2022; check out my What's new in 2022 article (https://windailysports.com/nascar-dfs-whats-new-in-2022/)