NASCAR DFS: What's new in 2022
Published
11 months ago
on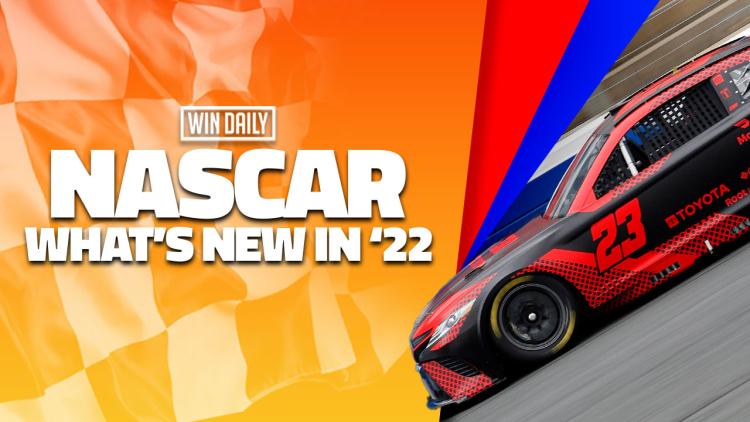 As we welcome in the new year, we also need to welcome in changes, many, many, changes coming to NASCAR in 2022. We have plenty of drivers changing teams, new teams, new sponsors, and the like but one big change coming this season is the new NextGen car for the Cup Series. This will be the 7th generation car for the Cup Series and arguably the most drastic change. One thing that seems to be making everyone happy is that NASCAR has announced that they will be running the 670 horsepower engine for all tracks (except SuperSpeedways and Atlanta) in 2022. Most 1.5-mile ovals ran the 550 horsepower engine that led to boring races with very little passing.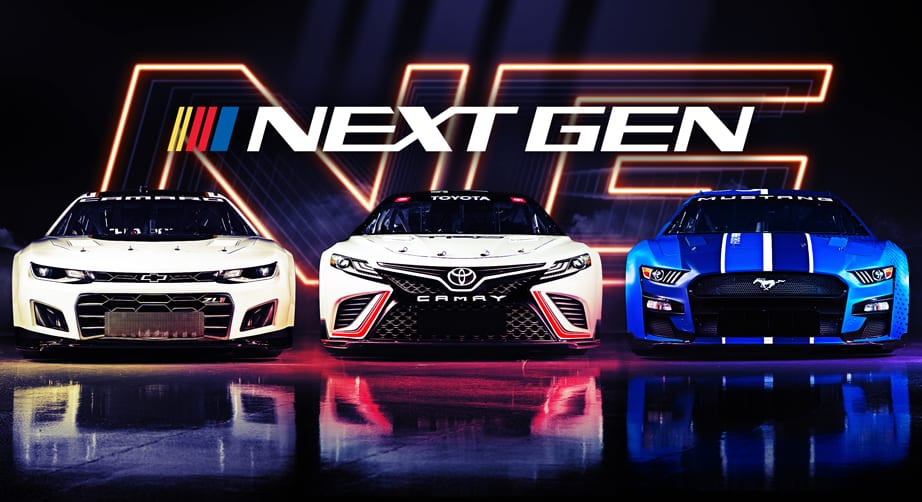 NASCAR DFS: NextGen Car
When the 2022 NASCAR Cup Series season kicks off at the Daytona 500 with the Next-Gen car, it'll be the first one to have aluminum wheels, rack-and-pinion steering, and an independent rear suspension. And those are just a few of the changes made to the new cars. These cars were initially slated to begin in the 2021 season, but development was paused because of COVID-19.
Without getting into too many details, the bodies are now symmetrical, with dimensions that are similar to the regular cars you drive every day. The body is now assembled with carbon-fiber-reinforced plastic panels that are more flexible, durable, and cheaper than the old sheet metal bodies. This will make it easier for the smaller teams to compete because their expenses will be less. The suspension has also been overhauled, with the addition of four-way adjustable dampers and the switch from an out-of-date live rear axle to a sophisticated independent setup.
The new aerodynamic elements beneath the car are also new and drastically changed. Unlike in the previous generation car, there's now a rear diffuser that NASCAR will switch based on the track type. This eliminates the cost of engineering exposed pieces for the car's underside to create more downforce. Unfortunately, the new underfloor has led to heat being trapped inside the cockpit. This forced NASCAR to redesign the exhaust to be three feet shorter and exit behind the front wheels as opposed to in front of the rear wheels to combat the excessive heat.
NASCAR DFS: New Faces In New Places
Like with all professional sports, NASCAR has its own crazy offseason. Drivers move from the lower series' up and move from team to team. In this section, I will go over a few of the changes that will have the greatest effect on the Cup Series.
Brad Keselowski leaves Penske
Brad Keselowski spent over a decade in the #2 Penske Ford but he has left the team he won his Cup Series Championship with to take over the #6 for Jack Roush. Keselowski is also part owner now of the team formally known as Roush-Fenway racing and it has been rebranded at RFK Racing.
Fantasy Analysis: This is a step down in equipment and funding for Keselowski which lowers his value in DFS weekly. I think we will need to see how this team fares in the Next-Gen car and see how he is priced before we can safely roster Keselowski weekly.
Taking over for Keselowski in the vacated #2 is former Xfinity Series Champion Austin Cindric. Personally, I love this move for Cindric and I think he will be a force in this series and is my pick for NASCAR Rookie of the Year.
Fantasy Analysis: Cindric will be in the mix every week in the #2 and will be lock-button for every road course race in 2022.
Kurt Busch joins 23XI
Bubba Wallace had a good year in the first season for 23XI Racing and it will only get better with the addition of former Cup Series Champion, Kurt Busch. After three seasons with Chip Ganassi Racing, Busch will switch from the #1 Chevy to the new #45 Monster Energy Toyota.
Fantasy Analysis: I expect a lot from Busch, and Wallace, in 2022. I think this team can produce weekly top 10's and compete for 2 playoff spots. Kurt brings a plethora of experience and will help Wallace and this team grow.
Trackhouse becomes a two car organization
Last season Trackhouse debuted with Daniel Suarez in the #99 as a single-car team, but this offseason Justin Marks (owner) purchased Chip Ganassi Racing making them a two-car team. In that second car will be Ross Chastain. Chastain will move from the #42 to the #1 that was vacated by Kurt Busch.
Fantasy Analysis: There should be some improvement with two cars now for Trackhouse, but I do not expect them to be a factor for wins or a championship, yet. Most weeks I would expect these two cars to be in the mid-teens to low 20's.
Kaulig Racing purchases two charters
Kaulig has had consistent success in the Xfinity Series and even earned a win with AJ Allmendinger in the Cup Series in 2021. This season Kaulig will field two full-time Cup cars with Justin Haley running the full season in the #31 while there will be a rotating cast of drivers in the #16. Daniel Hemric, Noah Gragson, and AJ Allmendinger .
Fantasy Analysis: Justin Haley is a good driver and should be competitive in the lower mid-tier this season. Kaulig is exceptional at road courses and superspeedway's so I expect to give them a hard look when we are at those track types.
GMS makes the jump from Truck Series to Cup Series
GMS didn't leave the Truck Series, but they did purchase a charter in the Cup Series. Ty Dillon was tapped to drive the #94 for GMS, but that didn't last long. In December GMS purchased a majority stake in Richard Petty Motorsports creating GMS Petty. Ty Dillon remained with the team, but was moved from the 94 car to the #42 teaming up with Erik Jones who will drive the #43 again in 2022.
Fantasy Analysis: We saw Jones and the 43 team improve and have some decent runs late in the season. Ty Dillon had a few good outings in the Xfinity Series but being back in the Cup Series he could be a backmarker most weeks. Both of these drivers will be priced in the high-end value tier each week and depending on qualifying they should be viable.
NASCAR DFS: Xfinity Series
I won't go into the same detail for the Xfinity Series, and also the subsequent Truck Series section, as I did the Cup, but I will just quickly give you some of the key moves in each series.
Junior Motorsports brought two part-time drivers back in full time rides for 2022. Sam Mayer will be in the #1 while Josh Berry will take over in the #8. Both drivers will be title contenders and be two of our top drivers weekly
Sheldon Creed moves up to the Xfinity Series and will drive the #2 car for Richard Childress Racing. This team has won championships before and were in the playoffs with Myatt Snider last season. I expect big things for this team and Creed. Austin Hill will be joining Creed in the #21 at RCR and should be a good car.
Landon Cassill and Daniel Hemric take over for Justin Haley and Jeb Burton in the Kaulig Racing Chevy's. Hemric is the reigning champion while driving for JGR. These are two really good drivers and will be contenders each and every race.
Last years 18 year old sensation, Ty Gibbs, will be full time in the Xfinity Series with his grandfthers team. I believe he will take over in the 18 car for the departed champion, Daniel Hemric.
Our Motorsports is now a three car team. Brett Moffitt returns in the 02 and joining him will be Anthony Alfredo and Jeb Burton. All three of these cars are mid-pack cars and depending on their prices they could be some good value each week.
Myatt Snider will be the full time driver of the #31 for Jordan Anderson. This team was competitive each week and having one driver will give them the stability to compete for top 10's weekly.
NASCAR DFS: Truck Series
Tyler Ankrum takes over the #16 truck after Austin Hill left for the Xfinity Series. This is a good team and a good truck that will compete for a title.
Grant Enfiger will be full-time with GMS in 2022 taking over in the #23 truck. Enfinger will be a front runner for a championship.
Matt DiBenedetto will have to work his way back to the top series in NASCAR by going backwards to the Truck Series. In 2022 Matty D will be driving full time in the #25 for Rackley W.A.R.
Todd Gilliland has jumped up into the Cup Series and the 2020 and 2021 runner up in the Truck Series, Zane Smith, will take over for him. Smith will remain in the title picture in this truck in 2022.
Thank you everyone for reading the 2022 NASCAR season preview! Don't forget to come back in early February for my weekly articles breaking down every single race in all three top NASCAR series. Make sure you head to the Win Daily Sports Discord for up-to-date info and help directly from our pros! Head over to Twitter and give the @WinDailySports account and me (@MVecchio81) a follow for all things Fantasy Sports! You can find more NASCAR content over at WinDailySports.com!