NASCAR DFS Tutorial: How To Play Fantasy NASCAR 2022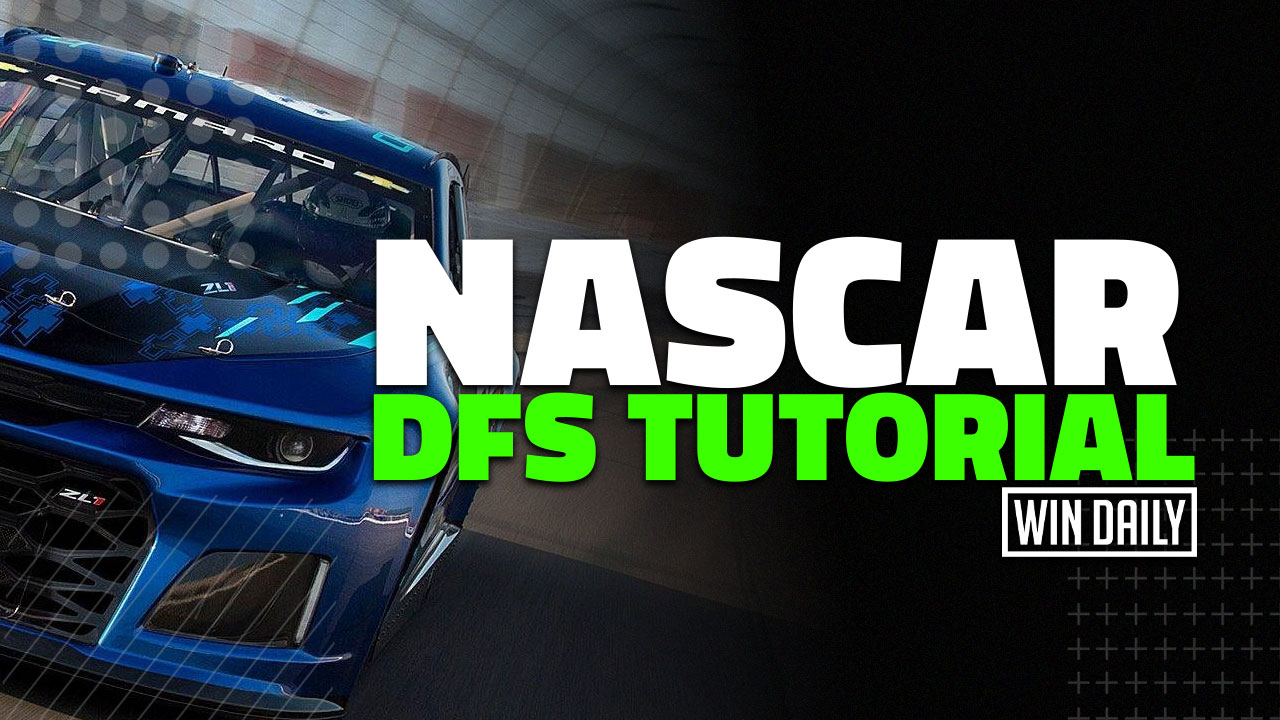 Welcome the NASCAR DFS Pit Stop: Introduction to NASCAR DFS for the 2022 season. Just like in 2021, I will be writing weekly NASCAR articles for each of the three NASCAR series.
Each article is broken down into three price tiers, Dominators which are the high-priced drivers of $9K or more, mid-tier drivers that are priced between $7K and $8.9K, and last are the value tier drivers priced under $7K. My purpose in writing this article is to bring some new players to NASCAR DFS each week to help ease the loss of NFL on Sundays, as well as help give the current NASCAR DFS players a refresher or new or different way to look at the sport. My articles are always geared towards DraftKings since that is the site I generally play NASCAR on, but most of it should translate over to FanDuel as well. Remember that the Xfinity Series and Camping World Trucks Series are ONLY on Draftkings (as of 2021).
NASCAR DFS: The Basics
NASCAR DFS is a salary cap game similar to MLB, NBA, NFL, and NHL to name a few. Teams are made up of six drivers on DraftKings, five on FanDuel and they have to fit under the typical $50,000 budget. The driver's salaries will change from week to week and track-to-track based on a variety of things, but the top drivers will cost the most ($9,000 and up), while the lower-tiered drivers will generally cost the least ($7,000 or less). There are four categories that get you points (or cost you points) on DraftKings and five on Fanduel in NASCAR DFS.
1) Place Differential
2) Fastest Laps
3) Laps Led
4) Finishing Position
5) Laps Completed (Fanduel ONLY)
With the laps completed stat on FD, it makes you look at the lower-tier drivers more carefully and also makes you try to build a more even team as opposed to stars and scrubs generally. Place differential is simply comparing the starting position to the finishing position of a driver and if they gain or lose points. As an example, if a driver starts 18th but finishes 5th they will gain 13 points, but if a driver starts 5th and finishes 18th, it'll be the reverse where the driver will lose you 13 points. On DraftKings, you earn/lose 1 point for place differential as opposed to FanDuel where it's only .5 points. Because of the difference in points on each site, place differential plays a much bigger role on DraftKings than it does Fanduel.
NASCAR DFS: Roster Construction
Knowing the track
There are four different types of tracks that the NASCAR top series usually run. The majority of races are run 1.5-mile ovals which offer good lap led and fastest lap points.
Road courses are the next track type I will discuss. Unlike 1.5- ovals and short tracks, road course scores will generally be much lower. This is because this track type is a much longer style of track and therefore there are substantially fewer laps run. When we are building lineups for road courses I will focus on place differential and finishing position only. Yes, of course, you want someone who will lead laps but if you have the right plays in the other two stat categories they will generally be the lap leaders in this track type.
Short tracks are where we see the highest point totals. At short tracks, we typically have between 400-500 laps so this is why we see those high totals. This is a track-type where I will want to look for a driver who has had success at running upfront. It is critical to get the lap leader right to having success and inevitably getting a takedown at a short track. We see it time and time again that one drive will lead 200-300 laps of a 500 lap race and if you miss on this driver you can kiss your chances of huge payday goodbye.
Lastly, we have Superspeedways, the most volatile and difficult to predict of all tracks. We start the season with a Superspeedway in Daytona which I will go over in more detail in my race breakdowns for opening weekend. In a nutshell, Superspeedways are tracks where you want to load up on drivers starting in the rear of the field and you WILL have salary left over, that is ok.
Build around a stud driver
You all know how you need to pinpoint 1 or 2 studs when playing other DFS sports like football and basketball, well the same holds true in NASCAR as well. We should look for someone who can offer you upside in all categories when it comes to picking your stud driver. I will look for someone who can lead laps, will have a fast car, can finish top 5, and has room to move up and gain PD points. There are only 5-6 drivers we can "count on" for this weekly and identifying them can be difficult but I will try to make it easy for you.
Be leary of rostering the pole sitters
I have changed my stance on this over the years and after last season I think we can comfortably roster the pole sitter at certain races. In 2021 there was very little qualifying in NASCAR, but in 2022 we are going back to real qualifying so we will definitely be rostering pole sitters less often now. There are certain drivers in each series that we can feel comfortable with on the pole. Kyle Larson (Cup) and John Hunter Nemechek (Trucks) are two that jump to mind, but I will let you know weekly if the pole sitters are someone we can roster.
Every driver in your lineups matter
Some people may tell you that you can throw away a driver to make some bigger salary drivers fit, but that's not true. Every single driver in your lineup matter! Even drivers in the value tier matter and can have some substantial upside. A lot of the top-tier guys you draft will be highly owned, it's up to you to identify the value drivers who have the upside you need to separate you from the field, and I will do my best to help you with that weekly.
Track history isn't the end all be all
This is especially true in the Cup Series starting in 2022 now. In the Cup Series, we will have a new car so every team is pretty much starting with a blank canvas as far as how these cars will run at each track. Plenty of testing has been done so they do have a starting point, but not knowing how these cars react to different environments and track types will make things tricky. Now, if a driver has run well at a certain track, no matter the vehicle, they will probably find some success there in 2022. Also, note that ONLY the Cup Series is using this new "NextGen" car, the Xfinity Series will still be running the same cars from 2021.
Picking your contests
GPP vs Cash
Personally, I never play cash games in NASCAR DFS. This sport is just too volatile to play cash in my opinion. With most other sports there is a pretty solid floor for the athletes you are choosing, but with NASCAR there are so many variables that you just don't know what can happen. For me to play cash games I need to know that I can rely on at least half my lineup to hit their floor, I can't do that in NASCAR DFS, so that is why I stay with GPP. There is more upside in GPP obviously and I would rather take my chances there.
Spending your money wisely
If you're like me and like to play all three series (Truck, Xfinity, and Cup series') you will want to be careful with how you spend your money. Both the Truck series and Xfinity series generally have smaller contests so that is one reason why you would want to spend less playing these series' contests. Also, these two series have less experienced drivers, especially in the lower tier price range. If you wanted to play cash games in NASCAR DFS then these two series would be where to do that. Ownership is generally less spread out on the Xfinity and Trucks because they are more top-heavy. In the Cup series, the contests are usually much larger with larger payouts. Unlike in the other two series, the Cup Series has fewer small teams and has more experienced drivers making it more predictable.
I hope this helps you when you start building lineups in February and beyond for the 2021 NASCAR DFS Season. As always I will be in the WinDaily Sports Discord every race day answering your questions and helping you build your winning lineups.
Make sure you head to the Win Daily Sports Discord for up to date info and help directly from our pros! Head over to Twitter and give the @WinDailySports account and me (@MVecchio81) a follow for all things Fantasy Sports! You can find more FREE NASCAR content over at WinDailySports.com!
Related Topics: