NASCAR DFS Pit Stop: Xfinity Series Las Vegas 10/15
Published
2 months ago
on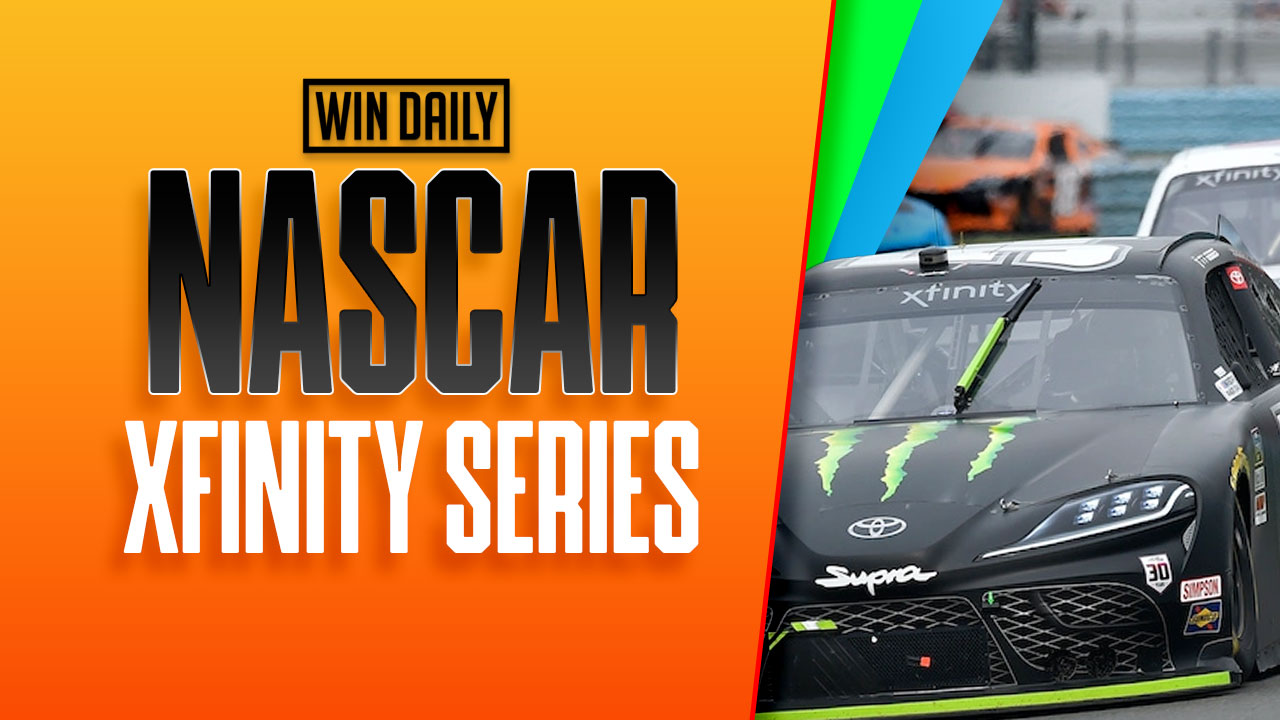 Welcome to the NASCAR DFS Pit Stop for Saturday's Xfinity Series race from Las Vegas!
Saturday's race is the first in the round of 8, and if a playoff driver wins, they will put themselves in the championship race at Phoenix in four weeks. After a couple of weeks of ignoring dominator points in this series, we are back looking to roster dominators. This race is a 201-lap race which gives us 140.7 dominator points to chase.
In Friday night's practice session, the JGR and JGR helped; cars were the class of the field. Three of their cars finished top 3, and all four were in the top in single-lap practice speed. Surprisingly, the JRM cars were not great in practice, with only Gragson and Mayer cracking the top 10 in speed. I am confident that both the 7 and 8 teams will get their cars fixed and be contenders on Saturday.
NASCAR DFS: Top Tier
Ty Gibbs ($11,000)
Starting Position: 3rd
Gibbs has been the elite driver on this track type in 2022. In six races on low tire wear, 1.5-mile ovals, no one has been better than Gibbs. In those six races, Gibbs has two wins, five top 5s, and the best average finish among Xfinity Series regulars (3.7). Gibbs also averages 21.5 laps led per race, which is 4th best behind a bunch of JRM cars (more on one of those drivers next), and he has the best DKFP average per race (62.8). In Friday night's practice session, Gibbs posted the fastest lap. My pick to win this race is Ty Gibbs and the #54 car to sweep the Vegas races this season.
Noah Gragson ($10,800)
Starting Position: 4th
For me, it comes to Gibbs and Gragson for the title. Both drivers have been consistent all season, and it has been much of the same on this track in 2022. Gragson also has two wins and five top 5s in six races on this track type in 2022; the one difference is Gibbs has finished top 15 in all six, and Gragson hasn't. Because of that one race (36th place finish at Texas – crash), Gragson's average finish is 7.8 at this track type. Gragson has won five of the last eleven races in the Xfinity Series and has ten top 10s (22nd place finish at Daytona – crash) in those same eleven races. Gragson was the fastest chevy in practice putting up the 5th fastest single-lap time.
John Hunter Nemechek ($9,200)
Starting Position: 11th
Nemechek has not had the best luck at this track type in 2022, but I think this week will be different. In Friday's practice, Nemechek showed speed with the rest of the Toyotas (3rd fastest lap). At the Spring race here, John Hunter had a good day finishing 12th, and at Michigan, he was 19th after starting 31st and fighting a tight car all day. It's the recent Texas race that has me optimistic about his chances on Saturday. In that race, Nemechek was dominant leading 60 laps before being caught up in the big one on lap 118. Now, he was in the #18 car for that race, but this #26 Sam Hunt car gets some help from JGR, and his two previous races (Vegas and Michigan) were in this #26.
Other Options: Trevor Bayne ($10,400 – P2) – Pretty good pivot off of the chalkier Gibbs and Gragson. Bayne has finished top 4 in four of his seven races this season and has led at least 13 laps in five of seven. Sam Mayer ($9,600 – P5), Austin Hill ($9,400 – P8), AJ Allmendinger ($10,100 – P1)
Realistically, every driver in this tier is in play, and depending on how many lineups I end up with; I will be spreading out my ownership amongst most of them. Prioritize 2-3 drivers from this tier in every lineup. There is plenty of value in this field to make three top-tier driver lineups work.
NASCAR DFS: Mid Tier
Riley Herbst ($8,500)
Starting Position: 36th
Ok, so here is my obligatory "Play the chalk driver who has a fast car" section. Before his spin in qualifying, I was already looking at Herbst as a solid "fringe" top-tier option this week; now, he is a must-play in single-entry and cash games. Riley showed some really good speed beating all the Chevys in practice and finishing with the 4th best lap time just behind the Toyota group. Herbst spun during his qualifying attempt but managed to save the car and avoided any damage. It may take a bit of time, but I expect Herbst to get through the field and finish top 10 on Saturday.
Brandon Jones ($8,800)
Starting Position: 7th
Looking for a dark horse candidate to win this race? Brandon Jones is that guy. Jones has done well at Vegas in his career, and it is arguably his best track on the circuit. He has more top 10s at Vegas than any other track (8), and Jones looked fast once again in Friday's practice. Since signing with JGR in 2018 (9 races), Jones has been stellar here, with a worst non-wreck finish of 11th. In the eight races in which Jones hasn't wrecked, his average finish is 6.6 at Vegas with seven top 10s.
Nick Sanchez ($7,600)
Starting Position: 22nd
Sanchez is back in the #48 Big Machine Racing Chevy on Saturday for the third time, and it will be his fifth Xfinity race this season. It took some time, but it appears this team and Sanchez have found something that works. After a rocky start at Bristol, Sanchez finished 11th in his last race at Texas (a similar track type). In that race, Sanchez ran over 81% of the race inside the top 15 (162 laps) and made 34 quality passes (passes inside the top 15 under green). Now, that race was a wreck fest, and his 11th-place finish may have benefited from that, but he was running in the mid-teens all race before the carnage started. Because of that, and because of his top 20 speed in practice, I view Sanchez as a low to mid-teens finisher on Saturday.
Other Options: Parker Retzlaff ($7,800 – P27), Rajah Caruth ($7,000 – P18), Myatt Snider ($7,400 – P23)
Value Tier Rankings:
Let's start with this, both David Starr and Kyle Sieg did not make a qualifying attempt and, therefore, will start 37th and 38th, respectively. Both of these drivers will be chalky, and while I won't tell you not to play them, I would use them sparingly in GPP's. In cash and single-entry, I think you need to play them both with Herbst and fill in the rest with three top-tier drivers. Neither of these drivers will be in the rankings below, but they are both solid, albeit chalky, options.
Hailie Deegan ($4,800) – P20: Can we trust Deegan this week? I don't know. But what I do know is she has a fast Ford Mustang and could be a sneaky top 15 GPP play this week.
CJ McLaughlin ($5,700) – P34: McLaughlin is a safer, slightly more expensive option over Deegan.
Bayley Currey ($5,000) – P24: I expect Currey to finish right where he started, but that will be enough to make value.
Ryan Vargas ($4,900) – P35
Stefan Parsons ($6,600) – P17: Parsons was fast in practice and will probably be sub-5 % owned.
Mason Massey ($5,500) – P29
Garrett Smithley ($5,300) – P25
Make sure you head to the Win Daily Sports Discord for up-to-date info and help directly from our pros! Head over to Twitter and give the @WinDailySports account and me (@MVecchio81) a follow for all things Fantasy Sports! You can find more FREE NASCAR content over at WinDailySports.com!
Make sure to check out my NASCAR DFS Tutorial to make sure you are ready and understand how I break down the races and build lineups (https://windailysports.com/nascar-dfs-pit-stop-2021-introduction-to-nascar-dfs/).
There were a lot of changes in the cars and what driver is in what car/truck in 2022; check out my What's new in 2022 article (https://windailysports.com/nascar-dfs-whats-new-in-2022/)