MLB DFS Hitter Stacks for DraftKings and FanDuel for 08/02/2022 – Win Daily Sports
Published
2 months ago
on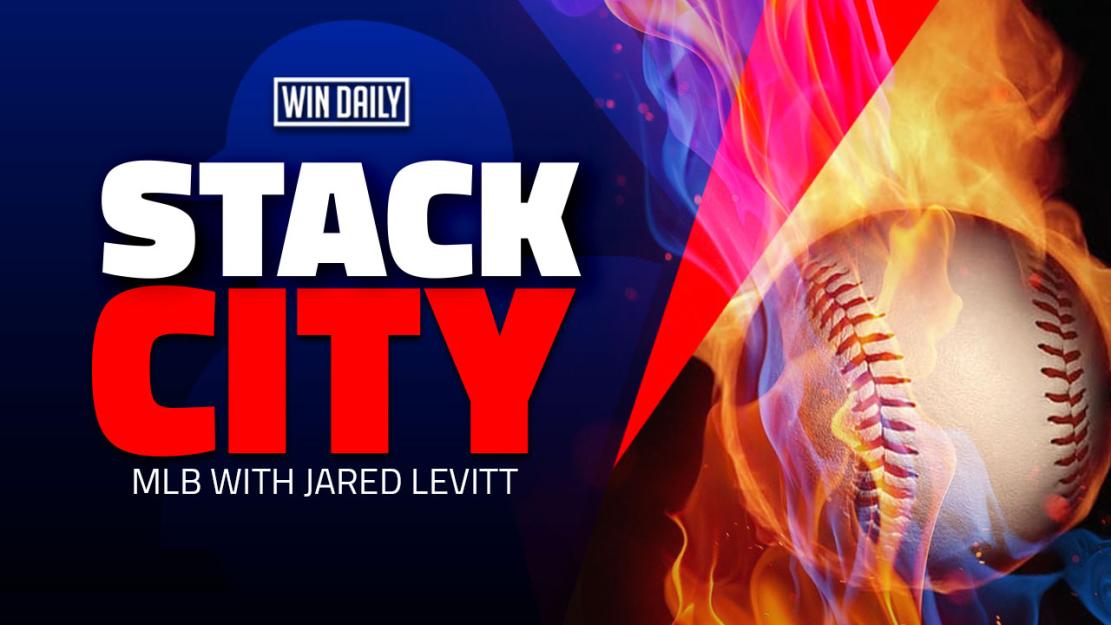 Welcome to the Tuesday edition of the Stack City, where I'll be going through the top MLB DFS Stacks on DraftKings and Fanduel. 
It's Trade Deadline Day!  Just like every day in the NBA, we'll want to make sure to keep a close eye on lineups because what seems like a projected lineup in the morning, will be vastly different after the deadline.  There are a ton of solid spots for offense today. 
Always make sure to read Adam's Starting Rotation when setting your lineup.  It's hands down the best pitching article in the MLB DFS business.
Let's dig in and see if we can find some stacks to use today!
MLB DFS Stacks – Main
New York Mets vs. Corey Abbott
The Mets are hot right now, winners of 7 straight and 28 games above .500.  They'll get to take on Corey Abbott tonight who will be making his first start of the season for the Nationals.  He's only appeared in 3 games so far for the Nationals and all were out of the pen.  If we look at what Abbott has done in the minors this season, he hasn't been all that good.  In the Nats AAA system, he's pitched to a 4.92 xFIP with an ERA over 5. 
Making your first start of the year against a surging Mets team will make Abbott wish he was still in the minors.  Through his brief Major League career, Abbott has been slightly worse to lefties, but pretty awful to both sides.  With knowing that I'm not going to be overly concerned with splits here.  
Core:  My core with the Mets will be Pete Alonso, Francisco Lindor, and Brandon Nimmo.  These three have been the Mets most productive hitters against righties all season.  If it wasn't for Aaron Judge, Pete Alonso would be the muscle of New York.  He's having just a monster season, leading the National League in RBI by a pretty far margin.  Against righties this season, he's been extremely solid, with a .551 slugging % and a .899 OPS. 
With Lindor, he's having a great bounce-back season after struggling a bit in his first year with the Mets.  Over the last 30 days, he's been extremely solid vs. righties, with a .212 ISO and a .407 wOBA. 
Secondary Pieces: My next two pieces here will be Jeff McNeil and Starling Marte. McNeil is coming into this one red hot. He's riding a 4-game hitting streak and has 3 straight multi-hit games. While he isn't one of my core pieces, I'm going to try my hardest to fit him into my Mets stack. With Marte, he's also coming into this one hot, with hits in 5 of his last 6 games. He's not a core for me tonight due to his price. At $5.9K on DK, he needs to have a ceiling game.
Value:  My favorite value piece on the Mets tonight will be Luis Guillorme.  When he's been in the lineup, he's been extremely productive and should be in there tonight against the righty.  At just $2.7k on DK, he's a solid value tonight.
Baltimore Orioles vs. Spencer Howard
I'm going to ignore Spencer Howard's last outing where he threw 5 shutout innings because it was the Los Angeles Angels.  Tonight he'll have a much tougher task against a much improved Orioles lineup.  The Orioles are definitely a team we'll need to keep an eye on lineup-wise tonight.  They traded fan-favorite Trey Mancini yesterday and could potentially unload another piece or two today. 
That said, they have just a great matchup today vs. a bad pitcher in Howard.  Prior to shutting down the weak Angels lineup, Howard had 4 straight starts with an xFIP over 5.  He can be had and this Orioles lineup can absolutely get to him.  With Howard, we want to focus on attacking him with righties.  In 2022, righties have a .694 slugging % vs. him and a .447 wOBA.  Lefties are also going to be in play here as they have a .463 slugging, which is also pretty high. 
Core: My Orioles' core tonight will be Austin Hays and Ramon Urias.  Both of these guys have been the Orioles' better hitters against righties this season, outside of the departed Mancini.  Urias has really shown some power vs. them with a surprising .479 slugging %.  He has 8 homers vs. righties on the year and this is the type of matchup that he can go deep again.  Howard will throw righties a healthy amount of cutters.  Against righty cutters, Urias has a .441 wOBA in a small sample size. 
Hays has also been shown to handle righty cutters well, with a .444 wOBA and a nearly 48% hard-hit rate.  This is a great spot for both guys and won't cost us much as they have a combined salary of just $7.9k on DK tonight.     
Secondary Pieces: Behind Hays and Urias, I'm going to look to sprinkle in Cedric Mullins and Adley Rutschman. Both of these guys are in great spots but their prices being over $5k each have me a little less interested in them. If I can only fit one of them cost-wise tonight, I'd go with Adley Rutschman. In his brief career so far, he's crushed righty fastballs. He has a .600 ISO and a .559 wOBA. There's also a strong chance that Mullins gets dealt today.
Value: I wanted to save this play for my value even though he's a core for me in my Orioles stack. Ryan Mountcastle is just $2.9k on DK tonight and he's in a solid spot to smash. He matches up extremely well with Howard. Mountcastle has solid numbers vs. righty cutters, with a .292 ISO and a .442 wOBA. If you're fading Alonso tonight, Mountcastle makes for a nice pivot.
Milwaukee Brewers vs. Bryse Wilson
Oh, Bryse Wilson, this is going to be a tough night for you tonight.  Wilson gets the daunting task of pitching against one of the hottest lineups in the league right now.  Over the past week, only the Dodgers have scored more runs than the Brewers.  To make matters worse for Wilson, his splits make this matchup all the tougher.  Wilson struggles mightily vs. lefties.  On the year, lefties have a .638 slugging % and a .457 wOBA.  The Brewers will more than likely throw out 4 lefties tonight, and all 4 lefties are solid hitters.  Wilson is going to have his hands full tonight. 
Core: My core with the Brewers tonight will be centered around Christian Yelich and Rowdy Tellez. Christian Yelich is coming into this game scorching hot. He's coming into this game with a 10-game hitting streak, a streak that has seen him raise his average to .261. Yelich is very reasonably priced today at just $4.6k. Given his recent production, this is a solid price for him. With Tellez, we have someone that has immense power. On the year, he's up 20 homers and 18 of them have come against righties.
Secondary Pieces:  Other pieces I really like here are going to be Kolten Wong and Hunter Renfroe.  Wong has been swinging a hot stick also, with hits in 9 of his last 10 games.  Wong has been really good against righties this year, with a .491 slugging % and a .846 OPS. 
While Renfroe doesn't get the platoon advantage, you have to consider him tonight in our MLB DFS lineups given what he's done recently.  Renfroe has 7 homers over the last 10 days.  He's on a heater and we'll want to use him until he cools down. 
MLB DFS Summary
Other stacks I like tonight will be the Padres vs. Jose Urena, Rangers vs. Jordan Lyles, and potentially the A's vs. Noah Syndergaard or whoever they throw out when he gets traded today. 
Good luck and hope to see you in the green.
Make sure you follow me on Twitter at @rangerzfan79 and be sure to sign up for an ALL ACCESS GOLD ACCOUNT here at Win Daily Sports. Gain access to our Projection Models and jump into our Discord where we will have our experts talking plays across every sport and slate!
New to the DFS writing world but have been playing DFS since BVP was cool. Started play season long fantasy when sporting news was used to calculate weekly scores. Originally from Brooklyn, NY but now a Baltmore resident.