How to play League of Legends DFS – Daily Fantasy ESports LOL
Published
6 months ago
on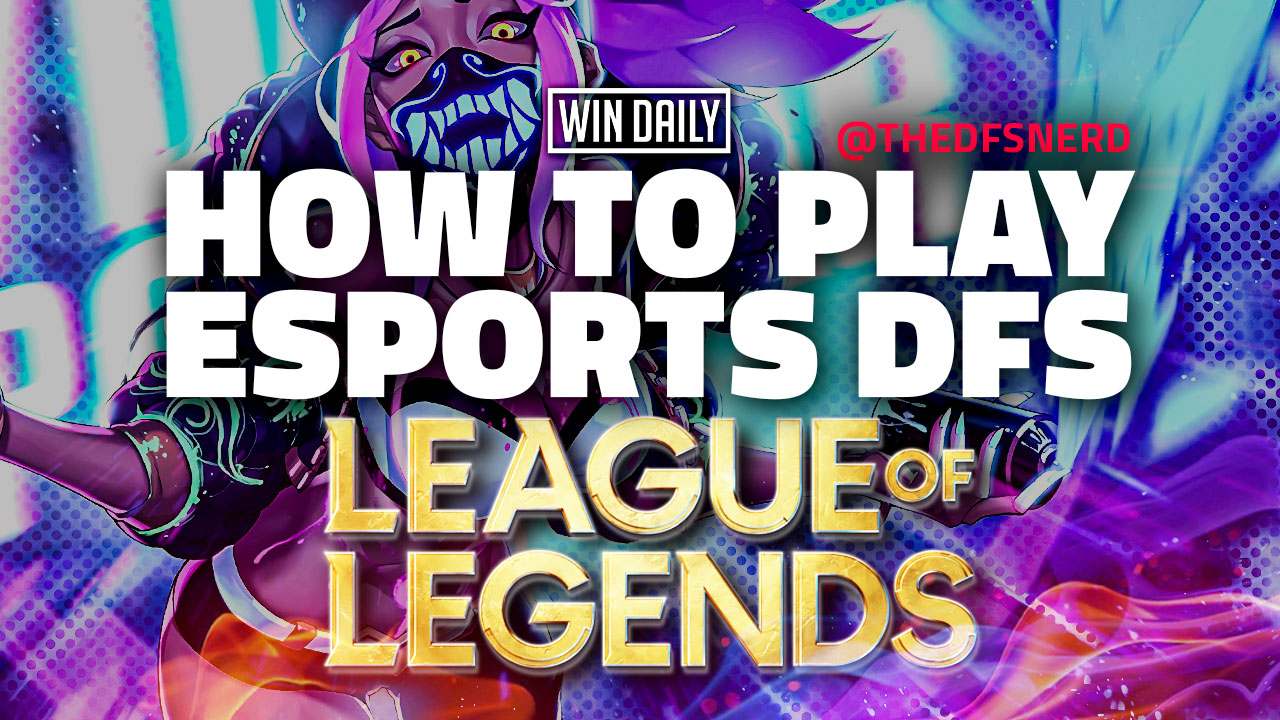 Introduction
I'd like to welcome you to League of Legends DFS. It's time to learn Esports, and if you are just like me, you have no clue what this LOL Esports crap is all about.  Now I'm winning on a regular basis, both on FanDuel and DraftKings, and I'm here to help break it down, so you can give it a shot.
Let me start by saying… The people that are the most successful in Esports are typically always hedging. At the end of the day, there is only 1 winning team, and that team will ALL THE TIME score more points than the losing team.
So, what is LOL, Esports, and how can I win…???
League of Legends DFS aka LOL is a video game, where basically 2 teams go head-to-head, and the objective in a game is to destroy the enemy base, known as the nexus.  You get points for kills and you lose points for getting killed, in a nutshell.
Let's go over the positions and how to build.
Team Position Breakdown
A team has 5 positions. You just really need to know, that there are a couple of positions that typically score higher MOST of the time. Again, I stress most because, there are times where it just doesn't happen, but you'll see as you start to play. Like anything else, start with the .25 or $1 contests, you don't have to get crazy.
Positions – TOP, JNG, MID, ADC, SUP
ADC is often times the highest point scorer on the team
MID and JNG can be a toss-up sometimes
TOP and SUP typically score the lowest
DraftKings & FanDuel Building
DraftKings and FanDuel are a tad different with what they allow as far as build compilation in League of Legends DFS. FD used to make you choose 3 teams of players, where DraftKings would allow you only to choose 2 teams.  But when FD finally woke their asses up, when we only had 2 games going on they were missing out on cash and finally got with the program.
Each site makes you choose that CPTN or STAR spot which is points x 1.5x.  Depending on salary of course and contest selection (we'll get to that) I always want you to try and jam ADC, MID or JNG at the CPTN spot in most cases. 
Construction of League Of Legends DFS Lineups
I feel the correlation for the ADC position with SUP position is recommended and will keep you on track to having good builds. Most of my lineups will have ADC with SUP from the same team. Sometimes due to salary and potentially projected points, we'll want to have MID or a JNG in the CPTN spot as well. The TOP position is typically and should be the lowest scorer out of all the positions and in most cases I do not recommend putting a TOP position player in the CPTN spot, same as SUP. This is important for you to keep in mind… Why??? We'll get to that in a second.
Ok so you got all that so far? Yeah, I bet you do. Don't worry, let's break it down further.
So, let's look at games that just past as an example.
You have two games, four teams – UP vs OMG and LNG vs BLG. And let's say you think UP and LNG will win.
One last thing, you must choose one whole team as a position as well. That's the last slot here in the build example. This example we have 2 ADCs, one in the CPTN slot show below.
I would consider this a 4-2 stack or build or whatever you want to call it. 4 players from the same team. Team position doesn't count at least for me, so then you can call this a 4-3… or 4-2 UP Team…etc.
CPT – LNG ADC
TOP – UP TOP
JNG – LNG JNG
MID – LNG MID
ADC – UP ADC
SUP – LNG SUP
TEAM – UP TEAM
Here is a link to yesterday's Large GPP contest for you to take a look at some lineups. The lineup that came in second is the example build I posted above with different teams. Not bad
https://www.draftkings.com/contest/gamecenter/127708807#/
The Match
Welcome to what they call the 2022 Summer Split. It is now Week 1, and I'm going to help you make some drinking money this summer with this article.
The matches vary, but typically during the normal regular season, everything is best of 3. However, if you win both games, (Sweep), you get extra points for not playing the 3rd game. Now that is awesome. But part of the strategy on how to build, is that if one team sweeps and the other winning team does not, you most likely want that 4-2 build, with 4 players from the winning team that sweeps.
Right now, we have only nights where there are 2 games, and that means everyone is going to have a lot of the same lineups. That's very normal in LOL, "Lineup Chop" all the time, so get used to it. Soon there will be larger slates, and that's when we can win some good money, so be patient.
Ok that's it… Go back and re-read that all again, and then you can continue, or just choose your own adventure, and go back to the MLB channel. LOL.
The Leagues
LPL Only Slates – My favorite type of slate – best teams, best everything, just want more than 2 gamers
LCK/LPL Slates – Love these types of slates – just know, that LPL teams play faster and sometimes score more points – in 2020 was the case but in 2021 it was weird and LCK kept up
LEC & LCS– Meh you'll have to lean on the other guys, I hate LEC and LCS – Sorry!
Contest Selection
This is quite possibly the best advice you'll get in all fantasy sports, not just my LOL article. Contest selection is so important. I'll say that again… Contest selection is so important.
Do you think I don't want to win 100k? 50k? 20k? 10k? bahahahahhha. Absolutely I do. What kind of question is that? BUT!!! It's not a reality. A wise man once told me, "If it's too good to be true, it usually is" Most DFS players focus on playing in contests with Thousands or Tens of thousands of people because it's only $15 to enter. I have had takedown lineups in larger dollar smaller field contests, that would not have even cashed in the $15 10k to first.
I recommend that you start small and enter the contests with about 100-500 people. Spread out your entries so you can build about 5-10 lineups and enter them in single entries or 3x max style contests. Also, for contests say like the $1 20 max, strategy for this type of contest, is to play 10 lineups in the same contest, and hedge in this one contest. LOL also has much smaller sized contests, like only 30-50 people, don't be afraid to stick to your process. If you use this strategy in this article, you will have takedowns and certainly turn a profit playing LOL.
Next is to start to build your bankroll, if you have a takedown, then I would recommend playing a single entry of a higher entry fee the next day. Enter a $33, $44, $50, $100 – once you get to that point then you can start to enter monsters. $333, $555, $777 etc. That's when you can start to hit those big numbers, the 10k, 20k etc. If this doesn't seem like a reality to you, then maybe you can't stomach it, and that's ok too. But this is the strategy of the big boys, everyone had to start somewhere. You can have a ton of fun playing the $0.25 contest, and even take it down.
I have had more TAKEDOWNS in LOL than all my other sports put together, and I only started playing in 2020. I also made it to the LOL Live Final last year, trying the first time ever. I'm not bragging, it's easy.
Hedging and Winning Strategy
Something else I want to touch on is the process of hedging. When I say hedge, I really mean that we want to have action on both sides of the match. The experts and I will provide a ranking of our favorite stacks, but just because a stack is ranked low doesn't mean you shouldn't have any of that team in your lineups. Only a few people have been lucky with game-stacking, but it typically is not the winning build.
I learned the hard way last year by not understanding that almost any team can be upset. They also throw matches…. Yes, you heard that right, aren't you glad you kept reading… this world is criminal. When you play 10 lineups, and LOL is the DFS sport to do that…example… I also won't divide my money 50/50 either. So, if I really think a team will dominate, I may run 10 lineups with 5 LNG stacks, and then maybe I would do 2-3 BLG stacks to hedge that game. It's going to feel uncomfortable, but certain nights it's a must to force this strategy upon you.
Feel free to reach out with any questions, and you can follow me on Twitter.   Be sure to be on the lookout for more to come in League of Legends DFS. You can follow all of our E-Sports at https://windailysports.com/esports/ I hope you enjoyed my article. 
I'm a Nerd at heart, but my true passion is helping people. I love business, technology, and of course DFS. I've been playing DFS for years, and I love helping people win. Helping build an awesome brand and company at WinDaily and of course Nerds That Care, is what I'm all about.