NFL DFS Week 10 GPP Picks Of Destiny from DFS Pro David Jones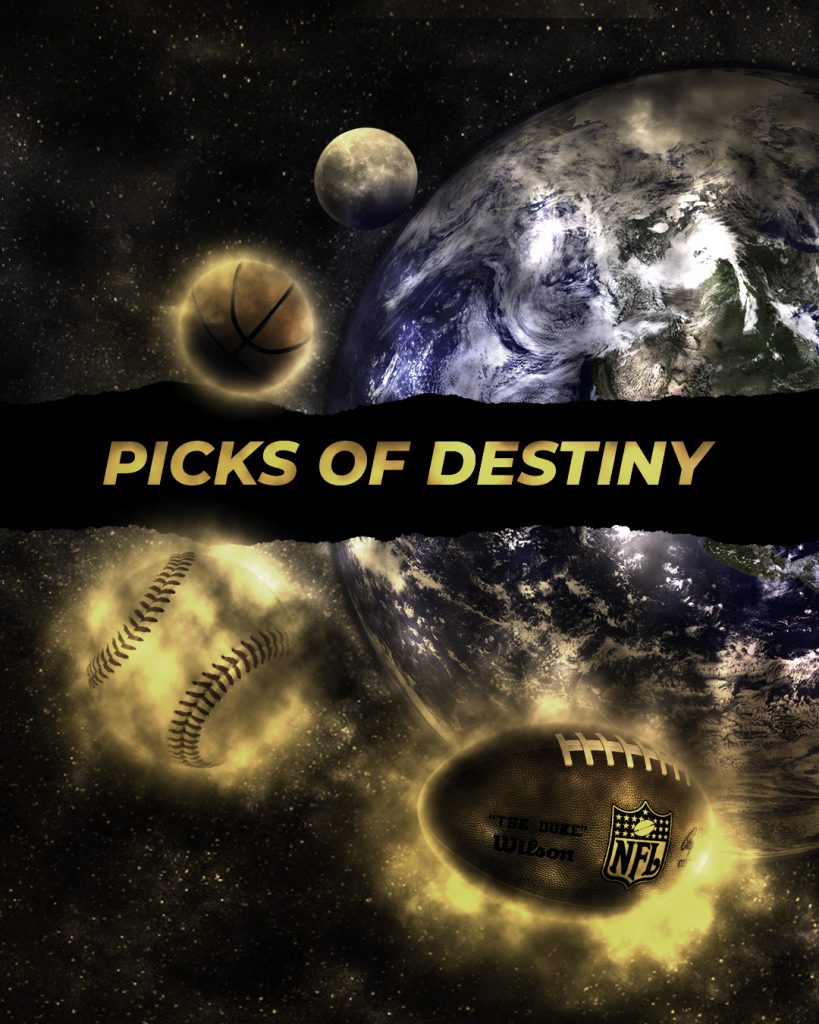 Week 10 in the NFL is about finding the best opportunities for guaranteed production with high upside. Follow my stud and value GPP plays and lock in the NFL DFS Picks of Destiny.
David Jones won 100K on FanDuel! Read about it here!
David also won back-to-back GPPs!
There will be updates closer to lock. Check back Sunday morning.
Quarterbacks:
Stud Quarterback: Lamar Jackson ($8,600 FD)
Smash spot for Lamar Jackson, who is coming off yet another impressive showing against the New England Patriots on Monday night. He can run on the Bengals or throw on them. Either one works. I have two hesitations. The first is it's a short week for Baltimore. This might not be a big deal at all. In fact it could help the game stay a little closer with one less day of prep. The larger concern is that the Bengals are starting their rookie QB and he could turn it over a few times. If the Ravens defense is scoring that means Lamar isn't. Even with those concerns Lamar has a very high floor and very high ceiling. He could put up 30 points here and no one would be surprised. If you play Lamar you are hoping the Bengals find a way to keep this one close.
Stud Pivots: Drew Brees
Value Quarterback: Jameis Winston ($7,900 FD)
The Cardinals have given up a league high 24 touchdowns to wide receivers the season. They now have Patrick Peterson back but he can't cover everyone. Winston possesses the most lethal duo of wide receivers the past month in the NFL. Every week Mike Evans or Chris Godwin goes crazy. Winston has at least one touchdown in every game this season and if he isn't completely off his game he should thrive once again here. O.J. Howard will be back this week and he also has Cameron Brate at TE to throw to. Although the secret is out, we still like to target the Cardinals TE coverage. Winston should easily get over 300 yards here and a minimum two touchdowns.
Value QB Pivots: Kyler Murray
Running Backs
Stud RB: Christian McCaffrey ($9,700 FD)
I don't think we need much explanation here. Every time you don't play CMC you regret it. He is the entire offense. He runs, he catches and he gets in the end zone. Green Bay has the 27th worst defense against fantasy running backs. Easy play. Lock.
Stud Pivots: Saquon Barkley
Mid RB: Aaron Jones ($7,600 FD)
Target the Carolina Panthers with running backs. They have given up a league high 14 rushing touchdowns on the year. The next worse team (Seattle) has give up 12. I targeted them last week with Derrick Henry and the week before when Tevin Coleman had a career game. Jones has two touchdown upside here and I would be shocked if he didn't get 100 all-purpose yards and at least one touchdown. Don't let him burning you last week get you off him here. Let all the scared money fade him.
Pivots: Devin Singletary
Update Note: Connor is out again. Love Jaylen Samuels this week, more on DK.
Note: Don't play Kareem Hunt on FanDuel. We are better than that. On DK ok maybe..he is cheap, but I have almost no interest as of now.
I will update again closer to Sunday. Be sure to check back.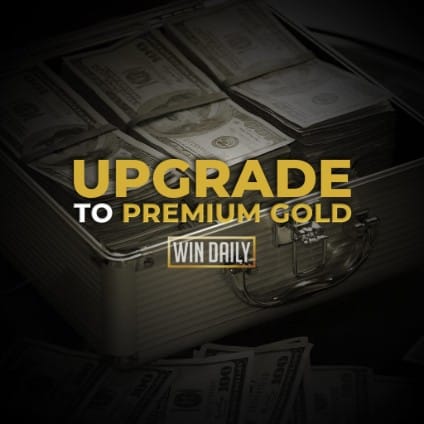 Wide Receiver
Stud WR: Michael Thomas ($8,700 FD)
Drew Brees is back and should feed Thomas against the rival Atlanta Falcons who can not figure out how to stop the bleeding. They are bad defensively and the Saints should win the game rather easily. Thomas has not been targeted under 10 times since September 29th. He is priced as the highest wide receiver because he is the most likely to tear the slate apart. The Falcons have been prepping on how to stop him for two weeks but that doesn't scare me off at all. There is going to be nothing they can do except hope they can keep up on offense. Thomas has over 100 yards in three of his last four game and three touchdowns in the same time frame. His lowest fantasy outing this entire season is 13.9 FanDuel points. It doesn't get much safer.
Stud Pivots: Mike Evans, Chris Godwin, Cooper Kupp
Mid WR: Odell Beckham Jr ($6,900 FD)
Come on, this is way too cheap for OBJ. I know he hasn't performed as a fantasy WR1 this season but the skill set is undeniable. Baker looks pretty terrible but even a blind squirrel finds a nut every now and then. The Bills defense looks good on paper but let't not forget their very easy schedule so far. OBJ has not gotten a touchdown in six consecutive games so I will bet he snaps the streak here. The last time he played in New York he went for 161 and a touchdown. This is a boom or bust play. I like all the guys listed below if you don't want to live dangerously….
Mid WR Pivots: Robert Woods, Golden Tate (if Shepard out)
Value WR: Christian Kirk ($5,700 FD)
He goes against the Tampa Bay defense that is ranked 32nd against defending the pass. Kirk is healthy now and is Murray's deep threat. He had a poor game last week against the top ranked San Fransisco defense and the Cardinals only attempted 24 passes. That should change this week. This looks like a high scoring game that should stay close and Murray will finally get that deep ball he has been looking for with Kirk.
Value WR Pivots: Parker (like more than Kirk now),Zach Pascal, Josh Reynolds
Tight End
Gerald Everett ($5,700 FD)
With Cooks not playing Everett is going to be Jared Goff's third best option to throw too on the field. He has a nice matchup against the Pittsburgh Steelers, who struggle to cover the tight end. In the past month Everett has been targeted 10 or more times in half of the games. The Steelers recently acquired Minkah Fitzpatrick, who is turning out to be everything they hoped and more. His presence will limit Goff's comfort with throwing it to his receivers down the field, which in turn will allow more checkdowns for Everett. I am willing to take him as my top tight end with price and upside considered.
Tight End Pivots: Travis Kelce, Mark Andrews, T.J. Hockenson, Ryan Griffin
Defense (order updated)
Ravens
Colts
Bills
Saints
Lions
Punt: Dolphins
I will tweet out when there are updates. Be sure to follow me @tenaciousdjones on Twitter so you don't miss out!
MONKEYKNIFEFIGHT.COM PICK – Play this Pick here and get 100 percent bonus!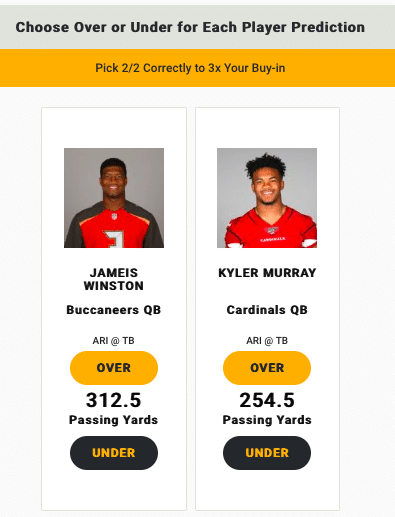 This one is so easy. Winston and Murray both have great matchups against the opposing defenses. Winston regularly throws over 300 and Murray now has a healthy receiving core and the newly acquired Kenyan Drake to throw too. Making a bigger bet than usual on this one.
Sign up NOW for WIN DAILY Premium Gold Right Here! Projections, weather reports, wagering info, 24/7 expert chats and more!
Follow Win Daily Sports on twitter @WinDailyDFS. Please check out everything that Win Daily Sports has to offer by becoming a premium member. New articles, projection models and data are being added frequently. We can't say enough about our private Win Daily Slack Channel as it provides one on one coaching for all sports and all platforms. There are channels set up for MLB, PGA, NASCAR, WNBA, CFL, NBA, and NFL. We also have a channel dedicated to sports betting and one dedicated to Monkey Knife Fight where we provide winners to cash in on daily. We have a special promo for a limited time only to sign up for a full 12 months at only $199.99 or a monthly plan at $19.99 which are both 50% off our regular price.