Stix Picks: Week 1 NFL DFS GPP Lineups for DraftKings & FanDuel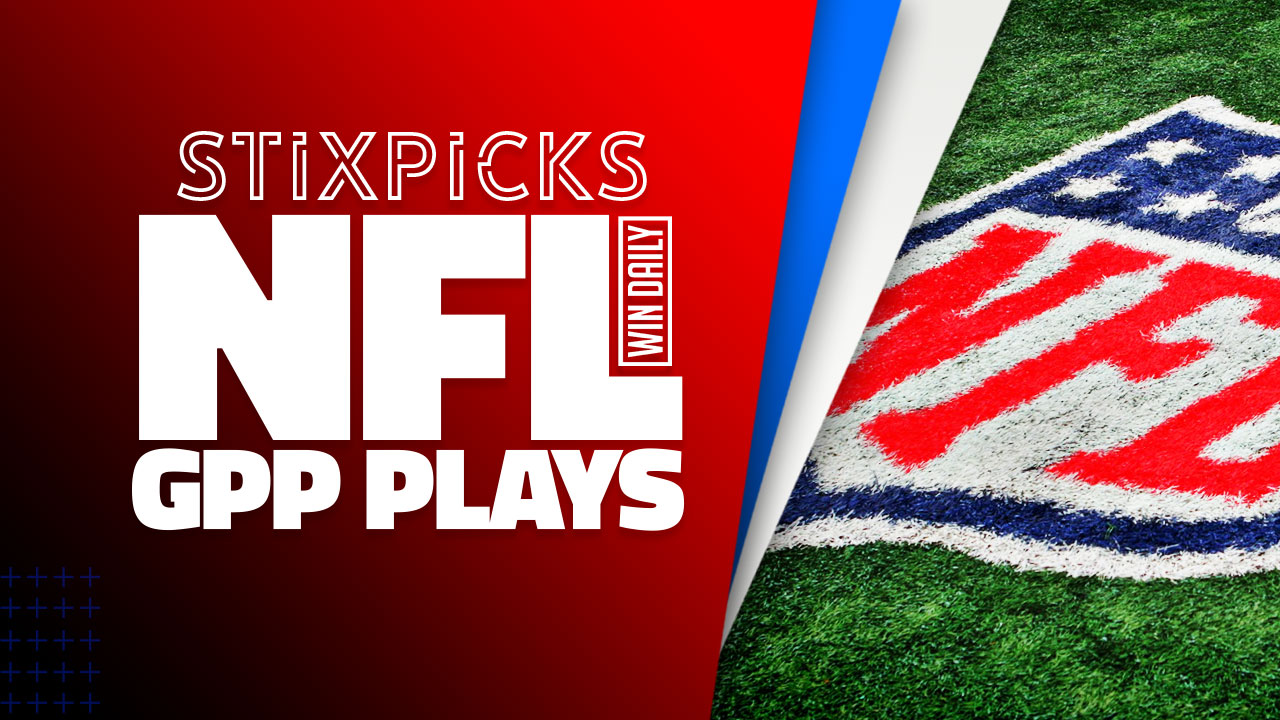 To quote the great Michael Rasile, "It's a great day to be alive!" The NFL season is here and it feels like Christmas morning. For those who haven't read it yet, please check out the Week 1 Cash Game Checkdown for your bankroll sustaining, cash game build advice before building your NFL DFS GPP lineups. All that summer prep and season long drafts are done, it's go time.
In addition, I would strongly advise giving my NFL DFS Strategy article I published this offseason before diving into the 2022 NFL DFS season. If you have any questions or would like some further help when building your lineups, please do not hesitate to reach out to me directly on Twitter.
For those looking to get different and make a splash in some GPPs, the time is now. We'll usually be taking some heavy stances on lower-ownership players, but at times, there is certainly good "chalk" to eat. This will USUALLY not be an article where I write a lot about Christian McCaffrey, Jonathan Taylor, Dalvin Cook, etc… they're likely always in a smash spot and worth rostering if that's what your build calls for. Now, let's get into it.
NFL DFS GPP Quarterbacks
Patrick Mahomes ($7,700 DK / $8,700 FD)
Patrick Mahomes under 10% in ownership projections is always something I'll be interested in, let's just say that to start. A lot of the DFS and fantasy community as a whole seem to be a bit down on Patrick Mahomes just because there's no more Tyreek Hill. In my opinion, this is the most quality depth of pass catchers Mahomes has ever had and the AETY Model is expecting another monster year out of Mahomes.

In the model and any sportsbook you look at, Mahomes has the highest passing yard prop on the slate, by a decent margin going up against a brutal, Arizona secondary and an arguably worse pass rush now that Chandler Jones went to Las Vegas. I expect the Chiefs' offense as a whole to come out with a bang (like they usually always do to start the season) and Mahomes to be the clear-cut QB1 on this slate. Bundle all of that, a slate-leading total (54 points), and a 6-8% ownership projection and we're cooking with gas.

Stacking Options: Travis Kelce, Mecole Hardman, JuJu Smith-Schuster, Clyde Edwards-Helaire
Run-Back Options: Marquise Brown, James Conner, Trey McBride (if Zach Ertz is out, obviously, Ertz if he goes)
Trevor Lawrence ($5,600 DK / $7,000 FD)
It wouldn't be my style to not include a dumpster-dive 1% owned, cheap quarterback, so here we go. I'm going to have a good bit of exposure to Trevor Lawrence and the Jacksonville Jaguars passing attack this weekend for the following reasons:
New Coaching Staff – Doug Pederson is one of the more pass-happy play callers in the NFL. Despite the obvious downside with Lawrence, the expected volume should be there.
New Weapons – the additions of Travis Etienne, Christian Kirk, and Evan Engram should greatly impact Lawrence's ability to move the football despite a very weak offensive line.
Leverage! Leverage! Leverage! – The whole DFS world is lining up to play the Commanders defense, despite Chase Young being on the PUP list. If and when the Jaguars offense scores points, you're not only getting incredibly low-owned NFL DFS GPP production, you're passing the majority of the field as they lose points. There are very few weeks of the season where the AETY Model will tell us to stack against the nut-chalk defense… this week is one of them!
Yes, it's more than likely Trevor Lawrence and the Jaguars lay an egg on Sunday, but at 1% ownership, I'll heavily consider starting my NFL DFS GPP lineups with Lawrence (especially in the early-only slate) and getting exposure to a safer, higher-upside quarterback in my cash game lineup.

Stacking Options: Christian Kirk, Marvin Jones, Travis Etienne, Evan Engram
Run-Back Options: Terry McLaurin, Antonio Gibson, Jahan Dotson

Honorable Mention: Justin Herbert, Lamar Jackson, Mitch Trubisky, Davis Mills
NFL DFS GPP Running Backs
Alvin Kamara ($7,600 DK / $8,500 FD)
This is likely the best matchup on the slate for a running back: in the dome, against a Falcons' unit that likely has the worst defensive line in football. On DraftKings specifically, we get the pass catching upside (the AETY Model projects Kamara for over 4 receptions, 35 yards receiving, and the team's third highest equity in the red-zone passing game) which is always a nice benefit. As long as this game stay's close (currently a 5-point spread), Kamara should be in for a NFL DFS GPP field day under offensive guru Pete Carmichael's offense paired with an ownership projection under 10%.

P.S. we likely do not have to worry about Sean Payton's ridiculous obsession with getting Taysom Hill touches in the red-zone anymore. This is Kamara's job.
James Conner ($7,000 DK / $7,700 FD)
With Rondale Moore out, the AETY Model seems to now love the floor and ceiling for James Conner's role in the passing game. This was already my favorite game to stack and now we'll add another piece to the back-and-forth with a 3-down back who's going to be a focal point of the Cardinals' offense.
Saquon Barkley ($6,100 DK / $6,800 FD)
It's not the best of matchups; he isn't the safest of players in terms of health; he's not "under the radar"… I'm still going to take the bait on the seriously low price-tag of a 3-down, pass-catching back in an improved offense. I simply look at it this way, play Saquon Barkley when he's healthy and play Saquon Barkley when he's cheap. There is not a whole lot of data to support going all-in on Barkley, but I trust Brian Daboll to find a way to get his best player the football early and often.
Clyde Edwards-Helaire ($5,400 DK / $5,800 FD)
If you read the Mahomes' section of the NFL DFS GPP Week 1 article (and more below), you'll know I'm all in Kansas City Chiefs. The Arizona Cardinals defense is brutal on paper and I highly doubt they will exceed my already low expectations. This game is going to be a shoot-out and I do trust Andy Reid to lean on Edwards-Helaire for around 60-65% of the snaps. I NEED to have exposure to the AETY Model's highest expected scoring offense in every way that I can. If it isn't Mahomes throwing for a touchdown, it will be a CEH rushing touchdown (maybe a passing TD to Edwards-Helaire if we're really lucky).

The price-tag is just way too low for a guy with significant touchdown equity on the best offense in football… and he's going to be around 5% owned.

Honorable Mention: Austin Ekeler, Joe Mixon, Aaron Jones, Dalvin Cook, AJ Dillon, Eli Mitchell
Wide Receivers
Davante Adams ($8,100 DK / $8,500 FD)
If Adams were still on the Packers, he'd be projected for 20% or higher ownership in this matchup, but he's sitting at 10-12% now. The Chargers are likely to play a ton of zone coverage and Davante Adams kills zone coverage. The red-zone equity may go down a little bit due to Rodgers' not peppering him with 2 targets minimum on every red-zone opportunity, but the volume will be there for Adams. He's projected to lead this slate in receiving (surprise to no one), according to the AETY Model.
Deebo Samuel (7,400 DK / $8,400 FD)
We don't need to get to into detail here, Deebo Samuel is one of the best fantasy football players. He's going to be under 10% owned in an absolute cakewalk matchup. Trey Lance will be forced to get Deebo Samuel involved in the passing game and we already know the rushing upside. He signed his contract and he's ready to roll and roll!
Keenan Allen ($7,000 DK / $7,400 FD)
Getting exposure to the Chargers @ Raiders game is probably priority number two for me this weekend (second to KC/AZ), and I'll likely be starting said exposure with Keenan Allen or Austin Ekeler. I always love Keenan Allen inside against the Raiders' zone defense where he'll face off against a young, unproven, Nate Hobbs. Keenan Allen still has PLENTY of game left in him and we'll see it on Sunday.
Tyreek Hill ($6,800 DK / $7,700 FD)
Sub $7,000 on DraftKings for Tyreek Hill is incredibly attractive. Mike McDaniel simply abuses his number one offensive threat on a weekly basis and this year, that is Tyreek Hill. Not to mention Tua's love to key on one receiver almost exclusively (last year we were fine paying $7,000 for Jaylen Waddle)… this year, that is Tyreek Hill. Better yet, this New England Patriots' secondary is absolute trash and they're likely going to play a ton of man coverage. Good luck, Patriots!
Christian Kirk ($5,100 DK / $5,800 FD)
Similar to the Lazard situation, but not quite to that extent… Christian Kirk is the clear WR1 on the Jaguars, and yet he's priced like a mid-tier WR2 (I understand the situation isn't sexy, but the price is). This matchup is absolutely one to get excited about as Washington nickel-corner, Brandon St. Juste, is arguably the worst cornerback in the NFL. On the other side of things, I don't see Jacksonville putting up much of a fight on defense, which can lead to a low-key, disgusting shootout for NFL DFS GPP lineups.
Chase Claypool ($5,000 DK / $5,800 FD)
After further review and hearing more skepticism about Diontae Johnson's health, I'm going to officially name my 1% owned NFL DFS GPP Wide Receiver of the Week, Chase Claypool. The gamescript should be incredibly positive for Claypool with or without Diontae Johnson and we need to take advantage of the tunnel-vision Mitch Trubisky has for his big bodied receivers (and a love for slot receivers). Trubisky will want to move the ball deep down field (he always has) and trust the ability of the monster, Claypool to go up and get it.

Assuming they move Claypool all across the formation, we'll get a lot of Claypool with a 7-inch advantage on nicker corner, Mike Hilton. As long as the Bengals come out firing and move Pittsburgh into a more pass-heavy approach, Claypool is a steal at these price-tags.
Mecole Hardman ($4,600 DK / $5,400 FD)
HOMER ALERT! Lol, if any of you have followed me before, you know I've had a man crush on Mecole Hardman. Yes, he's let me down 99 times out of 100, but I truly believe he is the only wide receiver on this roster who can handle the vacant route tree of Tyreek Hill. No, he's not Tyreek Hill, but he doesn't need to be at this price. The Cardinals' secondary is absolute trash and Hardman will be schemed to take advantage of every one of them as he's moved all around the field. Hardman will be the WR1 for Kansas City in Week 1.

Honorable Mention: Mike Williams, Terry McLaurin, AJ Brown, Adam Thielen, Marvin Jones, Nico Collins, Joshua Palmer, Marquise Brown
NFL DFS GPP Tight-Ends
I'm going to be quite heavy on Travis Kelce, but I do not think he is a "must-have" in terms of salary. Here are the others I'll be focusing on rostering.
Mark Andrews ($6,800 DK / $7,900 FD)
Kyle Pitts ($5,700 DK / $6,000 FD)
Darren Waller ($5,400 DK ONLY)
Dallas Goedert ($4,500 DK / $5,700 FD)
Brevin Jordan ($3,100 DK / $4,800 FD)
Make sure you follow me on Twitter at @stixpicks and be sure to sign up for an ALL ACCESS GOLD ACCOUNT account here at Win Daily Sports. Gain access to our Projection Model powered by AETY and jump into our Discord where we will have our experts talking plays across every sport and slate as sports FINALLY return.
Content Director for Win Daily Sports NFL/MLB. Creator of the AETY Model. Chicago White Sox die-hard. Focusing on helping others manage their bankroll and cross the pay line in NFL/MLB Cash Games & GPP's. CoFounder of thoroughbred horse racing partnership, Reta Racing LLC.