NFL DFS Week 1 Cash Game Checkdown for DraftKings & FanDuel
Published
2 months ago
on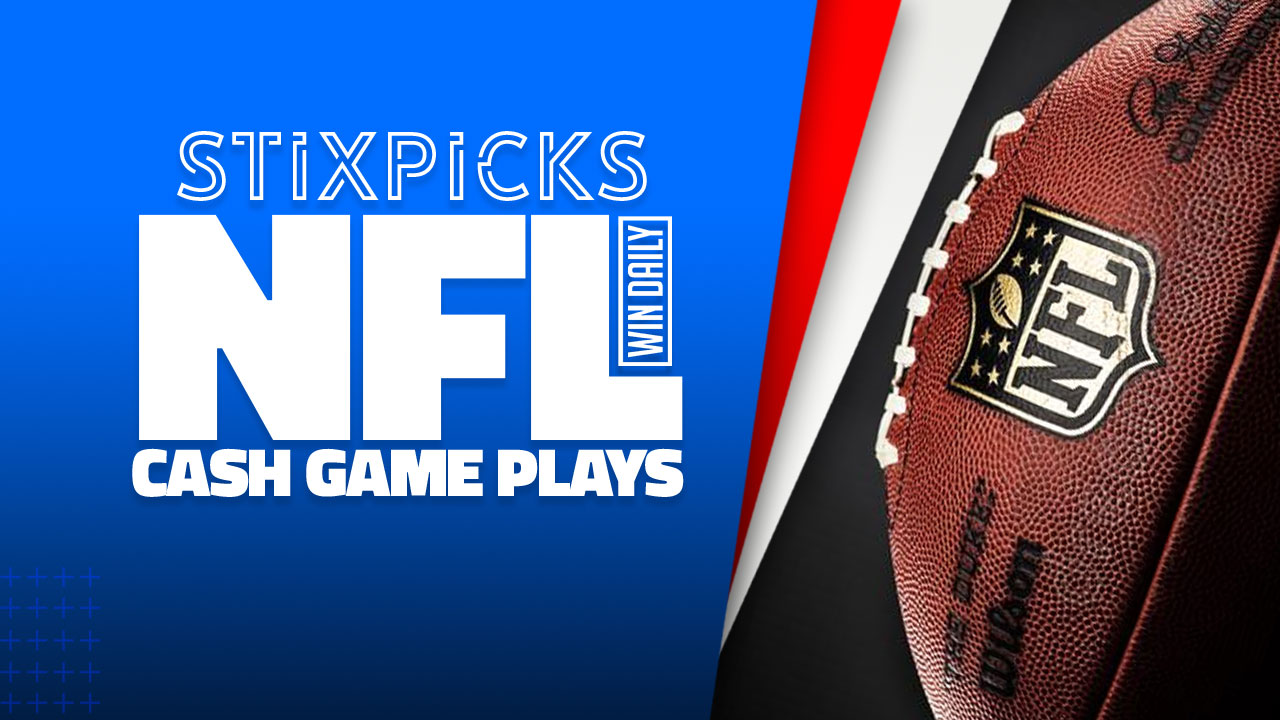 The wait is over. Football is finally here and with that brings us the NFL DFS Season. The purpose of this article is to identify my top plays for a NFL DFS cash game lineup on DraftKings and FanDuel Sunday Main Slates (also known as a double-up). Players in this article are usually a mix of the following:
High-floor/high-volume "safer" players (players with a very low bust-rate)
VALUE PLAYS
NOT part of a stack – Stacking is great for GPPs, but if you stack in cash games, your lineup is entirely too dependent on said stacked team. If that team does poorly, your whole lineup does… Not a risk we need to take in a cash game. QB/WR pairing is fine, but unless there's extreme value in a 3-man stack, let's keep it to QB/WR or QB/TE.
Extremely chalky for the week… in GPP's I'll usually always fade volatile players at > 40% ownership, but in cash games, it's usually fine to eat the chalk. If that player underperforms, it does not hinder your ability to cross the pay-line as 40% or more of the field is in the same boat. If you fade this player(s) and he has a great game, your lineup is likely toast… as you're now behind 40% or more of the field. Make sense? If not, hit me up on Discord/Twitter @stixpicks to discuss further.

In my opinion, cash games are extremely important for long-term bankroll building and sustainability. I'll consistently use at least 50% of my weekly bankroll towards cash games. It's not sexy, but it works and allows me to take big shots in high dollar GPPs.

Long story short, if we hit our cash games each week, the worst we can do is break-even (not counting your GPP shots with the remaining 50% of your weekly bankroll). The weeks you hit both, you smash. The weeks you miss your GPPs, your cash game lineup will carry you. It's my job to ensure you always hit those cash games.

If you haven't yet, I would strongly advise giving my NFL DFS Strategy article I published this offseason before diving into the 2020 NFL DFS season. If you have any questions or would like some further help when building your lineups, please do not hesitate to reach out to me directly on Twitter. Without further ado, let's do this thing!
*Some notes on what I believe to be the "optimal" roster build for NFL DFS Cash Games. I'll include this in all the Checkdown articles moving forward. For Week 1, please see below for my notes on roster construction:
Check back in closer to Week 1 kickoff for updated roster build notes. It's still the Preseason and all hell can break loose at any moment!
NFL DFS Cash Game Quarterbacks
Justin Herbert ($7,600 DK / $8,400 FD)
No need to overthink this one, we're going right back to one of the most pass-happy offenses in the NFL under Offensive Coordinator, Joe Lombardi, in a projected shootout (total of 52 points) as the Raiders come to Los Angeles. The Raiders are very unlikely to play at the high pace they did in 2021 now that Josh McDaniels is in town, but this game will still offer a significant floor for all playmakers involved.

Despite a new Defensive Coordinator, Patrick Graham (who actually did a solid job with limited talent in New York), this Raiders' secondary is still far from a threat to slow down Justin Herbert and this Chargers' air attack. We've always attacked Trayvon Mullen and Rock Ya-Sin in the past and won't stop doing so now. I do however respect the hell out of second year corner, Nate Hobbs (who will see a lot of Keenan Allen), so I'd rather get my exposure to the Chargers' passing game with the man who dictates it and also has plenty of rushing upside. The floor is simply the highest for Herbert in Week 1.
Jalen Hurts ($6,800 DK / $8,000 FD)
I'm going back to the well with 2021's 4th highest Fantasy Points Per Game Quarterback in Jalen Hurts. To keep it simple, he's a borderline RB2 most weeks with his legs, has a healthy and somewhat loaded team of pass catchers, arguably the best offensive line in football, and he's facing the Detroit Lions. Although the Lions are a hard-nosed defense, they do not pose much of a threat to Jalen Hurts in cash lineups at this low of a price-tag.

Honorable Mention: Lamar Jackson, Kyler Murray
Running Backs
Jonathan Taylor ($9,100 DK / $10,200 FD)
You don't really need a long paragraph or two from me to convince you to play Taylor in cash against one of the worst defensive lines in football. The Colts are an 8-point road favorite for a reason. They should have a solid handle on this game utilizing their star running back early and often.
Austin Ekeler ($8,200 DK / $9,400 FD)
If you're not using Herbert in your cash build, I'd advise getting a share of this offense and there's no better option (outside of Herbert) than Austin Ekeler. He may not wow you with his rushing statistics but his consistent workload in the passing game gives up that floor (15% expected target share with significant upside) that we are looking for in our cash builds.
Alvin Kamara ($7,600 DK / $8,500 FD)
We're getting one of the best 3-down running backs in the game at a discount in Week 1 against one of the worst defenses in the NFL. There is really no threat to Kamara's expected production at this moment so take the savings and ride a workhorse back who's AETY Model projection has him for over a 70% snap share yet again in 2022.
Saquon Barkley ($6,100 DK / $6,800 FD)
The ultimate value running back in Week 1 is my boy (yes, I'm biased here), Saquon Barkley. Barkley is finally entering a NFL Season with 100% health and absolutely no one on the depth chart capable of taking meaningful snaps away from him. I love the fact that there's a successful offensive mind (and an improved offensive line) now running this offense in Brian Daboll and I trust that he will put Barkley in a position to succeed right off the bat when they upset the Titans in Tennessee. Saquon is a cash lock for me in Week 1.
Antonio Gibson ($5,800 DK / $6,800 FD)
Without Brian Robinson, Antonio Gibson becomes a damn-near cash game staple. Don't reinvent the wheel, take the value and run (on DraftKings).


Honorable Mention: Christian McCaffrey, Joe Mixon, James Conner, Aaron Jones, Dameon Pierce
NFL DFS Wide Receivers
Justin Jefferson ($7,800 DK / $8,100 FD)
Similar to Jonathan Taylor, we do not need to deep dive into Justin Jefferson's NFL DFS cash game appeal. He's one of the top wide receivers in the NFL and now playing in one of the most proven pass-happy systems in the league under new Head Coach, Kevin O'Connell. The Green Bay defense is much improved across the board (and they were already good ending the 2021 season) so I wouldn't expect a massive output out of Jefferson in Week 1, but O'Connell will find ways to scheme Justin Jefferson into success just like he did for Cooper Kupp, Robert Woods, and Odell Beckham in the past.

If you cannot afford Jefferson, I do not hate pivoting down to Adam Thielen at a discount. This game may not have the full pace most of the betting public wants it to have, but there will be plenty of fantasy production for both of these offenses.
Brandin Cooks ($6,300 DK / $6,600 FD)
There's nothing sexy about Houston's offense, we all know that. But… as mentioned in the Jonathan Taylor writeup, I fully expect the Colts to have a good handle on this game from the kickoff and therefore leading into a very positive gamescript for the Texans' receiving core. As much as I love and believe in Nico Collins, Davis Mills has tunnel vision on Brandin Cooks. In the 11 games that Mills was under center as a starter in 2021, Brandin Cooks was targeted at a 27%+ clip. You simply won't find many wideouts with a 20% target share let alone 27% priced in the 6K range.

Maybe DJ Moore, but I'll wait to see it (assuming Baker Mayfield earns the starting job) after they play one of the best defenses in the NFL.
Marquise Brown ($6,200 DK / $6,900 FD)
Going with the ownership here now that Rondale Moore is out. Way too cheap and a damn-near cash game lock.
Michael Pittman Jr. ($5,500 DK / $7,200 FD)
Mainly a DraftKings only play, but if you're not paying up for Jonathan Taylor, absolutely lock in Michael Pittman Jr. Matt Ryan turns his top wideout into fantasy gold on an annual basis and I don't see that changing now that he is in Indianapolis. This is likely a gamescript built for Jonathan Taylor, but at this price, we'll happily take 6 receptions, 75 yards, and a strong implied probability of a touchdown.
Rashod Bateman ($5,300 DK / $6,100 FD)
Another WR1 priced in the mid-tier. This offense will still run through Mark Andrews and I prefer to spend up to him at the TE position if I'm looking to get a piece of the Ravens' offense, but Bateman is way too cheap for the expected floor he will bring to NFL DFS players. The Jets' secondary still has a lot to prove, but they will no doubt be much improved from their previous dumpster fire efforts.

Honorable Mention: Tyreek Hill, Davante Adams, Adam Thielen, Keenan Allen, Christian Kirk
NFL DFS Tight-Ends
Mark Andrews ($6,800 DK / $7,900 FD)
He's the best fantasy tight-end in football. If you can afford him, you play him. My only concern here is the Jets' ability to push the pace to any degree.
Travis Kelce ($6,600 DK / $8,000 FD)
He's still Travis Kelce and there's no Tyreek Hill. Kelce will no doubt be the top target in the Chiefs' explosive passing attack. The total in this game currently sits at 54-points which will likely lead the slate in terms of expected production.
T.J. Hockenson ($4,900 DK / $5,700 FD)
PLAY HIM WHILE HE'S HEALTHY! I know Amon-Ra St. Brown was the sexy fantasy piece for the Detroit Lions to end the 2021 season, but when he was on the field, T.J. Hockenson was the main target for Jared Goff. The AETY Model projects a monster 21% target share for Hockenson when he's on the field in 2022 and playing him Week 1 against one of the worst teams in defending the tight-end in 2021 is something I'm excited to do.

Honorable Mention: Dallas Goedert, Kyle Pitts
Defense / Special Teams
I'll rarely write about defense and special teams in the Cash Game Checkdown. I believe it's much more important to lock in your key skill position players and hopefully a solid defense fits your build. Prices considered, here's who I'll take a look at:
Baltimore Ravens
New Orleans Saints
Miami Dolphins
Washington Commanders
New York Giants
NEW: The Fab Five
Going to get back to my roots and post "The Fab Five", which is simply just one more player than your typical "core-four" you get in the NFL DFS industry.
Jalen Hurts
Saquon Barkley
Michael Pittman
Christian Kirk
Travis Kelce
Make sure you follow me on Twitter at @stixpicks and be sure to sign up for an ALL ACCESS GOLD ACCOUNT account here at Win Daily Sports. Gain access to our Projection Model powered by AETY and jump into our Discord where we will have our experts talking plays across every sport and slate as sports FINALLY return.
Content Director for Win Daily Sports NFL/MLB. Creator of the AETY Model. Chicago White Sox die-hard. Focusing on helping others manage their bankroll and cross the pay line in NFL/MLB Cash Games & GPP's. CoFounder of thoroughbred horse racing partnership, Reta Racing LLC.