NFL Preseason Week 3 DFS Thursday Game Previews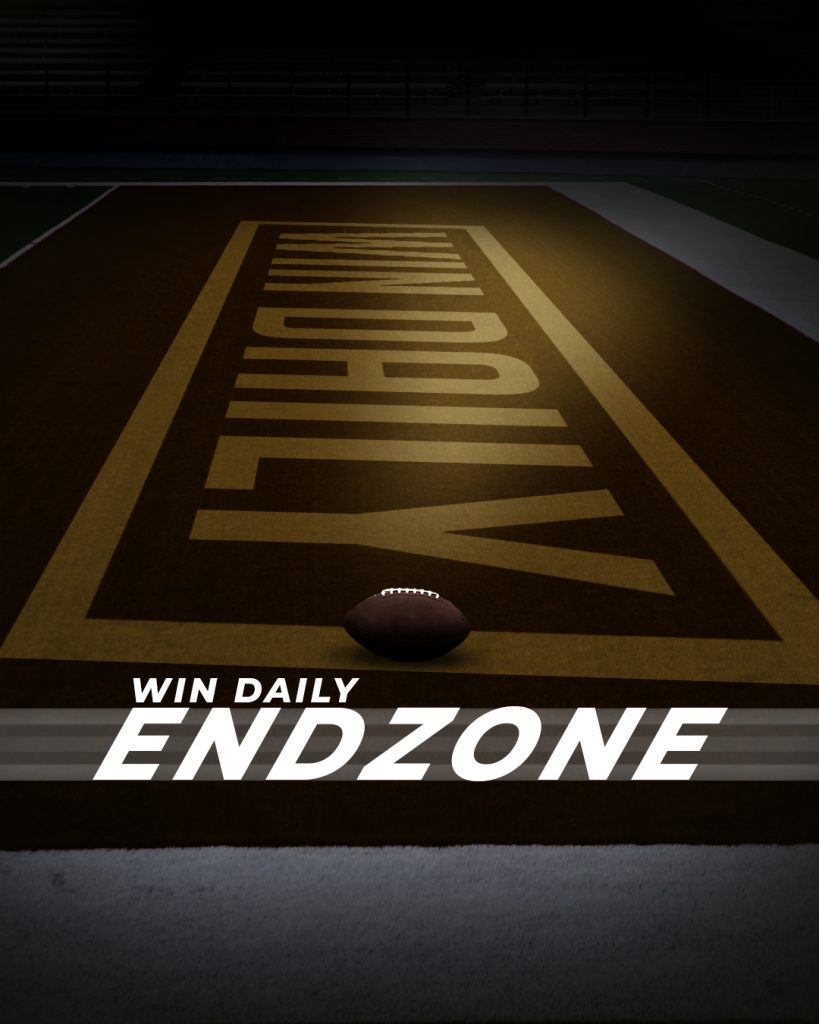 Cannot get enough of NFL Preseason DFS? We have six games coming up on Thursday, making it the perfect night for locking in some lineups for DFS preseason on DraftKings and FanDuel. For this slate, I am going to go through each game for Thursday night. The Thursday night games include NYG @ CIN, BAL @ PHI, WAS @ ATL, CAR @ NE, GB @ OAK, and JAX @ MIA.
Sign up NOW for WIN DAILY Premium Gold right here! Projections,
weather reports, wagering info, 24/7 expert chats and more! Get started today! And don't forget to check out the cheat sheet!
NYG @ CIN
Giants
Giants' coach Pat Shurmur has been vocal on not playing his starters in the preseason. Eli Manning has played just two series in two games thus far. It looks to be the Daniel Jones show again in Week 3. All signs indicate Jones should see a ton of playing time after an overall impressive performance throughout the preseason. Do not expect Jones to be necessarily chucking the ball up and down the field, but rather the Giants putting him in a position to succeed. Using short routes to the backs and tight ends. T.J. Jones has led the receiver group in targets (10), touchdowns (2), and ranks second in the NFL through the preseason in yards/route run (3.47) on a minimum of 10 targets. Jon Hilliman is interesting at running back after receiving 16 rushing attempts in Week 2, which was second-most in the NFL last week.
Bengals
The Bengals defense has allowed 469 passing yards over the past two weeks with a 105.4 passer rating. Expect to see a ton of running back work from Rodney Anderson. Trayveon Williams has been lost to injury, and because of that Anderson expects to finally be unleashed against the Giants. The Giants have allowed 103 rushing yards over the past two weeks. Receiver John Ross is unlikely to play, while Ryan Finley is strongly making his case to be Andy Dalton's backup. His three passing touchdowns are tied for the most in the preseason, and in passing yards, he ranks eighth. Damion Willis leads the team in receiving yards (63) and routes run (51) over the preseason.
BAL @ PHI
Ravens
Apparently, the Ravens' offense has been tearing up the Eagles' defense during the joint practices.
Usually, you want to be hesitant to play starters in the preseason game, but using Ravens is the sharp play because the Ravens value winning even in the preseason. They have won 15 straight preseason games. Lamar Jackson and Miles Boykin create a great stack in DFS NFL Preseason. Boykin has 12 targets in the preseason which is twice as much as any other receiver on the Ravens. This game could show us the most we see of the new-look Ravens offense prior to the regular season.
Eagles
There will no be Carson Wentz on Thursday night. With so many injuries at the tight end position, Joshua Perkins needs to be on the radar for preseason DFS. Though he only received two targets last week, he tied the most routes run (19) on the team in Week 2 of the preseason. Josh McCown has looked sharp in the few days since being added to the roster so don't be surprised to see him get playing time in this NFL preseason game. J.J. Arcega-Whiteside has seen 10 targets throughout the preseason, so he is a receiver to continue to look to in your preseason DFS lineups.
WAS @ ATL
Redskins
Receivers Trey Quinn and Paul Richardson are both out for Thursday along with tight end Jordan Reed. Great chance that running back Derrius Guice plays on Thursday. Along with that coach Jay Gruden has ultimately stated that he is not in a rush to name a starting quarterback. Receiver Darvin Kidsy should continue to see work as he has seen more than twice as many targets (9) than any other receiver.
Falcons
Dan Quinn has ruled out the following guys: Damontae Kazee, Russell Gage, Kaleb McGary, Foye Oluokun and Kendall Sheffield. Tight end Jaeden Graham has been making some noise. Graham led the Falcons in receiving yards against the Jets with four catches for 55 yards. His eight receptions rank second-most on the team behind only receiver Christian Blake during the preseason.
CAR @ NE
Panthers
Starters are in! Cam Newton and the entire starting lineup is set to play against New England. Head coach wants to play his starters via Panthers.com "I like it just because it's a measuring stick. Coach (Bill) Belichick, the way his teams play and prepare, they are going to test you," Rivera said. "It's an opportunity to truly gauge where we are and what we need to be better at." Areas of note that Rivera highlighted: The fourth, fifth and sixth wide receiver. "What's the combination of guys we're going to go into games with?" Rivera said. And the rookie running backs. "We've really got to see Jordan Scarlett and Elijah Holyfield a lot. We have to see what those guys are made of and if they have the ability to help us."
Patriots
It has not yet been confirmed whether or not Tom Brady will play in the NFL Preseason game in Week 3. However, if history is any indicator Brady will play. For more than a decade, the quarterback has played in the preseason dress rehearsal. At wide receiver Josh Gordon, Julian Edelman, and Demaryius Thomas are unlikely to play. Question marks also surround N'Keal Harry, Maurice Harris, and Phillip Dorsett, who are dealing with injuries that sidelined them for last Saturday's matchup with the Tennessee Titans. So again firing up preseason standout Jakobi Meyers continues to be a strong buy along with Braxton Berrios. At the tight end, there won't be Matt LaCosse or Stephen Anderson, so snaps will be divided among Ryan Izzo, Lance Kendricks, and Eric Saubert. Ben Watson is most likely to get the start on Thursday night with his 4-week suspension looming.
GB @ OAK
Packers
Oh, Canada! The Green Bay starters are projected to play in the first quarter according to Matt LeFleur. Still, the playing time is a question mark making them difficult to trust in this NFL Preseason matchup. The team will more than likely lean on caution in terms of starters playing long into Thursday night. Depth wide receiver Allen Lazard leads the team in targets (7) and yards per route run (4.29) on the Packers through the first two weeks. This is Aaron Rodgers on Lazard: "I think he's had a really nice camp. He's made a bunch of plays," Rodgers said on Monday. "He's always showing up on special teams, he does things the right way in practice. I think he's put himself in a position to legitimately be playing for all 32 teams."
Aaron Jones should also play, but I would expect a healthy dose of Dexter Williams again with Jamaal Williams just recently returning from his own hamstring injury.
Raiders
The preseason hasn't been overly kind to the Packers defense as they have given up 26 points in each of their first two NFL Preseason contests. So this could potentially bode well for the Raiders, who could use a nice showing Thursday night amid the Antonio Brown saga. Throughout the preseason and training camps, the two biggest names have consistently been Keelan Doss and Darren Waller. Doss has led the team in receptions and targets, while Waller made his preseason debut in last week's preseason game. Additionally, at running back DeAndre Washington has flashed with work in the preseason as he continues to fight for a roster spot. His upside in the passing game makes him a very intriguing preseason DFS play.
JAX @ MIA
Jaguars
For the Jaguars Marqise Lee, Alfred Blue, Geoff Swaim, Josh Oliver, and Charles Jones will not play. Nick Foles will play, but for how long is up in the air. Tre McBride continues to be a receiver to target throughout preseason DFS. He leads the team in targets, receptions, and receiving yards in the first two weeks of the preseason. Leonard Fournette may also see limited action so the work could be loaded onto Devante Mays, who has led the team in rushing attempts through the first two weeks.
Dolphins
Ryan Fitzpatrick looks to get the start with the head coach claiming Josh Rosen is just not ready. Brian Flores has said that this does not mean that Fitzpatrick is the entrenched starter for Week 1. He is going to see more action in this game than in the first two preseason games. Flores wants to see how Fitzpatrick works with the first-team offense during the third preseason game. Should Fitzpatrick play well, that would essentially lock him in to start Week 1 against the Ravens.
Fitzpatrick will be without DeVante Parker, Albert Wilson, and Kenyan Drake. The weapons that Fitzpatrick might end up working with include Preston Williams, Patrick Laird, and Kenny Stills.
THANK YOU FOR READING. YOU CAN READ SOME OF MY OTHER WORK AND THOUGHTS ON MY AUTHOR PAGE. FOLLOW Win Daily DFS ON TWITTER @WinDailyDFS. PLEASE CHECK OUT EVERYTHING THAT Win Daily DFS HAS TO OFFER. NEW ARTICLES, STATISTICS, AND DATA ARE BEING ADDED CONSTANTLY. ALSO, DO NOT FORGET TO LISTEN TO THE WIN DAILY PODCASTS HERE.
Andrew has come a long way as a fantasy football writer. After graduating from Roger Williams University where he received a degree in marketing he began to write his own fantasy blogs via WordPress.com. He used to call himself the Fantasy Football Master. Nowadays, he is slightly more humble. He has worked with Pro Football Focus as a base data analyst along with bringing head writing experience from Gridiron Experts and FantasyData. He is an absolute die-hard Patriots fan and will never forget his first fantasy football team. In his first-ever fantasy football league he drafted the Bears defense in the 1st round. He then proceeded to win the entire league. #DefenseWinsChampionships