NFL Preseason DFS Week 4 – Thursday Night Football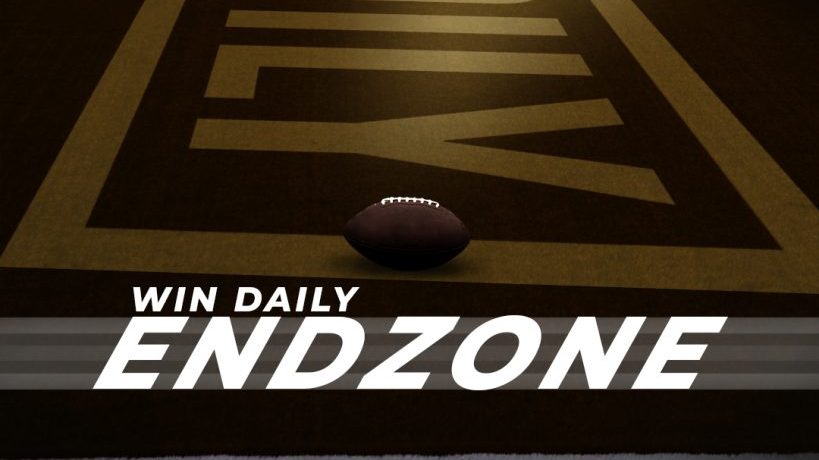 Did you enjoy the action last weekend? Well, we have our last week of preseason DFS this Thursday night! We have all 16 games coming up on Thursday making it a busy night for the final preseason slate of DFS NFL Preseason on DraftKings and FanDuel. The games include PHI @ NYJ, ATL @ JAX, MIN @ BUF, IND @ CIN, PIT @ CAR, BAL @ WAS, DET @ CLE, NYG @ NE, KC @ GB, TEN @ CHI, MIA @ NO, TB @ DAL, LAR @ HOU, ARI @ DEN, OAK @ SEA, and LAC @ SF. I will be delivering my best four to five plays at each of the positions. Get ready for some action!
Sign up NOW for WIN DAILY Premium Gold right here! Projections,
weather reports, wagering info, 24/7 expert chats and more! Get started today! And don't forget to check out the cheat sheet!
Quarterbacks
QB – NYG – Daniel Jones – He is going to be the starter in the Giants' final preseason game against the Patriots. Jones has been excellent throughout the preseason leading the NFL in yards per attempt (12.3), third in completion percentage (83.3%), second in quarterback rating (140.1), and 11th in passing yards.
QB – NE – Jarrett Stidham – Last year in the fourth game of the preseason former Patriots quarterback Danny Etling played the entire game as the quarterback. We should expect the same from Stidham in Week 4 of the preseason in 2019. Stidham played the majority of Week 3 of the preseason. Throughout the preseason Stidham ranks third in passing yards (506), 12th in yards per pass attempt (8.2), fourth in total dropbacks (73), seventh in pass attempts (62), fourth in pass completions (43), and first in first downs (31).
QB – KC – Kyle Shurmur – The Chiefs will be resting their starters as well and locked in backup quarterback Chad Henne is out with an injury. Andy Reid has already stated that newly signed quarterback Matt Moore will not play, so it will be a split between rookie Kyle Shurmur and second-year player Chase Litton. After their performances in the 49ers game, Shurmur is trending upward — and Litton is heading in the wrong direction.
QB – DEN – Kevin Hogan – Thursday's game against the Cardinals will feature Kevin Hogan and Brett Rypien trying to win the backup job. Hogan has been significantly better than Rypien so far throughout the preseason so he is the better play of the two Denver quarterbacks.
Running Backs
RB – CLE – D'Ernest Johnson – Since the start of the second preseason game, Johnson has slowly been more involved in the Browns' offense. He has six receptions on six targets to go along with 15 carries for 63 yards. His 20 total carries lead the Browns by a large margin and with the Browns resting their starters, Johnson should be the primary back on Thursday. He's also impressed coach Freddie Kitchens and run game coordinator/running backs coach Stump Mitchell with his ability to pass protect. From Ohio.com: "He can do everything," Mitchell said. "D'Ernest has the ability to be an all-down back in this league." When asked the player who has grown most during training camp, Mitchell picked Johnson.
RB – DET – Mark Thompson – With the depth chart topped by Kerryon Johnson, C.J. Anderson, and rookie Ty Johnson look for Mark Thompson to shoulder the load as the fourth running back on the roster. He has rushed 17 times for a team-high 80 yards and two touchdowns in the first three preseason games. With the release of Zach Zenner, the volume should be in Thompson's wheelhouse.
RB – DEN – Devontae Jackson – There's a chance that Khalfani Muhammad misses the last preseason game, leaving the running back workshare to be divided by Devontae Jackson and David Williams. Jackson leads the team in carries (22) and is third among running backs in targets (7) and receptions (4).
Wide Receivers
WR – NE – Jakobi Meyers – Via Eric J Adler on Patriots.com, if Meyers plays in the final preseason game he is good for another five-catch performance. Meyers has had at least six receptions in his first three preseason games and leads the NFL in total targets (26), receiving yards (225), and first down receptions (13).
WR – CLE – Braxton Miller – Baker Mayfield and the starters will be out for the Browns come their Week 4 NFL Preseason game against the Lions. Miller signed with the Browns recently and also just released Jaelen Strong. Strong's departure creates a large space in the receiver room as he led the team in routes run throughout the preseason. So with Strong gone and Freddie Kitchens eager to watch Braxton Miller vs. the Lions, that makes him a preseason DFS target; especially noting they want to put him positions to make plays. "He's picking up the offense,'' said Kitchens. "That tells you a little bit about his learning ability. We'll see if we can put him in some positions to make some plays Thursday night. He's doing well, though."
WR – DEN – River Cracraft – When in doubt in NFL Preseason DFS you sometimes need to follow the coachspeak. He is definitely a deep dive to target in GPPs with only three targets throughout the preseason. However, two of those three targets came during last week's contest. His ability as a punt-returner could ultimately push him to make the final 53-man roster.
WR – MIA – Preston Williams – Williams' best game during the preseason came in Week 1 without Ryan Fitzpatrick dominating the snaps. With Fitzmaguc out for Week 4, look for Rosen to push the ball down to Williams more frequently. In Week 1 Williams had four receptions for 97 yards. Over the past two weeks where Fitzpatrick has led the team in pass attempts, Williams has one reception on seven targets. Third-stringer Jake Rudock is also expected to see significant time at quarterback.
Tight Ends
TE – NE – Ryan Izzo – Made the surprise start with the first-team offense in Week 3 of the preseason. With Matt Lacosse still looking to get ready for Week 1 and Ben Watson/Lance Kendricks having suspensions looming Izzo is an intriguing option. Led the team at tight end in routes run (13) in Week 3 of the preseason.
TE – GB – Robert Tonyan – Tonyan has run the second-most routes (52) throughout the preseason on the Packers of all positions. He ranks fourth in the NFL at the tight end position in total routes run. Jimmy Graham has been out with a finger injury so Tonyan has made the most with more playing time. Last week against the Raiders, Tonyan's 27 routes run were tied for the most by all tight ends in Week 3.
Andrew has come a long way as a fantasy football writer. After graduating from Roger Williams University where he received a degree in marketing he began to write his own fantasy blogs via WordPress.com. He used to call himself the Fantasy Football Master. Nowadays, he is slightly more humble. He has worked with Pro Football Focus as a base data analyst along with bringing head writing experience from Gridiron Experts and FantasyData. He is an absolute die-hard Patriots fan and will never forget his first fantasy football team. In his first-ever fantasy football league he drafted the Bears defense in the 1st round. He then proceeded to win the entire league. #DefenseWinsChampionships