NFL DFS GPP Advice – Stick's Stacks for Week 10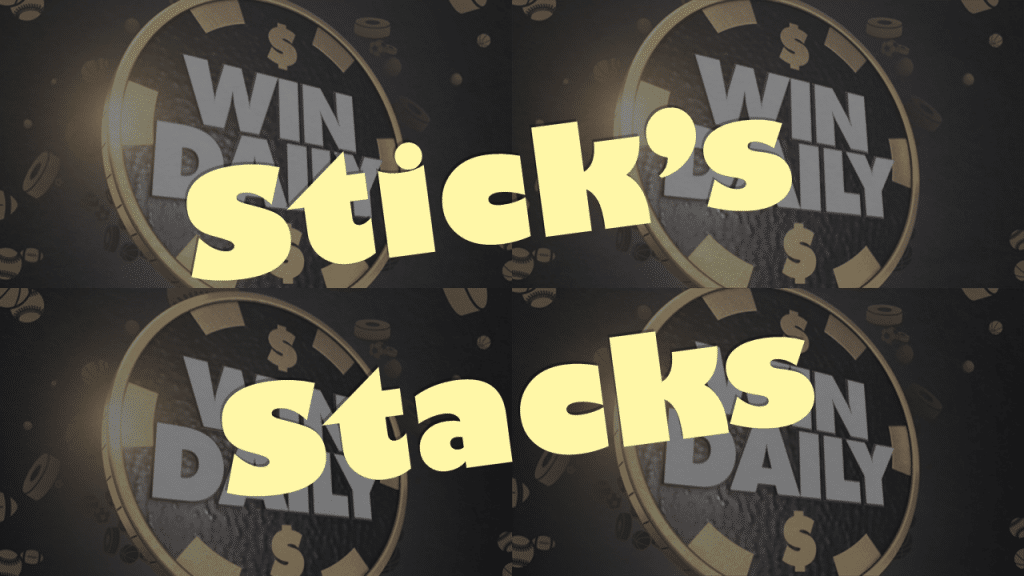 Hopefully you all enjoyed a solid week of cashing in Week Nine NFL DFS GPP tournaments! We have another slimmer player pool to choose from coming up in Week 10 with only 10 games on the main slate. Let's keep it rolling!
If you read the article and have any questions, please do not hesitate to reach out to me directly on Twitter or sign up for Premium Gold to join our Slack channel.

Like usual, it's another great week to use 50% or more of your bankroll towards single entry cash games. Please check out my Cash Game Checkdown before you set your DFS lineups for Sunday. Lets get to work on Stick's Stacks for Week 10.
Sign up NOW for WIN DAILY Premium Gold right here! Projections, wagering info, 24/7 expert chats and more!
The purpose of this weekly article is to identify team/game stacks that we are going to use for an NFL DFS GPP. For those of you that don't know, a "team stack" is simply multiple players from the same team (I rarely ever use more than three players on a given team).
A "game stack" is similar, except we are going to use players from both teams in a given game. Focusing on team stacks and game stacks is incredibly useful in the NFL DFS GPP environment. That being said, let's get to this week's top NFL DFS stacks for DraftKings!
Top NFL DFS GPP Game Stacks
Arizona Cardinals @ Tampa Bay Buccaneers (-4.5) O/U (51)
If you're looking for an up-paced game to stack in Week 10 DFS, look no further. Both of these defenses sit in the top three for fantasy points allowed per game on DraftKings and both of these offenses love to play fast. All signs point to a shootout here and I'll be heavily invested on getting exposure to this game. Better yet, it's not too difficult to figure out where the production is going to come from.

In terms of game stacks, this looks like it's the only game I want to fully invest in for my main NFL DFS GPP lineups. I'm going to have a rather narrow player pool this week and really take a stance on where I want to go for exposure (outside of obvious one-offs).
Arizona Cardinals
Kyler Murray ($6,500)
Christian Kirk ($5,200)
Larry Fitzgerald ($5,500)
David Johnson ($5,700) – Personally, I'll be underweight on these AZ running backs. I don't want to guess on who is going to get the most opportunity and the Tampa Bay run defense is stout. Leave these RBs to larger field GPPs or MME style of DFS.
Kenyan Drake ($5,500) – See above.
Tampa Bay Bucanneers
Chris Godwin ($7,400)
Mike Evans ($7,600)
Ronald Jones ($4,300)
Jameis Winston ($6,800)
Breshad Perriman ($3,000) – Excellent punt play if you have to save some salary but still get exposure to this game. Over 60% snap share in the past two weeks and starting to get some targets.
Cameron Brate ($3,700) & O.J. Howard ($3,300) – Not sure you want to mess with either of these tight ends, but they are playing the Cardinals' defense, who bleed points to opposing tight ends.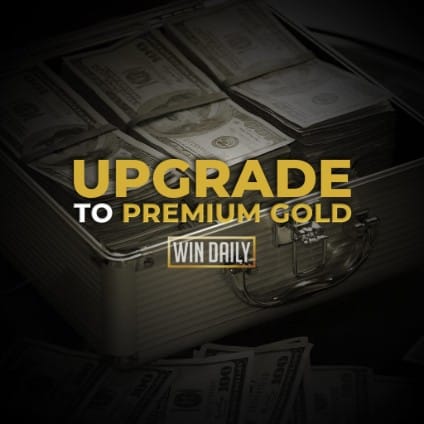 Top NFL DFS GPP Team Stacks
New Orleans Saints
No surprise here that we are extremely interested in the New Orleans Saints' offense at home in the dome, against the Falcons. EVERYONE torches the Falcons in 2019 and this game will be no different. The Falcons defense is brutal in all aspects of the game, but I really like to pick on them with opposing quarterbacks and wide receivers (their secondary ranks dead last in coverage according to Pro Football Focus).
The Saints have an implied team total of 32 points, which is almost five points higher than anyone else on the board. They are a 13-point favorite against Atlanta, so there are certainly blowout concerns that lead to a run-heavy, second half game script.

I still strongly believe Drew Brees and Michael Thomas are the best duo to pair together this week in DFS. They'll still have their chances to do damage and hit value for our lineups. At this time, I'm not sure I really want to play anyone on the Atlanta side of the ball besides Austin Hooper and a few shares of Julio Jones, Matt Ryan, and Calvin Ridley. You can definitely game stack this game as you know Atlanta will have to pass a ton.
Michael Thomas ($8,300)
Drew Brees ($6,700)
Tedd Ginn Jr. ($3,700)
Alvin Kamara ($8,200) – Too expensive in my opinion unless we hear news that he won't be splitting snaps with Latavius Murray. Which I don't see as a feasible game-plan.
Latavius Murray ($7,300) – Time share concerns? One of these running backs is going to score a touchdown or two.
Jared Cook ($4,100) – Large field GPPs.
New Orleans Saints DST ($3,700)
Kansas City Chiefs
It appears Patrick Mahomes will be returning this week so needless to say, we are going to be interested in the Chiefs' offense. If you've been reading the articles the last couple of weeks, you know I love to pick on the Titans' secondary (who are now missing Malcolm Butler with injury). If Mahomes is a go, this is a matchup we should be licking our chops for.

As of now, it looks like the public is not going too heavy on the Chiefs' offense this week. Let's buy in while the ownership is down.
Tyreek Hill ($7,700) – We loved Mike Evans in Week Eight in this matchup and he went off. We loved D.J. Moore in this matchup last week and he went off. Tyreek Hill is more explosive and a better route runner than both of them…
Patrick Mahomes ($7,000)
Travis Kelce ($6,400)
Sammy Watkins ($5,100)
Damien Williams ($4,900) – 70%+ snap share last week. I want to have a share of Kansas City in every GPP lineup I make this week. If I'm not using Mahomes and a pass catcher(s) in a lineup, I'll have Damien Williams in there.
Baltimore Ravens
It's hard to overlook the Ravens' offense this week in an absolute smash matchup against the Bengals with an implied total of 28 points. We have blowout concerns as the Ravens are favored by 10 points on the road, but you can always consider Lamar Jackson and the Ravens' offense against a sieve defense (who ranks around the third worst in terms of passing and running defense DVOA).
Lamar Jackson ($7,300)
Marquise Brown ($5,100) – Great price for a home-run type of DFS play.
Mark Ingram ($7,100)
Mark Andrews ($5,200)
Willie Snead ($4,000)
Sample NFL DFS GPP Lineup
QB: Kyler Murray
RB: Christian McCaffrey
RB: Ronald Jones
WR: Christian Kirk
WR: Chris Godwin
WR: Marquise Brown
TE: Mike Gesicki
FLEX: David Montgomery
DST: Pittsburgh Steelers