MLB SEASON LONG DRAFT PREVIEW 2020: TOP BASEBALL DRAFT PICKS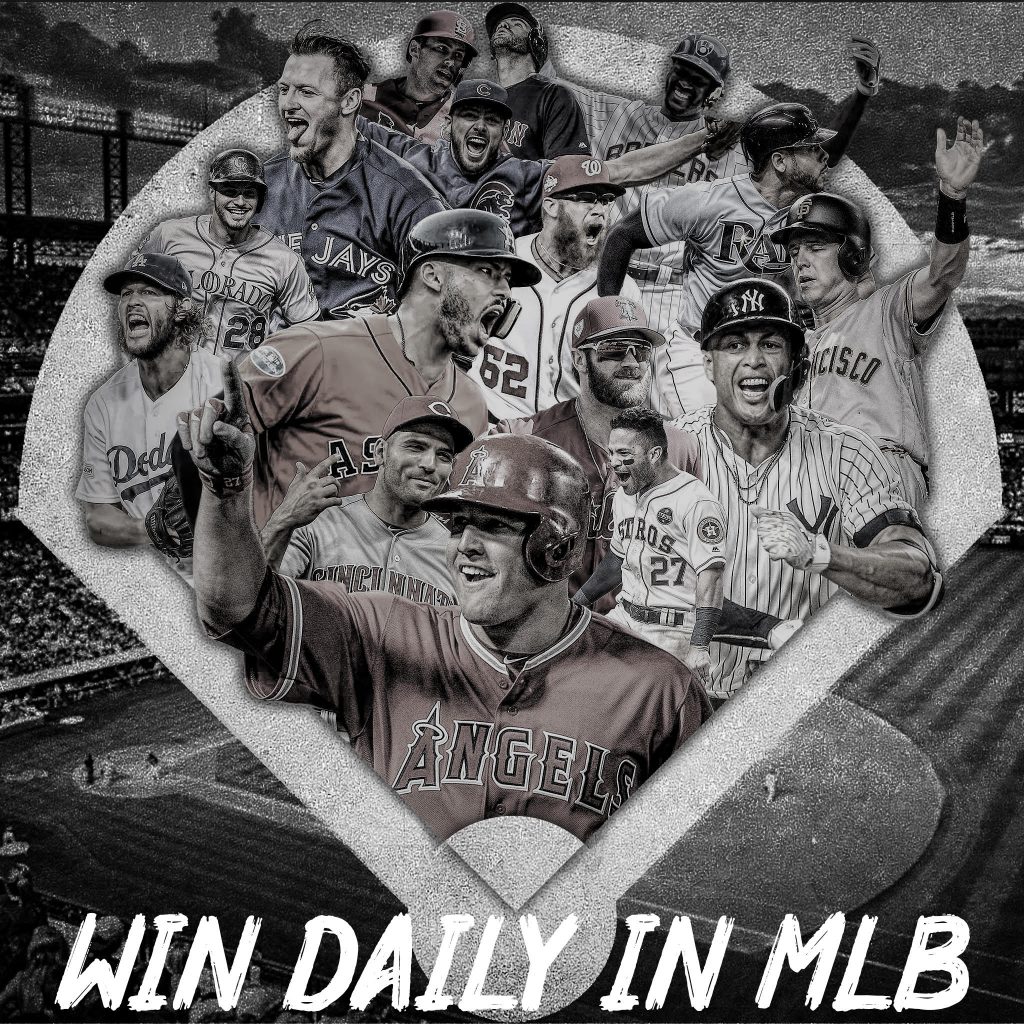 Catchers
Catchers are an integral piece of your MLB season long draft. The drop off between each tier could be drastic but I always lean to pay down at Catcher and try my best to find a gem later in drafts. Then back them up with a high upside player that fell to the end of the draft. Here are the 3 guys I'm targeting at the Catcher spot.
If I'm reaching for the top catcher I'm targeting Gary Sanchez and his power numbers in a great hitters park. Sanchez has more upside due to his power and the lineup that surrounds him than any other catcher so we have in the top spot! I prefer to pay down at catcher but there is reason to secure Sanchez. He hit 34 home runs in an injury plagued season where he only played 106 games. Injuries are always the risk with Sanchez but if he can find a way to play in 130+ games we could be looking at 40 home run 100 rbi season out of this backstop.
A player I will try my best to get later in the draft is the sophomore Will Smith from the Los Angeles Dodgers. This Dodgers offense is scary good and Will Smith is young and should be in the upper tier of games started at the Catcher position. Smith hit 15 home runs in only 170 at bats which could have him on his way to a 30 home run season in 2020 which is a great place to land a mid round catcher.
At the end of your drafts Sean Murphy is the guy to target. He has power and the Oakland offense will be doing damage in the AL West this year. He is a great steal at the end of drafts. Murphy only had 53 at bats when he got called up last year but showed solid power with 4 home runs in his short stint. Give him a full year behind the plate and lets see if he can push for 20+ home runs and become a late draft steal.
First Baseman
You want power from your first baseman and we got a stacked field to choose from going into our 2020 MLB Season Long Drafts. It looks like most of the great 1b reside in the National League so lets see who landed in the top spot of the Win Daily Consensus rankings at 1b.
Cody Bellinger had a massive season last year and it will only get better this year with the addition of Mookie Betts in that Dodger lineup. The Dodgers have officially turned into the Yankees of the National League with their aggressive off season moves and spending habits. Bellinger gives you power, average, and speed which is the reason we landed him in the top spot. But 1b is stacked and we love the consistency that Freeman provides and the power that Alonso gives.
Anthony Rizzo is falling further and further down draft boards after a slightly down season in 2019. If he falls low enough in your drafts, have the confidence to scoop him up. We think Rizzo is a steal at his current ADP and we want to take it him if he falls to you.
I'm going to give you a sleeper pick that didn't make our top 15. That pick is Joey Votto and he is my sleeper pick to grab late in drafts. Votto was Mr. consistency for the past 10 years and after down seasons the last 2 years his numbers and draft stock has plummeted. I believe his motivation was down playing on a team that consistently had nothing to play for and he was playing uninspired baseball. But with the offseason moves the Reds made to put themselves in contention I see a resurgent year coming from Votto.
Second Baseman
There was a day where second baseman didn't hit for power, but now a days you need power from every position. We have a tie at the top spot in my eyes with some nice value later in the drafts.
If you're trying to land the best 2b take your pick from Gleybor Torres or Ozzie Albies. I lean Gleybor Torres overall as the better play with his massive power in the middle of the infield but if your building for speed Albies could be your man. Either way I believe you're safe and we predict even better numbers in 2020. On a side note I like the futures bet of Gleybor Torres to win the AL MVP. I seen him as high as +1600 to win the award earlier in the year but some smart money has come in so the odds may have lowered by the time you're reading this.
Lets switch it up and provide a fade spot in your drafts. As much as I liked Jose Altuve as a hitter and overall player I'm hitting the avoid button in drafts. I will take my shots in DFS but I think the pressure of questions and the stress of the scandal will be too much. I'm avoiding all these Astros in my season long drafts and I think you should do the same. They will be pitched differently now, fans will be constant heckling them, and the media will ask them 1000 questions everyday. As soon as their first slump comes the questions will get harder to answer and as athletes they will start questioning themself. Out of all the Astros, I think Altuve is the most polished professional but I will only draft him in spots where he falls several rounds below his ADP.
There are 2 guys I like at the bottom of drafts and thats Mike Moustakas and Cavan Biggio. They both have power, play in hitters parks, and are surrounded by solid lineups. They will provide home run, rbi, and run upside. They are both buy low candidates, so if you find yourself at the second half of your drafts without a 2b feel confident in grabbing either of these 2 guys.
Third Baseman
The hot corner is not full of names I love. I believe it to be either a pay up spot if you can get Nolan Arenado or a pay down spot where I feel better fading guys like Anthony Rendon and Jose Ramirez and landing at the mid or lower tier of the draft boards.
Too bad we don't get points for web gems because Nolan Arenado would be the league leader in that category as well. He is a 5 tool stud and is the best 3b in the league and the best on the draft board. The only blemish he currently carries going into this season is if he gets traded off the Rockies and has to play his home games out of Coors Field. If he stays put I don't see anyone else competing with his power numbers at 3b and I expect another 40 homer 100rbi season out of Nolan.
The sexy pick of the 3b class will be Vlad Guerrero Jr, but I think he will go ahead of where I would want to grab him because every draft has that one guy who just has to say he has Vlad. I'm going to slide down to a guy I think you can get later with just as much upside. The man I'm targeting is Yoan Moncada. Coming off a 25 homer 79 rbi 315 batting average season I think Moncada builds off that and pushes over 30 homers and finds away to get to 100 rbis if he gets up to 150 games played. The white sox lineup got better and I think Moncada helps lead the charge.
Eugenio Suarez is the guy you want in the mid tier. He rather quietly hit 49 homers in 2019. Yes you heard it right 49 homers and this guy is still going later in drafts than his counterparts. Barring any injury I don't see a decline coming and this Reds lineup looks official. They made offseason moves and got a ton of young talent to build off a good season last year. They play in a hitters park and the numbers will be there for Suarez in 2020. On a side note lock in a futures bet for the reds to surpass their Vegas win total of 82.5 wins.
Shortstop
Back in the day I was SS myself and I got on the field for my glove but the game has changed. Years ago it was a defensive position but now it's just another roster spot that you need to fill with power or speed.
It's Francisco Lindor and Trevor Story at the top and I'm fine with either. If you're leaning more on power for your roster I would lean Story and if your building for speed and runs scored go with Lindor. We talked up Gleybor Torres in the 2b category so I wont talk about him here as much but I'm very high on Torres across the board and dual eligibility makes him a prime target for both positions.
Let's talk about two fade spots I like to avoid in season long drafts. Number one is Alex Bregman and for the most part all Astros players. The other guy is Trea Turner. Due to the injury risk and his current ADP I will be fading him and I believe you should do the same.
I like young talent and guys with upside as my value targets late in drafts and the SS I'll be targeting is Bo Bichette. The kid came up last year and provided power, average, and speed. 11 home runs, 21 rbis, 32 runs scored, and 4 stolen bases in 196 at bats with a 311 batting average works for me. Over a season that would lead to all star caliber numbers that can land him as a top 10 fantasy producer and way above his current adp.
Outfielders
The Outfield is as stacked as our current roster of DFS pros and sports bettors at Win Daily. The talent pool is enormous and we are going to highlight our favorite plays in the outfield.
Can you go wrong with Trout or Acuna as your number 1 pick? no. Should you overthink things? no. Should you draft Mr. Consistency Mike Trout if you have the number 1 pick YES. Acuna is great and he will put up massive numbers this year again but to play things safe go with Trout overall as your number 1. Follow Trout with Acuna then Bellinger, Yelich, and Betts. That's how we round out our top 5.
You can see our top 40 list but we are here to showcase our favorite targets in the mid range and towards the later part of your drafts. A guy all of our staff members are targeting is Nick Castellanos of the Cincinnati Reds. We are high on the Reds and all things that take place in one of the best hitting environments in baseball. Most projection models have him close to the 30th ranked outfielder and we think he has the potential to finish the year in the top 20.
At the bottom of our top 40 is Kyle Schwarber. When taking late round draft picks we want upside and we get it with Schwarber. The dude is a monster with a ton of power. The upside potential to shoot up the outfield rankings is massive and I believe the Cubs lineup in general is being slept on. So if Schwarber is around late in drafts give the man a shot.
Starting Pitcher
Starting pitching is the most important of all the positions to draft right in my eyes. The top end talent is high and you need to avoid mistakes and stay away from the injuries which are already running ramped this offseason.
This may be a homer pick but I will take my shot with deGrom over Cole in my rankings at Starting Pitcher as the number 1 pitcher on the board. You will get a better era with deGrom but more wins with Cole if the past has anything to say to what the future holds. We do think that deGrom has some win upside compared to last year and the Mets will find a way to score runs behind him and save games for him.
Walker Buehler is my target if I'm sitting in the right draft position to scoop him. The Dodgers are going to win over 100 games this season and I believe Buehler will be responsible for at least 20 of those wins. He is young, has enormous K upside, and should be locking down wins for you every week of the season. Feel free to slide him up your draft boards before the public takes notice of his talent.
Jose Berrios will be a top 20 starter by seasons end. Other sites have him outside of 20 in the low 30s but we think he is a steal at that ADP. Berrios eclipsed the 200 inning mark and struck out 195 batters last year finishing with 14 wins in a 32 start season. With the addition of some talent to the Minnesota roster we should see an uptick in wins and adding another year of experience to his belt should improve on his stellar 2019 season.
Join Our Discord Private Chat!
We, the Win Daily team, have recently made an in-house upgrade from Slack to Discord to support our growing online community of players. While Slack is a great tool for small groups, Discord is a match made in heaven for us.
Discord is essentially a 'by gamers for gamers' platform that boasts an online community of over a hundred and thirty million registered users, covering all types of games.
Since we made the shift to Discord, we have been adding new features like categorizing Win Daily posts into their respective channels, a two-step account linking process that can be accessed from both the website and the Discord app, and a dedicated Monkey Knife fight channel for all members.
Check out a recent member of our discord channel here describe what happens when you join our private discord chat!
How to join Discord:
Click on this link https://discord.gg/QsK3HJs and sign in or register for your discord account.
You will enter into the #account-sync chat. There post your Win Daily account email address, and your member role will sync to discord in 3 minutes.