MLB DFS Aces and Stacks for DraftKings and FanDuel for 09/07/2022 – Win Daily Sports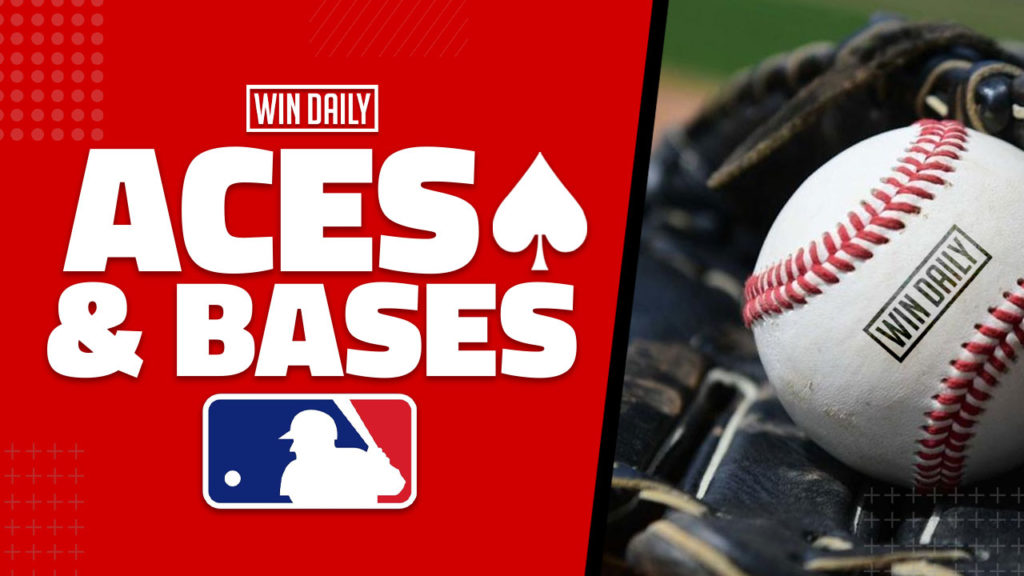 Welcome to the Wednesday edition of the Aces and Bases, where I'll be going through the top MLB DFS Aces and Stacks on DraftKings and Fanduel. 
Tonight we have a very manageable 6-game slate of MLB DFS to navigate through.  With limited games, it normally means we have limited options.  That may not be the case tonight as we have some clear-cut aces and clear-cut stacks
Let's dig in and see if we can find some stacks to use today!
MLB DFS Aces – Main
Yu Darvish vs. Arizona Diamondbacks
Yu Darvish has been a tale of two pitchers this season.  At home, he's been dominant with a 2.29 ERA allowed and a .232 wOBA allowed.  On the road, his numbers are significantly higher with a 4.09 ERA and a .293 wOBA.  Thankfully, tonight's game is at home and he's 100% useable.  Even with his struggles on the road, Darvish has pretty well of late. 
Over the last month, he's pitched to an ERA just over 3 and has a 27% K rate.  His chase rate of nearly 32% over that stretch is the highest of any pitcher on the mound tonight.  The Diamondbacks have been better lately, but I still think that Darvish is able to hold them in check tonight and ends up as one of the higher-scoring pitchers on the slate. 
Christian Javier vs. Texas Rangers
Javier faced this same Rangers team just a week ago and although he gave up 3 ER in 5 innings of work, he was still able to strike out 7.  This will be the fifth time that Javier is facing his cross-state rivals and in each start, he hasn't allowed more than the 3 runs he gave up in the last one.  He's also been able to K at least 7 in 3 of the 4 outings, with the only one under 7 being nearly 4 months ago. 
Javier definitely has some K upside tonight as he has a 31.60% K rate over the last month, tops of any pitcher on the mound tonight.  The projected lineup he's supposed to face tonight has a nearly 25% K rate vs. righties over the last month and has also hit for little power.  This is a good matchup for Javier, even if it's facing the same team 2 starts in a row.
Jordan Montgomery vs. Washington Nationals
Jordan Montgomery is the fourth most expensive pitcher on the mound tonight, yet it's very possible he ends up as the highest-scoring pitcher.  Montgomery rebounded nicely from his disastrous outing vs. the Braves to go 7-strong vs. the Cubs without allowing a run and striking out 4.  In a solid matchup tonight vs. the Nationals, he should continue the good times he's had in St. Louis. 
The Nats projected lineup tonight has a 28% K rate vs. lefties over the last month.  There's definitely some K upside for Montgomery in this tilt.  The Nats are a stingy team and it's oddly always a risk throwing a pitcher against them.  That said, Montgomery is in solid form and should be able to dominate them tonight.  
MLB DFS Stacks – Main
Houston Astros vs. Cole Ragans
The start to Cole Ragans has seen some mixed results through 4 starts.  He's had two good starts and also two not-so-good starts.  One thing has remained constant in the four starts regardless of the final result, and that is that he's given up a ton of contact.  He's yet to strike out more than 3 in a start and has averaged an 81% contact through the 4.  With giving up that much contact, he's been lucky so far as to not have had a really big blowup game. 
It's only a matter of time and it very well could come at the hands of the Houston Astros tonight.  They've been one of the best teams in the league this year against lefties, with a .758 OPS and a .186 ISO.  We'll want to prioritize righty bats here as so far in his young career, Ragans has been dominant vs. lefties. 
Core:  My Astros core tonight will be the usual suspects in Jose Altuve and Alex Bregman.  These two have been far and away the Astros' best hitters vs. southpaws over the past month.  Altuve's wOBA vs. lefties over the last month is all the way up to .424.  He's also hit for some power vs. them with a .250 ISO. It also helps that he's coming into this one as the Astros' best hitter of late.  With his homerun last night, he's now hit safely in 7 straight and has 3 homers over that stretch.  His price is up there at $5.9k tonight on DK, but with his recent productivity, his price makes perfect sense. 
Although Bregman's bat has been a bit cold recently, he's in a spot to smash tonight.  Against lefties over the last month, Bregman has a .512 wOBA and a .375 ISO.  A date with Ragans may be what the Dr ordered to get him right.  Even though he doesn't have much to show for it over the last week, Bregman does have a 45% hard-hit rate and has been putting the ball in play.  His luck will turn around and I want him in my lineup when it does.               
Secondary Pieces:  After Altuve and Bregman, I'm going to look to add guys like Trey Mancini, Chas McCormick, and Christian Vazquez.  Mancini has been really good vs. lefties since joining the Astros.  His wOBA is up over .300 and he's also had a hard-hit rate over 50% vs. them.  He's fairly priced tonight at $4.1k and can absolutely return value at that price.  McCormick is the value play here though.  He's priced at $2.6k tonight and has been crushing lefties with a .406 wOBA vs. them over the last month. 
San Diego Padres vs. Tommy Henry
After being able to navigate through lineups without letting up too much damage in his first 5 starts to his career, he was blown up by the Phillies in his last outing.  With a matchup against a really tough lineup tonight, there's a strong chance he has 2 challenging outings in a row. 
While the Padres have been somewhat of an MLB DFS disappointment since making a huge splash at the deadline with the Soto trade, they are still a potent lineup that can erupt at any time.  We're attacking Henry tonight because he gives up what we're looking for, lots of hard contact.  His hard-hit rate over the last month is a massive 39%.  No pitcher on the mound tonight even comes close to sniffing that. 
Core:  My priority with the Padres tonight will be Manny Machado, Ha-seong Kim, and Will Myers.  While Machado has been a bit cold recently, he's been really solid vs. lefties this season.  He's slugging .478 and has an OPS of .820.  Machado has also been far better at home vs. lefties this season, hitting .300.  My next favorite of this group is going to be Kim.  He won't hit for much power but has been an on-base machine vs. lefties this season with an on-base percent pushing .400.  His 24 wRC vs. lefties actually leads the team this season. 
Of the three though, Myers has been the one guy that has actually been hitting lefties well over the last month.  His wOBA is .458 and ISO is at .292 vs. them.  He's also extremely affordable tonight at just $3.3k on DK. 
Secondary: Other bats I'll look to also grab in this stack will be Juan Soto, Josh Bell, and Jurickson Profar.
St. Louis Cardinals vs. Cory Abbott
After a few outings out of the bullpen, Cory Abbot returns to the rotation tonight to take on the St. Louis Cardinals.  Not the easiest task for the young right-hander.  Abbott has been much better out of the pen this season than he has as a start.  In 4 starts, he's somewhat struggled as he's given up at least 3 ER in half of them.  Against a really good Cardinals lineup, there's a strong chance he has another outing letting up at least 3 ER.  With Abbott, we'll want to prioritize getting in the lefties.  Lefties have a slugging % of .510 vs. him this season and a .375 wOBA.  Both numbers are significantly higher than what he's given up vs. righties. 
Core: I'm going to start my Cardinals stack with the 2 guys at the top of the lineup tonight.  Both Lars Nootbaar and Brendan Donovan are in line for solid nights.  Nootbaar has been outstanding over the last month.  Against righties over the last month, Nootbaar has a .411 wOBA and a .358 ISO.  While his numbers have been down over the last week, he's been extremely unlucky.  His price of $3.5k hasn't yet caught up to his potential and he's a lock in my Cards stack. 
Next up is Brendan Donovan. Against righties over the last month, he has a .350 wOBA.  He's not only a piece of my core tonight, but he's also an amazing value at just $2.8k on DK. 
Secondary Pieces: While they are normally my core for the Cardinals MLB DFS stacks, Nolan Arenado and Paul Goldschmidt are going to be complimentary pieces for me tonight.  They are both extremely expensive tonight at $6.4k for Goldy and $6.2k for Arenado.  They both have massive upside in any matchup, but it's a steep price to pay for them.  If I had to pick between the two tonight, I'd go with Arenado.  He's crushed righties over the last month with a .405 wOBA and a .286 ISO.  That said, you can't go wrong with either one of them.       
Value: Like last night, Corey Dickerson will be a solid value play.  He's just $2.5k on DK and will be hitting in the middle of this lineup.  Against righties over the last month, he has a .482 wOBA and a .208 ISO.  He's one of the top value plays on the board tonight. 
***All Cardinals are essentially in play tonight.***
MLB DFS Summary
The Giants currently don't have a starter posted. Depending on who they throw out, the Dodgers very well could make it into my top 3 stacks. I also like the Tigers vs. Mike Mayers tonight.
Make sure to check out our Home Run Model.
Good luck and hope to see you in the green.
Make sure you follow me on Twitter at @rangerzfan79 and be sure to sign up for an ALL ACCESS GOLD ACCOUNT here at Win Daily Sports. Gain access to our Projection Models and jump into our Discord where we will have our experts talking plays across every sport and slate!
New to the DFS writing world but have been playing DFS since BVP was cool. Started play season long fantasy when sporting news was used to calculate weekly scores. Originally from Brooklyn, NY but now a Baltmore resident.