DFS Pitching, Monkey Knife Fight Picks – 4/27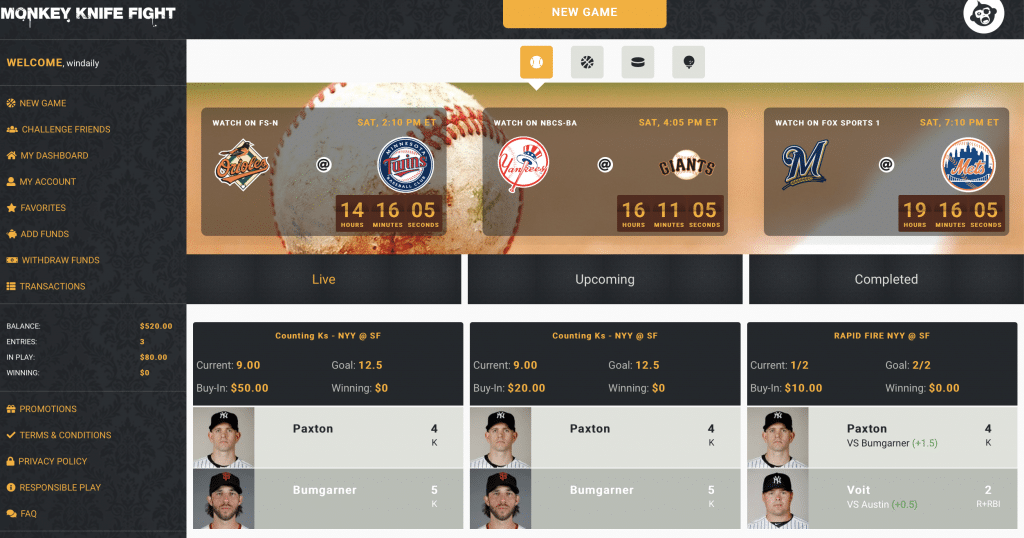 In the MLB DFS world, Saturday means a split slate for early only, evening (sometimes called main or featured) and all day slates to choose from. There are two big weather trouble spots: BAL at MIN and DET at CHW. The weather and how it impacts MLB DFS is my area of expertise, so I can confidently say that both games are serious cancellation concerns. Even though the calendar says late April, Mother Nature in the Plains doesn't always agree. Both cities are going to be dealing with a cold rain and snow mix. In MIN, the saving grace that COULD allow them to play is that the snow/rain mix should end by early afternoon locally (it is a 2:10 Eastern start time). In CHW, it is an evening game and they will be dealing with wintry precipitation all night long so they will likely not be as lucky.
Top-Tier Options
Clayton Kershaw PIT at LAD: Kershaw is not the same pitcher that won back to back Cy Young awards in '13 and '14 and three out of four between '11 and '14. Let's just get that out in the open. If that bothers you, I understand it. However, that doesn't mean he can't be successful, especially in a smash spot against a struggling Pirates offense that is missing a bunch of regulars (Corey Dickerson, Starling Marte and others) and is putrid against lefties (before Friday night's game, the Pirates ranked 29th, out of 30 teams, in slugging vs. lefties at .316 and dead last in OPS at .588 so far in 2019). Though Kershaw has an even smaller sample size than most other SPs in the young 2019 season because he had only two starting assignments, his season so far indicates that he is pitching to contact and keeping batters off balance. He is only allowing a hard hit rate of 22.6% (MLB average is 34.1%) and has only given up three barrels in his two starts. His 86 mph Average Exit Velocity backs that stat up. His K% is at a relatively low for him (27.1%). That further indicates his pitching to contact philosophy. He is only averaging 90 mph with his four-seam fastball. Kershaw may be more of a DK pitcher than FD because DK rewards clean innings more than FD, which rewards Ks and lack of runs more. Remember, you are paying up in this spot because Kershaw profiles well as a wily, veteran lefty pitcher against a team that is in a rut offensively. PIT is very bad against lefties and has a whole bunch of young players that should be in the minors.
Noah Syndergaard MIL at NYM: Yikes, pitching against the Brewers you might say? I get it. I really do. But hear me out. Milwaukee is not the same offensive team on the road that they are at home. And this is a massive park difference going from Miller Park to Citi Field. So far this season, Miller Park is the seventh best park to score runs in while Citi Field is 15th. Historically, the gap is even bigger. Let's look at the Brewers' best player, Christian Yelich. He has an incredible 13 HRs in only 48 ABs at home. Before last night's game he had zero, yes, zero, HRs in 44 ABs on the road. Yes, this is fluky. Yes, this will not continue. But do you believe Yelich and the rest of the Brewers turning it around against a hard throwing righty who has only given up two barrels in 81 batted balls this year? Who, at home, has given up only six hits in 13 innings? Thor is walking one batter every 6.5 innings while striking out 1 per inning. I think you catch my drift.
Middle-Tier Pitchers
Jose Berrios BAL at MIN: We have weather concerns here as mentioned above. If they play the game, the cold weather will help Berrios, as the ball will not carry well. What else will help is Baltimore's lack of pop against righties (28.2 AB/HR vs. righties and a .724 OPS, both 10th worst in MLB) as well as his 0.93 season WHIP. However, what stands out the most to me as a weather and park factor enthusiast is that in the young 2019 season, the Orioles go from the easiest park to HR in (Camden Yards) to the hardest (Target Field). I like Berrios' chances of limiting the O's to zero HRs in this spot.
Jake Arrieta, MIA at PHI: Arrieta's outburst against his own teammate, Bryce Harper makes me feel that his fire in his belly is back. He showed a lot of that spunk in his Cy Young award winning days in Chicago. Don't get me wrong, I don't think he is the same pitcher and his numbers show that (his hard hit % is 37.5 compared to his 24.7 in his Cy season of '15. K% is 18.4 compared to 27.1, etc., similar numbers across the board). But I like Arrieta here because of his opponent. Miami is second to last in OPS vs righties (.619). They have the fifth fewest HRs (17) against righties on the season. We get it. They don't have much power, especially against righties. One player to look out for is Jorge Alfaro. I like rostering catchers that recently caught a pitcher and Alfaro fits that mold. A good one-off.
Dirt-Cheap Values:
Derek Holland, NYY at SF: Nothing about Holland is sexy. He doesn't overpower hitters, he won't strike out a ton of batters. But the theme of the DFS day is pick on the opponent and ballpark. Oracle (At&T Park in previous years) is simply THE hardest park to HR in. Year after year after year it ranks dead last in this category, so much so that the rumor mills suggest that agents are telling the Giants brass to make this park easier to hit in or free agents won't even consider coming there. And now let's pick on the opponent! The Yankees lineup these days resembles more of a split squad spring training group than one in late April with over 20 games under their belts. Holland has pitched well this year at home, giving up only nine hits in 13 innings to go along with 15 Ks and a .205 Batting Average Against.
Mike Minor TEX at SEA: This is easily the riskiest pick in the article but there's a chance Minor can continue his 2019 magic. Minor has rediscovered his four seam fastball, averaging 93.3 mph on it. A lefty with that much velocity on his fastball explains why he was once a highly touted prospect in the Braves organization before injuries derailed his career. Seattle's lineup has begun to hit again the past few days and that makes Minor a GPP shot in the dark, as historically Safeco Field is one that favors pitchers and not batters, especially when the roof is closed (and it should be tonight).
Top-Tier Pitcher to Avoid:
David Price, TB at BOS: Price struggles to pitch in the cold. He admits it. Opponents and teammates alike know it. History shows it. With an expected temperature in the low 50s this afternoon and early evening at Fenway, this is an easy fade for me.
Yandy Diaz: Walks + Hits Over 1.5 – Let's go back to the Price well. Diaz is hitting an even .300 and has an OBP of .462 vs lefties so far in 2019. If Price struggles in the cold like I think he will, Diaz will likely be a part of it.
DFS meteorologist concentrating on MLB and the NFL, I graduated from UMass-Lowell with a degree in meteorology in 1996. I worked at AccuWeather as a meteorologist for almost a decade. I combined my two loves, weather and sports, and like to think I help 1000s of DFS'ers out each day. Huge Boston sports fan, lover of nature and animals and a proud father of 4 boys (2 biological).