Win Daily Sports DFS Glossary of terms: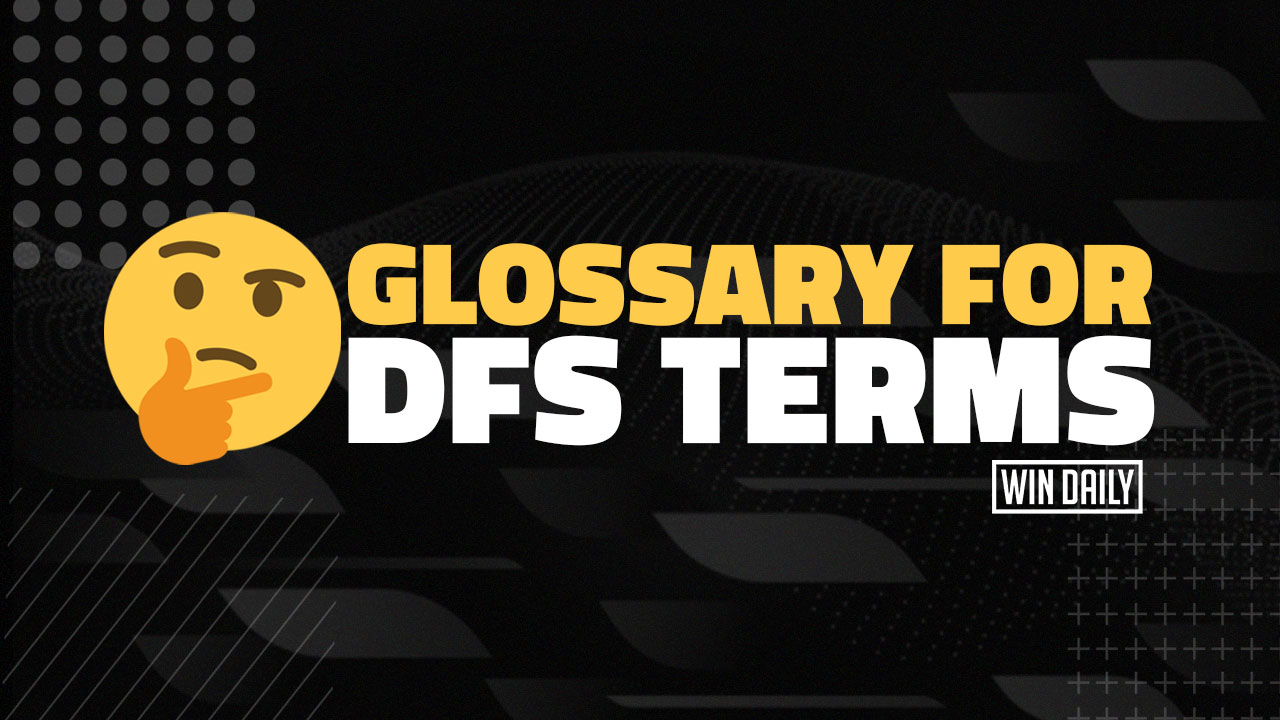 One thing that I feel is tremendously important is understanding the vocabulary within DFS. New players can sometimes be overwhelmed and a little embarrassed to ask what in the world we are talking about in our articles and in discord. First thing, don't be. There is not a single content creator that will give you grief for not knowing something. We have a lingo all our own and it can take time to get up to speed and experienced players can sometimes forget that, inadvertently leaving newer players confused and frustrated. This article will be consistently updated so if you want more information simply ask via direct message and I will be happy to answer your question and add to the article for future use. Let's not waste anymore time and I hope you enjoy our Win Daily Sports DFS Glossary of terms.
Win Daily Sports DFS Glossary of terms:
In additions to Win Daily Sports DFS Glossary of terms we also have a ton of informational material from writers like StixPicks (click here for his NFL strategy guide) or Jason and excerpts from his book . No matter what you need in the sports world we have you covered.
GPP or Guaranteed Prize Pool/Tournament:
These are tournaments where the pay structure is pre-defined prior to the start of the contest and the pay structure increases the higher you finish in the final standings. They can either be single entry or multi entry. The Millionaire Maker is the most notable example.
Cash Contests/Double-Ups/50-50's:
These are contests where if you finish above a certain point in the field you are payed a pre-determined amount that does not change based on final standings. Finishing in the top 50 percent (50-50's) on FanDuel or roughly top 40 percent (double ups) on DraftKings will result in a positive outcome. These are the easiest contests to cash and the best place for new players to focus on while building bankroll.
MME/Multi Entry/Mega Multi Entry:
Contests where you are allowed to enter more than 1 lineup in a given contest. These contests can range from 3-entries up to 150 entries per contest. These are the most difficult kinds of contests for people to win and with the exception of the 3 entry max should be avoided by most players who do not have an already established bankroll.
Single Entry Contests:
Contests that only allow you to enter a single lineup in a given contest. All new players and even established players should focus the majority of their bankroll on this style of contest. The potential winnings are not nearly as attractive to new players as the giant MME contests but they are by far the best choice for sustained growth. There are both GPP and Cash versions of single entry contests.
Rake:
Rake is the percentage of the overall prize pool that a given site will remove as profit from what is payed out in the player prize pool. Typically, MME GPP's and smaller entry fee contests have the highest rake sometimes reaching 16% of entry fees removed while higher entry fee contests can see as low as 8% rake. That 8% will directly affect where the pay line sits as well as payout structure i.e. Top 24% of players will cash as opposed to top 18% or top 5 players winning $10K, $8K, $6K, $4K, $3K as opposed to top 5 players winning $10K, $5K, $2K, $1K, $750. These percentages change every given week and will give us the basis for many of our plays on a given week.
Overlay:
You don't see this one all that often in NFL contests but overlay does still happen. Overlay happens when GPP's do not fill up and it provides an additional advantage in your overall chances to win. As an example if a contest that has 10,000 maximum entries and only pays the top 2,000 players that means 20% percent of people will win. If only 8,000 people enter that contest they will still pay the top 2,000 people and you now have a 25% chance to win. That 5% improvement in your odds is huge over the long term for your success. It's harder to predict but if you have a lineup that you feel very confident in and you watch the contest lobby you can give yourself an edge that not everyone will be looking for.
Floor:
The minimum expected points for a given player in a contest.
Ceiling:
The maximum expected points for a given player in a contest.
Freeroll:
A contest that is offered by DFS sites that are free to enter but still award cash prizes.
$/Point:
Dollars per point; the cost in dollars each projected point costs. For example, if a given players costs $5,000 and is projected for 10 points, you would divide $5,000 by 10 to get $500/point. For this particular formula the lower the number the better.
4x, 5x, 6x…,ect salary:
You see us say this all the time. "I think a player will go 8x". Simply put it is the cost of the player divided by number of points they score. For example, if a player scores 50 points and has a salary of $10,000 they finished at 5x their salary
Bankroll:
The money you have available to invest in daily fantasy sports.
Correlation:
In DFS, correlation means that two or more players whose outcome are connected. The most common correlation is a QB/WR in NFL. We use correlations often in GPP contests to maximize potential points in your lineup.
Fade:
To fade a player is to avoid using a player in a given slate.
ROI
Return on investment. Applies to how much profit you make relative to money in play.
Stars and Scrubs:
A build structure that involves using several low-min priced players and several near max players. This build is typically most effective when there are several key players who are out due to injury and rest allowing the min prices players to see extended time on the court.
Balanced:
A balanced build in DFS is simply a lineup where most of your players are roughly the same price.
Tilt:
Tilting usually happens when a person's lineups suffers a catastrophic event (late scratch, poor performance, early injury) that causes a player to essentially lose any chance at cashing. Typically the person proceeds to act belligerent towards the athlete or person(s) who recommended using that player. It could also lead to jamming in more of your bankroll into late slates when making emotional decisions that could lead to poor bankroll management. Note to all new players, don't be this person.
Train:
The same lineup being entered multiple times into a multi-entry tournament.
Triple-Up:
A contest where winners triple their entry fee when finishing above the cash line.
Cash Line:
The minimum scoring line that you will need to exceed in order to cash in a given event I.E. if you score 300 points and the cash line is 290 than you will finish above the cash line.
Viable:
Used to describe a player that can be expected to return value at his current price in most circumstances i.e. "A.J. Brown is a viable option at $5,000 dollars".
Stack/Stacking
A pairing of multiple players from the same team or in the same game. This is a common strategy in GPP's to maximize potential points from a given game. In tournaments a very common stack is to pair a Quarterback with his favorite receiver. In a game stack you would pair a Quarterback with his favorite receiver and then add a opponent or two from the same game.
Thanks for taking the time to look through my Win Daily Sports DFS Glossary of terms. Also lookout for our Sports Betting and Stats glossaries coming soon. Don't forget to subscribe to the WinDaily Youtube channel and follow @WinDailySports on Twitter to stay current and up to date on all of our fresh new content!
NFL, MLB, and Prop content creator for Win Daily Sports since early 2020. Active Army Veteran 2002-2010. 18 years as an Aerospace Structures R&D Technician (If you've flown, my hands have likely been on it). Small Business Owner. Animal Rescue Volunteer. Foster Parent. I study way to much film to not be a football coach somewhere but I still can use it to teach you all Fantasy Sports.