The MLB SWEET SPOT 8/19/22: DFS and PROP BETS at Win Daily Sports
Published
2 months ago
on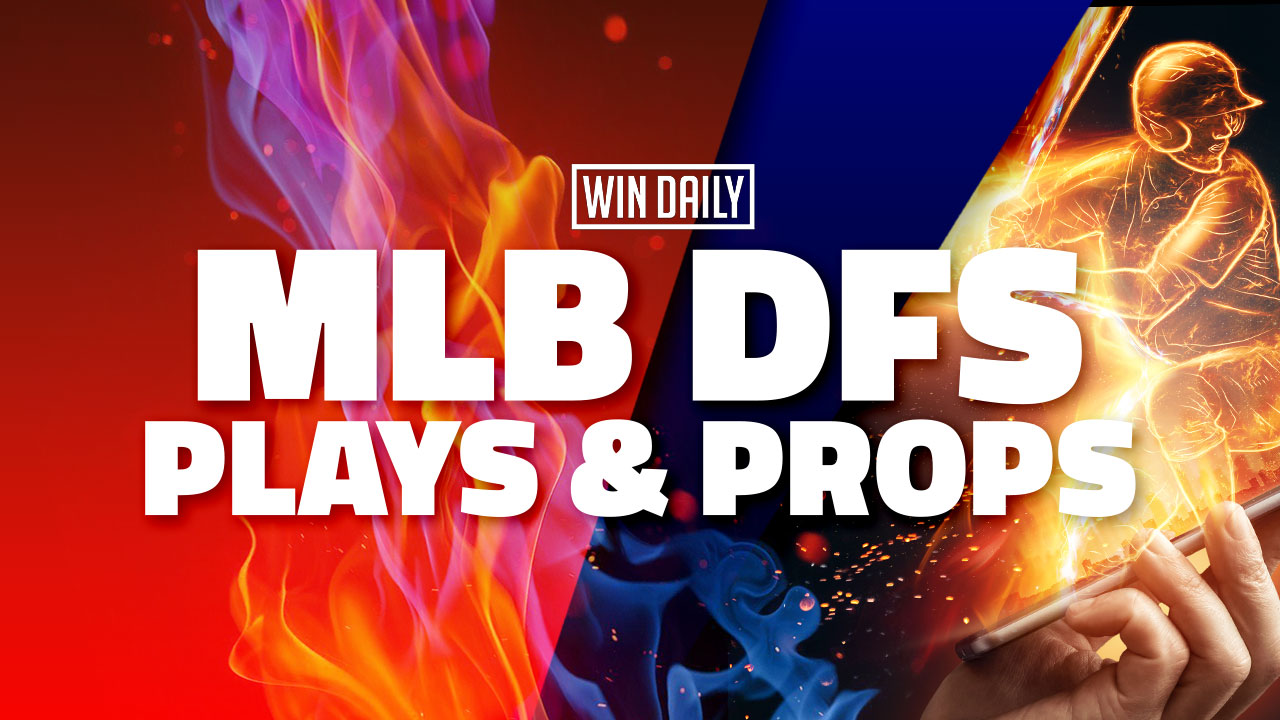 We started off the day so good yesterday at the Sweet Spot by winning 2 early bets. But the late night games were our downfall and we ended up 4-5 on the day. However, because of the Manny Machado home run we ended up even on the day. We are now 54-39 on the month and +12.7 units. Our DFS lineups profited mainly due to JT Brubaker and his 31.95 DK points which was the highest SP on the board.
There are many tools available but I hope you're using the WinDaily Projection Model as that has been very helpful in rostering key players each night.

For DFS, the featured card begins at 7:05 pm with 14 games to choose from. My favorite plays for all of today, along with props and bets, are below.
NOTE: MLB 2022 Season Props/Bets are +36.8 units
PITCHERS – DRAFTKINGS
CLASSIC SLATE – 7:05 PM Start
SHANE MCCLANAHAN ($10,200 DK) – I'm fading McClanahan tonight against Kansas City. And this is coming from a McClanahan supporter. But the fact is, he's been trending down in his last 3 starts. He is 1-2 in those outings with a 5.94 ERA. He's averaged just 8.4 DK points over that span and recorded just 11 K's. Looking at his statcast values, his average fastball velocity is down by 1 mph over the past 3 starts. He also has less spin and vertical drop on both his curveball and slider (~2% less) over that span. We could be seeing some usage concerns here which gives me reason to pause on McClanahan until we see some of these values return.
Also, to add fuel to the fire, Kansas City has been hitting LHP's well of late. They are 6th in batting average, 3rd in OPS and 8th in wOBA and wRC+ in August versus lefties. The return of Salvador Perez has helped improve those numbers. The Royals catcher is hitting just 0.229 on the season but is hitting 0.286 versus LHP's.
AARON NOLA ($9800 DK) – This is one of the harder calls on the night. On one hand, you have Nola coming off a complete game gem versus the Mets last week. In that game he put up 31.4 DK points and has two straight starts against the Mets with 25+ DK points. On the other hand, you have a pitcher that is now 0-3 against the Mets on the season. Additionally, he has been much worse at home this year as he sports an ERA almost 2 runs higher than his road numbers (4.21 vs 2.13). Aaron Nola's biggest issue has been the long ball as he's allowed 11 home runs at CBP. So I think I'll lean towards the hand that tells me this is a tough matchup for Nola and one that I'll likely pass on.
CHRIS BASSITT ($9500 DK) – Chris Bassitt has not allowed a run in his last 3 games spanning 20 innings of work. Over that span, he is averaging 25.8 DK points bringing back a return of 3x. Bassitt has faced the Phillies 3 times this season and is 2-0 with a 1.08 ERA. The Phillies are batting just 0.180 off the Mets starter and have struck out 16 times. For these reasons, I believe Bassitt is the top arm on the slate.
KOOL-AIDE MAN (SWEET SPOT VALUE PITCHER UNDER $7K)
GRAHAM ASHCRAFT ($7000 DK): Our value pitcher last night was great as JT Brubaker led all pitchers by putting up 31.95 DK points. That's 9 value pitchers in a row that have cashed 1.5x value or more with many putting up over 4x. Tonight, we're going with Graham Ashcraft of the Cincinatti Reds. Ashcraft has a respectable 3.96 ERA and 3.90 xERA. His biggest strength is his ability to induce groundballs as he has the 2nd highest GB% (54.5%) on the slate. Which plays into the hands of his opponent, the Pittsburgh Pirates, as they are 4th in GB% in August. He's also been pitching better of late as he has a 1.77 ERA in the month of August. And let's not forget Pittsburgh's batting stats are in the bottom 3 of the league in all major categories.
BONUS PICK: I do like BLAKE SNELL ($9300 DK) tonight against the Nationals and KEVIN GAUSMAN ($8500 DK) against the Yankees. First off, for Blake Snell, he just faced the Nationals last week and went 6 innings allowing only 3 hits with 0 ER's and 10 K's. It was a season best performance as he racked up 35.7 DK points. Also, his ERA in the last two months is 2.07 and he 67 K's in just 43 innings of work.
As for Gausman, we have to realistically look at this Yankees hitting slump and attack it. Jose Berrios pitched his best game last night and he was coming off 3 disastrous starts in a row. The Blue Jays starter has faced the Yankees once this season and fared well allowing just 2 ER's while striking out 9. Also, his road ERA is 3 runs less than his home ERA which provides us with additional confidence for tonight.
HITTERS – DRAFTKINGS
CLASSIC SLATE – 7:05 PM
JOSE RAMIREZ ($5700 DK) – Ramirez likes facing Lance Lynn as he is 8 for 23 with 3 home runs off the White Sox SP. He's only struck out 4 times versus Lynn showing a propensity to see his stuff well and hit the sweet spot. While Lynn has pitched better of late he carries a road ERA of 7.46 into tonight's contest. And the White Sox are coming off a game where they allowed 21 runs to Houston.
CHRISTIAN WALKER ($4800 DK) – The D'backs 1B is on a 5 game hitting streak and has 3 home runs in that span. He is tied for the league lead in home runs in the month of August with 6 and he's batting a sparkling 0.349. He's facing Miles Mikolas who has a 7.49 ERA in the month of August.
SWEET SPOT STACK ATTACK: I'm going to stack the Padres tonight. San Diego is coming off a bad performance on Thursday scoring just 1 run off Washington pitching. However, they were coming off a long east coast trip. So tonight, I expect them to be fresh and focused and attack Paolo Espino who is 0-5 with a 4.20 ERA. I'm looking at hitters such as Profar, Soto, Machado, Cronenworth, Drury and Grisham.
SLAP HITTER (SWEET SPOT VALUE BATTER) – LESS THAN $3K
VAUGHN GRISSOM ($2100 DK): It's amazing that DraftKings has yet to substantially increase Grissom's salary even though he is averaging 12.1 DK points over his first 9 games. He showed well last night facing DeGrom and was able to produce 2 hitters off the Mets ace. Tonight, his matchup is more favorable as he faces Lance McCullers who is starting his second game of the season.
MLB PROP BETS
SHANE MCCLANAHAN under 8.5 K's (-160 DK)
METS vs PHILLIES NRFI (-135 DK) – The Mets and Phillies scored a combined 10 runs in their 3 game series last weekend. But every game featured a run in the first inning. I think that streak stops tonight.
COLORADO ROCKIES over 2.5 runs F5 (-110 DK) – Alex Wood has not had much success at Coors Field. In the last 3 seasons he has a 6.06 ERA at Colorado.
BRADY SINGER over 6.5 K's (-120 DK) – Singer faced Tampa once this season and racked up 12 K's in that outing. This looks like a sweet spot to attack as Tampa is 4th in K Rate in August.
PATRICK SANDOVAL over 5.5 K's (-110 DK) –
BLAKE SNELL over 17.5 outs (-150 DK) – Snell has gone a minimum of 5.2 innings in 6 straight starts at PETCO Park. He's also thrown an average of 105 pitches in his last 3 outings.
CHRIS BASSITT under 2.5 earned runs (+100 DK) –
Now that you finished reading the MLB Sweet Spot article make sure to check out MLB Lineup Optimizer and our YouTube Livestream that breaks down the entire slate of games and gives you the info to nail MLB Prop Bets and DFS Plays.
Be sure to follow me on Twitter (@dgloeck) and my other content that is part of the WinDailySports family.
Related Topics: