The MLB SWEET SPOT 8/16/22: DFS and PROP BETS at Win Daily Sports
Published
2 months ago
on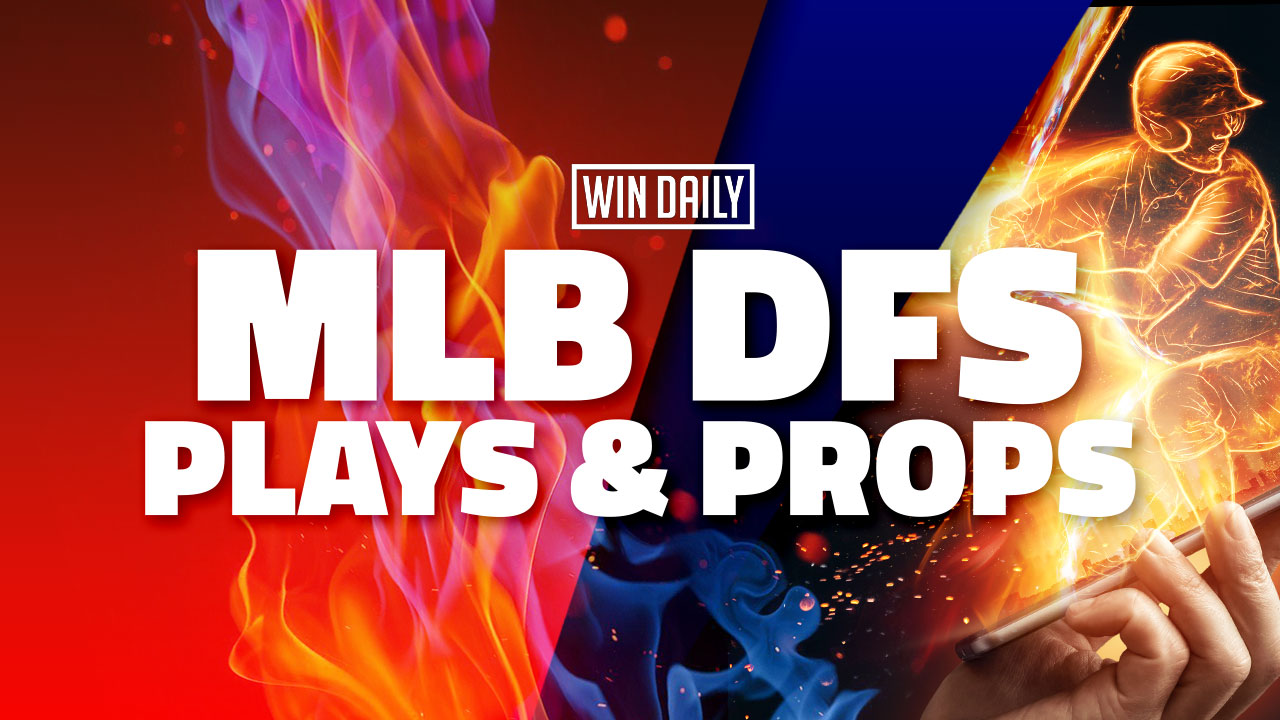 It was another winning night at the Sweet Spot. Monday brought us a 5-2 record in bets/props. So far this month, we have posted a 38-25 record with a +9.6 unit return. DFS was good as well as Gray was the top pitcher on the board and Bubic gave us a 1.5x return as a value pitcher (plus hit his over prop for outs).
There are many tools available but I hope you're using the WinDaily Projection Model as that has been very helpful in rostering key players each night.

For DFS, the featured card begins at 7:05 pm with 13 games to choose from. Jason and I gave out an early preview of the card on WinDaily Live. We also gave out two Home Run props (I'm 2 for 2 on WinDaily shows) which have been extremely profitable of late. Click the video above to check it out. My favorite plays for all of today, along with props and bets, are below.
NOTE: MLB 2022 Season Props/Bets are +33.7 units
PITCHERS – DRAFTKINGS
CLASSIC SLATE – 7:05 PM Start
JUSTIN VERLANDER ($10,600 DK) – It's easy to get enamored with Justin Verlander's numbers as he leads the league in ERA (1.85), wins (15) and WHIP (0.86). And he's allowed 3 ER's or less in 19 of his 21 starts. The Houston ace is the odds on favorite to his 3rd Cy Young award which would tie him with Max Scherzer and Clayton Kershaw for most by an active player.
However, one of the two starts that he did allow more than 4 ER's was against his opponent tonight which is the Chicago White Sox. In that game, he allowed 7 runs in 3.2 innings. The White Sox only swung and missed 8 times that game and managed 9 hits. Since that start, Verlander is 7-0 with a 1.17 ERA. The biggest difference has been a large increase in the usage of his curveball (as well as a slow incorporation of a changeup). In the matchup against the White Sox he threw his slider and fastball 92% of the time. Since then, he is throwing his curve 19.1% and his changeup at 4% of the time. Using both pitches more has shown direct correlation to his recent results as hitters are batting just 0.150 combined off those offerings.
In short, Verlander is a different pitcher than he was the last time he faced the White Sox. He also sports a 1.58 ERA on the road which is where he'll take his game tonight. He knows what happened last time out versus Chicago and will unleash a new arsenal. I expect to see the curve at a 30% clip and result in a typical Verlander outing which makes him my ace on the board tonight.
DYLAN CEASE ($10,400 DK) – Dylan Cease is currently sitting second in the Cy Young race and it's for good reason. His 1.96 ERA is 2nd in the MLB and his 174 K's are good for 3rd. He has not allowed more than 1 ER in his last 14 starts (dating back to May 29th). While he hasn't faced Houston this season, he did see them three times last year (including the playoffs) and allowed 3 ER's or more in each start. In fact, his numbers last season against Houston were 0-2 with a 10.13 ERA and 13.5 K/9 inn.
And it's no offense to who Cease has pitched against, but he's only faced 3 teams with top 6 offenses in wOBA and wRC+. In those outings, he has allowed 12 runs (6 ER) in 14.2 innings for a 3.68 ERA. Houston is 6th in wOBA and 3rd in wRC+ this year making them one of the top offenses he's faced. This isn't to say his power game can't neutralize them, but I would be more inclined to take Verlander over Cease at this salary point.
ROBBIE RAY ($9500 DK) – Robbie Ray is a pitcher that we have to use in the right situations. For example, avoid any matchup with Houston as he averages -0.7 DK points per game in 3 starts against the Astros. On the flip side, play him any time he faces the Angels as he averages 32.2 DK points per game in 2 starts against LA. And tonight, he gets the Angels once again to feast on. He has 14 innings pitches and allowed just 8 hits and 2 ER's while striking out 20. The Angels have the highest K rate in the league and it showed again last night as Luis Castillo struck out 8 over 6 innings. I expect Ray to be highly owned but also have a high ceiling due to his performances against the Angels and LA's poor hitting metrics.
KOOL-AIDE MAN (SWEET SPOT VALUE PITCHER UNDER $7K)
JUSTIN STEELE ($6200 DK): Our value pitcher last night was solid not spectacular but we still managed a 1.5x return which helped up stack higher priced lineups. Tonight, we're going with Justin Steele from the Chicago Cubs. Steele has been a reliable starter for the Cubs as tonight will be his 22nd start. His 3.63 ERA is matched with a 3.29 FIP and 3.87 SIERA which are both very solid numbers for the lefty. His GB% rate is well above our threshold of 40% (50.7%) and he strikes out more than one batter per inning (9.38 K/9 inn).
Additionally, he faced the Nationals last week and went 6 innings allowing just 2 ER's with 9 K's. That was good for 22.7 DK points. He looks like the most undervalued pitcher on the slate tonight and I will look to pair him with one of the top arms to give balance in my lineups.
BONUS PICK: I do like ZACH PLESAC ($7200 DK) tonight against the Tigers. The Tigers are striking out 31.8% of the time in August which leads the MLB. Plus Plesac pitched against the Tigers last week and went 6.1 innings allowing just 1 ER and recording 7 K's. He put up 23.3 DK points in that outing which was good for 3.5x value.
HITTERS – DRAFTKINGS
CLASSIC SLATE – 7:05 PM
VLAD GUERRERO JR ($5900 DK) – Guerrero's 22 game hitting streak was snapped on Sunday against the Guardians. But he started a new one last night with a home run off the Orioles starter Kyle Bradish. This season alone, Vlad is batting 0.387 with 3 home runs off Orioles pitching. He has good success of their starting pitcher, Dean Kramer, tonight as he is batting 0.400 with 2 home runs off the O's righty.
NOLAN ARENADO ($5800K) – I like Goldschmidt here as well but I gave you a 1B already. So we'll go with Nolan Arenado as another top bat to target. Arenado faced his ex-team last week and went 5 for 14 with 2 home runs. He saw Freeland in that series and went 2 for 3 (he's 3 for 5 in his career off him).
SWEET SPOT STACK ATTACK: I'm going to stack the Cubs today. Patrick Corbin's ERA is 7.02. He's allowed 30 ER's and 7 home runs in his last 6 starts. Corbin is staying in the rotation solely because of his salary. And that's fortunate for us DFS owners. Look for bats like Contreras, Suzuki, Happ, Reyes, Wisdom and Morel.
SLAP HITTER (SWEET SPOT VALUE BATTER) – LESS THAN $3K
FRANMIL REYES ($2800 DK): Patrick Corbin stinks. We have to find ways to get Cubs into our lineups tonight and one batter I love is Franmil Reyes. He is 3 for 6 in his career off Corbin with 2 home runs. His average exit velo is 99.5 mph off the Nats lefty. He's sees him well and hits him hard. Call this a sweet spot.
MLB PROP BETS
ROBBIE RAY over 7.5 Ks (-130 DK) –
PETE ALONSO over 0.5 home runs (+310 DK), over 0.5 hits (-220 DK), 0.5 RBI's (+125 DK), over 0.5 runs (+105 DK) – Charlie Morton has two starts against the Mets this year and has a 7.59 ERA. Alonso is 5 for 13 in his career off Morton.
WHITE SOX vs ASTROS NRFI (-155 DK)–
PHILADELPHIA PHILLIES over 2.5 runs F5 (-120 DK) –
ZACH PLESAC over 4.5 K's (-125 DK) –
EDWARD CABRERA over 4.5 K's (-110 DK) –
STL to not bat in bottom of 9th (-140 DK) –
Now that you finished reading the MLB Sweet Spot article make sure to check out MLB Lineup Optimizer and our YouTube Livestream that breaks down the entire slate of games and gives you the info to nail MLB Prop Bets and DFS Plays.
Be sure to follow me on Twitter (@dgloeck) and my other content that is part of the WinDailySports family.
Related Topics: