Tee 2 Green PGA DFS Picks: Wyndham Championship
Published
10 months ago
on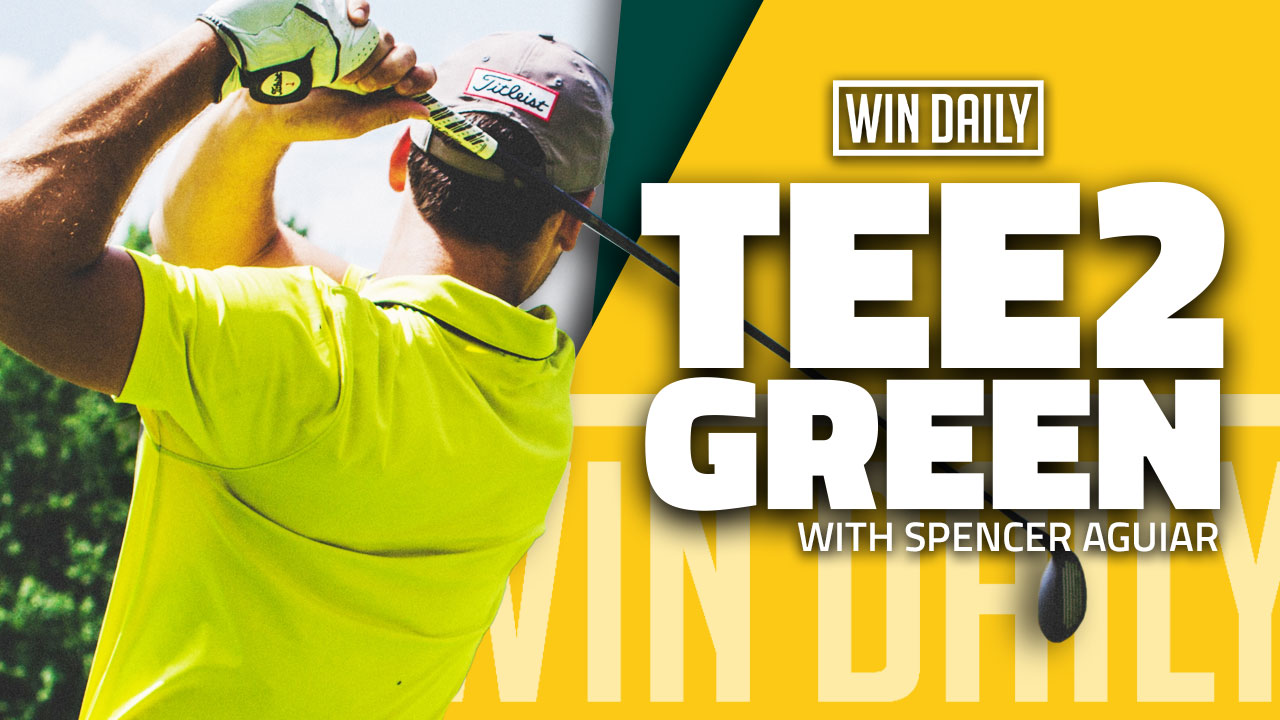 We had Kenny Kim on this week's PGA DraftCast + a short episode of Bettor Golf where Nick and I ran through the entire board for DFS and betting.
DraftKings Players ($10,000+)
Sungjae Im ($10,500)  – Sungjae's form has quietly come back around, as we have seen him average 3.58 shots with his irons and 3.85 with his driver over his last four tournaments with stats present. A significant result might be around the corner, and the presence of Bermuda greens has been the surface where he has found his best success in the past.
Other Considerations – You can make a strong argument for anyone in this range, but with Sungjae pushing 20% as of Wednesday afternoon, I likely will stick my flag in the sand for him and find myself aggressively overweight on the golfer that I think is most likely to win this event.
$9,000 Range
Russell Henley ($9,800) – It is hard to go against my model's number one golfer for upside. I don't love the ownership, but the potential is there for him to win this event, which is noteworthy enough to keep him in the pool, especially in single-entry type builds that feature reduced-sized fields.
Corey Conners ($9,600) – The top-ranked golfer in my model for scoring at easy courses, Conners' ball-striking is perfectly equipped for a test such as Sedgefield.
Tyrrell Hatton ($9,400) – Hatton is a favorite in all his head-to-head matchups at the credible offshore books. I don't love the price tag, but you are able to create some leverage if you are willing to play him at 15%+ in your MME contests. I would avoid him in other game types.
Other Considerations: Adam Scott ($9,200) and Harold Varner III ($9,000). If you can't tell already, the entire 9k+ range is worth consideration, but I am picking and choosing my spots with the highlighted players since 1. we can't play everyone and 2. chalk is condensing in all the same zones.
$8,000 Range
Christiaan Bezuidenhout ($8,400) – Bezuidenhout ranks seventh in this field in proximity between 150-175 yards, and while you can say that is a wonky statistic that doesn't tell the entire picture, the total driving and putting should be viewed as reminiscent of past winners at the track.
Brian Harman ($8,300) – One of the sharper movers at the offshore books, Harman is the only golfer in this field that ranks inside the top 20 in my model for weighted par-four scoring, overall weighted scoring, weighted total driving and fast Bermuda + three-putt percentage. 
Aaron Wise ($8,100) – Nick said it best on Bettor Golf, "Wise is playing the best golf of his career and is priced next to players beneath him in stature." In fairness, I paraphrased the hell out of that quote, so much so that it probably shouldn't have been in quotations, but the overall outline of that sentiment rings true.
Other Thoughts: My model loves Joohyung Kim ($8,600), and he is my preferred of the two Kim's next to each other, but I will find myself neutral because of the hefty ownership.
$7,000 Range
Mark Hubbard ($7,900) – Hubbard's most significant deterrent during most events is his lack of distance, but the ability to club down at Sedgefield should give him a boost so he can take advantage of his seventh-place mark in weighted proximity – a total that is 31 spots better than his expected production at a random course. 
Jason Day ($7,800) – Yes, I am the king of maintaining the bit weekly for Webb Simpson and Jason Day, but the weighted proximity is improved for Day to mimic Sedgefield – not to mention the shortened layout and Donald Ross design should fit right into his wheelhouse.
Kevin Streelman ($7,600) – Streelman cracks the top-10 of my model when running it for purely upside, which is enough for me to warrant him in GPP contests.
Adam Svensson ($7,500) – As much as I want to fade the chalk, my model likes him too much to ignore.
Alex Smalley ($7,500) – Smalley jumps from 70th to 18th when moving my metrics from 'driving accuracy' into 'good drive percentage.' That means he has found success in the past when clubbing down, and even if the ownership is trickling up, I like the potential he brings to the table.
Brendon Todd ($7,500) – I worry a little about the irons here for Todd, as he has lost in his past three starts, but this is one of those catch-22 spots where the approach metrics are almost always bad, and the production only gets worse at venues where he can't take advantage of his accuracy. Thankfully, the second part of that situation will be negated at Sedgefield, with Todd grading third in my model for weighted total driving
C.T. Pan ($7,400) – Pan's short game went in reverse during his outing in Detroit. Let's not overreact to one missed cut.
Harris English ($7,300) – Reduced ownership on a golfer that has produced three top-39 finishes at this course over his past three attempts. I know the current form is worrisome, but English is a GPP-only target that does have upside.
Russell Knox ($7,200) – I am not sure I have ever gotten Russell Knox correct, but first in GIR percentage and fifth in overall ball-striking should suit him well at this week's course.
Andrew Putnam ($7,000) – Putnam's off-the-tee metrics are 59 spots better over his last 24 rounds compared to his two-year running data, and he ranks fourth in this field for weighted par-four scoring. 
Michael Thompson ($7,000) – Three top-26 finishes in a row for Thompson, who has the game to find success at a driving accuracy contest.
$6,000 Range
Justin Lower $6,700, Zach Johnson $6,600
If you haven't already, follow Win Daily Sports on YouTube and via Apple Podcasts. We're already hitting big with our NFL content and you are going to want to be a part of that. It's also important to be in Discord Wednesday night for all lineup adjustments, late-breaking news and weather reports.
Co-host of the 'Bettor Golf Podcast' and 'PGA Draftcast' here at WinDaily Sports, I was born and raised in Las Vegas, Nevada, and bring a unique approach to how I handicap a DFS or betting slate. I have my own database of statistics that I use to find incongruities in various markets, and I apply that information into a model that is available (and useable) to the public. You can follow me on Twitter @teeoffsports to gain access to that spreadsheet, and I am always more than happy to engage and answer any questions you might have for an event.