Stix Picks: Week 4 NFL DFS GPP Lineups
Published
2 months ago
on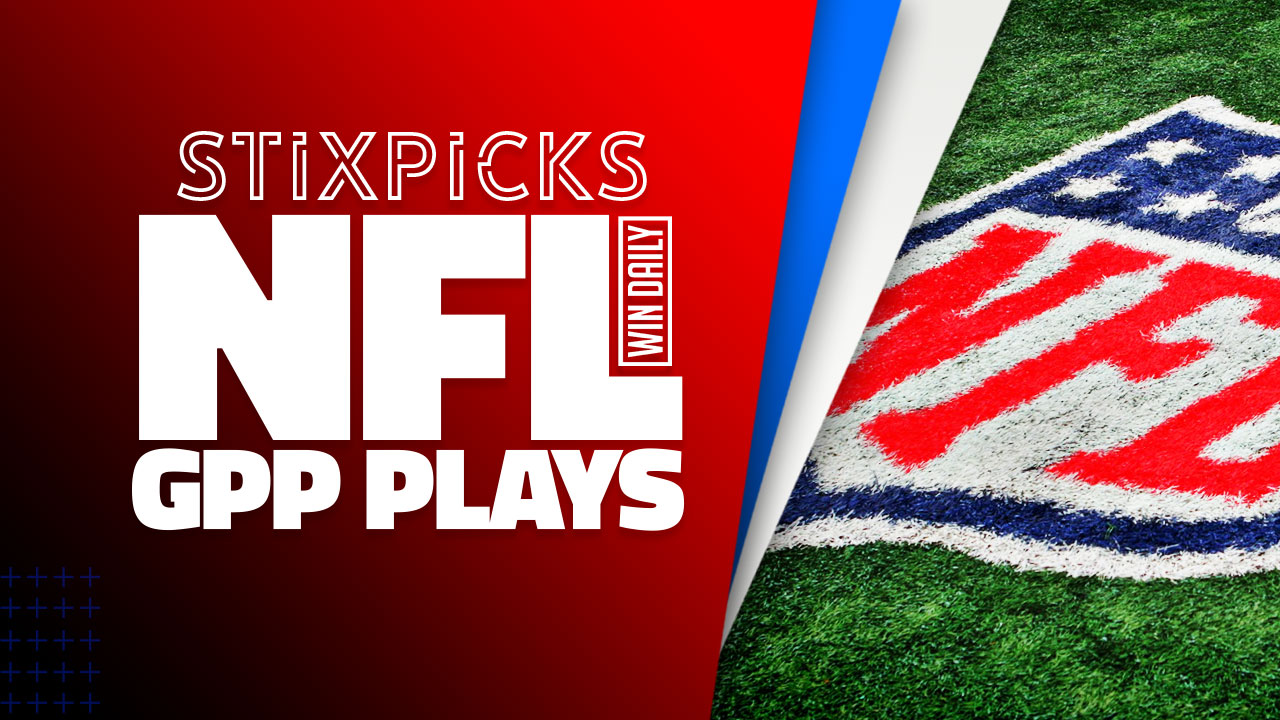 To quote the great Michael Rasile, "It's a great day to be alive!" Hopefully everyone is safe from the Hurricane and ready to decompress with some NFL football! The NFL season is here and it feels like Christmas morning. For those who haven't read it yet, please check out the Week 4 Cash Game Checkdown for your bankroll sustaining, cash game build advice before building your NFL DFS GPP lineups.
If you have any questions or would like some further help when building your lineups, please do not hesitate to reach out to me directly on Twitter.
For those looking to get different and make a potential splash in some GPPs, the time is now. We'll usually be taking some heavy stances on lower-ownership players, but at times, there is certainly good "chalk" to eat (all of which are in the cash game article).

NOTE: Keep an eye on the weather forecasts. The majority of this article is built around Buffalo/Baltimore. There is a chance of higher winds and potential rain due to the Hurricane. I'll do my best to update the article as we learn more, but be sure to tune into the livestream on Sunday morning for final updates.
NFL DFS GPP Quarterbacks
With Jalen Hurts, Josh Allen, and Lamar Jackson all on the main slate, I'm going to focus on lineups with significant upside (like any other GPP lineup) as we really need to ensure our lineups can compete with a Baltimore/Buffalo shootout. Personally, those three would be my first three clicks (and likely yours) in any format of DFS this weekend. There's absolutely no shame in that at all, just ensure you get different elsewhere. Here is where I'll be looking outside of the trio above:
Justin Herbert ($7,100 DK / $8,000 FD)
With all the weather concerns and totals dropping in the more appealing games, the AETY Model is really pushing the value of for this Chargers passing attack and pace of play. Herbert is apparently healthy and still throwing the ball 40+ times a game. The Houston defense has been solid to start the season (ranking 7th in pass defense DVOA) but they have yet to play a competent air attack like they get this weekend with the Chargers. At 5% ownership, Justin Herbert certainly is worth rostering with the hopes his ceiling can match or surpass the Josh Allen, Lamar Jackson, and Jalen Hurts of the world.

Stacking Options: Mike Williams, Josh Palmer, Austin Ekeler
Run-Back Options: Brandin Cooks, Nico Collins, Dameon Pierce
Mitch Trubisky ($5,100 DK / $6,500 FD)
It's absolutely gross, but the AETY Model ranks Trubisky as the number one value quarterback on the slate and it's hard to disagree at this price-tag. The Jets rank dead last in pass defense DVOA and are having quite a difficult time generating pressure on opposing quarterbacks. It's not a sexy game by any means, but the line movements are trending in favor of the over and we very well may get a low-key, nasty shootout on a slate where there really isn't much outside of Buffalo/Baltimore.

The thing I like about using Trubisky is what it opens up for the rest of your roster and this is the nut-leverage spot on the board using a QB against the one of the top projected defenses, in terms of ownership. If you're using Trubisky, make sure you load up with the exposures you need to keep up with those using Lamar Jackson, Josh Allen, and Jalen Hurts. There is really no need to double stack with Trubisky in NFL DFS GPP lineups as his ownership is already low enough.

Stacking Options: Diontae Johnson, George Pickens, Najee Harris, Pat Freiermuth, Chase Claypool
Run-Back Options: Elijah Moore, Garrett Wilson, Breece Hall
Russell Wilson ($6,700 DK / $7,100 FD)
Yes, I know what you're thinking… "How the hell can we even think about rostering Russell Wilson or anyone in this Denver passing attack?". I get it, it's scary as hell to want to invest in a buy-low opportunity with this offense, but a GPP should never feel comfortable. The Raiders' defense is terrible and underperforming in all aspects of the game and they come into this matchup rather banged up across the secondary. The total in this game seems to continuously rise despite the majority of the public laying the under.

With weather concerns throughout the east cost and an absolutely ugly slate outside of BUF/BAL in general, I'm going to bite the bullet and trust the AETY Model that this is a prime get-right spot for Wilson and the Broncos in a dome.

Stacking Options: Courtland Sutton, Javonte Williams, Jerry Jeudy
Run-Back Options: Davante Adams

Honorable Mention: Lamar Jackson, Josh Allen, Jalen Hurts
NFL DFS GPP Running Backs
Nick Chubb ($7,900 DK / $9,200 FD)
Nick Chubb has been one of the few "top-tier" fantasy running backs that hasn't been a disappointment to start the 2022 NFL season and he splits time! We loved this matchup against Atlanta (27th in run defense DVOA) last week with Rashaad Penny, now I'm sure you can imagine how much I love Chubb (outside of his price) in that very same matchup. The Cleveland Browns' sole focus is to run the football and run the clock out behind this top-5 offensive line. If you can find a way to afford a 5% owned, Nick Chubb, you're in a great spot to be different in your GPP lineups as the field pays down at running back once again this week.
Javonte Williams ($6,600 DK / $6,900 FD)
As long as Javonte Williams is floating around that 10% ownership mark, I'll simply be pushing all-in on him this week. I wrote more on my appeal for Javonte Williams in the cash game article but let the double mention show you how much I love Williams in Week 4 NFL DFS lineups as a whole. Melvin Gordon is banged up with a neck injury and this is a prime spot on a shorter week for Denver to ride their young superstar.
Devin Singletary ($5,900 DK / $6,200 FD)
Hopefully you tuned into the livestream last week when Jason and I discussed the potential leverage that Devin Singletary possessed on the Sunday main slate. That call absolutely paid off as most of the Buffalo chalk died a slow death in all formats while Devin Singletary smashed the running back slate at a cheap price. The same situation arises this week. Everyone in the world is going to play Josh Allen and Stefon Diggs (for good reason), but if you get on the right side of variance, Devin Singletary is setup for another 3x NFL DFS GPP week at sub-5% ownership.

This game is going to shootout and rostering the lead back with a 65% or higher snap share over the past two weeks is an excellent way to get affordable exposure. Hell, just stack this game up (weather permitting)!

Honorable Mention: Austin Ekeler, Aaron Jones, AJ Dillon, Najee Harris, Rashaad Penny
NFL DFS GPP Wide Receivers
Stefon Diggs ($8,400 DK / $8,700 FD)
I don't care what the price or ownership is, Stefon Diggs is the best wide receiver play on this slate and I'll get as much exposure to him as I can. This Ravens' secondary is bleeding production to any competent pass catcher, let alone a route-running star like Stefon Diggs. Get exposure to this game!
Davante Adams ($8,300 DK / $7,900 FD)
The price on FanDuel is criminal, but so is the ownership. Davante Adams under 10% owned is always significant GPP leverage, especially when he's back home in the dome. Adams is the only player I'm interested in on the Raiders side of things in NFL DFS GPP lineups, especially in my Broncos stacks. While 30% of the field plays Josh Jacobs, pivot to the true fantasy stud on this team in Davante Adams.
Mike Williams ($7,000 DK / $7,200 FD)
Not many have the pure upside like Mike Williams possesses on a given week and not many of the size advantage to pair with it. Mike Williams has ~5 inches of an advantage on both Derek Stingley Jr. and Steven Nelson on the outside of this Houston defense and that is always something I'll keep in mind when looking for upside wide receivers in a NFL DFS GPP lineup. If you can't afford Mike Williams, Josh Palmer is in a great spot as well at a significant discount while Keenan Allen is OUT.
Courtland Sutton ($6,400 DK / $6,800 FD)
Excellent price for the WR1 in one of my core stacks going up against a bad pass defense and banged up corners. Sutton has a significant size advantage across the board here (Nate Hobbs also moved outside in coverage) and has been peppered with targets and deep balls from Russell Wilson. If I'm banking on a Wilson comeback, I'm banking on the connection with Sutton to finally hit pay-dirt. Sutton is 4th in the NFL in Air Yards, which doesn't equate to fantasy points, but it certainly can hint at a potential breakout. The big game is coming and I'll put my chips on the table that this is the week.
Rashod Bateman ($5,600 DK / $6,600 FD)
Getting the point yet, lol? Getting affordable exposure or even a game stack of Buffalo/Baltimore game is the focus of my week. Bateman is never going to be a guy that gets it done with volume, but the Bills will play a good bit of man and I'm betting on Rashod Bateman absolutely cooking Dane Jackson for a deep ball or two throughout this shootout.
George Pickens ($3,800 DK / $5,100 FD)
Had to add some value to the article so we'll go with the recent squeaky wheel in hopes he gets the grease. Pickens has made his frustrations with not getting the football well known… I believe the quote was "99% of the time, I'm open". Like Bateman, Pickens will not get there by volume, but the big play ability is certainly well within reach. At this low of a price-tag, I'll take the risk.

Honorable Mention: AJ Brown, DJ Chark, Elijah Moore, Allen Lazard
NFL DFS GPP Tight-Ends
Please review the Week 4 Cash Game Checkdown for my thoughts on the tight-end position. In addition, here is another player I'll be looking at:
Robert Tonyan ($3,500 DK / $4,900 FD)
It appears the majority of the NFL DFS GPP community is going to pay down at tight-end and push the ownership towards the likes of Evan Engram and Pat Freiermuth (I do like Pat a bit), I'll take the savings of the progressing Robert Tonyan. New England grades 25th in pass defense DVOA against opposing tight-ends and we continue to see the snap share and target share for Tonyan to raise as he gets back to full strength. Call me crazy, but I'd rather play someone on the receiving end of Aaron Rodgers if I'm punting the tight-end position, but ONLY if you need to punt at tight-end.

Honorable Mention: Mark Andrews, Dallas Goedert, Darren Waller
Make sure you follow me on Twitter at @stixpicks and be sure to sign up for an ALL ACCESS GOLD ACCOUNT account here at Win Daily Sports. Gain access to our Projection Model powered by AETY and jump into our Discord where we will have our experts talking plays across every sport and slate.
Content Director for Win Daily Sports NFL/MLB. Creator of the AETY Model. Chicago White Sox die-hard. Focusing on helping others manage their bankroll and cross the pay line in NFL/MLB Cash Games & GPP's. CoFounder of thoroughbred horse racing partnership, Reta Racing LLC.