NFL Week 4 Showdown SNF DFS Picks DraftKings and FanDuel
Published
2 months ago
on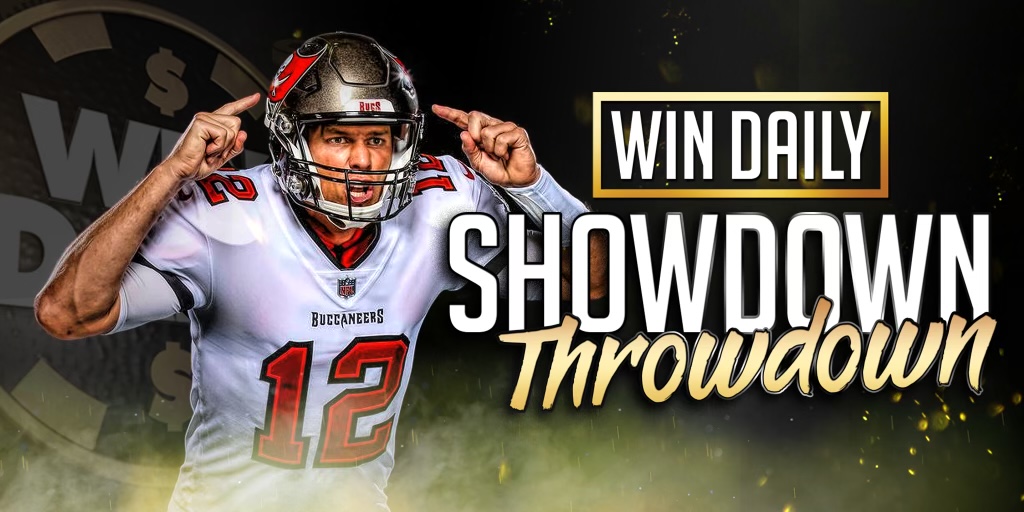 We have ourselves a rematch of Super Bowl LV, and if I were a betting man (you all know I am) I'd be betting that Mahomes and company put up more than NINE points in this one. Tampa Bay is currently listed as a one-point favorite with a total of 46. Let's find some angles to cash in on Sunday Night Football!
DraftKings and FanDuel each have a slightly different setup for Showdown slates, with DraftKings using a "Captain" spot. Captain earns you 1.5X points, BUT also costs you 1.5X in salary. FanDuel uses an "MVP", which is ALSO 1.5X points, but salaries are the same, regardless of position. DraftKings uses 5 FLEX spots, and FanDuel uses 4 "AnyFLEX" spots to fill out your roster.
Make sure to join our Discord to jump into our conversations with the team and share your successes (I am "Myrtle Beach Mermen", if you understand the reference, we will get along right away! We have a TON of great tools for you to check out, make sure you're taking advantage! You can find projections here and try out the optimizer here.
Captain/MVP Plays
Patrick Mahomes, Kansas City ($17,100 DraftKings, $17,000 FanDuel)
Mahomes is VERY expensive for this slate, but his upside is second to none in this game. Kansas City loves to utilize shovel passes, screens, and everything in between near the goal line. Mahomes could have his hands on every touchdown the Chiefs score in this one.
He is coming off of two pedestrian games against the Chargers and Colts, and he is far from a must play at this price. If you're playing MME, you absolutely will want exposure to his ceiling, but he is not a priority for me at the bonus spot. Tampa Bay has allowed the 3rd-least fantasy PPG to opposing QB in 2022. This is a difficult matchup to say the least. I don't need to sell you on Mahomes.
Tom Brady ($15,000 DraftKings, $15,000 FanDuel) is certainly in play here, and makes sense as a discount option off of Mahomes in this one. He has just three touchdown passes this season, but you can't simply ignore the GOAT on any slate. I won't be prioritizing either one of them, but you need some exposure to both if you are doing multiple lineups.
Leonard Fournette, Tampa Bay ($15,600 DraftKings, $13,500 FanDuel)
Fournette is my favorite play at the bonus spot for this one, and it isn't particularly close. Kansas City has allowed only 206 rushing yards to opposing RB this season. Not a ringing endorsement? How about this one. Only two teams have allowed more than the 170 receiving yards that KC has allowed to opposing backs.
Lenny has played on 76, 87, and 91 percent of snaps this season, but his targets have increased each week.Last week against Green Bay we have to take with a grain of salt, as Tampa Bay was just decimated with injuries to their WR. That said, Fournette is as reliable a back as there is in the NFL right now, and his workload is secure. He has seen 23,28, and 18 touches/targets this season. Fournette's role is solid, and with question marks surrounding Chris Godwin, Julio Jones, AND Russell Gage (who saw 13 targets last week) Lenny could be in for a huge workload again.
Injuries will play an enormous part on this Showdown slate, with multiple key players listed as true game-time decisions. Keep a close eye on the injury news leading up to this one, I'll be in Discord (link above) chatting along with the rest of the team!
That said, I'll be listing the other plays I'm focusing on (Captain/MVP status is subject to change), but plenty could change here as we move closer to Sunday Night. Stay tuned!
Mike Evans, Tampa Bay ($9,400 DraftKings, $13,000 FanDuel)
If the trio of Godwin, Jones, and Gage are all OUT for this one, Evans needs to be an absolute LOCK in your lineups. He is viable across the board anyway, but if he sees volume even close to what Gage saw against Green Bay, his upside is enormous.
He only has eight catches (11 targets) for 132/1 on the young season, but he also sat out the Green Bay game with a suspension. Tom Brady and the Bucs have actually been below NFL average with a 58.6% pass rate on offense, down from 66%+ in 2021. Last week? That number was 76%, highest in the NFL.
In my opinion, Evans is the most talented WR on this roster (Godwin is the only one close, and I'm betting he sits). Pairing the GOAT Tom Brady with a guy like Evans could pay off big in this one. Get yourself some shares, ESPECIALLY if any of the aforementioned WR sit this one out. Evans is 5th in YPRR (yards per route run), per PFF.
Travis Kelce, Kansas City ($10,800 DraftKings, $14,000 FanDuel)
I want some exposure to the Kansas City passing attack, but the matchup is brutal. The same isn't true for Kelce. PFF has his matchup against primary defender Devin White listed as the second-best in Week 4 among TE. Kelce is averaging eight targets per game this season, and I'm expecting a monster performance. Mahomes is going to need to take advantage of the best matchup on the field. The likes of Juju Smith-Schuster, Mecole Hardman, and Marques Valdes-Scantling could have some tough sledding here. Fire up Kelce, regardless of his price tag.
Others to Consider
Jerick McKinnon, Kansas City ($4,600 DraftKings, $6,500 FanDuel)
Listen, it's well-documented that I'm not a fan of Clyde Edwards-Helaire. He is just a decent runner, and most of his value is in red zone shovel passes and looks in the passing game. His stat line from last week was WILD. He had seven carries for ZERO yards, but caught five of five targets for 39 yards. He scored a touchdown despite his zero-yard performance.
In a matchup against a Bucs team that is allowing the lowest fantasy points per game to opposing RB, I want no part of CEH. McKinnon has actually out-snapped CEH each of the last two weeks. He only has a total of 15 carries this season and seven targets. That said, I want pieces of Evans and Kelce in this one, so we have to save money somewhere. McKinnon has a low floor, but his speed alone gives him upside. He is a viable punt option.
Tampa Bay Defense, ($3,200 DraftKings, $9,200 FanDuel)
I said I want Kelce, and we need to consider exposure to Mahomes, regardless of matchup. That said, the Tampa Bay defense looks like an elite option for this slate. Kansas City has scored just 22 PPG over their last two matchups, and Tampa has allowed 3, 10, and 14 points in their first three games. Mahomes has shown a tendency to make mistakes over his last few games, and he will be under constant pressure in this one. I don't see much chance of this one being a shootout, so the Tampa defense will make it into most, if not all of my lineups.
Kickers!
Harrison Butker is currently a game-time call for this one, but Ryan Succop is ready to go. If Butker can't go, Matthew Wright seems to be the next man up. I think this game stays well under the total, so I want exposure to both sides of the kicking game. Fortunately for both teams, Hurricane Ian has spared this game, and the weather report at this time is pretty clear. Keep an eye on it just in case things get dicey.
Punt plays in this one include Jaelon Darden ($1,000 DraftKings). The injuries to the Tampa receiving core is well-documented by now, and Breshad Perriman is also doubtful. Darden has a true floor of zero, but could grab some snaps if the options are thin once again. He put up a 1/25 line last week. Rachaad White ($600 DraftKings) saw only six snaps last week, but we are looking for dart-throw upside, and White has it. If Fournette goes down for any reason, White could see some work. Plug and play sparingly to jam in some studs if you are going to be doing MME.
Good luck on Sunday Night! Make sure to follow me on Twitter @BigItaly42 if you aren't already, and let's meet at the top of the leaderboards!
Justin has been playing fantasy sports since the beginning of time. He was one of the first on the scene in DFS, back to the days of DraftStreet, DraftDay, and everything in between! He is an avid fan of all things Cincinnati (WHO DEY), and is always around to chat sports on Twitter (@BigItaly42) or in the WinDailySports Discord (Myrtle Beach Mermen).