NFL Week 2 Showdown TNF DFS Picks DraftKings and FanDuel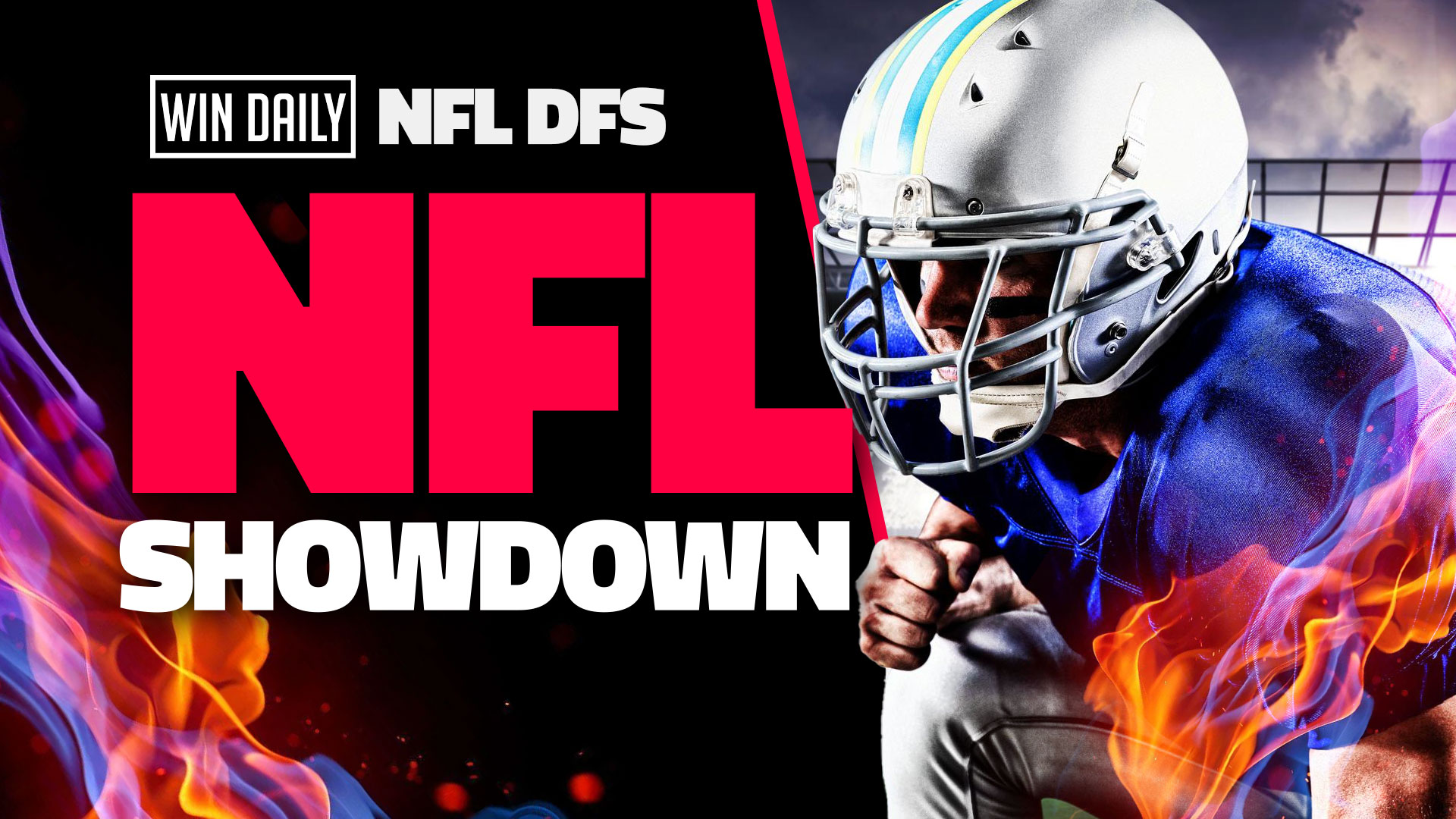 Looking at the entire TNF schedule, this may very well be the most exciting mid-week slate we will have all season! Keenan Allen has already been ruled OUT for this one, and his absence should open up some more value on the Chargers side. Currently we have a 54.5 point total with the Chiefs favored by four points. This one is shaping up to be a shootout, and I can't wait to get started for NFL Week 2 TNF Showdown DFS Picks DraftKings and FanDuel.
DraftKings and FanDuel each have a slightly different setup for Showdown slates, with DraftKings using a "Captain" spot. Captain earns you 1.5X points, BUT also costs you 1.5X in salary. FanDuel uses an "MVP", which is ALSO 1.5X points, but salaries are the same, regardless of position. DraftKings uses 5 FLEX spots, and FanDuel uses 4 "AnyFLEX" spots to fill out your roster.
Make sure to join our Discord to jump into our conversations with the team and share your successes (I am "Myrtle Beach Mermen", if you understand the reference, we will get along right away! We have a TON of great tools for you to check out, make sure you're taking advantage! You can find projections here and try out the optimizer here.
I'll throw out my best plays, a few fades I recommend (Penny fade was MONEY on Monday night!), and some dark horse options. Let's cash in and build some bankroll for Week 2 main slate!
Captain/MVP Plays
We did very well with Javonte Williams on MNF! DK was my other main option, but the Seahawks controlled the game and his usage took a hit as a result. Let's keep things rolling on TNF!
Patrick Mahomes ($17,700 DK, $17,000 FD) and Justin Herbert ($16,800 DK, $15,500 FD)
Listen, these two are the top projected scorers on the showdown slate, and for good reason. Both are incredibly efficient, and neither has a particularly good run game. Mahomes destroyed the Cardinals to the tune of 30/39 for 360 yards and FIVE touchdowns in Week 1. Herbert was no slouch himself against a tough Raiders defense, posting a 26/34 line with 279 yards and 3 TD.
A key difference between the two in Week 1 and a general thing to consider is that Mahomes is very creative in the ways he gets the ball to his weapons. He uses shovel passes, jet sweeps, and everything in-between. In fact, in Week 1, his five touchdowns went for 9, 3, 4, 1, and 2 yards. The upside for Patty is tremendous.
That said, both are in play in this one with a monster total. I am much more likely to lock Mahomes into the bonus spot due to his creativity in the Red Zone. Both KC and LAC were below average in passing play percentage in Week 1 (59.09% and 52.31%, respectively). That won't scare me away from either, as both teams were well in control (especially KC) for much of the game. KC went very run-heavy in the 4th quarter, as they had already built a 37-7 lead at the start of the 4th.
Austin Ekeler ($15,300 DK, $14,500 FD)
Listen, Travis Kelce is a fine option up top on TNF. The main issue is that he is very closely priced to both Mahomes and Herbert. I don't see a ton of value in using him as your bonus option on TNF. I will absolutely have shares, but I don't think this is the spot to utilize him as your top option.
Insert Ekeler, the do-it-all back for the Chargers. He was a disappointment of sorts in Week 1, posting a 14/36 line on the ground and 4/36 through the air (four targets). Let's pretend that game didn't happen. We have to have a short term memory to take an edge in DFS, and this is the perfect storm.
Despite sitting out one game in 2021, Ekeler STILL tied Najee Harris for the league lead among RB with 94 targets. I'm expecting the KC offense to continue to roll in this game, and with Keenan Allen OUT, Ekeler becomes the focal point of the offense.
In 2021, Ekeler saw 16 targets inside the RedZone, and totaled 135 yards and 8 TD. Only Cooper Kupp and Stefon Diggs compiled more yardage inside the 20. Allen was the 13th-most targeted player in the RedZone, which opens up even more opportunity for Ekeler (and more that we will touch on soon). Fire him up as the best passing-catching back in the NFL in a smash spot. I'll likely have Ekeler in every lineup in one form or another.
Also Consider Mike Williams ($13,500 DK, $12,500 FD) and Mecole Hardman ($8,400 DK, $7,500 FD)…more on them in a few.
FLEX/AnyFLEX Options
Mike Williams ($9,000 DK, $12,500 FD)
I don't see a scenario where Williams isn't in 100% of your lineups on DraftKings, and an argument can be made at FanDuel as well. Regardless of Allen being out, Williams is an enormous RedZone target, and saw 19.4% target share inside the 20 in '21. Better yet? He was tied with Allen with 12 targets inside the 10. Who had more? Cooper Kupp, Davante Adams, Hunter Renfroe, and Diggs. Pretty elite company.
Williams is certainly an option up top if you're a believer in his upside, and I certainly am. Herbert loves this guy, and at 6'4″, 218 pounds it is easy to understand why. He may be the craziest fade on this slate.
Mecole Hardman ($5,600 DK, $7,500 FD)
Hardman will be yet another tough fade (I am lasered in on a few of these guys). He was tied with a few players in Week 1 with three RedZone targets, and only JaMarr Chase (6) had more. With Tyreek Hill out of town, I'm a believer that Hardman will quickly establish himself as the #1 option outside of Kelce in this offense.
On paper, 3/16/1 is a forgettable stat line for Week 1 for Hardman, and I understand why. He was still 3rd on the team with 6 targets in a game that KC had well in hand very early. I'm expecting many to flock to JuJu Smith-Schuster, and he seems like a fine play. I'm looking for an edge and leverage from the field, and I'm leaning toward a JuJu fade and going after Mecole HARD, man.
Clyde Edwards-Helaire ($8,600 DK, $12,000 FD)
Listen, I'll preface this by saying that I am absolutely NOT a CEH fan overall. He isn't a particularly good runner, his volume is low, and the KC offense has too many options. However, on a showdown slate, you have to consider him. As mentioned earlier, Mahomes gets very creative (just watch the Week 1 game if you didn't see), and CEH has upside by simply being available on the field.
Gerald Everett ($4,800 DK, $9,500 FD)
I think that Everett is a fantastic cheap play on this slate, and will be going after him to fill in my lineup. He had a great debut with the Chargers in Week 1, posting a 3/54/1 line on four targets. I'm expecting him to be heavily involved in this one, as I do expect the Chargers to be playing from behind. He could easily smash his value and become one of the best plays on the slate.
Joshua Palmer ($5,000 DK, $7,000 FD)
Palmer should be a popular play due to the absence of Keenan Allen (tired of hearing about him yet?). I understand the potential, but I will likely be underweight and focusing more on Williams and Ekeler myself. he is more of a FD target for me, as we can find some much-lower priced options on DK.
DeAndre Carter ($4,600 DK, $8,500 FD)
I see Carter as the ideal pivot off of Palmer in GPPs, and unless I'm reading this one wrong, I'm expecting lower ownership (especially on FD). Ekeler is the only back I'm interested in for the Chargers, so all the pass-catching options are in play in a pass-first offense.
Both kickers are in play as always, and are a fine way to fill out your roster. I expect more TDs than FGs, but you can do much worse. Looks like Matt Ammendola will be filling in for Harrison Butker, but stay tuned for updates.
Deep Sleepers
Isaac Pacheco ($4,400 DK, $7,000 FD)
I'm a little disappointed that Pacheco scored late in Week 1, as I was looking forward to a min salary for him here. That said, I believe that Pacheco is more talented than CEH and will eventually find more work in this offense. He is still the 3rd-string option behind Jerick McKinnon ($2,600 DK, $6,500 FD), which should suppress his ownership.
Zander Horvath ($800 DK, $5,500 FD)
This is strictly a DK play, as Horvath won't see many touches at all, regardless of game flow. That said, he did find the end zone in Week 1, and is always a threat to steal a TD. He is basically free on DK, and a fine punt if you're looking to shove a bunch of studs into your lineup.
That's all I've got for the TNF showdown slate! To recap quickly, I'll be prioritizing Mahomes/Herbert/Ekeler up top. Mecole Hardman is likely a lock for me, Williams is a priority and I'm likely to fade JuJu and Marques Valdes-Scantling. Most likely, everyone outside of Ekeler is a fade for me in the running game aside from a few CEH sprinkles. Have to take a stand somewhere! Excited for this shootout!
Make sure to follow me on Twitter if you aren't already, and let's meet at the top of the leaderboards on Thursday!
Justin has been playing fantasy sports since the beginning of time. He was one of the first on the scene in DFS, back to the days of DraftStreet, DraftDay, and everything in between! He is an avid fan of all things Cincinnati (WHO DEY), and is always around to chat sports on Twitter (@BigItaly42) or in the WinDailySports Discord (Myrtle Beach Mermen).