NFL Week 11 Showdown SNF DFS Picks DraftKings and FanDuel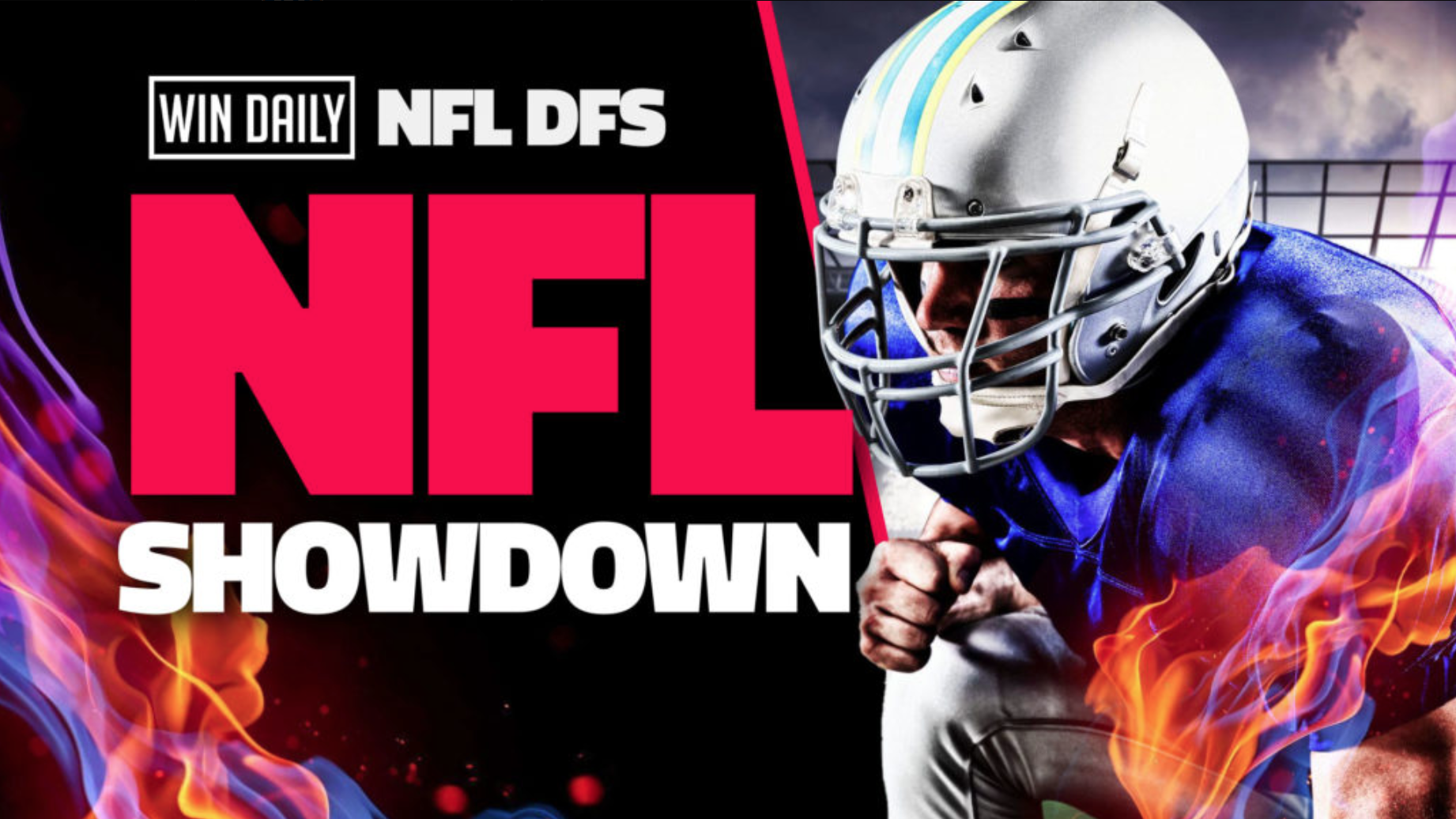 If you're sick of seeing the Chargers and Chiefs in showdown slates, you're just going to have to get over it. These two playoff contenders are facing off yet again, and the first matchup was a blast. The Chargers did what they do and blew a late lead. They led 17-7 in the 3rd quarter before serving up 20 straight points to Patrick Mahomes and company. There may or may not have been some controversial calls, but it's the NFL. What do you expect? Let's find ways to take down a big one on this Sunday Night Football showdown slate!
DraftKings and FanDuel each have a slightly different setup for Showdown slates, with DraftKings using a "Captain" spot. Captain earns you 1.5X points, BUT also costs you 1.5X in salary. FanDuel uses an "MVP", which is ALSO 1.5X points, but salaries are the same, regardless of position. DraftKings uses 5 FLEX spots, and FanDuel uses 4 "AnyFLEX" spots to fill out your roster.
Captain/MVP Plays
Justin Herbert, Chargers ($15,600 DraftKings, $14,000 FanDuel)
Wildly enough, Herbert is the 4th-most expensive player on both sites for the showdown slate. Taking nothing away from the likes of Austin Ekeler, Patrick Mahomes, and Travis Kelce, but this is a great spot.
Kansas City is 28th in the NFL, allowing nearly 40 fantasy points per game to opposing WR. Herbert may be getting Keenan Allen AND Mike Williams back for this one. If both are out again, Herbert takes a bump down.If all all systems are "GO" on both WR, Herbert has a huge ceiling here.
In the Week 2 matchup, Herbert threw for 334 yards and a trio of scores with one interception. Allen also sat that one out. Kansas City is a healthy 5.5-point favorite on the road here, so game script will likely dictate a high volume of passes once again. The Chargers have thrown the ball on a whopping 71% of plays over the last three weeks, easily the highest mark in the NFL. You all know what this kid can do. I'm prioritizing him here, especially if he gets one or both of his weapons back.
Kadarius Toney, Chiefs ($12,000 DraftKings, ($8,500 FanDuel)
Can you imagine what the ownership would be on Toney if this game were on the main slate? JuJu Smith-Schuster is OUT. Mecole Hardman is OUT. Toney had six touches last week, turning his opportunities into 90 yards and a score. He's going to be wildly popular here, and for good reason. I can't fathom a fade here, and he will be in 100% of my lineups. I don't see this as the spot to get different on this slate.
Marques Valdes-Scantling, Chiefs ($8,100 DraftKings, $7,500 FanDuel)
One swerve I like here off a popular Toney is MVS. Like I said, I'll still be rostering Toney, but putting MVS in the bonus spot opens up a world of opportunities. He played on 84% of the offensive snaps last week, and KC didn't need a whole lot out of their wideouts. That may not be the case this week. The total of 51.5 points is easily the highest on the slate…and is the ONLY one on this slate.
Last week we saw a rare occurrence for Kansas City. They threw the ball on only 56% of their offensive plays. They saw a matchup they liked, and they exploited it (more on that in a bit). I don't see the team prioritizing the run here, even in a prime matchup. I expect the Chargers to put up points, and MVS will undoubtedly see some looks down the field at a bargain bin price.
FLEX/AnyFLEX Plays
Mike Williams and Keenan Allen, Chargers
There is a lot up in the air about this one, mainly with these two key players for the Charger offense. Continue to monitor this situation, but let's assume that both play. If that's the case, I want Williams here. With Allen still dealing with a hamstring injury, that's a road I won't be traveling on much. Williams also carries a much higher ceiling. If just Allen plays, he is a fine option, but I see him more as a cash game guy than a GPP-winner. The risk is real with aging WR and hamstring injuries.
Patrick Mahomes, Chiefs ($11,400 DraftKings, $17,000 FanDuel)
Some may say Mahomes is the best ever. Log in to Twitter (while you still can) for any amount of time, and Mahomes will be compared to every QB in the history of the game. One thing we do know is that Mahomes is magic. There are things this guy makes look so effortless that you almost take it for granted.
Enough about what he HAS done, let's talk about what he WILL do. A win here likely makes the AFC West a forgone conclusion for Kansas City. That would leave the Chiefs at 8-2 and the Chargers at 5-5, essentially four games back when you factor in the tiebreaker. Please believe we will get the best that Mahomes has to offer.
That said, I think this is a prime spot for the Chargers to compete. Mahomes will get his fantasy points like he always does, but if the Chargers come into this one with healthier offensive weapons…watch out. Mahomes has a ceiling that is second to none over the course of a season. Call me crazy, but I like Herbert's ceiling here juuuuust a bit more.
Isiah Pacheco, Chiefs ($6,800 DraftKings, $9,000 FanDuel)
I know what you're thinking. I just got finished telling you that I think last week's run-heavy approach was an aberration. That can remain true while Pacheco hits value. If for some crazy reason you are unaware, this Charger run defense is a travesty. They have allowed nearly 1500 total yards (rushing and receiving) and 13 touchdowns to opposing backs this season.
Pacheco has been efficient when given volume, but is almost non-existent in the passing game. He is another player that doesn't have huge upside, but will likely see double-digit touches. If he finds the end zone, he could pay off nicely here.
Other Options
Jerick McKinnon is the complete opposite of Pacheco. He has 12 catches on 16 targets over the last two weeks, and has totaled just over 100 yards over that span. He may once again be heavily involved, especially with the Chiefs' injury issues at WR.
I'll never talk you out of playing Travis Kelce, and he is among the best plays on the slate. He didn't do much against this team in Week 2 (10.1 DraftKings points, lowest of the season), but that matters little. He caught 17 of 24 targets for 195 yards and a pair of scores against them last season. Kelce has unmatched upside among the skill players.
Gerald Everett is in a good spot here. The Chiefs are 25th in the NFL in fantasy points allowed to opposing TE over the last month. He went for 6-71 on 10 targets in the first meeting. He could have had a touchdown too (it went the other way), but we will leave that one alone…
Cameron "Dicker the Kicker" Dicker is still perfect on FG attempts this season. We won't see a more fun matchup of kicker names than him against Harrison "ButtKicker" Butker. Both are very solid plays here.
Looking into the value bin, I see a few options I like. Noah Gray has 5-75-1 over his last two games and is dirt cheap.
My favorite cheap play that I'm REALLY hoping goes unnoticed is Justin Watson. He is just $1,400 on DraftKings, and played on 73% of the offensive snaps last week. He has eight targets over the last three weeks. Insert the "interested eyes" emoji here. LOOK!
Taking a flier on Skyy Moore seems like a waste, but he is just $600 on DraftKings. He played just 24% of the snaps last week despite the injuries. He won't be on the field much, but he SHOULD be involved? I'm not forcing him in anywhere, but he's a low-risk option at that salary if you want to jam in some studs.
Austin Ekeler always has slate-breaking upside. He has been very inefficient as a runner, posting more than 4 YPC only twice this season (Browns and Texans…duh). He has 12+ targets in three of his last four, but I'd expect that number to drop if Williams and Allen return here.
Make sure to join our Discord to jump into our conversations with the team and share your successes (I am "Myrtle Beach Mermen", if you understand the reference, we will get along right away! We have a TON of great tools for you to check out, make sure you're taking advantage! You can find projections here and try out the optimizer here.
Good luck on Sunday Night! Make sure to follow me on Twitter @BigItaly42 if you aren't already, and let's meet at the top of the leaderboards!
Justin has been playing fantasy sports since the beginning of time. He was one of the first on the scene in DFS, back to the days of DraftStreet, DraftDay, and everything in between! He is an avid fan of all things Cincinnati (WHO DEY), and is always around to chat sports on Twitter (@BigItaly42) or in the WinDailySports Discord (Myrtle Beach Mermen).