NFL Tuesday Game by Game Special
Published
6 months ago
on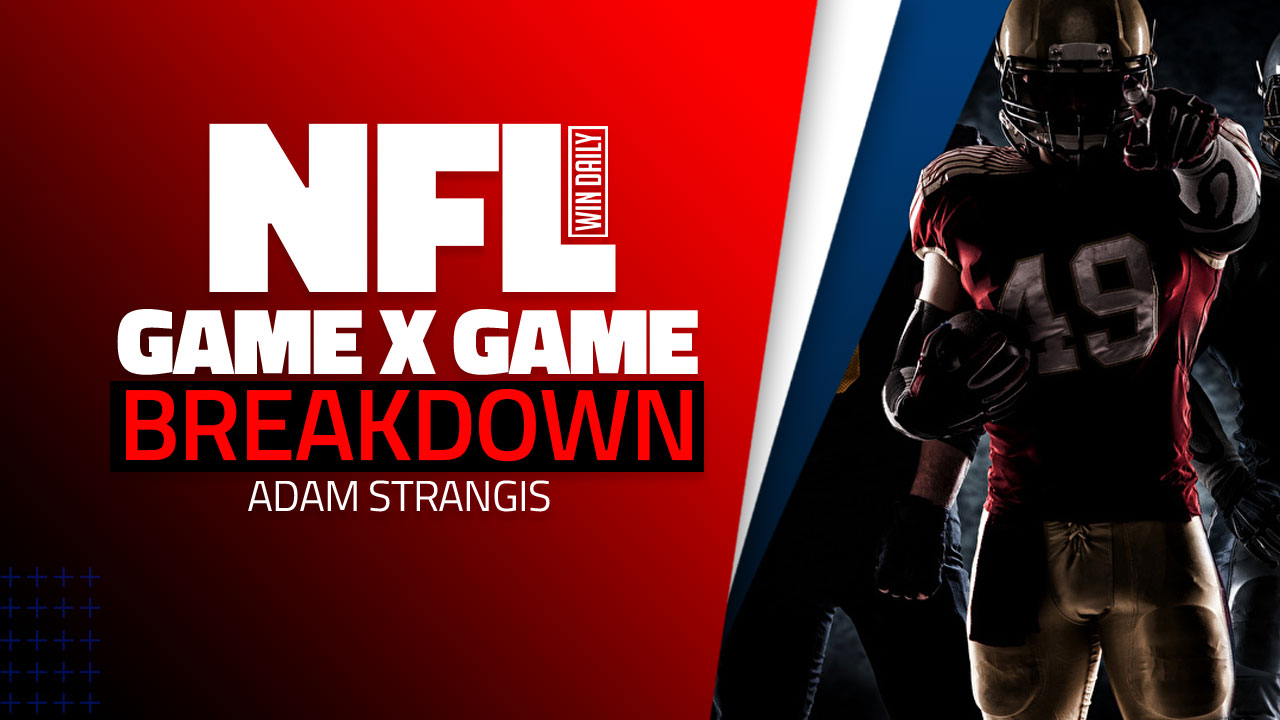 It's not very often that we're getting NFL games on a Tuesday, but here we are and there are two games to talk about. Make sure to join the WinDaily Freeroll today as Jason was kind enough to stake a prize to the winner and to join the Discord to find out about these goodies! Jason has offered $25 to the winner and $10 for second for any user that has a WinDaily logo on DraftKings!
Washington at Eagles, O/U of 41 (Eagles -8.5)
Washington
QB – Taylor Heinicke couldn't have played much worse last week with under 10 DraftKings points and even though he was harassed on what was seemingly every dropback, 11-25 for 122 yards was not expected. He's had some flashes but he's still just 17th in yards, 22nd in yards per attempt, 18th in true completion rate, and 19th in points per dropback. It's a very middling portfolio for the metrics and Philly has been solid defending the pass, sitting 14th in yards per attempt. They have allowed the third-worst completion rate at 70.4% but they still are 11th in terms of total yards allowed. The injuries to skill players are adding up as well, making Heinicke a very scary value with questionable upside.
Update – It appears that both Heinicke and backup Kyle Allen will be out for this game, leaving Garrett Gilbert to start. Considering he was on the New England Patriots practice squad ON FRIDAY. That's not great to prep for an NFL game and it hurts the entire Washington offense in a major way.
RB – Washington got down early last week and that hurt Antonio Gibson a good deal, as he only had 10 carries and 12 total touches. That is still a small problem because the coaching staff talks a big game about getting him targets, but they are far from guaranteed. Philly has been average as far as defending the run but they are sixth in yards allowed per attempt. We'll also need to see if J.D. McKissic makes it back for this game. If he does, there is a danger to Gibson's meager target share (9.2%).
WR – Hey, guess what? We don't know who's playing here either. Terry McLaurin was limited on Thursday but has to clear the NFL concussion protocol, so there's no real way to tell if he can play this weekend at this juncture. If he does make it back, he still has to deal with Heinicke and his inaccuracy on top of facing Darius Slay at corner. Slay has just allowed a 53.7% catch rate and 1.30 fantasy points per target, so it's a tougher spot. Washington could be down to Adam Humphries and DeAndre Carter as their primary receivers. That's not appealing in the least so let's hope Scary Terry can make it back. We'll circle back later in the week (shocker).
Update – McLaurin is active but I'm very concerned about playing him with a quarterback he simply has no rapport with. Humphries could maybe be sneaky as the slot receiver/safety blanket but that's of course risky.
TE – The targets were sort of there for Ricky Seals-Jones last week with four but it didn't work out. He also only played 45% of the snaps so if he practices the whole week without setbacks, I still like him to some extent for this week. I'd assume his snaps will rise and Philly has been lit up by tight ends all season. They are dead last in yards, receptions, and touchdowns allowed so as far as cheap options go, Seals-Jones would be high on the list. Before his injury, RSJ had a 14.6% target share when Logan Thomas was missing so let's see what practice tells us.
Update – It looks like Seals-Jones will be active for this game but John Bates played 70% of the snaps last week to 45% for Seals-Jones. Much like every other piece of Washington, I have no clue how Gilbert fits with them but if you punt Bates, I don't hate it.
D/ST – Washington has had issues all year on defense but they've been largely related to defending the pass. Philly's pass game has been suspect, to say the least, and Washington has sacked the quarterback 28 times. They are 28th in total DVOA and 23rd in points allowed, so you're banking on the Eagles having some offensive struggles.
Targets – Gibson, Bates, McLaurin, Humphries
Eagles
QB – When a team comes out of a bye week, it's not a great sign that a player isn't ready to go and it's reported that Jalen Hurts has a high ankle sprain. Even if he can play, the ceiling would be far lower if he's limited in his mobility. He's second in carries and yards along with having the most rushing touchdowns on the season. That's over 100 points that have come strictly from his legs and the actual quarterback metrics are sketchier. Hurts is only 24th in yards, 23rd in yards per attempt, and 22nd in attempts. He needs the rushing potential to want to play at this salary. If he can't go, Gardner Minshew would be a lock in cash and very appealing in GPP. In his start before the bye, he went 20/25 and scored almost 19 DraftKings points and the Washington defense is 27th in DVOA against the pass.
Update – Hurts is active and ready to roll for this game
RB – It's amazing how Miles Sanders can produce for fantasy when the Eagles actually give him the ball. He racked up 20 DraftKings points despite not scoring a touchdown but the matchup ratchets up significantly this week. Washington is seventh in yards per attempt allowed and they are now second in yards allowed on the ground to backs. Sanders also hurt his ankle so let's make sure he's going to be full-go before we make too many decisions in this backfield.
Update – Sanders is ready to roll and a strong target on this slate as nearly a double-digit favorite.
WR – I don't know if I have the stomach to roll Devonta Smith at this salary, because he's not cheap and the floor is very low. I was sort of hoping Minshew would help him in the last game but he saw just four targets, third on the team. Smith would most likely see William Jackson who sits at 1.90 fantasy points per target. There is some upside but the floor is too low for me I think given some of the options around him. No other receiver in Philly is worth a look.
Update – Jalen Reagor and Quez Watkins come into play a little more on this slate since it's just a two-gamer but both average under seven points per game.
TE – Dallas Goedert destroyed the slate the last time we saw him but it's important to remember he had a different quarterback when he did it. He flashed the upside the metrics suggested and we've been talking about lately, which was fun to see. The flip side is he's now at a salary hat you still need upside and that hasn't been evident with Hurts has been active. He's 10th in target share among tight ends and seventh in yards which is due in part to being second in yards per route. He's not among my highest priorities at the position.
D/ST – The Eagles seem kind of pricey for just 13 turnovers forced and 21 sacks on the season. They do sit 16th in points allowed and 22nd in total DVOA so the metrics would back up they haven't played all that well this season. Washington does have the fifth-most turnovers and 10th most sacks allowed so the matchup is solid but the salary is not.
Update – If you can fit the Eagles, you do it with Gilbert the likely starter.
Targets – Sanders, D/ST, Hurts, Smith, Goedert
Seahawks at Rams, O/U of 46.5 (Rams -6.5)
Seahawks
QB – I don't have much of a reason to get after Russell Wilson on this slate. Perhaps that changes if the Rams are short a bunch of defensive players as they did just allow well over 300 yards to Kyler, but Seattle seems content to maximize some of their talents. Wilson is fifth in yards per attempt and ninth in points per dropback, but only averages 28.7 attempts per game. The good news is this game should force him to throw more because the Rams offense is in a good spot against the Seattle defense. On the season, the Rams are seventh in DVOA against the pass so Russ would be GPP-only for me given how the year has gone for him.
RB – I was wrong on not being interested in Rashaad Penny last week but I may double down this week. While the line was impressive, two runs were 32 and 47 yards. That was 79 of his 137 yards and while I'm not advocating he gets penalized for breaking long runs, we don't know if he'll have the opportunity to be a goal-line back. Seattle didn't attempt a run inside the five-yard line so if he's not the goal line back, the scoring could plummet this week. He was still splitting work with Alex Collins though Collins was horrible with just 16 yards on seven carries. The matchup swings as well since the Rams are second in DVOA against the run and third in yards per attempt allowed. It's much tougher for Penny, who has looked like a first-round pick for exactly one game. I'm not convinced I need to play him this week.
Update – I would expect Penny to be the pass-catching back and with the Seahawks being almost a touchdown underdog, he makes sense.
WR – As of now, Tyler Lockett is in protocols but he has not been ruled out. If he is, D.K. Metcalf is likely going to be extremely popular. Lockett has a target share of 25.5% and he leads in the air yards share at 42.3%. If that's out of the lineup, Metcalf is going to see 12-14 targets, you'd have to think. Rookie D'Wayne Eskridge would be in play as well, but he's battling a foot injury. As far as the matchup goes, the Rams have 25 players currently on the Covid list so literally who knows. The update will come later on in the weekend. I feel bad saying that so much in this article but there's not much we can do right now.
Update – As of now, Lockett is out but we're waiting on an update. If he's active he will be in my lineups.
TE – I'm not relying on Gerald Everett to find the end zone with any regularity and he saw just two targets last week. He's no higher than 20th in receptions, yards, targets, or points per game.
D/ST – Seattle is 26th in total DVOA and has just 21 sacks (third-fewest) along with just 13 turnovers forced. Unless things change for the Rams, I'm not interested but their Covid situation is very much in-flux.
Update – LA is much healthier now so Seattle is a no-fly zone for me as far as their defense
Targets – Metcalf (if Lockett is out), Lockett is #1 if active, Penny, Wilson
Rams
QB – Matthew Stafford has broken out of his slump with at least 23 DraftKings points in each of the past three weeks, and the salary is still very appealing. Seattle has struggled all year against the pass and rank 28th in DVOA, 23rd in yards per attempt, and 22nd in completion rate. For Stafford, he's statistically been one of the best quarterbacks in the game this season. He's third in yards, seventh in attempts, fourth in yards per attempt, seventh in points per dropback, and fifth in points per game. At only $7,000 on DK, he's extremely appealing for a late hammer.
RB – We could see Darrell Henderson back for this game and if he is full-go, the salary is too cheap. He's been the horse for LA when he's been active and in his last game, he racked up another 21 touches. Henderson is 15th in yards and his target share of 10.4% is just enough to keep him involved in the passing game. Seattle is ninth in DVOA against the run and second in yards allowed per attempt, only 0.1 yards behind first place. If he can't make it back, Sony Michel would be in line for almost every running back touch and he had another 20 carries on Monday night. It didn't result in a ton of fantasy points at 7.9 but Michel is only a week removed from 27 touches against the Jaguars for 24.9 DraftKings points. Either back would be interesting in the right scenario.
Update – Henderson is active
WR – For the sake of fantasy players all over, put Cooper Kupp in bubble wrap at this point. Odell Beckham is in the protocols, leaving Kupp and Van Jefferson as the main receivers. Kupp is already leading in every metric for receivers that we value and he's not nearly expensive enough. There's no matchup to fear and the arrival of Beckham didn't matter for Kupp as he has a 33% target share since OBJ walked in. If Beckham remains out, Jefferson would take a big bump as well and you can argue to play Adams and Jefferson to try and get the best of both worlds. I may even tinker with Adams and Kupp together in GPP although that is not the easiest build to figure out safely.
Update – Beckham is out of protocols and I'm matching Kupp with one or both of Van and OBJ. If I go all three WR, I'll leave out Henderson and just super load the Rams passing game.
TE – Tyler Higbee appears to be out of Covid protocols so he should be active this week but it's getting tougher to see where his targets of value are coming from. The receivers are taking so much of the work and Higbee is getting left behind as far as production. The only reason I can't turn away completely is the red zone work because he's second in targets despite missing a game. It's still just translated to three touchdowns but it could be a different way to get access to the passing attack for LA.
Update – Higbee is currently out but we don't know for sure yet. If he's out, I will surely have two WR for LA.
D/ST – The Rams always seem to play Seattle tough and they rank sixth in total DVOA with the third-most sacks in the league. The Seahawks have given up the third-most sacks in the league while the Rams have also forced 19 turnovers. They are a fine play, pending who's available for them.
Targets – Kupp, Stafford, OBJ, Van, Henderson, D/ST
Lineup Construction – My current plan is to roll out a mega stack of the Rams as they are playing for a chance to co-lead the division. The Cardinals loss in Detroit really opened the door for LA so I'll have Stafford/Kupp and then two of OBJ/Jefferson/Henderson. I'll run tat back with either Lockett or Metcalf, depending on who is available. I'll fill in the other portions of the lineup from Philly and possibly a Washington punt like Bates or Humphries. 
Thank you for reading my NFL DFS Game by Game Breakdown Week 15 and make sure you follow me on Twitter at @bucn4life! Be sure to sign up for an ALL ACCESS GOLD ACCOUNT account here at Win Daily Sports. Gain access to our Projection Models and jump into our Discord where we will have our experts talking plays across every sport.