NFL Season Week 1 DFS: Main Slate Preview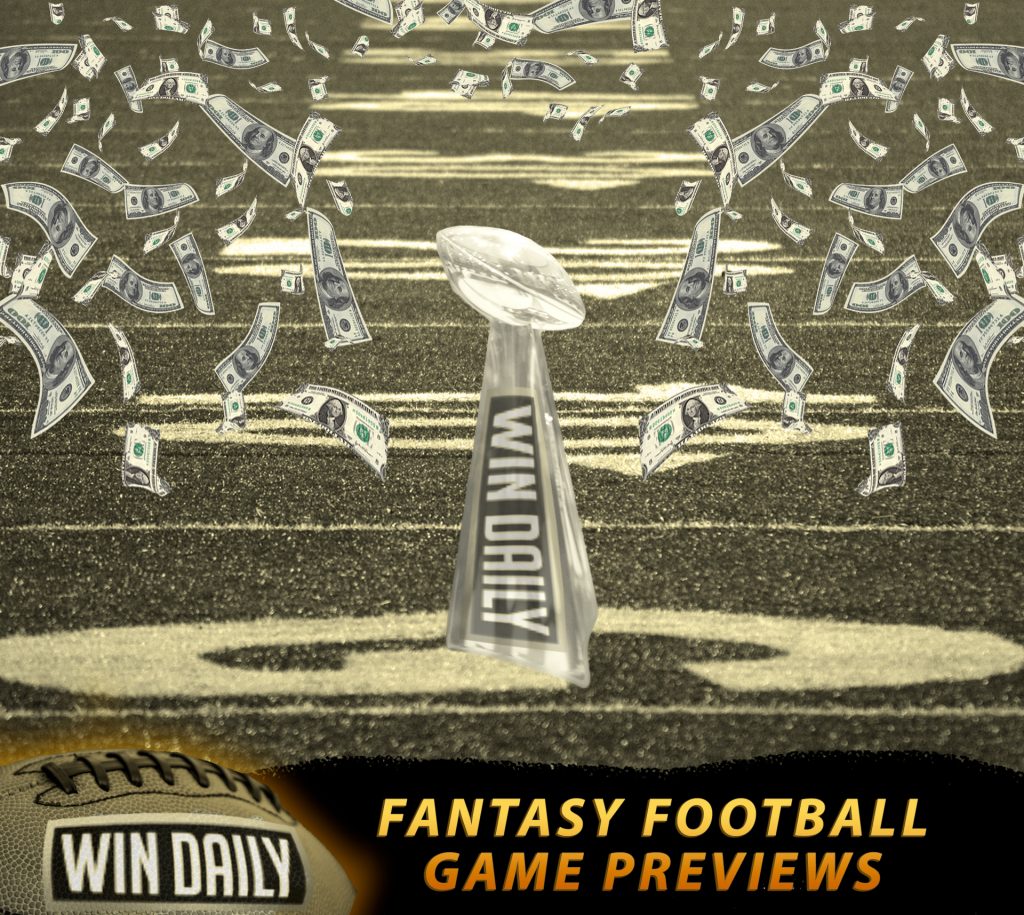 Well, we had fun playing preseason DFS, but it is time to move on to Week 1 DFS. The regular season for the NFL starts this week! We will go through each matchup game by game, and I will give my best buys and fades.
Sign up NOW for WIN DAILY Premium Gold right here! Projections,
weather reports, wagering info, 24/7 expert chats and more! Get started today! And don't forget to check out the cheat sheet!
RAMS AT PANTHERS
Jared Goff on the road for Week 1 DFS? No thanks. His road splits are absolutely terrifying from last year compared to his games at home. His home TD-INT ratio last season was 22-3. On the road: 10-9. His yards/attempt fall from 9 to 7.5, and his passing yards per game falls from 342 to 243. He is an easy fade to go along with Brandin Cooks. His numbers fall off drastically on the road, going from 6.6 receptions and 95 receiving yards at home to 3.4 receptions and 55 receiving yards on the road. I do think that Robert Woods is viable in cash as the numbers are virtually the same road/home and he benefitted the most when Cooper Kupp missed time. Off the injury, Kupp is the GPP play because he won't be heavily owned.
The chalk in this game will most definitely be the receivers on the Panthers. Both Curtis Samuel and D.J. Moore will be heavily owned because of their offseason hype and low price. That makes a stud like Christian McCaffery an easy target to pay up for a running back in both cash and GPPs. Then come back with Todd Gurley who surely will be low-owned after this tumultuous offseason. Additionally to move off the chalk, look at Greg Olsen who should see plenty of targets as Cam Newton's go-to receiver. The Rams allowed the most-targets to the tight end position last season.
REDSKINS AT EAGLES
Searching for a Week 1 DFS defense? Look no further than the Eagles defense at home against the Redskins porous offense. Carson Wentz should definitely be considered a quarterback to play in cash games as well. Wentz last season averaged 296 passing yards in games at home with a 10-3 TD-INT ratio versus 259 passing yards on the road with an 11-4 TD-INT ratio. In his three starts against the Redskins at home in his career, Wentz has averaged 296 passing yards, 2.3 touchdowns, and one interception. So who should you stack with Wentz from a skill position standpoint? All signs point to Zach Ertz. In the last four home games against the Redskins, Ertz has averaged 11 targets, 9 receptions, 106 receiving yards. Wide receiver DeSean Jackson is in play for Week 1 DFS, and against the Redskins (his former team) he is a perfect pairing with Wentz and Ertz.
An interesting tidbit about Jackson for Week 1 DFS. Outside of 2017 and 2015 where he did not play Week 1 or was hurt, Jackson's numbers are astounding for Week 1 throughout his career. He has five 100-yard receiving games during Week 1 and has received at least nine targets in seven Week 1 contests. Jackson also has that swagger factor that you can buy into with the #revengegame narrative. Last year against the Eagles, Jackson went 4-4 for 129 receiving yards with a touchdown, and in 2016 as a member of the Redskins, Jackson had seven receptions for 157 yards with a touchdown in two games against the Eagles.
As for the Redskins, everybody is cheap for a reason, because this offense projects to be one of the NFL's worst. Behind a terrible offensive line, don't expect the Redskins to stretch the field at all so expect check-downs to guys like Trey Quinn. Case Keenum has had success targeting slot receivers at a very high rate.
BILLS AT JETS
This is another game that I am looking to fade outside the defense/special teams. The Bills have a solid pass defense, which puts a damper on Sam Darnold having value where he is priced. Additionally, though Le'Veon Bell will be low-owned he is still a fade for me. The reason being is the last time Bell held out and came back he started slow. In 2017, after his first holdout, Bell held out his first two games he rushed 37 times for 119 yards and had seven receptions for 19 receiving yards. After a slow start, Bell will be the perfect buy-low candidate in standard redraft leagues.
The only Bills player to consider is a wide receiver, John Brown. The Jets do not have a good secondary and they allowed the second-most fantasy points to the receiver position last season. Remember Robert Foster exploded in two games versus the Jets last season. He combined for seven receptions for 209 receiving yards. One of their cornerbacks, Trumaine Johnson, is also dealing with a hamstring injury.
Robby Anderson is also questionable Week 1 with a calf injury so that could create large target distribution for Jamison Crowder in the slot as a low-end wide receiver to target at a cheap cost.
FALCONS AT VIKINGS
Here's a game that is not generating enough buzz to attack in GPPs. Julio Jones against Xavier Rhodes ,who is coming off his worst season to date? Sign me all up for that. I will take the upside with Julio who could #Kaboom at any single point. With that in mind, playing Matt Ryan as the eighth cheapest quarterback on the slate also makes a ton of sense, especially with the perceived notion that he could struggle against an "elite" Vikings defense. If Ryan is in a dome, it's like he is playing at home. Austin Hooper at tight end is absolutely dirt cheap in a high-powered offense and should be played in both cash and GPPs. He averaged 10.5 fantasy points per game on the road last season.
As for the Vikings, the lock of the slate in cash games at running back needs to be Dalvin Cook. Not only have the Vikings made it quite known how much they want to run the football this season, but they backed it up in the preseason. The Vikings led the preseason in rushing yards/game and were second in rushing attempts/game. And everybody knows that the Falcons continuously funnel targets to the running backs in the passing game. Over the past two seasons, no team has allowed more receptions to the running back position than the Atlanta Falcons. Cook is going to smash Week 1. The Vikings offensively should also feature a heavy condensed target share to both Adam Thielen and Stefon Diggs. So feature Matt Ryan and Julio Jones just to bring it back with Diggs. *Update* Diggs is dealing with a hamstring injury and has notoriously struggled to play well when on the injury report the week prior. Fade Diggs and have confidence in the consolidated target share that should go to Thielen.
CHIEFS AT JAGUARS
One of the sneakier games on the slate, the Jaguars are a team that might be undervalued. Nick Foles has shown that he is more than capable of exposing bad defenses. The Chiefs defense on the road last season allowed the most passing yards per game (325.4) in the entire NFL. Stacking Foles with the likes of Westbrook looks like a match made in Week 1 DFS heaven.
Leonard Fournette is also a great pivot play off of Dalvin Cook. Similarly priced, but Fournette will be much less owned despite the Chiefs being a team that struggles to defend the run. Fournette is also entering the game fully healthy (shocker) and there's no one on the depth chart to garner touches from him. The former Jaguar T.J. Yeldon went for eight receptions for 69 yards and a touchdown the last time the Jaguars faced the Chiefs in 2018.
As for the Chiefs, because they are playing the Jaguars on the road they will probably see a dip in ownership despite the fact that Patrick Mahomes has a ceiling that is higher than any other quarterback. Mahomes is a quarterback to look for in GPPs and with so much value at running back, you can afford to stack him with Travis Kelce and Tyreek Hill in Week 1 DFS.
TITANS AT BROWNS
The only player I would want to use from the Titans is Delanie Walker. He is Mariota's go-to guy and the Browns allowed the most-targets to the tight end position last season. Everybody else from Derrick Henry to Corey Davis needs to be faded. They are not great plays this week against a much-improved Browns defense.
The Browns DST should definitely be considered in Week 1 DFS because the Titans are missing their starting left tackle. Myles Garrett could be unleashed in Week 1. Against the number one defense vs.running backs last season, Nick Chubb for me is another player to pivot off Dalvin Cook in GPPs. If you decide to pay up for wide receiver Odell Beckham Jr. is a great option here. I am not convinced that Malcolm Butler can cover him. Butler improved down the stretch at the back-half of last year, but don't forget during the first eight weeks of the season Butler was allowing a 140.6 passer rating. *Update* Beckham is dealing with a hip injury so if he is limited guys that could benefit include Rashard Higgins and David Njoku. The TE could see a massive touchdown upside shift if Beckham is not at full-speed.
RAVENS AT DOLPHINS
Watch out for the Dolphins in this matchup. Virtually everybody across the board will be picking the Ravens in this game, but there is a reason to not be so sure. Road teams tend to struggle on the road in Miami early in September. That Miami heat! Miami has not lost at home in September since 2015. So as a super contrarian defensive play consider the Dolphins D/ST that is bottom-of-the-barrel cheap on DraftKings. I think Lamar Jackson because of his rushing will put up solid fantasy stats, but can be turnover prone.
Albert Wilson is the best upside play at receiver for the Dolphins. With Ryan Fitzpatrick under center don't be surprised with Wilson becoming his go-to guy from the slot. I expect outside receivers like DeVante Parker to struggle in this matchup against the tougher perimeter cornerbacks on the Ravens.
COLTS AT CHARGERS
Looking for a sleeper tight end? Well, both Eric Ebron, Jack Doyle, and Mo Alie-Cox could have the potential chances to score multiple touchdowns in this matchup. The Chargers defense does not have Derwin James and last season allowed the most red-zone targets to the tight end position. Jacoby Brisset will never be cheaper than he is this week on DraftKings ($4,400). He can unlock a lot of studs into your lineups. Especially if you stack him with Ebron or Alie-Cox. Neither of those guys will have high ownership.
Looking to the other side Hunter Henry is another great play at tight end. The Colts allowed the third-most fantasy points to the tight end last year. He will be chalky in GPPs. That being said the offensive line is a concern so fade Phillip Rivers because his upside is just not there. Focus on the core players in Austin Ekeler. Melvin Gordon is not going to play in this game so it's extremely difficult to beat Ekeler at his discounted price as the projected leader in touches. Keenan Allen has a tougher matchup against one of the better slot cornerbacks in the NFL: Kenny Moore. Moore ranked allowed the third-lowest passer rating when targeted in the slot last season.
BENGALS AT SEAHAWKS
The Seahawks defense with the newly acquired Jadevon Clowney? Sign me up! The Bengals offensive line does not look to be much improved from the last season and will face a tough test on the road against the Seahawks. In terms of targets in the passing game, guys like Tyler Lockett and Tyler Boyd are the primary leaders on their respective offenses. Both come in at medium salary prices making them attractive for cash games.
With the Seahawks heavy favorites at home, Chris Carson also looks to be in a smash spot against a defense that allowed the third-most fantasy points to backs in 2018 and has done virtually nothing to improve since last year. And with the hype of Carson getting work in the passing game he could have an even higher ceiling.
Tight end Will Dissly is an interesting dart throw at tight end: The Bengals were the worst team in 2018 versus the tight end position. Last year he blew up Weeks 1 and 2 (six receptions for 147 yards and two touchdowns). Don't forget about Joe Mixon. The Seahawks defense allowed the sixth-most receptions, third-most receiving yards, third-most receiving touchdowns to running backs.
49ERS AT BUCCANEERS
Another game that should very popular from a game stack point of view, I think both quarterbacks are in play from either format. Both defenses are horrific on paper. The Buccaneers players will be much more chalky making them better options in cash than in GPPs. For the 49ers fade George Kittle. When these two teams played last year, the Buccaneers held Kittle to just 15 yards after the catch in 2018; his second-lowest output of the season; despite 12 targets in the game.
The player I am buying on the 49ers offense is Deebo Samuel. Jalen Hurd is not playing and the 49ers just released wide receiver, Jordan Matthews. And even though the Dante Pettis and Marquise Goodwin have been named the starters for Week 1 do ya'll remember who produced Week 1 last season? It was Pettis, who was third on the depth chart like Samuel is now. I think Samuel is just the perfect fit in the Kyle Shanahan offense as a YAC machine. Last season in their first four games the Buccaneers allowed six players to go over 60 yards from just YAC. Matt Breida is an interesting target as running back against the Buccaneers as well. Breida owned the second-highest receiving grade at running back via PFF in 2018
GIANTS AT COWBOYS
Buy the Cowboys defense. This unit is quickly becoming one of the leagues' bests and against Eli Manning, it's hard to not be licking your chops. Outside of Saquon Barkley in cash games, I am staying far away from the Giants offense. I do think Dak Prescott provides a nice floor against the Giants as a quarterback to look for in cash games. Elliott would need to absolutely smash at his price and with so many other options it's probably not worth rostering him.
LIONS AT CARDINALS
The game that we have all been waiting for: Welcome to the NFL Kyler Murray. For me, I am fading the Cardinals quarterback and receivers in favor of David Johnson in GPPs. I am very confident in starting a combination of Kenny Golladay, Marvin Jones, and Danny Amendola. The Cardinals secondary is missing Patrick Peterson and can easily be exposed. Kerryon Johnson is also another player that could be a difference in a GPP as the Cardinals run defense is just as bad as their pass defense. No team allowed more rushing attempts, more rushing yards, or more rushing touchdowns than the Cardinals did in 2018.
THANK YOU FOR READING. YOU CAN READ SOME OF MY OTHER WORK AND THOUGHTS ON MY AUTHOR PAGE. FOLLOW Win Daily DFS ON TWITTER @WinDailyDFS. PLEASE CHECK OUT EVERYTHING THAT Win Daily DFS HAS TO OFFER. NEW ARTICLES, STATISTICS, AND DATA ARE BEING ADDED CONSTANTLY. ALSO, DO NOT FORGET TO LISTEN TO THE WIN DAILY PODCASTS HERE.
Andrew has come a long way as a fantasy football writer. After graduating from Roger Williams University where he received a degree in marketing he began to write his own fantasy blogs via WordPress.com. He used to call himself the Fantasy Football Master. Nowadays, he is slightly more humble. He has worked with Pro Football Focus as a base data analyst along with bringing head writing experience from Gridiron Experts and FantasyData. He is an absolute die-hard Patriots fan and will never forget his first fantasy football team. In his first-ever fantasy football league he drafted the Bears defense in the 1st round. He then proceeded to win the entire league. #DefenseWinsChampionships