NFL DraftKings and FanDuel DFS Game by Game Breakdown Week 4
Published
2 months ago
on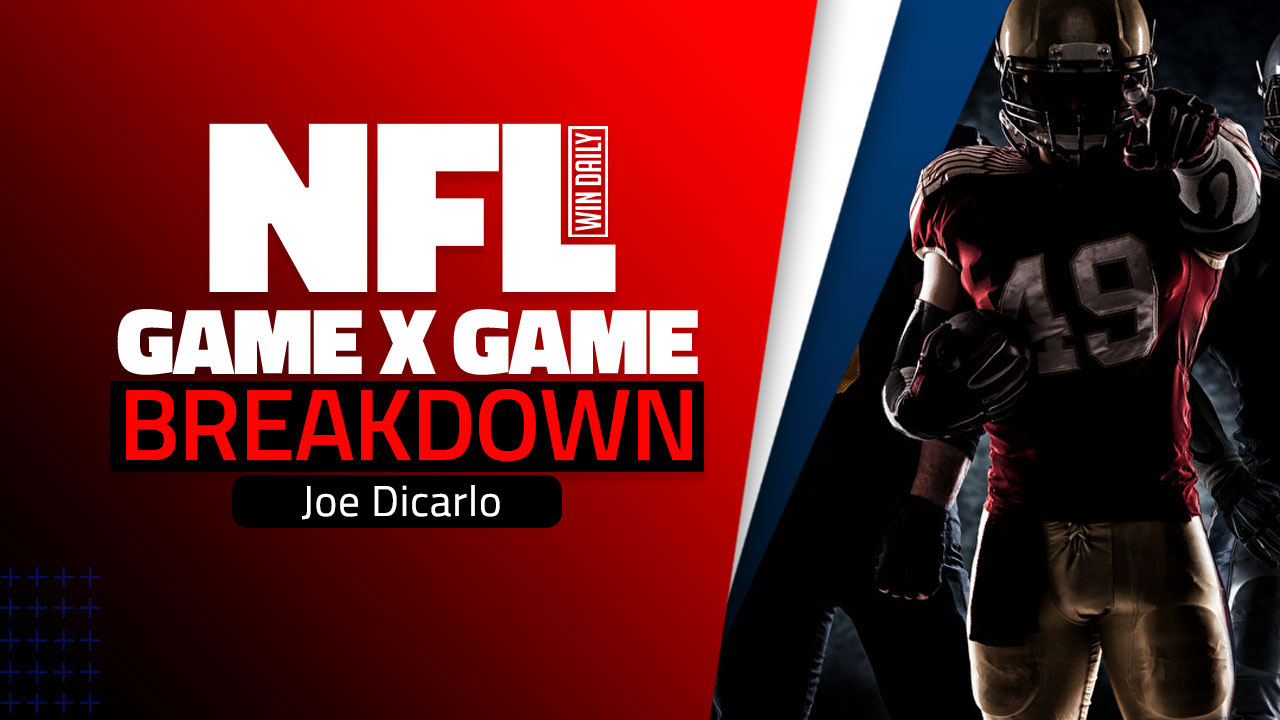 Another profitable week of NFL DFS is in the books. The entire field had a piece of that Bills/Dolphins game which turned out to be a big day for each team's running backs (Our guy Stix mentioned Devin Singletary for GPP on our Discord on Saturday). Not many high scores, but we should've still doubled up in our cash games thanks to our projection models. Thanks to the site my own personal lineups would've all tanked if it weren't for Mack Hollins' insane game (8 REC/158 YDS/1 TD). Remember we're all in here to help, our team is here 24/7 in our discord chat, tag me @JDiCarlo78#5965 for any questions about your lineup builds anytime guys, now let's break down Week 4!
Sunday Main Slate 10/2/22
Jaguars @ Eagles (-6.5) (O/U 46.5)
Jaguars
Have the Jags become a legit team in the NFL again? Head coach Doug Pederson looks like he may have turned this franchise around after the 38-10 shellacking his team put on the Chargers. Quarterback Trevor Lawrence has been efficient, throwing 6 touchdowns to only 1 interception. He's useable in a GPP, but his main man Christian Kirk may see shadow coverage from Darius Slay. Pairing Lawrence with Zay Jones may be the way to go in this game, fresh off his 10 REC/85 YRD/1 TD performance.
Eagles
Philly is again in the driver's seat this weekend. Jalen Hurts embarrassed his former mentor Carson Wentz last week, and now he gets a piece of his old coach Doug Pederson, who benched him in the final game of the 2020 season for Nate Sudfeld. Hard to pass up on a few Eagles for DFS again in Week 4…Should be another aerial attack on Jacksonville. Hurts, Brown, Smith, and Goedert are all reliable plays this Sunday.
Cash: J. Hurts, A. Brown, D. Smith, D. Goedert
GPP: T. Lawrence, Z. Jones
Bills @ Ravens (+3) (O/U 51.5)
Bills
Now we're talking. Bang bang shoot'em up in Baltimore. After suffering that painful loss to Miami last week, we can foresee Josh Allen coming out guns blazing in this one. Whatever happened to this shutdown Raven secondary? They've been toasted since last season even with Marlon Humphrey and Marcus Peters back in the mix allowing over 1,100 air yards in 3 games. So Diggs is a lock to pair, but still, be cautious with Gabe Davis with his ankle injury. Dawson Knox has been quiet and his salary has whittled away, this might be the right time to sneak him into your DFS lineup.
Ravens
Raven contests have been money in the bank for DFS so far this season. Lamar vs. Allen, the Champ vs. the Number One Contender. We'll see who's playing defense for Buffalo by Sunday morning, but it shouldn't matter to Jackson by the way he's been playing. He leads the league in touchdown passes (10) with another 2 on foot. Top tight end Mark Andrews has also been unstoppably catching the football (22 REC/245 YDS/3 TD) and will continue to dominate whatever the defense throws at him.
Cash: J. Allen, S. Diggs, L. Jackson, M. Andrews
GPP: D. Knox
Update: Watch the weather this weekend, could get soggy in Baltimore
Commanders @ Cowboys (-3) (O/U 41.5)
Commanders
Carson Wentz couldn't stay off his back last week as the Eagles demonstrated why they have the number one ranked defense. He'll be having a little case of deja vu on Sunday when they visit the Cowboys who can also get to the quarterback quickly. Dallas has a total of 13 sacks and has only allowed 2 passing touchdowns on the year. I'm taking a hard pass on the Commanders this week.
Cowboys
I'm tempted to put Cooper Rush in a GPP lineup, he's been very safe as a game manager and with the low salary he could give us a little value. Lamb finally showed up last week (8 REC/87 YDS/1 TD) and we can only imagine what he can do to the Fuller/St. Juste coverage of Washington. The safe play is the Dallas DST though, the Cowboys may not have to rely too much on their offense if they end up shutting down the Commanders.
Cash: Dallas DST
GPP: C. Rush, C. Lamb
Seahawks @ Lions (-4) (O/U 48)
Seahawks
Seattle let Geno cook against Atlanta in Week 3, and the meal came out hot and spicy. He has an opportunity to duplicate his (325 PAYDS/2 TD) performance in Detroit, who have been very fantasy-friendly to quarterbacks this year. DK Metcalf looked spectacular too last week, but he may see a ton of Jeff Okudah, the dude who kept Minnesota's J.J. quiet. If you're looking to pair Geno, use Lockett this week. He had a nice 11-target (9 REC/76 YRD) game and should see the door mat corner in Detroit of Amani Oruwariye. Running back Rashaad Penny tore up Detroit at the end of last season for (170 YDS/2 TD) and he is a mere ($4,900 DraftKings/$6,700 FanDuel), keep him in mind for a tournament play too.
Lions
Detroit will be without 2 of its biggest weapons in D'Andre Swift and Amon Ra–St. Brown this Sunday due to injury. Goff will still be there to lead the team and he'll look to lean on his safety valve, tight end T J Hockenson. Running back Jamaal Williams will pick up the slack for Swift, but Craig Reynolds may also see some snaps.
Cash: J. Goff, T. Hockenson, Jam. Williams
GPP: G. Smith, T. Lockett, R. Penny
Jets @ Steelers (-3.5) (O/U 42)
Jets
If you're feeling lucky to go with gang green this weekend, Zach Wilson will finally take over for Flacco. He's a steal at ($5,200 DraftKings/$6,500 Fanduel) and his receiver core is a bargain as well except we can't be too sure who will get targetted yet. Tight end Tyler Conklin is ranked number 2 in the league but for some reason, his salary is still very inexpensive ($3,600 DraftKings/$5,400 FanDuel). Zach will need to throw it and Conklin offers little risk and high reward for quick receptions up the middle.
Steelers
Are we all in on Mitch? In a tournament for sure, I can't bet half my bankroll on the biscuit. The Jets' secondary are a disaster (22nd in DVOA for receivers/20th for QBs), and might as well give me some George Pickens of the core, cheapest with the most upside. Diontae Johnson would be the safer play in my opinion, but when facing the Jets anyone could be uncontroversial.
Cash: D. Johnson
GPP: Z. Wilson, T. Conklin, M. Trubisky, G. Pickens, N. Harris
Bears @ Giants (-3) (O/U 39.5)
Bears
Rain is in the forecast for this weekend, I can't even imagine Fields getting double-digit pass attempts in this game. The Bears have nothing to lose yet they hold this kid back from airing it out. So It'll be another big rushing day for Khalil Herbert against a Giants run defense that can't stop anyone with the ball (25th in DVOA). Very safe for cash, and that's about it…Chicago has been a snooze fest for three weeks.
Giants
New York is running thin at receiver after losing Sterling Shepard for the year to an ACL, Richie James is the last man standing at Met Life. Chicago will be ready for Saquon, Golladay is on the block, and Toney and Robinson are ruled out, so it will be James running routes all day. If New York wins, it will be with their defense, which has kept the scores down in all three games this year. Fields will pass at some point, and the Giants will look to exploit him.
Cash: K. Herbert, NY DST
GPP: R. James
Chargers @ Texans (+5.5) (O/U 44)
Chargers
Coming off a devastating loss at home to Jacksonville, Justin Herbert will be out for blood. Even though it appears Keenan Allen could miss his second straight game, Austin Ekeler has been quiet and could break out in Houston, where we just saw Chicago's Khalil Herbert go bananas. Herbert does a pretty good job of spreading the ball, so be careful with Charger receivers here. Salaries are up across the board, and if they get a big lead, the passing game could taper off.
Texans
On the other side of that coin, Houston will be playing catch-up all game. No Joey Bosa, a banged-up Derwin James, and possibly no J C Jackson, and boom… Brandin Cooks is back on SportsCenter. A WR1 is priced down to a WR2 this weekend, come and get some.
Cash: B. Cooks
GPP: A. Ekeler
Browns @ Falcons (+1.5) (O/U 49)
Browns
Cleveland has a nice match-up on paper but I just can't buy too much into Brissett. Amari Cooper on the other hand has proven to be the 1, but how much will they need to throw it here against Atlanta? Nick Chubb has been on an absolute rampage in this run-first offense so why bother exposing a weakness in passing? Chubb's approaching $8k in salary this week on DraftKings, but could have low ownership because of the Jamaal Williams hype. Sneaky in GPP.
Falcons
The Browns defensive line might be without two key pieces as Jadeveon Clowney and Myles Garrett are both questionable. This would buy more time for Mariota to find rookie Drake London in the open field, who has taken over as Atlanta's number one option. Mariota could even peel off some chunks of rushing yardage himself in this situation, but either way, London should be good to go because of game flow.
Cash: D. London
GPP: N. Chubb, M. Mariota
Titans @ Colts (-3) (O/U 42.5)
Titans
The Titans finally got in the win column thanks to a strong performance by Derrick Henry. But the Colts rank third in the league in run defense, so they may need Tannehill to step up his game. The rookie Treylon Burks and veteran Robert Woods have been the only guys trusted in the passing game, but Shaq Leonard may finally be suiting up this Sunday, so I'm just staying away entirely on the Titans.
Colts
Tennessee may have the worst secondary in football and could spell another monster game from Michael Pittman Jr. They also rank 29th in rushing yards allowed, which could wake the sleeping giant of Jonathon Taylor. Both are still up there in salary, and it is a divisional game which would lead to both teams being cautious with the ball and playing solid defense, so we can go there, the Colts D. is in a sweet spot.
Cash: Colts DST
GPP: M. Pittman Jr.
Cardinals @ Panthers (-1.5) (O/U 43)
Cardinals
The Cards got bit by the injury bug this week, as almost the entire offense popped up with a questionable tag, even Marquise Brown. Hopefully, it's not too serious for him, since he saw 17 targets last week, catching 14 for 140 yards, and can be in line for the same volume in Carolina. Tight end Zach Ertz is pretty much the only healthy weapon for Kyler this week and can also see a huge uptick in usage.
Panthers
Arizona has been a cheat code for drafting at the wide receiver position so far this season. Let's just keep filling up our buckets from that well and grab Carolina's WR1 DJ Moore. He's been quarterback-proof throughout his career, so buy in this week while Moore is dirt cheap ($5,300 DraftKings/$6,100 FanDuel) with a ton of upside.
Cash: M. Brown, Z. Ertz, DJ Moore
GPP:
Patriots @ Packers (-9.5) (O/U 40.5)
Patriots
Veteran backup Brian Hoyer will get the start for the banged-up Mac Jones. We can't trust any receiver let alone Hoyer this weekend, especially against their tough defense. If anybody to take a shot on again is Rhamondre, he got you over 20 Fantasy points last week. Slowly he is easing his way into the James White role in New England, as a PPR machine.
Packers
A low-scoring, backup QB on the other side, just reeks of a very slow-paced game. Rodgers and the offense may take it easy this weekend and show very little urgency to New England, so let's think about what pieces we want…Tonyan? He's a very trusted weapon of Rodgers and has been flying under the radar for a while, a great punt at tight end for a GPP.
Cash: Packers DST
GPP: R. Stevenson, R. Tonyan
Broncos @ Raiders (-2.5) (O/U 45.5)
Broncos
Denver is still struggling to figure out their new identity, and it may take a while if you've been watching the play calling. Until Russell Wilson can get comfortable, he'll lean on his running back Javonte Williams, as he should. So far he's cooled off since his (11 REC/65 YRD) game in the opener, but that could change this week as Melvin Gordon is beginning to be eased out of his role.
Raiders
"A return of the Mack"? We better run it back with this dude. The second week in a row without Hunter Renfrow so Mack Hollins will see a larger role in the offense again. He's looking to build off his (8 REC/158 YDS/ 1 TD) even though it's a tougher matchup, Adams and Waller will demand priority defensive coverage over him. A significant bump up in salary too but is still reasonably priced considering his ceiling.
Cash: Jav. Williams
GPP: M. Hollins
Cash Core 4
J. Allen, S. Diggs, Jam Williams, M. Andrews
GPP Core 4
M. Trubisky, N. Chubb, M. Hollins, R. Tonyan
Stacks
J. Allen/Diggs; L. Jackson/M. Andrews; J. Goff/TJ Hockenson; M. Trubisky, D. Johnson
Thank you for reading my NFL DFS Game by Game Breakdown for Week 4 and make sure you follow me on Twitter @JoeDiCarlo78 or in our Discord tag me @JDiCarlo78. Be sure to sign up for an ALL-ACCESS GOLD ACCOUNT here at Win Daily Sports. Gain access to our Projection Models and jump into our Discord where we will have our experts talking plays across every sport.
Born and raised in New Jersey, married father of three awesome boys and grandfather of one. Experienced Fantasy DFS player/writer in NFL and NBA, always eager to help others in their day-to-day DFS decisions.