NFL DraftKings and FanDuel DFS Game by Game Breakdown Week 3
Published
2 months ago
on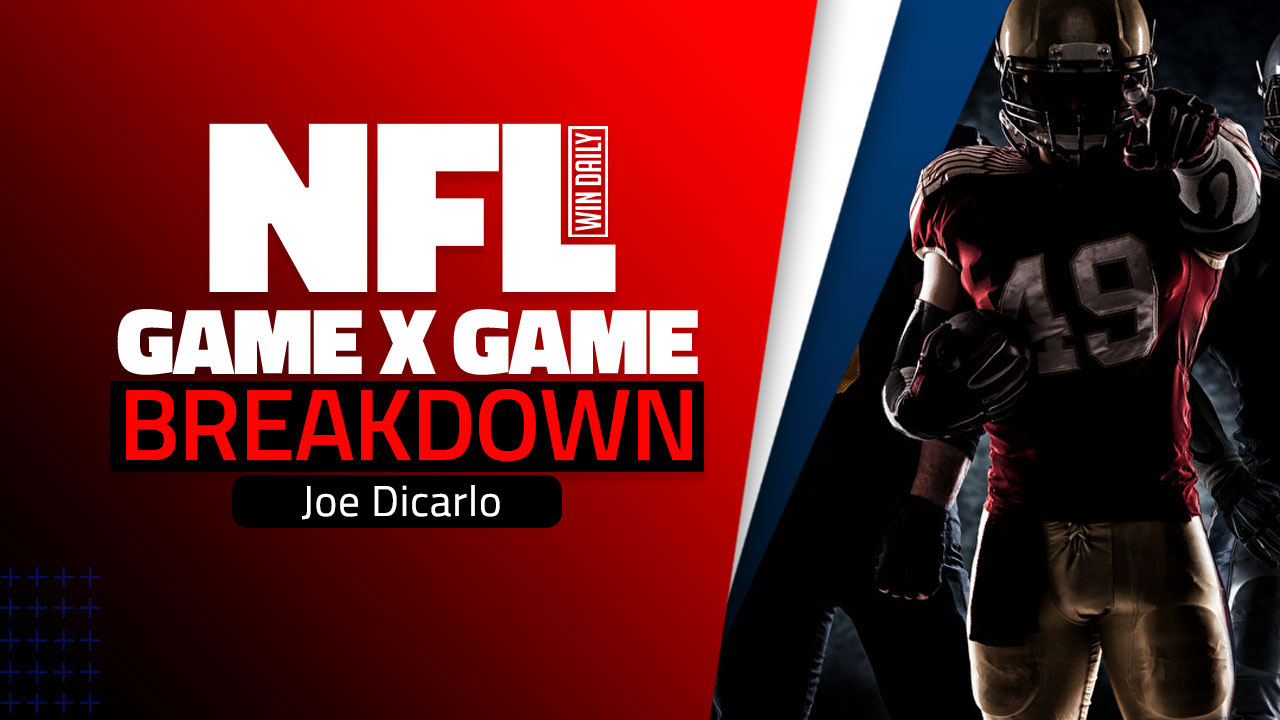 What a way to follow up on the 2022 – 23 season…Week 2 was full of action! Loaded with upsets and monster performances, if you stacked that Miami/Baltimore game you are sitting on a lot of green! Again our models came through in the clutch for cash games, so stay right here we have Week 3 around the corner and you don't want to miss out. Our team of experts is here to help 24/7 in our discord chat, tag me @JDiCarlo78#5965 for any questions about your lineup builds, who to start, or fade. Thanks again everybody, it's been such an awesome season so far, and now back to the grind!
Sunday Main Slate 9/25/22
Chiefs @ Colts (+5.5) (O/U 50.5)
Chiefs
Kansas City is one of the most pass-heavy offenses in the league and will need to utilize it in Indianapolis since Shaq Leonard and Deforest Buckner have held opponents to a mere 2.7 yards per carry. So Mahomes and Kelce will need to move the chains in the air, totally safe for cash. Consider also Mecole Hardman ($4,600 DraftKings/$5,800 FanDuel) for a sneaky value in this match-up, who's seen just over 56% of snaps with 10 targets.
Update: Shaq Leonard (Colts) is out, CEH is good to go!
Colts
Matt Ryan and company are still looking for their first win of the season, but it could be an uphill battle with KC. They'll need their bell cow Jonathon Taylor to get off to a good start in order to play keep away from Pat Mahomes. His price is way too steep for a potential Chiefs blow out so no thanks. We'll see if Indy can get Michael Pittman healthy enough for Sunday, they'll need all hands on deck. Andy Reid will have extra coverage on him if he does play. The Colts are just way too thin at weapons to compete with these AFC West Juggernauts, but if you really need a Colt this week, Ryan will have great value ($5,200 DraftKings/$6,700 FanDuel).
Cash: P. Mahomes, T. Kelce, CEH
GPP: M. Ryan, M. Hardman
Bills @ Dolphins (+6) (O/U 52.5)
Bills
Buffalo steamrolled thru the defending champs and last year's AFC number-one seed scoring 72 points in 2 games. They'll want to keep that momentum moving to take control of the division in Miami, which has plenty of shoot-out potential. Allen and Diggs are a bulletproof stack and a no-brainer for cash but they will eat up your cap space. Gabe Davis still has a lingering ankle injury, but if he is good to go for Sunday, try to plug him in for the up-side value. Otherwise, pivot to Dawson Knox.
Dolphins
6 Touchdowns for Tua in the comeback win in Baltimore, with Waddle and Tyreek both having 40-plus fantasy points last week. The number one-ranked defense is in town but without pro bowl safety Micah Hyde and cornerback Dane Jackson….oh boy are we in for a treat from Miami again! Salaries are up, but well worth it in this clash of these AFC East Titans. We're good across the board for these three, start up your fins!
Cash: J. Allen, S. Diggs, D. Knox (if G. Davis is out) G. Davis (if healthy)
Cash/GPP: T. Tagovailoa, J. Waddle, T. Hill
Eagles @ Commanders (+6.5) (O/U 47)
Eagles
They look to be the team to beat in the NFC, putting up 38 in Detroit and manhandling Minnesota at home. Hurts has shown to be fantasy reliable so far, and punishing the weak opposing defenses. A J Brown was quiet, but not needed last game. we saw Devonta Smith show up Monday night with 15 fantasy points. Running Back Miles Sanders has also been surprisingly trustworthy this season averaging 90 yards a game rushing. Dallas Goedert has been quiet but is due a game, owning 90 % of the snaps. Let it ride in Philly!
Commanders
Will Wentz get his revenge on the Eagles and pull off the upset at home? Don't be so quick to jump on the hype train, he's been way too inconsistent for me. He's looked like a deer in headlights in the first half of each game so far but somehow pulls off a decent fantasy game in the end. Not against this defense, not after what happened to Cousins on Monday. Check out Curtis Samuel or Logan Thomas for Washington this week. Samuel is heavily used in the scheme and leading the team in targets (20) while Thomas owns the lion's share of snaps (73%) for Commander tight ends.
Cash: J. Hurts, A. Brown, M. Sanders, D. Goedert, C. Samuel
GPP: D. Smith, L. Thomas
Bengals @ Jets (+5) (O/U 45)
Bengals
The reigning AFC champs hit Broadway this week, but have looked like they've hit rock bottom at 0-2. Burrow's reconstructed O-line has allowed him to be sacked tremendously but it may be the fact that he's been holding the ball way too long. But his match-up is too good to be true and the Jets have no one in their secondary. Chase will feast, but Higgins comes at a discount and is a little more attractive. I didn't forget about Mixon who should eat plenty here, (Jets run D @ 23rd overall) and grab a couple of Bengals for cash.
Jets
Flacco pulled a rabbit out of a hat on the road in Cleveland, can he run it back? Not worth the risk against Cincinnatti hungry for their first win. The rookie Garrett Wilson exploded for two touchdowns including the walk-off in the end zone and popped up on our radar. I still do like Michael Carter who still is leading the backfield and Elijah Moore's price hit $5,000 on DraftKings who in my eyes is still the alpha. These Jets are viable in a GPP, but feel free to fade them if you want to play it safe.
Cash: J. Burrow, T. Higgins, J.Mixon
GPP: M. Carter, E. Moore, G. Wilson
Ravens @ Patriots (+2.5) (O/U 43.5)
Ravens
Don't anticipate another back-and-forth game like Miami had in Week 2, Baltimore is averaging 31 points per game whereas the Pats are only putting up 12. Lamar is looking more and more this year like his old 2019 MVP form, giving Baltimore more of a reason to sign him long-term. He is totally safe this week on the road, as the Pats will not have anyone to contain him. Keep a close eye too on Devin Duvernay's concussion status, if he is unable to play Demarcus Robinson would give you a nice cap space saver to slide in ($3,400 DraftKings/$5,200 FanDuel).
Update: Duvernay cleared to play, fade Robinson.
Patriots
They may be able to slow down the Ravens and grind it out, but Mac Jones I'm afraid will not be able to put up as many points against them. And since the receiving core is so crowded, we truly never know where the ball is headed either. Rhamondre Stevenson still owns 40 % of that backfield and is listed as their change-of-pace running back, I would consider him a GPP flyer for potential check-downs by Jones.
Cash: L. Jackson, D. Robinson (if Duvernay is out)
GPP: R. Stevenson
Lions @ Vikings (-6) (O/U 53)
Lions
Even though their defense has been a hot mess, Detroit still can light up the scoreboard averaging 35 points per game. Of all the talent I think we need to go back to the well of Amon Ra who's demanded the ball from Jared Goff dating back to last season. That's 8 straight games of double-digit targets catching 68 balls with 8 touchdowns. He's dominated the game plan for Detroit causing other players' production to drop… so I'm interested in T J Hockenson at ($4,200 DraftKings/$5,500 FanDuel) for value in this pass-friendly game.
Vikings
Cousins looked awful Monday night, but Detroit will bring him back to the fantasy promise lands. He'll look to feed Jefferson at will, who the Lions have been unable to slow down. In two games in 2021, J J has caught 18 balls for 306 yards and a touchdown. Very safe for cash, and how about a punt at tight end…Irv Smith. Minnesota wants to get him the ball, just ($3,100 DraftKings/$5,000 FanDuel), caught 5 of 8 targets with a touchdown in Phila. He also led in snaps amongst tight ends for Minnesota which is good to see.
Cash: K. Cousins, J. Jefferson, A. St. Brown, I. Smith
GPP: T. Hockenson, J. Goff
Raiders @ Titans (+2) (O/U 45.5)
Raiders
Vegas is probably the best 0-2 team in football. After suffering 2 heart-wrenching losses to open the season, they will look to beat up on the also win-less Titans. It appears Hunter Renfrow may miss this one because of concussion protocols, so Tennessee will see a heavy dose of Carr to Adams. Tennessee has also been struggling on offense with defenses exposing Tannehill as an imposter at quarterback, keeping them off the scoreboard and game-scripting out Derek Henry.
Titans
If the Titans want to make a stand this week, they'll need to get back to the basics…run the damn ball. Henry needs to be used to his full potential, and if he can break off a few big chunks of yardage, that should open up the play-action passing routes. But the O-line is atrocious without Taylor Lewan, so Henry is a tournament option only, but I have a funny feeling that they're going to increase his workload this Sunday.
Cash: D. Carr, D. Adams, Raiders DST
GPP: D. Henry
Saints @ Panthers (-3) (O/U 40.5)
Saints
Oh man, what pieces do we really want from the Saints in this match-up? Carolina's defense is not as good as Tampa's, but they can still cause Jameis, sore back and all, to turn the ball over. New Orleans has also shown us something on defense, and Baker has been out of rhythm himself. Good landing spot for defense, New Orleans holds its weight in a DST
Panthers
Baker looks like he still needs the training wheels on for this offense and lacks chemistry with his weapons, especially McCaffrey. Maybe they'll get something going together in week 3 but just too risky for our cash games. Let's wait another week for the offense to bloom, but I have no problem with that Panther D facing a broken Jameis.
Cash: Panthers DST
GPP: Saints DST
Texans @ Bears (-3) (O/U 40)
Texans
Lovie Smith is back in town, but nothing to get excited about really. Smith is an old-school former Bears coach who believes in playing defense and running the ball…(yawn). This game script will put Dameon Pierce in the driver's seat and may be in line for a big game. Aaron Jones of the Packers torched the Bears for 132 yards on foot last week, at Pierce's current DFS salary ($5,000 DraftKings/$5,800 FanDuel) those numbers are like an all-you-can-eat buffet. Chicago linebacker Roquan Smith has already been ruled out which makes Pierce even more appetizing.
Bears
Chicago has one of the top three offensive lines in the league and will be force-feeding David Montgomery up the gut of Houston's front line. The volume is cranked up for Montgomery, who saw 80% of the snaps and averaged 8 yards per carry for 122. Chicago is still reluctant to let quarterback Justin Fields air it out (28 Pass Attempts in 2 games) and should continue to keep it on the ground.
Cash: D. Pierce, D Montgomery
Jaguars @ Chargers (-7) (O/U 47)
Jaguars
No J C Jackson (ankle) for LA… so it's on for Trevor Lawerence! Kirk could have another monster game as he has been Lawrence's shiny new toy in Jacksonville. The duo has connected on 12 catches for 195 yards and 2 touchdowns so far this season. I prefer these two in a tourney though, better safe than sorry. But hold the phone, Herbert is a little banged up with a rib and Chase Daniels has been taking first-team reps, we may want to use their defense if Herbert can't go.
Chargers
Not only did Herbert pop up on the injury report, but Keenan Allen is also still there with his hammy. I hate to write this but we may need to keep Chargers out of our DFS. Even if they do give it a shot to play, they may not finish the game. Plenty of other ways to go this slate let's fade LAC this time.
Cash: None
GPP: T. Lawrence, C. Kirk
Packers @ Bucs (-1.5) (41.5)
Packers
Aaron Rodgers has plummeted down the QB rankings mainly because his receiver core is on empty. I'm not feeling anyone for cash here if anything this will be a big Aaron Jones/A J Dillon day, but as we know you can't run on the Bucs. We'll take a pass in DFS on the offense, but the defense would be interesting since Brady is in the same boat.
Bucs
Brady could be totally de-weaponized in week 3. Evans was suspended, Godwin was injured, and everyone else's status is still up in the air. But it looks like Fournette could be the last man standing in The Goat's circle of trust. If he's healthy, he's a lock for a ton of work. Rodgers as well is having issues with the Packers being thin at receiver, Tampa's D would be a smart move if this game does turn out to be very low scoring.
Cash: L. Fournette
GPP: GB DST, TB DST
Rams @ Cardinals (+3.5) (O/U 48.5)
Rams
LA has owned the Cards since 2017 with a record of 10-1 and could make it 11-1 this Sunday if Stafford has a repeat performance. Serving up 272 yards with 3 touchdowns again would crush his salary but we may want to think twice about pairing with Kupp. He's been held to only 6 catches per game in 2021 by Budda Baker and Byron Murphy, the only duo who has been able to contain him. I do like Higbee in this match-up, He is owning 94 % of the snaps in LA and is second in targets (20) behind Kupp.
Cardinals
Some good news for Kyler Murray as the Rams will be without corners, David Long and Cobie Durant. Even Jordan Fuller might not make it in after pulling a hamstring Thursday and would allow Murray to better take apart that secondary. The Cards have their own issues with James Connor being a game-time decision, so we should just look at the tight end Ertz, who has been rejuvenated in the desert. While catching 10 of 15 targets in 2 games with a touchdown, he's generously priced at ($4,600 DraftKings/$5,200 FanDuel)
Cash M. Stafford, C. Kupp, K. Murray
GPP: Z. Ertz, T. Higbee
Falcons @ Seahawks (+1) (O/U 42)
Falcons
Atlanta for being 0-2 has played pretty decently given their roster. They were up big in week 1 before the Saints rallied back and last week they made a comeback of their own against the defending champs. They actually have a shot here in Seattle, Mariota is not the most talented quarterback, but he takes what the defense gives him. Kyle Pitts has been on lock by defenses, opening the door for the rookie London to have a breakout ( 8 catches/86 yards/1TD). London will continue to lead the team unless defenses give him more respect and let Pitts finally eat. I'm OK with these three in a tournament only, Seattle missing Jamal Adams gives Mariota a little extra breathing room with the football.
Seahawks
Geno Smith has not done much so far, but not because of him more so the coaching staff. DK Metcalf and Tyler Lockett have been two Porsches covered up in a garage, collecting dust. We'll see if Pete Carroll gives a little more leash to Geno and let him throw a little more especially against the 31st rank secondary in the league. It would also be nice to get a game from Rashaad Penny as Atlanta allow close to 5 yards per carry to opposing backs. Of course, all for GPP purposes everyone, we can't use Seattle in cash.
Cash: None
GPP: M. Mariota, D. London, K. Pitts, G. Smith, DK Metcalf, T. Lockett, R. Penny
Cash Core 4
J. Hurts, J. Jefferson, T. Kelce, L. Fournette
GPP Core 4
M. Mariota, D. Pierce, I. Smith, C. Kirk
Stacks
J. Allen/S. Diggs/G. Davis; T. Tua/J. Waddle/T, Hill; D. Carr/D. Adams; J. Hurts/A. Brown; K. Cousins/J. Jefferson; P. Mahomes/T. Kelce; M. Stafford/C. Kupp; J. Goff/A. St. Brown; L. Fournette/ Tampa DST
Thank you for reading my NFL DFS Game by Game Breakdown for Week 3 and make sure you follow me on Twitter @JoeDiCarlo78 or in our Discord tag me @JDiCarlo78. Be sure to sign up for an ALL-ACCESS GOLD ACCOUNT here at Win Daily Sports. Gain access to our Projection Models and jump into our Discord where we will have our experts talking plays across every sport.
Born and raised in New Jersey, married father of three awesome boys and grandfather of one. Experienced Fantasy DFS player/writer in NFL and NBA, always eager to help others in their day-to-day DFS decisions.