NFL DraftKings and FanDuel DFS Game by Game Breakdown Week 13
Published
2 months ago
on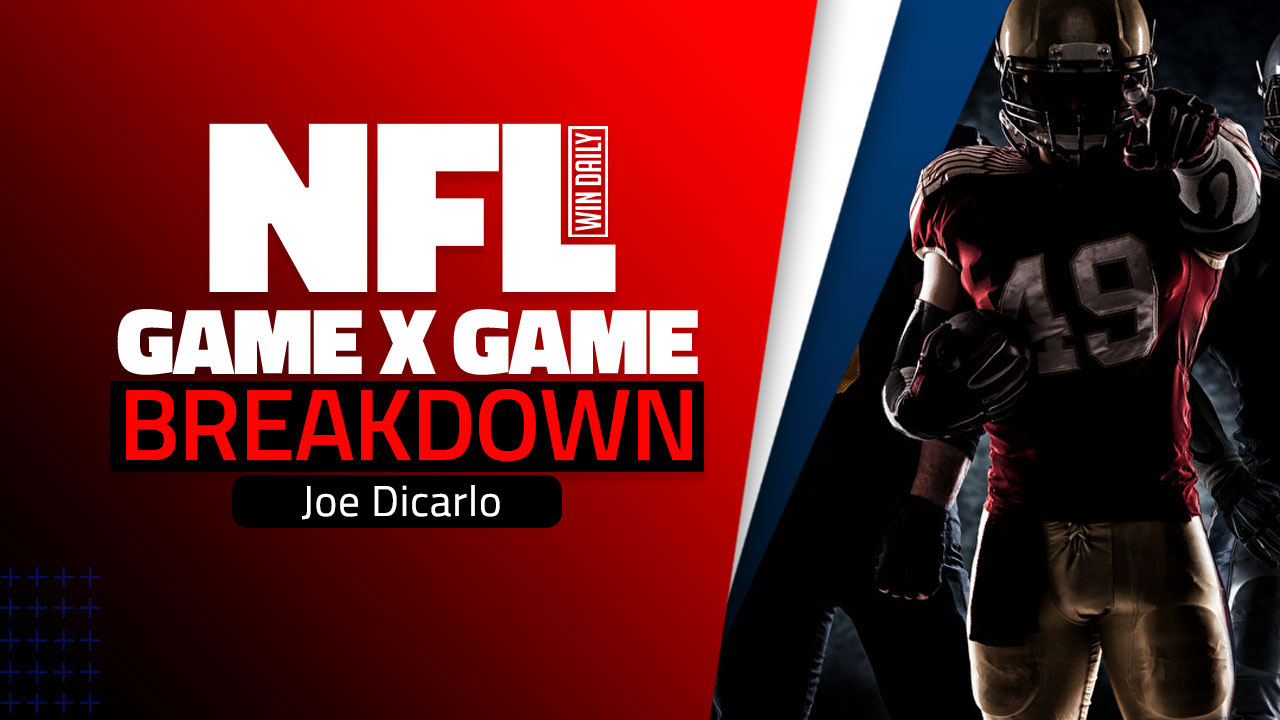 It felt like only yesterday that we kicked off the NFL season and already it's Week 13. And what a week we are in store for in DFS, with five of the twelve games having totals of 47 to 52.5. As you will read in this article, there will be so many ways to victory that you may be forced to create more lineups than you normally would. Also, make sure you check out my take on the Cleveland/Houston matchup, don't be so quick to run and use Deshaun Watson in his first game back in 700 days. Not to throw any shade on him, but by all means, go with your gut if you are feeling that move. This week just has a smorgasbord of pivots and angles to attack in DFS, so remember to refer back to our Discord and Projection Models when building your lineups. Let's gooo!
Sunday Main Slate 12/4/22
Titans @ Eagles (-4.5) (O/U 44.5)
Titans
Tennessee will continue to ride the coattails of Derrick Henry and not make it a secret. But will he come up short again like last week? The Eagles have made some improvements in free agency (Ndamukong Suh and Linval Joseph) but continue to get gashed by opposing running backs (Aaron Jones and A J Dillon combined for over 35 DK PTS). Henry is always a reliable DFS running back but for this week let's keep him out of our cash games and roll him in GPPs.
Eagles
With a record of 10-1, the Eagles appear destined for glory this season. Quarterback Jalen Hurts has been a lock week in and week out, but in this matchup, we may see receiver A J Brown in a get-right revenge game against his former team. Facing a skank secondary that is 28th in DVOA to receivers, Brown is destined for the end zone against a Titans' organization that refused to pay him and get traded away for a first-round pick in 2022.
Cash: J. Hurts, A. Brown
GPP: D. Henry
Jets @ Vikings (-3) (O/U 45)
Jets
We may have seen the last of Zach Wilson this year after Mike White's performance. I mentioned him in my breakdown last week that he would crush his salary (27.8 DK FPTS) and yet again he lines up in another great spot against Minnesota (28th in DVOA to QBs) in a dome. White is not the only Jet you may want to take this weekend. The running backs here are loaded with value (James Robinson, Ty Johnson, and Zonovan Knight) but are way too risky to decide on, so use any in a GPP. A much safer play would be pairing White with a share or two of his receivers. Garrett Wilson, Elijah Moore, and a revenge game for tight end Tyler Conklin returning back to Minnesota make a sneaky stack pivoting off the late games on the slate.
Vikings
Believe it or not, the Jets have been pretty tough on defense as of late. They've only allowed three touchdown passes in their last 10 games, so Cousins may not be a QB in play this week. Justin Jefferson is matchup-proof, so feel free to keep him in cash games If you can afford him. The rest of the Vikes are priced way too high for me to take a shot on against this Jets' defense, even Dalvin Cook may not pay off his hefty pricetag on a New York front that has not given up a rushing TD since Week 7.
Cash: J. Jefferson
GPP: M. White, G. Wilson, E. Moore, T. Conklin
Commanders @ Giants (+2.5) (O/U 40)
Commanders
If you're looking for a cheap play at running back, look no further. The rookie Brian Robinson may be in line for an increased workload at a discount If Antonio Gibson sits this one out. The New York Giants have allowed 150 yards with five total touchdowns to opposing running backs in their last two games. Robinson is a lock for cash if this situation plays out for Sunday.
Giants
The window is beginning to close for the Giants to make the playoffs, so it's now or never. But with news breaking about Saquan Barkley possibly getting a lighter workload, New York will need to rely more on the passing game in order to win at home. The Commanders have cleaned it up a bit on defense, only allowing two passing touchdowns in their last three games. Regardless, the Giants' will need to pass to win, and their skeleton crew of receivers is way too cheap. Darius Slayton and Richie James are set to have a big day as long as they can get healthy.
Cash: B. Robinson (Gibson out)
GPP: D. Slayton, R. James (if they can roll out)
Broncos @ Ravens (-8.5) (O/U 39.5)
Broncos
Free Courtland Sutton! He's put up double-digit fantasy points at receiver in his last three games and the only game in town for DFS in Denver. The Ravens are a force at stopping the run, so Lat Murray will be a no go for me this week, not that he has been a stud averaging three yards per carry. Denver has been the biggest disappointment in the NFL this year as Russell Wilson and the coaching staff have set the franchise back a decade. It's Sutton for GPP, no one is safe for cash in Bronco Country.
Ravens
Well, Lamar has not panned out from what we expected for this season either. If it wasn't for his rushing upside, he'd be right up there cooking with Russ. But Gus Edwards seems to be back to 100% and against the tough Denver defense I'd rather pay down for Gus to fall in the endzone than Jackson's low pass volume and high price tag. Denver has also been a cheat code for opposing defenses, pay up if you can for the Ravens' DST in this low total contest.
Cash: Ravens DST
GPP: C. Sutton, L. Jackson, G. Edwards
Browns @ Texans (+7) (O/U 47.5)
Browns
Here it is, the game we've all been waiting for. Will Watson go off on his former team or will he show signs of rust, time will tell. The one player who is money in the bank is Nick Chubb, playing behind one of the best O-lines in football. Add that nugget up with one of the worst run defenses in the league and you have the formula to pay up here at running back. The only thing that bothers me is if Watson will hog the spotlight in this game and look to throw or run one into the endzone himself at the goal line. One thing for sure is Texan quarterback Kyle Allen was a turnover machine last week with two picks and two fumbles leading to scores for Miami. If you have confidence in the Browns D, pay up for them.
Texans
Some big late news broke on Friday that Texan receiver Brandin Cooks will not play on Sunday, elevating Nico Collins to the number one passer option for Houston and a no-brainer on DraftKings ($4,200). However, don't forget about the rookie Dameon Pierce. He's underwhelmed for the last two games, but he has the sixth-highest snap-share among running backs facing the Browns' 30th-ranked run defense. I'm fine with using both in cash games.
Cash: N. Collins, N. Chubb, D. Pierce, Browns DST
GPP: D. Watson
Jaguars @ Lions (-1) (O/U 51)
Jaguars
T Law is coming off a career-best performance last week posting 321 passing yards with three touchdowns against Baltimore. It may be a double-down week to take Lawrence for a second week straight as he'll be indoors to face the Lions. In what may look to be a track meet in Detroit, Christian Kirk may benefit more in the receiving department if he lines up in the slot opposite Joe Harris, who's spilled out 15 receptions for 196 yards in his last two games.
Lions
At home, the Lions are at their best and will look the case against a soft Jaguar defense that has allowed 54 points in their last two games. We'll see more of the usual from Goff to Amon Ra, with a sprinkle of Jamaal Williams at the goal line. Fellow receivers other than ASRB are priced way down to $4K and lower, so a nice GPP stack might be found in this game using D J Chark and Kalif Raymond
Cash: T. Lawrence, C. Kirk, A. St. Brown
GPP: J. Goff, J. Williams, K. Raymond, D. Chark
Packers @ Bears (+3.5) (O/U 44.5)
Packers
Green Bay is on the outside looking into the playoffs for the season, so even in a great matchup for Aaron Rodgers, I would tread lightly. He's pretty banged up with a thumb and now a rib injury, any shot taken during the game may force him to the sideline. So for me, it's an Aaron Jones kind of day, especially at his DraftKings salary ($6,900). Even if Rodgers does get pulled, wideouts Christian Watson and Allen Lazard should still feast on the Bears' bush league of defense if Jordan Love were to take over. Other than Jones, keep everybody else in tournaments.
Bears
Chicago has given their superstar athlete at quarterback the green light for Sunday, but how effective will he be? Justin Fields injured his non-throwing shoulder in Week 11, but it's not his passing that he is known for. one bad hit after a scramble may also take him out of the game. His ceiling is through a roof but keep him in your tournament this weekend, who may see very low ownership on this slate.
Cash: A. Jones
GPP: A. Rodgers, J. Fields, A. Lazard, C. Watson
Steelers @ Falcons (-1) (O/U 42.5)
Steelers
The first quarterback taken in last year's draft may have his best game this season on the road in Atlanta. Kenny Pickett can easily smash his salary four times its value playing indoors, using a little of his legs, and letting loose on the Falcon secondary that has been exploited all season. Pairing Pickett with Pickens and Friermuth makes a ton of sense here, but Diontae Johnson may be riskier because of his inability to build any chemistry with the rookie QB. The questionable tags have been all over the Steeler running backs, best to keep an eye on reports for tonight through tomorrow morning for a Najee Harris/Jalen Warren possible lone backfield.
Falcons
I just can't put anybody in Atlanta in my lineups this week because of this Pittsburgh defense led by TJ Watt. Now that Kyle Pitts landed on IR, opposing defenses will continue to gravitate toward the rookie Drake London. I mean if I were to throw a dart here, it would be at Zaccheaus. Olamide ate off London's plate last week while catching five of eight passes for 91 yards.
Cash: K. Pickett, G. Pickens, N. Harris/J. Warren (if one sits out)
GPP: P. Friermuth, O. Zaccheaus
Dolphins @ Niners (-4) (O/U 46.5)
Dolphins
Well, we all should know Miami's blueprint by now in Week 13, if you're just tuning in now it's a three-headed monster with Tua, Tyreek, and Waddle. Besides Tyreek Hill, many Dolphins for this week may not be usable in DFS facing a tough San Fran defense on the road. So will it be a Jeff Wilson/Raheem Mostert revenge game? I wouldn't bet on that either against the Niners' front line. Ever hear of a guy by the name of Trent Sherfield? He's basically on the field all the time alongside Tyreek and Waddle with over a 60% snap rate and could be worth a punt based on his price tag on DraftKings ($3,300). Thanks to Stix and the model for this gem, he may not be as sexy as the last Christian Watson call, but definitely makes sense against a Niner defense that will focus mainly on Waddle and Hill.
Niners
The Dolphins have also been decent at stopping the run (10th in DVOA) which could force Garoppolo to throw it more than he likes to. Miami's cornerbacks and safeties have allowed over 60 receptions with five touchdowns over their last three games. Deebo may not be able to go Sunday so pay attention to injury reports, Brandon Aiyuk and George Kittle will be a lock if he is ruled out.
Cash: B. Aiyuk, G. Kittle (if Deebo is ruled out even better), T. Hill
GPP: T. Sherfield, J Garoppolo
Seahawks @ Rams (+7) (O/U 41)
Seahawks
Seattle may get the same scenario game as Kansas City when they played LA…a wet noodle of an offense. Geno Smith and the Seahawks may not have any type of motivation to light up the scoreboard this weekend. We should see a lot of Kenneth Walker chewing up the clock and that Seattle defense causing some turnovers and three-and-outs.
Rams
The defending champs have waived the white flag to the NFL, pulling every big-name player and placing them on IR, most recently QB Matt Stafford. The Rams appear to want to get an idea of who else they have on their roster by giving them some playing time. Rookie running back Kyren Williams could be busy for the end of the regular season, and Seattle's 153 rushing yards allowed per game has breakout written all over this game. Kyren is a sleeper and a smooth play as your RB2 in your GPP.
Cash: Seattle DST, K. Walker
GPP: K. Williams
Chiefs @ Bengals (+1.5) (O/U 52.5)
Chiefs
Let's get ready to rumble, the Main Event will be at 4:25 EST in Ohio, when Kansas City looks to even the score from last year's loss to the Bengals. Mahomes and Kelce all day, in 11 games they've connected on 73 receptions with 12 touchdowns, and Mahomes has thrown for 29…eh not bad. A smart but chalky stack this weekend, we need to get a little different here. Pacheco had a solid game against LA last week, finding the endzone for a cool 15 DK points, and rushing for 70 yards. Currently, he leads the backfield in snap percentage (51%), which may lead to another trip to the endzone in Cinci.
Bengals
The Chiefs are 24th in DVOA to quarterbacks, so they will let you throw on them. Joe Burrow, Tee Higgins, and maybe Ja'Marr Chase ( if he can suit up) would be in a pass-funnel offense at home, locking them in our lineups with the highest game total of the slate. Even running backs Joe Mixon (if he clears protocols) and Samaje Perine can feast off this zone defense which allows plenty of the dink-and-dunk.
Cash: P. Mahomes, T. Kelce, J. Burrow, T. Higgins, J. Mixon/S. Perine
GPP: I. Pacheco, J. Chase (if he plays)
Chargers @ Raiders (-1) (O/U 50.5)
Chargers
Justin Herbert crushed Arizona last week, and he'll do it again to Vegas. The Raiders are at the bottom of the barrel when it comes to defending receivers and sending pressure to the quarterback. No Mike Williams again maybe? No problem, Keenan Allen, Josh Palmer, and the almighty running back Austin Ekeler are enough firepower to take out a small army. All playable in DFS this weekend, I especially like Herbert for cash.
Raiders
As bad as Vegas' defense is, we love them for fantasy, forcing the offense to play from behind. Derek Carr may have to throw it another 36 times this week in order to stay in the game. Davante Adams as their main pass catcher all season (71 REC/10 TD), will also be busy. But if running back Josh Jacobs has his way again in this game (229 RSH/74 REC/2 TDs), Herbert may not have as much time on the field. LA's defense against the run is a dismal 29th in DVOA, so if Jacobs can convince the doctors he can play, he's a lock once again.
Cash: J. Herbert, J. Jacobs (if he plays), D. Adams, A. Ekeler, K. Allen
GPP: D. Carr
Cash Core
J. Herbert,AJ Brown, Nico Collins, Josh Jacobs, T. Kelce
GPP Core
K. Pickett, N. Chubb, P. Friermuth, C. Kirk, T. Sherfield
Stacks
J. Herbert/K. Allen/J. Palmer/A. Ekeler, J. Burrow/J. Chase (if he plays)/T. Higgins, P. Mahomes/T. Kelce/I. Pacheco, T. Lawrence/C. Kirk/ Z. Jones, D. Carr/D. Adams/J. Jacobs(if he plays)
Thanks for reading my NFL DFS Game by Game Breakdown for Week 13. You can reach me on Twitter @JoeDiCarlo78 or in our Discord tag me @JDiCarlo78 for any lineup build opinions or questions, always here to help! Be sure to sign up for an ALL-ACCESS GOLD ACCOUNT here at Win Daily Sports. Gain access to our Projection Models and jump into our Discord where we will have our experts and myself talking plays across every sport.
Born and raised in New Jersey, married father of three awesome boys and grandfather of one. Experienced Fantasy DFS player/writer in NFL and NBA, always eager to help others in their day-to-day DFS decisions.