NFL DraftKings and FanDuel DFS Game by Game Breakdown Week 12
Published
2 months ago
on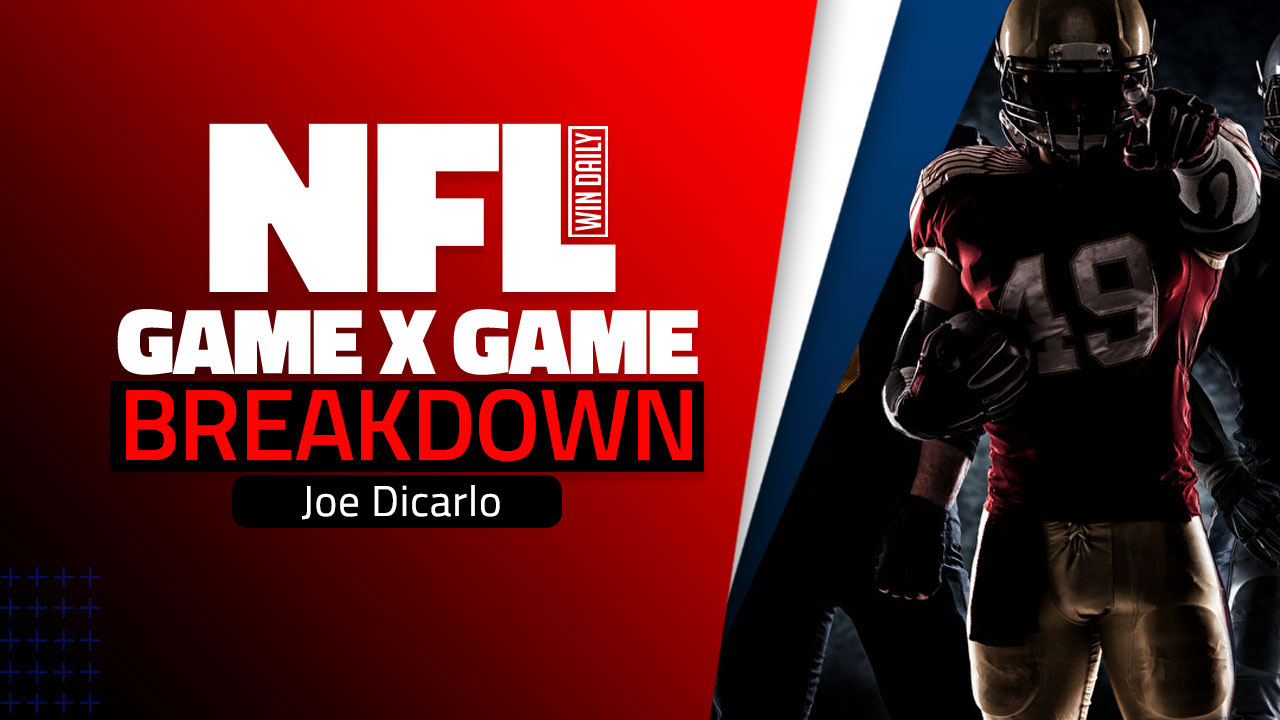 Well, I hope everybody enjoyed their holiday, welcome back to the grind! Thanksgiving has come and gone with a mini three-game slate that entertained us all over dinner amongst family and friends. Now that we've digested all that grub, it's time to break down this Week 12 of NFL action. There are so many paths to cash this slate and I'm happy to bring them to you. As always, stay up to speed on our community Discord and use our projection model to fall back on players that you are unsure of. Now without further delay let's get right into this 11-game Main Slate, Week 12 breakdown, it's on!
Sunday Main Slate 11/27/22
Texans @ Dolphins (-13.5) (O/U 46.5)
Texans
Houston will be one of a few teams this week featuring a new quarterback in Week 12, starting Kyle Allen over Davis Mills. Allen is nothing spectacular, in 21 career starts in Carolina and Washington he's thrown for 24 touchdowns to 17 interceptions, running in a few scores himself on the ground. The price is right for a GPP but by all means keep him out of cash games, even with his Miami 22nd DVOA to QB matchup. The only safe piece in Houston is Dameon Pierce, but I also like the Nico Collins price tag ($4,100 on DraftKings). The Texan double-digit spread sends the message that they will be playing from behind for most of the game, forcing Nico into lineups this weekend.
Dolphins
The big three in Miami of Tua, Tyreek, and Waddle is a shoo-in this week to ball out against the 1-8-1 Texans, but will they be sitting out in the second half because of them being up by three touchdowns? Tua is probably the safest of the three since we know he will be in command of the scoring. There will be some chalk in this game though since news broke recently of running back Raheem Mostert being listed as doubtful to play. Fellow back Jeff Wilson Jr. will inherit the lion's share of carries against the worst-ranked run defense in the league.
Cash: T. Tagovailoa, J. Wilson Jr.
GPP: K. Allen, N. Collins
Ravens @ Jaguars (+4) (O/U 43.5)
Ravens
It looks like Gus Edwards will finally return to the field after logging two full practices this week, giving Baltimore much-needed depth at running back. He's a sneaky, under-the-radar play at RB who may see all the goal-line work in Jacksonville. Lamar Jackson and tight end Mark Andrews returning off a bye week are also in play, but much safer for cash games.
Jaguars
The revamped Raven defense with the addition of Roquan Smith held Carolina to only three points in Week 10, so I'm weary of starting too many players in Jacksonville. But the AETY Model does like tight end Evan Engram, so consider him as a decent-size punt (3.3X value) for only $3,200 on DraftKings.
Cash: L. Jackson, M. Andrews
GPP: G. Edwards, E. Engram, Ravens DST
Bears @ Jets (-4.5) (O/U 39.5)
Bears
The Bears enter the tri-state area with a questionable tag for quarterback Justin Fields, who suffered a shoulder injury last week. If he sits out, It will be Trevor Siemian season facing a tough Jets defense that already has 32 sacks on the year… I'll pass on both this week. Another heavy dose of David Montgomery may be in store for Chicago's game plan, but I would only recommend him in tournaments this week because of the matchup.
Jets
Zach Wilson is in timeout for Week 12 after an embarrassing loss to New England, handing Mike White the keys to the Jets' offense. In four games, and three starts last season, White threw for 953 yards, five touchdowns, and eight interceptions. Four of those picks were against a top-ranked Buffalo defense in 2021, which led him back to the bench and I don't put that against him. White will sling it and against this Bears' beatable secondary he could easily pay off his very low salary ($4,900 on DraftKings). Keep him in tournaments, but the Jets' D looks great against Siemian (if he starts) on the road.
Cash: Jets DST (Siemian plays)
GPP: M. White, D. Montgomery
Falcons @ Commanders (-4) (O/U 42)
Falcons
30% of the Atlanta target share went up for grabs when tight end Kyle Pitts landed on IR this week, putting Drake London in absolute control of the Falcon receiving core. The rookie first-round pick is in a smash spot as not only the featured receiver in Atlanta but a matchup with Kendall Fuller/Ben St.-Juste, who has been toasted all season. Quarterback Marcus Mariota, who may also be a sleeper at his position, will be looking for jersey number 5 (London) all afternoon.
Commanders
The same scenario for the Commanders can be said for Atlanta, as they face a bottom three DVOA pass defense in the league. Quarterback Taylor Heinicke has only had eyes for wideout Terry McLaurin in his return as a starter, targeting him 43 times in just five games. T-MC continues to be underpriced on DraftKings ($5,800) and should be considered a lock at receiver, but keep his QB Heinicke in tournaments.
*** Curtis Samuel and Johan Dotson can also get some love too in this contest
Cash: D. London, T. McLaurin
GPP: M. Mariota, T. Heinicke, C. Samuel, J. Dotson
Bengals @ Titans (+1.5) (O/U 42.5)
Bengals
Cincinnati will be without stud running back Joe Mixon due to concussion protocols, so is it Samaje Perine season again? Not so fast. He did score three touchdowns last week, but he'll be splitting carries with Chris Evans against the number two rushing defense…buyer beware. It will be a Joe Burrow game for sure, facing a secondary ranked 30th in the NFL. If he gets his boy Ja'Marr Chase back, the field will be spread out, even more, making another Bengals' stack enticing again this week. Higgins, Boyd, and tight end Hurst are all viable plays here too.
Titans
The Titans and Derrick Henry will be out for revenge after getting the boot from the Bengals in the 2021 AFC Wild Card game. Tennessee will as usual utilize their franchise battering ram at running back to keep Burrow off the field and chew time off the clock. If in fact, Tannehill does decide to air it out, rookie Treylon Burks has seen 14 targets in his last two games, cashing in for 10 of them. For only $4,200 on DraftKings, he makes a nice discount on a run-back play in a GPP stack of this game.
Cash: J. Burrow, D. Henry, T. Higgins (if Chase sits out)
GPP: J. Chase, T. Boyd, H. Hurst, T. Burks
Broncos @ Panthers (+2) (O/U 36)
Broncos
The Broncos finally waived running back Melvin Gordon leaving Latavius Murray as the only game in town at the position. He's not sexy but will get a ton of volume and all the goal line work, but making him touchdown reliant averaging only three yards per carry this year. With all the chalk at running back this weekend, Murray may float under the radar against a Panther 26th DVOA to opposing running backs. Watch the weather in Carolina too, it could get uglier not just because Sam Darnold is starting at quarterback, but they may see some rain. Take that Bronco defense if you can.
Panthers
The Panthers are one piece away from being a solid team in the league, and without a quarterback, you can see how bad it has been. Sam Darnold will be getting the call to start, and Carolina is drawing at straws, desperately seeking an answer to this losing season. Possible rain, Surtain, and Darnold are telling us to stay clear this weekend with any Panthers.
Cash: Bronco DST
GPP: L. Murray
Bucs @ Browns (+3.5) (O/U 43)
Bucs
Another stadium that may be affected by wind and rain in Cleveland could put a damper on a Bucs offense that may be looking to throw a lot this weekend. Starting running back Leonard Fournette is listed as doubtful, giving a major opportunity to rookie Rachaad White to lead the backfield against the second-worst rushing defense. But when you're playing with Brady, he'll get you the ball rain, sleet, or shine. Chris Godwin and Mike Evans are always safe when healthy for DFS.
Browns
Jacoby Brissett hammered the Bills' defense for 29 fantasy points last week, maybe we should ride the hot hand against the Bucs? Sure why not? He's at home, his receivers are healthy, and he has one of the best running backs in football Nick Chubb. Cleveland's defense has been a train wreck recently, Brissett will again be playing from behind and forcing his arm to air it out in what could be his last game this year. (Watson returns in Week 13). Keep Cleveland in your tournaments.
Cash: R. White, C. Godwin, M. Evans
GPP: J. Brissett, D. Njoku, N. Chubb, A. Cooper, D. Peoples-Jones
Raiders @ Seahawks (-3.5) (O/U 47.5)
Raiders
Vegas having one of the worst secondaries in the league forces Derek Carr and Davonte Adams to play catch all afternoon. Now with running back Josh Jacobs popping up on the injury report with a calf, Davonte may have even more of a role carved out for him in the offense. Seattle's been no stranger to giving up big plays either, ranking 21st in DVOA to quarterbacks. Carr fed Adams 13 targets, catching 7 for 141 yards and two touchdowns in Denver, expect more of the same in Seattle. Adams for cash games, and Carr for GPPs.
Seahawks
The Raiders' young and inexperienced secondary has been the league's punching bag all season. What an opponent to have come off a bye week for Geno Smith and the Seahawks. At a measly $6,000 on DraftKings, Smith can hit value by halftime with receivers Tyler Lockett and DK Metcalf. And let's not forget about the rookie phenom Kenneth Walker III, who may be finishing off plenty of drives into the endzone this weekend. The volume and game flow will favor Walker and the Seahawks if they end up with a sizeable lead in the second half.
Cash: G. Smith, D. Adams, D. Metcalf, K. Walker, T. Lockett
GPP: D. Carr
Chargers @ Cardinals (+4.5) (O/U 47.5)
Chargers
This matchup for Justin Herbert has a breakout written all over it against Arizona. One game removed from a lingering hamstring, Herbert's number one Keenan Allen will be running circles around Marco Wilson and the Cardinal secondary, which will be without their top corner Byron Murphy Jr. Fellow Chargers' wideout Mike Williams is set to miss another game, enter Josh Palmer. The second-year receiver could also see a big afternoon, like last week's 8-106-2 stat line. There's always Austin Ekeler in play, we can't overlook LA's top running back when he's healthy, he's a lock in all cash games.
Cardinals
Arizona is beat up on defense as we just spoke on, but they are getting back quarterback Kyler Murray. This is great news for DeAndre Hopkins, who gets peppered on a weekly basis by Murray. But consider James Connor this week at running back away from the chalk. He owns the backfield against one of the worst run defenses (30th in DVOA) in the league, if the game does get into a shoot-out, Connor may be a sneaky player at running back. Then there's also Trey McBride taking over for Zach Ertz at tight end. The rookie saw a near 80% snap share in his debut as a starter, so he's well worth a thought as a punt this weekend at tight end.
Cash: J. Herbert, K. Allen, D. Hopkins, A. Ekeler
GPP: J. Connor, J. Palmer, K. Murray, T. McBride
Saints @ Niners (-9.5) (O/U 43)
Saints
New Orleans is in limbo as far as their injury report on the defensive side of the ball, as this could determine a lot of what kind of action may be on the field come Sunday afternoon. On offense, it's always Chris Olave at receiver, who is a magnet for the football in a Saints' uniform. At running back, Alvin Kamara is a hard fade against the second-best run defense of San Fransisco. It's Olave or bust in New Orleans, who's still fairly priced on DraftKings ($6,600). Although tight end Juwan Johnson is quietly making some noise as a red zone threat, with three touchdowns in his last three games, take a shot on him in a tournament.
Niners
Along with the news we are still waiting for in New Orleans, receiver Deebo Samuel also appeared on the injury report yesterday. So teammates Brandon Aiyuk and George Kittle will get a huge uptick in looks from Jimmy Garoppolo if he can't suit up. Running back Christian McCaffrey is an auto start if you can pay up, as well as the top-five defense of the Niners. You'll need a piece of San Fran in your lineup if Marshon Lattimore and Cam Jordan are in street clothes this Sunday.
Cash: C. McCaffrey, B. Aiyuk/G. Kittle (if Deebo sits out) C. Olave
GPP: J. Garoppolo, Niner DST, J. Johnson
Rams @ Chiefs (-14.5) (O/U 44)
Rams
When you thought it could not get any worse for the defending champs, out goes Matt Stafford with another concussion. Coach Sean McVay will roll the dice with third-stringer Bryce Perkins at quarterback, who may give the Rams a boost with the use of his legs under center. Young and inexperienced QBs tend to favor their safety valve at running back and tight end, so Bryce may lean on Kyren Williams and Tyler Higbee could be busy this weekend. Tournaments only guys, keep it safe.
Chiefs
Blood will be in the water at Arrowhead Stadium, as the Chiefs' defense will put pressure on a rookie quarterback with one of the worst O-lines in the league. By now there's no need to mention Mahomes and Kelce as they are always safe for cash, but given the game flow, they may be sitting out in the second half. My move would be to aim low for savings in the KC high-powered offense as a huge favorite. Isiah Pacheco and Skyy Moore could see some extra playing time if Kansas City is up big.
Cash: P. Mahomes, T. Kelce, Chiefs DST
GPP: B. Perkins, T. Higbee, K. Williams, I. Pacheco, S. Moore
Cash Core
J. Herbert, K. Allen, DK Metcalf, R. White, T. Kelce
GPP Core
G. Smith, J. Palmer, J. Connor, S. Moore, E. Engram
Stacks
J. Herbert/K. Allen/J. Palmer/A. Ekeler, J. Burrow/J. Chase (if he plays)/T. Higgins, G. Smith/ DK Metcalf/ T. Lockett/K. Walker III
Thanks for reading my NFL DFS Game by Game Breakdown for Week 12. You can reach me on Twitter @JoeDiCarlo78 or in our Discord tag me @JDiCarlo78 for any lineup build opinions or questions, always here to help! Be sure to sign up for an ALL-ACCESS GOLD ACCOUNT here at Win Daily Sports. Gain access to our Projection Models and jump into our Discord where we will have our experts and myself talking plays across every sport.
Born and raised in New Jersey, married father of three awesome boys and grandfather of one. Experienced Fantasy DFS player/writer in NFL and NBA, always eager to help others in their day-to-day DFS decisions.