NFL DraftKings and FanDuel DFS Game by Game Breakdown Week 11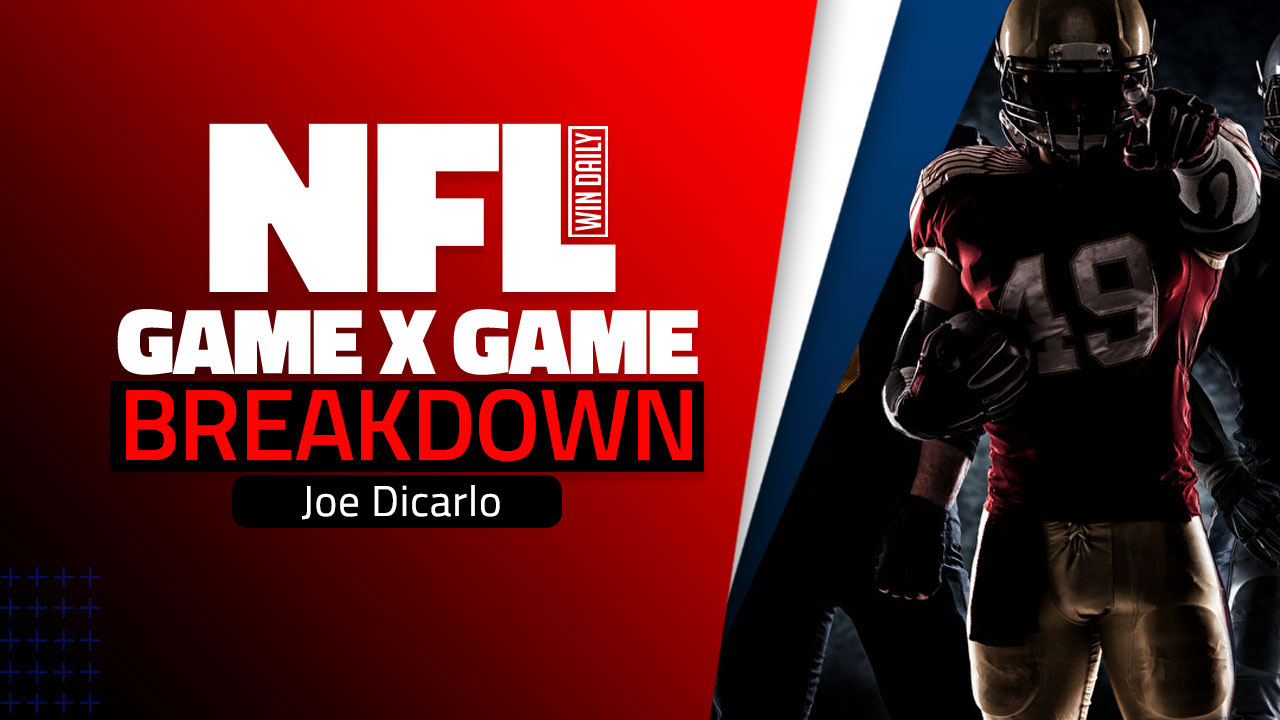 Week Ten is in the books, and what a slate that was! We struck DFS gold with Watson ($3,700 DraftKings) thanks to our AETY model, and there are plenty more where that came from here in Week 11! I saw plenty of winning lines in our Discord this weekend, let's keep the NFL chat room that way. On to the 11-game main slate, in this article, we're going to give you bits and pieces for your DraftKings or FanDuel DFS lineup builds, take this insight and use it to your advantage! Time to break it down…here we go!
Sunday Main Slate 11/20/22
Browns @ Bills (-8) (O/U 41.5)
Browns
Well, no Blizzard Bowl this weekend in Buffalo, as the game has been moved to Detroit in the dome. The Browns will continue to utilize one of the best O-lines in the NFL, and behind it will be Nick Chubb. He's had a nose for the endzone, currently leading all NFL running backs with 11 touchdowns. Buffalo's secondary has been stingy all season, look for Cleveland to focus on the ground game and play keep away from Josh Allen in this one.
Bills
Josh Allen and the Bills catch a huge break from Old Man Winter and get a trip to Detroit for an indoor battle with Cleveland. Start up your Buffalo players on this slate, this Browns' defense has been giving up boatloads of yardage, mainly against the run. The 31st DVOA to opposing running backs is good news for Devin Singletary as well as the Bills' premier rusher quarterback Josh Allen.
Cash: J. Allen, S. Diggs, N. Chubb
GPP: D. Singletary, G. Davis
Lions @ Giants (-3) (O/U 45)
Lions
We're not a fan of Jared Goff on the road, and facing a ferocious Giants' pass rush hopefully, he can get rid of the ball quickly. New York should be run up the gut in order to move the football, who allows 133 yards per game on the season. We could see a bounce back in D'Andre Swift this week if he can get healthy, and Amon-Ra St. Brown being the only viable passing option he is a must-start for Detroit.
Giants
Probably the best matchup in line for the Giants' top weapon at running back Saquon Barkley. He is single-handedly carrying the offense for the 7-2 G-Men, against the worst-ranked rushing defense, he will feast. New York also likes to get after the quarterback and force turnovers, maybe the road Jared Goff shows up at Met Life Stadium for some Giants DST fantasy points.
Cash: S. Barkley, A. St. Brown
GPP: D. Swift, Giants DST
Eagles @ Colts (+7) (O/U 44)
Eagles
The undefeated streak is over, and Hurts will look to re-establish himself in the win column. It will be a tough task on the road, but he gets the job done in fantasy regardless of the opponent. Hurts has been the best pound-for-pound dual-threat quarterback all season racking up 21 total touchdowns and a 106 QB rating. Always a safe play in DFS. The Eagles will also be without stud tight end Dallas Goedert for some time due to a shoulder injury, but receivers A J Brown and Devonta Smith will pick up the slack. A sneaky tournament punt at tight end would be backup Jack Stoll, who saw 40-57% of snaps from Weeks 4-8 while Goedert was healthy. Stoll will be a high-risk, high reward if he cashes one inside the pay dirt.
Colts
Indy looked great last week going back to their bread and butter on offense. Veteran Matt Ryan and running back Jonathon Taylor will go for two in a row at home. Philadelphia has had a shutdown secondary up until we saw cornerback Avonte Maddox go down Monday night. Paris Campbell will see plenty of rookie Josiah Scott on Sunday, we should see Ryan hook up with his new buddy Paris for another double-digit fantasy day. The price is still way too cheap for Campbell on DraftKings ($4,300).
Cash: J. Hurts, P. Campbell
GPP: J. Taylor
Jets @ Patriots (-3.5) (O/U 38)
Jets
Can the Jets finally get over the hump and take out Belichick and the Pats? They've had two weeks coming off a bye to figure out a game plan. With a 6-3 record, New York will need to work with what's got them to this point, run the ball and play great defense. Meanwhile quarterback Zach Wilson has made a connection with first-round pick Garret Wilson. In their last two games, the Wilsons have linked up for 14 receptions and 207 yards, making Garret a steal at ($4,900) on DraftKings.
Patriots
The Pats' quarterback situation may still be a puzzle this week, it all depends on who may have the hot hand, or who screws up. As it can always be a mystery with this offense, what has always been solid has been their defense. Jets' quarterback Zach Wilson is no stranger to coughing up the football, and on the road, if he decides to play hero ball, Zach may make a few more mistakes.
Cash: Pats DST
GPP: G. Wilson, Jets DST
Panthers @ Ravens (-13) (O/U 41)
Panthers
The Panthers come into Baltimore with Baker Mayfield back under center. This spells potential disaster for fantasy across the board since Baker hasn't started a game since Week 5. So don't get cute this weekend by drafting any Carolina players facing this new and improved Baltimore defense. Let's wait and see what happens, play it, safe guys.
Ravens
Lamar Jackson off a bye with rested legs, yup sign me up against this 26th DVOA Carolina rushing defense. And with a less than 100% Mark Andrews, the Ravens may choose to lean even more on the run, so Gus Edwards (if he plays) and Kenyon Drake are also roster-able this weekend. Don't forget who is quarterbacking for Carolina too, so we may see Roquan Smith get more comfortable with his new team by rattling the cage of Baker Mayfield. Ravens DST is in play if you can pay up.
Cash: L. Jackson, M. Andrews (if healthy), Ravens DST
GPP: G. Edwards (if healthy), K. Drake
Bears @ Falcons (-3.5) (O/U 49)
Bears
Quarterback Justin Fields has been white hot, scrambling for 365 yards and rushing for three touchdowns in his last two games. He's a lock again facing Atlanta in another dome game that could lead to another track meet for Fields. He'll be chalky with tight end Cole Kmet who's caught five touchdowns in his last three games. so if you want to mix it up in your lines go after the other Chicago pieces. David Montgomery, Darnell Mooney, and Chase Claypool are all playable at a discounted price against the worst-ranked passing DVOA in the NFL.
Falcons
This game totally has shoot-out potential, for when Chicago starts lighting up the scoreboard Atlanta and Marcus Mariota can absolutely keep up the pace with the Bears. Since Chicago unloaded their two best defenders in trade deals, they've allowed 115 points in their last three games. Although he is a risky play this week of a possible benching, Mariota has a ton of upside in this matchup. Kyle Pitts and Drake London will also be key benefactors if this game plays out. The falcons in DFS this week will allow you to pick up your high-end running backs (Saquon) and receivers (Jefferson).
Cash: J. Fields, K. Pitts
GPP: D. Montgomery, M. Mariota, D. London
Rams @ Saints (+1.5) (O/U 40)
Rams
Now that Cooper Kupp has been put on IR, this Rams offense could be way too unpredictable. Who knows where Stafford will look to use as his security blanket with Kupp on the bench? The targets are up for grabs in LA, but if I were looking to guess I would go cheap. The 6'4″ receiver Ben Skowronek is a nice value at ($3,900 DraftKings), but spending up for the de facto alpha Allen Robinson ($5,600 DraftKings) would not break the bank for a top-of-the-depth chart wideout. The matchup is also still great in New Orleans as long as corner Marshon Lattimore is still on the sidelines.
Saints
The rookie Chris Olave has taken full ownership of the receiving duties for the Saints well on his way to a 1,000–yard season. No one is in his way of seeing all the volume, as veteran Jarvis Landry is still getting eased back into action, and Michael Thomas has been ruled out for the season. But what really excites me in this game is the Saints' defense. Stafford has already been a pick machine, but now with the loss of Kupp and his weak offensive line getting downgraded with more injuries, the Saints' DST could be a top play this week.
Cash: C. Olave, NO DST
GPP: A. Robinson, B. Skowronek
Commanders @ Texans (+3.5) (O/U 41)
Commanders
Taylor Heinicke may still be on cloud nine after pulling off that road upset against the undefeated Eagles. The Commanders played a textbook game of keep away from Jalen Hurts, running it down their throats with Brian Robinson and Antonio Gibson. They draw a very favorable matchup on a Texan defense that allows over 180 rushing yards per game. Target funnel "Scary" Terry McLaurin also will catch a break in Houston lining up across rookie Derek Stingley, who will be torched on Sunday. Get any of them in your builds for Week 11, way underpriced, especially on DraftKings!
Update: Derek Stingley is out.
Texans
Stud rookie running back Dameon Pierce gets the most usage for the Texans on offense and is automatic at this point. But Washington is also guilty of having its own issues at cornerback with St. Juste and Fuller. Nico Collins ($4,100 DraftKings) could be in line for a huge day (10 targets in Week 10) facing a Commander secondary that ranks 25th against opposing receivers.
Cash: T. McLaurin, B. Robinson, A. Gibson
GPP: N. Collins, D. Pierce
Raiders @ Broncos (-3) (O/U 41)
Raiders
Vegas with a record of 2-7 and losing their fourth straight game are on the brink of a total meltdown. But don't blame Davonte Adams for their struggles, he's scored over 30 fantasy points in his last two games. He has fully taken over for the Raiders' offense along with running back Josh Jacobs, who may have a sneaky smash spot in Denver. The Broncos gave up 144 yards on the ground to Jacobs in their first meeting. Not that any improvements have been made, they were gashed two weeks ago by Erienne for 156 yards. Pick your poison in Vegas.
Broncos
Denver on the other hand is down to one healthy receiver in Courtland Sutton, Let's Ride…Vegas' secondary has been a laughingstock of the league and is unable to cover anyone (27th in receiver DVOA) who has been rolled out onto the field this season. Sutton and tight end Greg Dulcich should receive all the passing volume if the injuries to Jeudy, Hamler, and Hinton keep them sidelined.
Cash: C. Sutton, D. Adams
GPP: J. Jacobs, G. Dulcich
Cowboys @ Vikings (+1.5) (O/U 47.5)
Cowboys
America's Team suffered a tough road loss in Green Bay, allowing them to come back from a 17–point deficit to victory. Put it on the Cowboys' defense though, Dak has looked back to his normal self after his recent injury, paving the way for receiver Cee Dee Lamb and tight end Dalton Schultz to be fantasy relevant again. The Vikes are 8-1, but don't let their record fool you as they are ranked 29th against the pass. Plenty of fireworks indoors in Minnesota, we will need to attack here for sure in DFS.
Vikings
Justin Jefferson is a god. That catch in Buffalo went down as one of the best in a long time. If you have the space, put him in. If you want to pay down for some Vikings we have other options though. Tight end TJ Hockenson has seen a ton of volume since the trade, seeing 19 total targets. Dalvin Cook, remember him? He's in another smash spot against Dallas who's been slammed in their last two games for over 300 rushing yards.
Cash: J. Jefferson, C. Lamb, D. Cook, T. Hockenson
GPP: D. Prescott
Bengals @ Steelers (+4) (O/U 41)
Bengals
Coming off a bye week Burrow and the gang will want to get some payback from their embarrassing home-opening loss in Week One. But with TJ Watt and Minkah Fitzpatrick back on defense, it could be a little risky paying up for the Bengals this week. Keep them out of your cash builds and take shots in tournaments only.
Steelers
If you're looking for a discount defense this week ($2,300 DraftKings), look no further. The sites still have not yet adjusted to the fact that Pittsburgh's defense is much healthier with Watt and Fitzpatrick back. Another bargain with the Steelers is rookie receiver, George Pickens. He gets a rookie Bengal corner Cam Taylor-Britt…which should set him up to ball out even more, as he is already Pickett's number-one target.
Cash: Pittsburgh DST, G. Pickens
GPP: J. Burrow
Cash Core 4
J. Fields, B.Robinson/A. Gibson, C. Lamb, K. Pitts
GPP Core 4
M. Mariota, D. Cook, D. Schultz, D. Mooney
Stacks
J. Allen/S. Diggs, J. Fields/ C. Kmet/D. Mooney/C. Claypool, M. Mariota/D. London/K. Pitts
D. Prescott/C. Lamb/T. Hockenson/D. Schultz/J. Jefferson/D. Cook
Thanks for reading my NFL DFS Game by Game Breakdown for Week 11. You can reach me on Twitter @JoeDiCarlo78 or in our Discord tag me @JDiCarlo78 for any lineup build opinions or questions, always here to help! Be sure to sign up for an ALL-ACCESS GOLD ACCOUNT here at Win Daily Sports. Gain access to our Projection Models and jump into our Discord where we will have our experts and myself talking plays across every sport.
Born and raised in New Jersey, married father of three awesome boys and grandfather of one. Experienced Fantasy DFS player/writer in NFL and NBA, always eager to help others in their day-to-day DFS decisions.