NFL DraftKings and FanDuel DFS Conference Championship Game by Game Breakdown
Published
2 months ago
on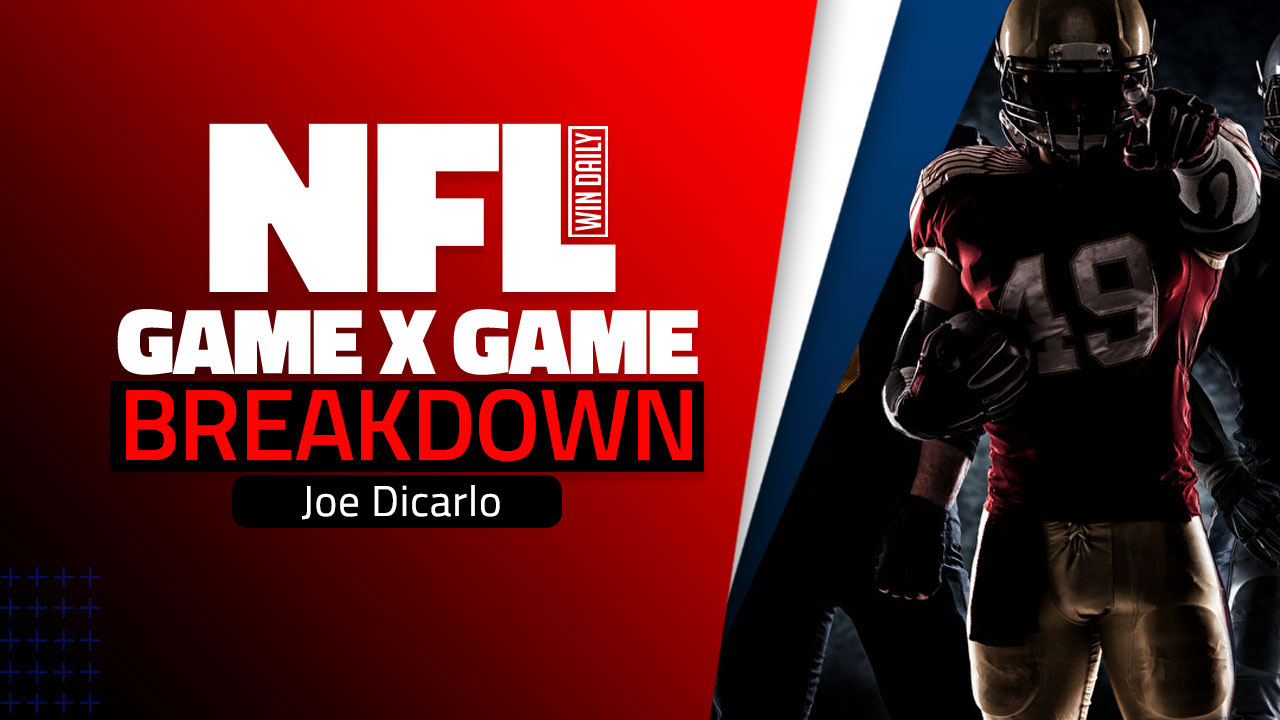 Only four teams and three games remain until we crown a champion for Super Bowl LVII. The Divisional Round this past weekend was colossal, where we witnessed the cream rise to the top of the NFL. This upcoming Sunday will be the last of the multi-game NFL DFS contests for the season, so let's go out with a bang and destroy the competition.
The player pool is a "kiddie pool" at this point of the season for DFS. If we want to pass pay lines this weekend again, we need to be even less chalky and more creative, so put on your thinking caps boys and girls. As always stay locked on our Discord chat for advice and use the tools in our projection models. Alrighty then…Here we go with our final game-by-game breakdown of 2023! Let's smash in the Conference Championships!
Sunday Slate 1/29/23
AFC Championship
Bengals @ Chiefs (-1.5) (O/U 46.5)
Bengals
I do believe ice runs through his veins. Joe Burrow flew into Buffalo in a snowstorm amidst all the Damar Hamlin hype and ripped the Bills' defense apart limb by limb. What offensive line injuries? The Bengals' defense… suffocated Josh Allen and Buffalo to only ten points. Winning lineups should have plenty of orange and black in them this weekend.
Facing the 28th DVOA to opposing quarterbacks, Joe Burrow as the third-cheapest option for DFS is a lock across all formats. His price of $6,800 on DraftKings is disrespectful to a quarterback who's been a top-five player all season. He continues to play with a chip on his shoulder in this heavily weaponized offense, so a stack of Bengals would be a safe bet this Sunday.
Ja'Marr Chase, Tee Higgins, and Joe Mixon have been the most prominent pieces for DFS in Cincinnati and will be heavily owned this weekend, so shake it up a bit. Hayden Hurst has emerged as the clear number three option for Burrow at tight end (5 REC/59YDS/1TD vs. BUF), for just $3,000 on DraftKings set it and forget it.
Now to be sneaky in this spot, pick up Samaje Perine for only $4,500 on DraftKings. Although he plays second fiddle to running back Joe Mixon, he sees well over 40 percent of the snap share. If Perine can find the endzone while in any of your lineups, he can pole vault you up the ladder in your tournament standings. In the Bengals' regular season game this season with KC, Samaje ran for 106 yards and caught six passes, scoring 24.5 DK points back in Week 13.
Chiefs
Kansas City is back again in the Conference Championship game for their fifth straight season, but it cost them a hefty price of quarterback Patrick Mahomes hobbling off the field with a high ankle sprain. As far as we know he'll be ready to go on Sunday, but how well Mahomes is going to perform remains to be seen. As the most expensive quarterback on the slate at $7,600 on DraftKings, consider one of the other three this weekend.
Now with Mahomes' injury, the Chiefs' offense will also take a toll. His mobility will be less than 100%, forcing him to be less aggressive to scramble and extend plays. We'll see plays where the ball is released quickly or handed off to Pacheco or Mckinnon. Kadarius Toney and Travis Kelce will also benefit from these play calls of quick outs and end-arounds. There has been some buzz about a return of CEH and Hardman, but in this game atmosphere, I can't risk either in my lineups other than Milli-Makers. Speaking of big multi-entry tournaments, if backup quarterback Chad Henne would have to take over for Mahomes at some point in the game, you could be sitting on a lot of green come Sunday night.
Safe: J. Burrow, P. Mahomes, J. Chase, J. Mixon, T. Kelce, T. Higgins, H. Hurst
Value: I. Pacheco, J. McKinnon, K. Toney, T. Boyd
No Risk-It, No Biscuit: S. Perine, C. Henne, C. Edwards-Helaire (if active), M. Hardman (if active)
Defense to consider: Cincinnati ($2,300 on DraftKings) chasing a one-legged Pat Mahomes
NFC Championship
Niners @ Eagles (-2.5) (O/U 46)
Niners
San Fran is on a mission, and they keep getting better as they move deeper into the postseason. Iowa State sixth-round pick Brock Purdy has solidified himself into the Forty Niner offense and is one win away from Super Bowl LVII. To get there he'll need some help from his Pro Bowl-caliber teammates, which could be less than 100 percent healthy.
We've all seen the footage, Purdy leans on his tight end George Kittle (5 TDs/21REC since Week 16). But to defeat an Eagles' 2nd best ranked defense, San Fransisco will need a healthy running game. Christian McCaffrey has been rock solid since the trade from Carolina scoring 12 total touchdowns and leading the team in fantasy production. But he's come up on the injury report with a calf injury, as well as backup running back Eli Mitchell (Groin).
Rest assured CMC and Mitchell will suit up, but to move the ball against Philly it will have to come through the middle of the field, away from cornerbacks Slay and Bradberry. That's where Deebo and Kittle butter their biscuits, expect them to be very involved this Sunday.
If you're playing Showdowns too, I'm all in on Robbie Gould and the Niner defense. I'm visualizing a low-scoring game with plenty of stops in the red zone by the Eagles, resulting in some field goal opportunities for Gould.
Eagles
Jalen Hurts proved all the haters wrong, showing no signs of regression from a shoulder injury and crushing the Giants 28-0, icing the game in just two quarters in last week's Divisional Round. He'll lead the Eagles onto the field this Sunday and look to give the City of Brotherly Love its second Super Bowl visit in seven years It won't be a walk in the park for Hurts this weekend though, as the number-one-ranked Forty Niner's defense rolls into town. He should get there for fantasy, as usual, especially with his legs. San Fran will bring the pressure, forcing Hurts out of the pocket while padding his fantasy value.
If you've been following the Niners in the playoffs, their secondary has been roasted on the outside as of late. DK Metcalf and Cee Dee Lamb have each scored well over 30 DK Fantasy Points, which gives me the warm and fuzzies for AJ Brown and Devonta Smith this weekend. Heck, I'd even consider Quez Watkins for a potential bomb downfield for only $3,100 on DraftKings.San Fransisco's 28th in DVOA to opposing receivers, so let's attack the slate with Philly pass-catchers.
For Showdown purposes only, Jake Elliot is another kicker we want a piece of for tournaments. The Eagles will not hit pay dirt every drive and will have to settle for three against the top defense in the NFL.
Safe: J. Hurts, C. McCaffrey, A. Brown, D. Smith
Value: D. Samuel, G. Kittle, B. Purdy, D. Goedert
No Risk-It, No Biscuit: Q. Watkins
Defense to consider: Philadelphia ($2,800 on DraftKings) Number two-ranked defense against rookie Brock Purdy on the road.
Thanks for reading my NFL DFS Conference Championship Game by Game Breakdown. You can reach me on Twitter @JoeDiCarlo78 or in our Discord where we will have our experts talking about plays across every sport and tag me @JDiCarlo78 for any lineup build opinions or questions. Be sure to sign up for an ALL-ACCESS GOLD ACCOUNT here at Win Daily Sports and Gain access to our Projection Models. Good luck to everyone this weekend and let's crush!
Born and raised in New Jersey, married father of three awesome boys and grandfather of one. Experienced Fantasy DFS player/writer in NFL and NBA, always eager to help others in their day-to-day DFS decisions.