NFL DFS Week 4 Cash Game Checkdown
Published
2 months ago
on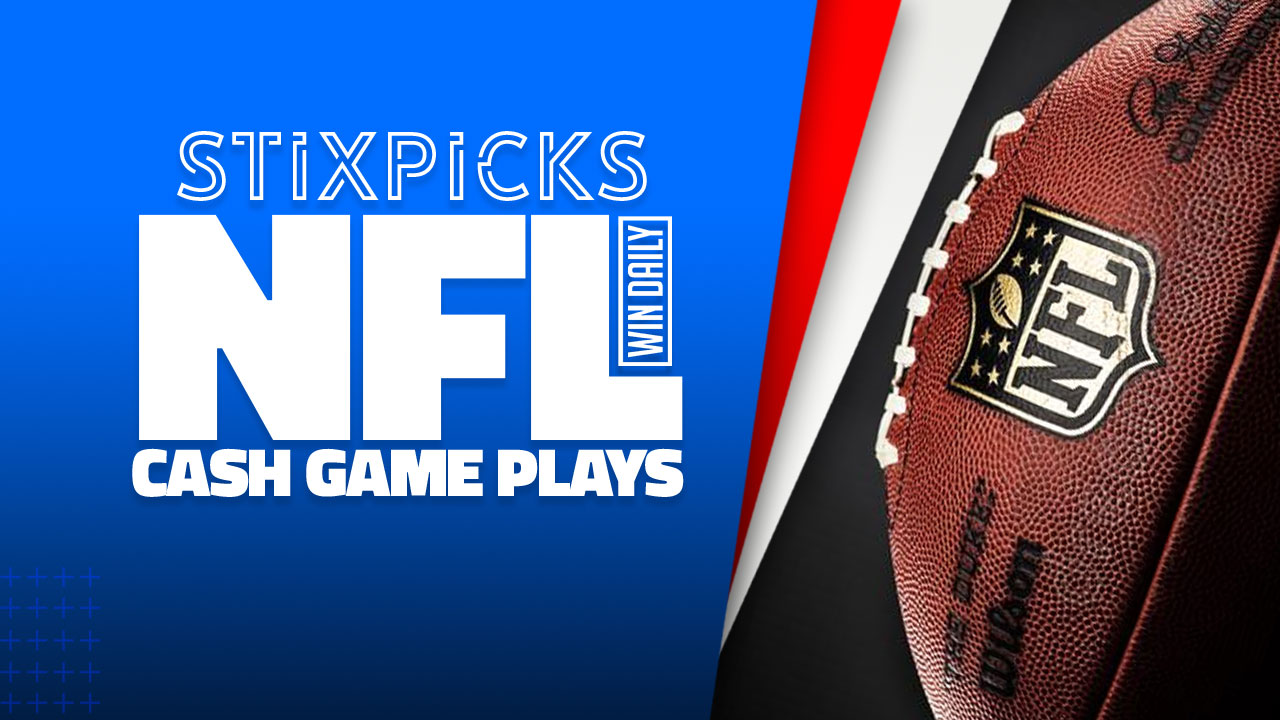 What a start to the NFL DFS Cash Game Season, 3-0! It's always great to see all of the green-screens on Twitter and Discord AGAIN last week. Everyone seemed to have smashed their cash games and we're here to do it again in Week 4! The purpose of this article is to identify my top plays for a NFL DFS cash game lineup on DraftKings and FanDuel Sunday Main Slates (also known as a double-up). Players in this article are usually a mix of the following:
High-floor/high-volume "safer" players (players with a very low bust-rate)
VALUE PLAYS
NOT part of a stack – Stacking is great for GPPs, but if you stack in cash games, your lineup is entirely too dependent on said stacked team. If that team does poorly, your whole lineup does… Not a risk we need to take in a cash game. QB/WR pairing is fine, but unless there's extreme value in a 3-man stack, let's keep it to QB/WR or QB/TE.
Extremely chalky for the week… in GPP's I'll usually always fade volatile players at > 40% ownership, but in cash games, it's usually fine to eat the chalk. If that player underperforms, it does not hinder your ability to cross the pay-line as 40% or more of the field is in the same boat. If you fade this player(s) and he has a great game, your lineup is likely toast… as you're now behind 40% or more of the field. Make sense? If not, hit me up on Discord/Twitter @stixpicks to discuss further.

In my opinion, cash games are extremely important for long-term bankroll building and sustainability. I'll consistently use at least 50% of my weekly bankroll towards cash games. It's not sexy, but it works and allows me to take big shots in high dollar GPPs.

Long story short, if we hit our cash games each week, the worst we can do is break-even (not counting your GPP shots with the remaining 50% of your weekly bankroll). The weeks you hit both, you smash. The weeks you miss your GPPs, your cash game lineup will carry you. It's my job to ensure you always hit those cash games.

If you haven't yet, I would strongly advise giving my NFL DFS Strategy article I published this offseason before diving into the 2020 NFL DFS season. If you have any questions or would like some further help when building your lineups, please do not hesitate to reach out to me directly on Twitter. Without further ado, let's do this thing!
*Some notes on what I believe to be the "optimal" roster build for NFL DFS Cash Games. I'll include this in all the Checkdown articles moving forward. For Week 3, please see below for my notes on roster construction:
Again, plenty of value at the running back position
Very thin QB pool on the main slate. Don't miss on QB!
Some injury concerns we will keep an eye on. Check back Sunday!
NFL DFS Cash Game Quarterbacks
Same situation as last week the QB position is relatively easy this week for your NFL DFS cash games. We're going to want a QB that has dual-threat upside or someone that can throw for 300+ yards and 2 touchdowns. There are very few QBs on this slate who fit that narrative.
Josh Allen ($8,400 DK / $8,900 FD)
Do not overthink this one. Josh Allen is the clear-cut QB1 on this slate. The game total is currently sitting at 51 points (AETY likes the OVER) and the matchup against Baltimore's secondary has AETY projecting the Allen and the Bills to surpass 300 yards passing. This game is going to go back and forth and you're going to want a piece or two in your NFL DFS cash game lineup.
Lamar Jackson ($8,300 DK / $8,800 FD)
He's 100% superstar, half quarterback, half running back… he's Lamar Jackson. If I'm not going with Josh Allen, I'll be rostering Lamar Jackson. Simple as that. I need exposure to this game and I want the two most sure things at the QB position to start my cash game lineup.

Honorable Mention: Jalen Hurts
NFL DFS Cash Game Running Backs
Javonte Williams ($6,600 DK / $6,900 FD)
The highest I'm likely to go this week at the running back position in NFL DFS cash games is Javonte Williams. Williams is the clear lead-back in this offense in both terms of rushing attempts, targets, and routes ran. The only advantage Melvin Gordon currently has is red-zone carries and I'm quite confident those will start to go in favor of Javonte Williams in the very near future.

We're getting one of the best pure running backs in football at a significant discount in a matchup against a banged up Raiders' defense who are third in the league for rushing touchdowns allowed and 29th in pass defense DVOA to opposing running backs. Javonte Williams will eat.
Jamaal Williams ($6,100 DK / $7,400 FD)
Take the freesquare and ride the ownership wave of Jamaal Williams in your cash lineups now that Swift is out. I'm fine with a GPP fade, but in cash, you're likely playing Jamaal Williams.
Khalil Herbert ($5,700 DK / $7,200 FD)
A bit pricey on FanDuel, but assuming David Montgomery is OUT, it will be wheels up for a massive Khalil Herbert workload against the 28th ranked run defense (DVOA) in the New York Giants.
Josh Jacobs ($5,500 DK / $6,500 FD)
Apparently, Josh Jacobs is going to be just as highly owned as Jamaal Williams this weekend so I'm 100% okay if you want to ride the chalk and use Josh Jacobs, but I really respect this Denver defense as a whole. At these prices, it's hard to not lock in Jacobs in your NFL DFS cash game lineup. I'll certainly look elsewhere in NFL DFS GPP builds.
Rashaad Penny ($4,900 DK / $6,700 FD)
I was planning on keeping Penny to the GPP article, but with the way I'm building my cash game lineup (heavy BAL/BUF), I really need any savings that I can find. Despite Kenneth Walker's activation, Penny has 20 carries to Walker's 4. This RB1 job is Rashaad Penny's until further notice and at this price, I'm all about it.

Honorable Mention: Saquon Barkley, Najee Harris, James Conner, Dameon Pierce
NFL DFS Wide Receivers
Stefon Diggs ($8,400 DK / $8,700 FD)
If you're playing Josh Allen, you're already getting exposure to Stefon Diggs in your cash game lineups. If you're going with Lamar Jackson, Stefon Diggs on the other side of that game is a must-play in cash. I've spoken enough about this game to go into further detail.
Drake London ($6,100 DK / $6,300 FD)
Drake London is becoming an immediate impact, rookie wide receiver in the NFL as he paces the Falcons' pass catchers with a damn-near 33% target share. The Browns secondary is okay (21st in pass defense DVOA) but they're going to play a lot of zone defense. Against zone coverage, Drake London has out targeted all Falcon wide receivers by over three times the amount of the next guy (Olamide Zaccheaus). London is a pure WR1 priced like an upper-tier WR2.
Diontae Johnson ($6,000 DK / $7,000 FD)
Damn-near the exact same situation as London (opportunity and cost-wise) just with a significant worse quarterback. Against the Jets and their 32nd ranked pass defense (DVOA), I like the odds of Diontae Johnson really coming alive here for fantasy players who were expecting much more production out of the Steelers star wide receiver. I do have a bit of pace concerns (41.5 point total), but if these two dumpster fire offenses can go back and forth against arguably worse defenses, Diontae Johnson will be a perfect fit to our NFL DFS cash game lineups.
Brandin Cooks ($5,800 DK / $6,400 FD)
Getting the theme of the wide receiver position this week? Underpriced WR1s. The AETY Model is expecting the Chargers to come out firing and force HOU into a pass-heavy offense and that simply bodes extremely well for Brandin Cooks. As long as J.C. Jackson is still banged up (better if he's out… UPDATE: JC is IN), Brandin Cooks should walk backwards into the 2.5x floor we're looking for in cash game lineups.
DJ Moore ($5,300 DK / $6,100 FD)
The Panthers' offense has been dreadful to start the year, but the Arizona Cardinals pass defense (29th in DVOA) is something we've been picking on every single week in 2022. We will not stop doing that now as DJ Moore will see a lot of Marco Wilson in man-coverage on Sunday afternoon. That is a recipe for fantasy and real-life success. DJ Moore has twice as many targets than any other player on the Panthers when facing man-coverage. It will likely be DJ Moore or Josh Palmer for my WR2 spot in cash.
Viable "Punt-Play" Salary Savers:
Again, with my love for the upper-tier studs this week, I'll likely need some salary relief at the wide receiver position. Here's who fits that mold and is AETY Model approved…
Elijah Moore ($4,800 DK / $5,500 FD)
Richie James ($4,000 DK / $5,500 FD)
George Pickens ($3,800 DK / $5,100 FD)
Honorable Mention: CeeDee Lamb (weekly St. Juste matchup), AJ Brown, Josh Palmer

Update: Ownership trending heavily towards CeeDee Lamb. I'm likely going to lock him in to play the chalk game with a clear WR1 with double-digit targets in every game this season, not to mention the weekly St. Juste spot.
NFL DFS Tight-Ends
I'll be locking in Mark Andrews in my cash game lineup, no way around it. He's the clear TE1 on this slate and the AETY Model has him outscoring the next tight-end by over 5 points. As the field likely pays down at tight-end, I'll be playing Mark Andrews and find my salary relief elsewhere. If you're playing Lamar Jackson (we won't stack in cash games), here is who I would consider:
Kyle Pitts ($5,000 DK / $6,100 FD)
Dallas Goedert ($4,500 DK / $6,200 FD)
Zach Ertz ($4,700 DK / $5,500 FD)
TJ Hockenson ($4,100 DK / $5,400 FD)
*UPDATE: With the new weather concerns in BUF/BAL, I'm fine if you need to pay down at tight-end but lets stick to one of the above.
Defense / Special Teams
Per usual, I will not do a full writeup on defense. Here are the teams I'm targeting to cap off my NFL DFS cash game lineup:
Denver Broncos
Indianapolis Colts
New York Giants
Philadelphia Eagles
NFL DFS: The Fab Five
Going to get back to my roots to post "The Fab Five", which is simply just one more player than your typical "core-four" you get in the NFL DFS industry.
Josh Allen
Khalil Herbert
Javonte Williams
CeeDee Lamb
Richie James Jr. (gross)
Make sure you follow me on Twitter at @stixpicks and be sure to sign up for an ALL ACCESS GOLD ACCOUNT account here at Win Daily Sports. Gain access to our Projection Model powered by AETY and jump into our Discord where we will have our experts talking plays across every sport and DFS slate.
Content Director for Win Daily Sports NFL/MLB. Creator of the AETY Model. Chicago White Sox die-hard. Focusing on helping others manage their bankroll and cross the pay line in NFL/MLB Cash Games & GPP's. CoFounder of thoroughbred horse racing partnership, Reta Racing LLC.