NFL DFS Week 3 Cash Game Checkdown
Published
2 months ago
on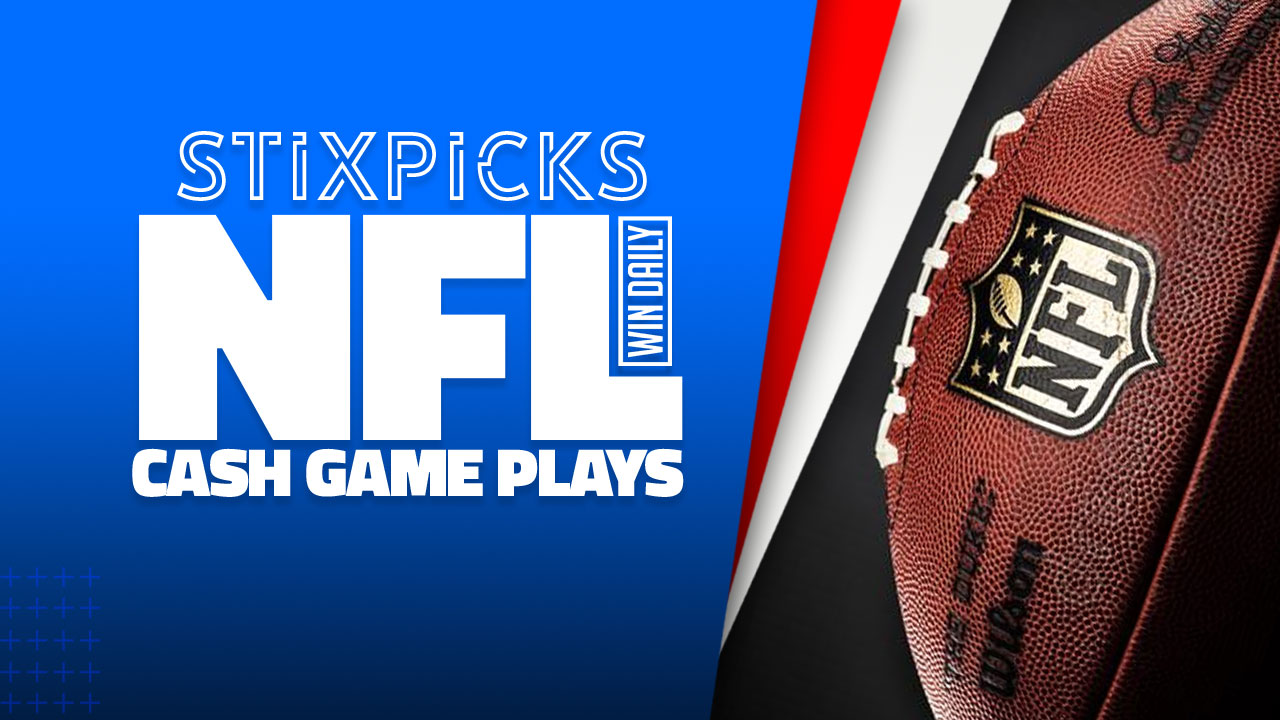 What a start to the NFL DFS Cash Game Season, 2-0! It was a pleasure to see all of the green-screens on Twitter and Discord AGAIN last week. Everyone seemed to have smashed their cash games and we're here to do it again in Week 3! The purpose of this article is to identify my top plays for a NFL DFS cash game lineup on DraftKings and FanDuel Sunday Main Slates (also known as a double-up). Players in this article are usually a mix of the following:
High-floor/high-volume "safer" players (players with a very low bust-rate)
VALUE PLAYS
NOT part of a stack – Stacking is great for GPPs, but if you stack in cash games, your lineup is entirely too dependent on said stacked team. If that team does poorly, your whole lineup does… Not a risk we need to take in a cash game. QB/WR pairing is fine, but unless there's extreme value in a 3-man stack, let's keep it to QB/WR or QB/TE.
Extremely chalky for the week… in GPP's I'll usually always fade volatile players at > 40% ownership, but in cash games, it's usually fine to eat the chalk. If that player underperforms, it does not hinder your ability to cross the pay-line as 40% or more of the field is in the same boat. If you fade this player(s) and he has a great game, your lineup is likely toast… as you're now behind 40% or more of the field. Make sense? If not, hit me up on Discord/Twitter @stixpicks to discuss further.

In my opinion, cash games are extremely important for long-term bankroll building and sustainability. I'll consistently use at least 50% of my weekly bankroll towards cash games. It's not sexy, but it works and allows me to take big shots in high dollar GPPs.

Long story short, if we hit our cash games each week, the worst we can do is break-even (not counting your GPP shots with the remaining 50% of your weekly bankroll). The weeks you hit both, you smash. The weeks you miss your GPPs, your cash game lineup will carry you. It's my job to ensure you always hit those cash games.

If you haven't yet, I would strongly advise giving my NFL DFS Strategy article I published this offseason before diving into the 2020 NFL DFS season. If you have any questions or would like some further help when building your lineups, please do not hesitate to reach out to me directly on Twitter. Without further ado, let's do this thing!
*Some notes on what I believe to be the "optimal" roster build for NFL DFS Cash Games. I'll include this in all the Checkdown articles moving forward. For Week 3, please see below for my notes on roster construction:
Again, plenty of value at the running back position. Use it! (Everyone is going to pay-down at RB this week… just something to think about in your NFL DFS GPP lineups)
Loaded slate of Quarterbacks… don't get cute!
Some injury concerns we will keep an eye on. Check back Sunday!
NFL DFS Cash Game Quarterbacks
Honestly, the QB position is relatively easy this week for your NFL DFS cash games. Last week was gross, but this week there are a ton of great choices. We're going to want a QB that has dual-threat upside or someone that can throw for 300+ yards and 2 touchdowns. I'll simply list them below as you know what to do:
Josh Allen ($8,200 DK / $9,000 FD)
Jalen Hurts ($7,600 DK / $8,100 FD)
Lamar Jackson ($8,000 DK / $8,600 FD)
Honorable Mention: Patrick Mahomes, Joe Burrow
NFL DFS Cash Game Running Backs
Joe Mixon ($7,600 DK / $8,200 FD)
At the top of the board, the highest salary at the running back position I'm likely going to in cash, is Joe Mixon. Joe Mixon is a lock for 20+ touches in any gamescript right now and the touchdown variance is likely to start falling in his favor. With a matchup against mediocre run defense (21st in DVOA), and a bad defense overall, Mixon should be in a prime spot at home to get over that 2.5x value mark we're looking for in our cash game lineups.
Leonard Fournette ($6,500 DK / $7,200 FD)
The Buccaneers will likely be without a lot of their weapons on the offensive side of things with Mike Evans suspended and both Chris Godwin and Julio Jones injured. Sure, there will likely be some value opening up on the Bucs' wide receiving core, but we know Brady goes to guys he trusts. Like Mixon, Fournette will certainly be in store for a 20+ touch afternoon and heavily involved in the passing game for a depleted pass-catching roster. The way to attack this Green Bay defense is via the run and check-down game.
David Montgomery ($5,900 DK / $7,100 FD)
Let's not reinvent the wheel here. The chalk is going to be David Montgomery on likely both NFL DFS outlets. Houston has one of the worst run defenses in the NFL (25th in DVOA) and like the two runners above, Montgomery is a volume guy that should certainly pay off the lower salary, especially on DraftKings.

Honorable Mention: Jonathan Taylor, Miles Sanders, Dameon Pierce (locked in if Roquan Smith is out for the Bears, likely locked in for me anyways due to wanting Kupp).
Wide Receivers
Cooper Kupp ($9,900 DK / $9,800 FD) & Justin Jefferson ($9,300 DK / $9,500 FD)
With the value opened up at the running back position, I'll be making it a focal point to lock in one of these top wideouts on the slate. I'd love to include Davante Adams in this mix, but I'm only going with the two who will be playing in a dome and up-paced environments. Arizona has one of the worst secondaries in football (as if you needed a written reason to support Cooper Kupp), and Justin Jefferson destroys Detroit's man defense. Both of these situations are fantasy fire-up spots in what should be up-tempo matchups across the board.
Amon-Ra St. Brown ($7,200 DK / $7,800 FD)
We truly have a star in the making in Amon-Ra St. Brown. The target share currently sits third in the NFL at over 33% and also leads the team in red-zone targets. Chandon Sullivan on the inside of the Minnesota defense isn't as bad as Benjamin St. Juste who we picked on last week, but he's not far from it. Trust the chemistry with Goff and St. Brown in your NFL DFS cash game lineups.
Tee Higgins ($6,100 DK / $7,300 FD)
I'd love to pay-up for Ja'Maar Chase, but I'll settle for cheaper exposure to the Bengals' passing attack if I do not pay-up for Joe Mixon. The Jets are dead last in pass defense DVOA and clearly have the worst secondary in football right now. Wheels up for the volume and red-zone upside for Tee Higgins (especially on DraftKings).
Curtis Samuel ($5,100 DK / $6,300 FD)
I'll be riding the hot hand of Curtis Samuel who is clearly the main focus of the passing game for Ron Rivera and Scott Turner. The price is simply too low for a guy with an AETY Model expected target share of 22% in a game where they should be playing form behind.

Honorable Mention: Stefon Diggs, Tyreek Hill, Drake London, Mecole Hardman, Breshad Perriman
NFL DFS Tight-Ends
Keeping this one simple this week. You're paying up for Travis Kelce, or paying down for Irv Smith chalk-week. I prefer the Kelce route, but 100% understand the Irv Smith chalk if it allows you to roster Cooper Kupp and hopefully Joe Mixon.

Honorable Mention: Dallas Goedert, Zach Ertz, TJ Hockenson
Defense / Special Teams
Per usual, I will not do a full writeup on defense. Here are the teams I'm targeting to cap off my NFL DFS cash game lineup:
Los Angeles Chargers
Carolina Panthers
Las Vegas Raiders
Jacksonville Jaguars
NFL DFS: The Fab Five
Going to get back to my roots and post "The Fab Five", which is simply just one more player than your typical "core-four" you get in the NFL DFS industry.
Josh Allen
David Montgomery
Curtis Samuel
Tee Higgins
Dameon Pierce

UPDATE: Mack Hollins Value is in-play with Renfrow OUT.
Make sure you follow me on Twitter at @stixpicks and be sure to sign up for an ALL ACCESS GOLD ACCOUNT account here at Win Daily Sports. Gain access to our Projection Model powered by AETY and jump into our Discord where we will have our experts talking plays across every sport and slate as sports FINALLY return.
Content Director for Win Daily Sports NFL/MLB. Creator of the AETY Model. Chicago White Sox die-hard. Focusing on helping others manage their bankroll and cross the pay line in NFL/MLB Cash Games & GPP's. CoFounder of thoroughbred horse racing partnership, Reta Racing LLC.