NFL DFS Week 12: StixPicks Thanksgiving Day Edition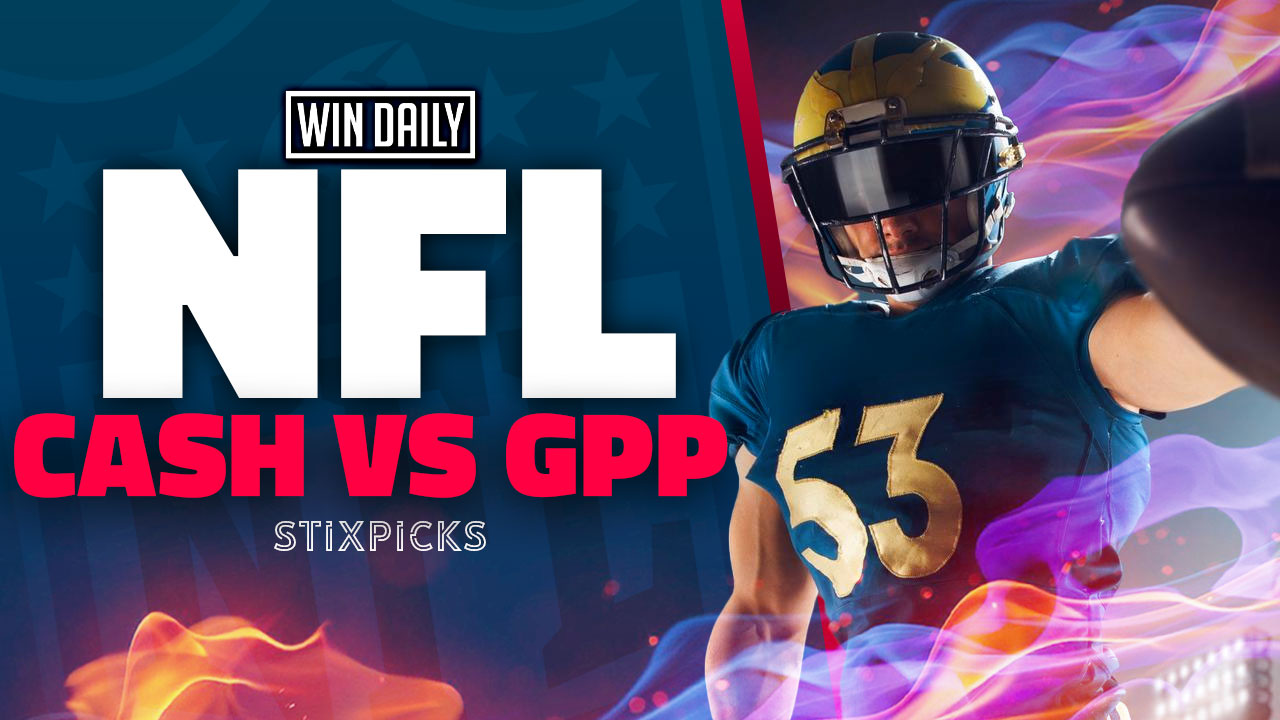 Happy Thanksgiving to all! On behalf of Win Daily, I just want to thank you all for the support, week-in and week-out. Let's get right to it and enjoy a three game, Thanksgiving NFL DFS slate! As always, we can focus more on lineup construction in Discord. The purpose of this article is to identify my top plays for the NFL DFS DraftKings and FanDuel Thanksgiving Day Main Slate (strictly tournament plays for this article). Good luck this week!
NFL DFS Quarterbacks
Josh Allen ($8,000 DK / $9,500 FD) – Clearly the top quarterback on the slate by a wide-margin. The Bills have a 32-point implied team total… the next closest team is the Cowboys with a 27-point implied team total. The Lions defense is a mess and will be without Jeff Okudah, so we know the passing upside is there (the elbow injury still concerns me, Josh Allen hasn't looked right) and the Lions' tendency to play a lot of man-coverage should give Allen a significant rushing floor no one else has on this slate. He is the only pay-up option, but likely worth it. Only downside(s) here is the elbow injury and the projected blowout gamescript as the Bills are a 10-point favorite.

Dak Prescott ($6,200 DK / $8,000 FD) – Dak Prescott grades out as the AETY Model's number one value at the quarterback position and for good reason. The New York Giants' defense is arguably in worse shape than the Lions, as they're riddled with injuries and will be without their top-two cover-cornerbacks in Adoree Jackson and Fabian Moreau. The value on both DraftKings and FanDuel in NFL DFS lineups is significant as I really like my overall builds with Prescott over those lineups with Josh Allen. Like Allen, there is a real threat this game gets completely out of hand (like we saw last week) and Prescott and this passing attack are eased out of the game.
*Note: I will not be playing any other quarterback on this slate. Maybe Mac Jones or Jared Goff in MME, but I am taking a firm stand on the top-two options on this three game slate. I will NOT be getting cute with pay-downs and would advise you to do the same.
NFL DFS Running Backs
Rhamondre Stevenson ($6,400 DK / $7,200 FD) – On DraftKings, Rhamondre Stevenson will be my first click at the running back position. The pass catching floor is second-to-no running back on this slate… that is too valuable to pass up. The Vikings' defense is likely to be the highest owned and I'll use the leverage Stevenson provides and completely fade that Minnesota defense spot. I'll just pair Stevenson with the Patriots' defense.

For those worried about Damien Harris, Stevenson still had a 78% snap share last week. The Patriots' running back job is Stevenson's to lose and we'll continue to see a lot of routes ran as the Vikings' run a ton of Cover-3 and Cover-4 zone defense (advantage Stevenson).

Devin Singletary ($5,700 DK / $6,900 FD) – Playing into the narrative of the Bills blowing out the Lions and leaving Devin Singletary and James Cook with a solid workload. At their prices, they're fine plays on this three game slate. More importantly, Devin Singletary has seen his red-zone rushing attempt usage absolutely skyrocket to six red-zone rushing attempts per game since Allen hurt his elbow in Week 10 against the Jets (1.16 red-zone rushing attempts per game prior to the injury).
The Other Running Backs
Saquon Barkley: a hefty price, but the most talented running back on the slate.

Dalvin Cook: would prefer him over Barkley, but I can't really afford Dalvin in my single entry builds and don't really think he's worth it with top run-blocker, Christian Darrisaw OUT with a concussion.

Tony Pollard: He's on fire and affordable. I 100% get it if you want to keep riding him, but Ezekiel Elliott taking goal-line snaps leaves me with a headache and reliant on Pollard big plays to hit value.

Jamaal Williams: Extremely touchdown reliant and can get scripted out of this game in a hurry.

D'Andre Swift: Justin Jackson is out-snapping him recently… WTF? If there's any game to get Swift heavily utilized in the passing game, it's this one.

Damien Harris: You're praying for a touchdown if you roster him.

James Cook: Fine play at the price if you think Buffalo runs away with this one. We should see plenty of usage for the rookie coming on late!
NFL DFS Wide Receivers
Stefon Diggs ($8,000 DK / $9,300 FD) – My clear-cut, top wide receiver on this slate. No Jeff Okudah should lead to a very active first half for Stefon Diggs as no one can contain him on this Detroit secondary. Let's hope Detroit can keep it close enough to where Diggs is active for four quarters!

CeeDee Lamb ($7,100 DK / $7,900 FD) – Excellent comeback spot for CeeDee Lamb at home against Giants' slot corner Darnay Holmes (the only healthy corner for the Giants… and he's bad). Same situation as Diggs in regards to blowout potential.

Amon-Ra St. Brown ($6,600 DK / $7,600 FD) – Great price on DraftKings for the most targeted wide receiver on the slate. As mentioned, it's likely the Bills run away with this game leaving St. Brown in a favorable, pass-heavy gamescript.

Gabe Davis ($5,300 DK / $7,200 FD) – Way too cheap on DraftKings in the same sexy matchup as Stefon Diggs. Although the AETY Model loves the coverage scheme for Stefon Diggs, Gabe Davis should have a field day when the Lions line up in Cover-3 zone defense.

Michael Gallup ($4,900 DK / $5,700 FD) – Michael Gallup is probably the highest-upside NFL DFS GPP wide receiver on this slate in terms of price and ownership. With Fabian Moreau and Adoree Jackson OUT, Gallup is going to have plenty of opportunities against the Giants' Cover-1 man defense. I absolutely love his receiving prop over 38.5 yards receiving yards and will sprinkle a bit on an Anytime Touchdown at +235.
The Other Wide Receivers:
Justin Jefferson – The Patriots have done a fantastic job limiting the damage to opposing top wideouts. That shouldn't be news to anyone as that's usually been Belichick's main objective, but the talent of Justin Jefferson is hard to ignore, especially after a stinker last week in Dallas. I'm taking the stand on Stefon Diggs this week, but 100% understand if you want Jefferson as he's one of the only top receivers on this slate without blowout gamescript potential.

Jakobi Meyers – A cheap WR1 who should exceed expectations against the Vikings' Cover-3 zone defense and blitz packages. Nothing sexy here, but on a three game slate, not everything will be.

Adam Thielen – Should be in a great spot against the Patriots' man-coverage and heavy focus on Justin Jefferson, but Thielen leaves much to be desired since Hockenson joined the team. He's worth the dice-roll on a few lineups, I suppose.

Kalif Raymond – He's going to be a chalky option as he's cheap exposure to a positive gamescript (assuming Buffalo gets ahead early). You guys can have a chalk Kalif Raymond, I'm out! Same thing can be said for Darius Slayton.

Richie James Jr. – Probably the only "punt-play" I somewhat can appreciate. The slot receiver in the Giants' offense has excelled against Cover-1, Cover-2, and blitz heavy defenses (what the Cowboys will do). As long as he's healthy, he's probably my favorite pay-down punt now that Wan'Dale Robinson's season is over.
**Note: I will likely not be punting at the wide receiver position. I am taking a firm stand on playing top-tier wide receiver options on this three game slate. I will NOT be getting cute with pay-downs as it looks like the field will 100% be rostering a punt-wide receiver or two. You can get a strong advantage (on-paper) by simply not doing that. The cards will unfold how they unfold and maybe a punt-play wideout is the optimal route, but I will not be doing so.
NFL DFS Tight-Ends
TJ Hockenson ($5,000 DK / $6,300 FD) – The top option at the tight-end position by a wide margin. With all of the coverage likely to be focused on Jefferson, Hockenson (and Thielen) should be in for a nice output. The Patriots will blitz a good amount and the injury to Darrisaw should make Cousins rely on his lower ADOT pass-catchers.

Dalton Schultz ($3,800 DK / $5,800 FD) – Damn-near lock-button play for me at that price on DraftKings. I look at Schultz as a mid-tier WR2 on most slates… now this is a three-game slate… you do the math. If you equate the Vegas player props at respectable sportsbooks, he grades out as the third overall value on this slate. The AETY Model has him as the number one overall value on this slate.

Dawson Knox ($3,500 DK / $5,500 FD) – Solid cheap option though I prefer Schultz on both sites. The coverage scheme for Detroit seems to push up Stefon Diggs, Gabe Davis, and Devin Singletary in the AETY Model, but Knox is a fine option.

Hunter Henry ($3,100 DK / $4,900 FD) – I hate this spot, but my builds seem to call for someone in this price-range and I already made my statement on punt wide receivers. Minnesota's zone defense does give the AETY Model reason to believe this is a solid spot for the Patriots' tight-end (it may very well be Jonnu Smith… that's why I hate the spot). Henry still has a significant advantage in terms of snap-counts and routes ran per game, but Jonnu Smith can certainly be the guy who scores a touchdown. That is what we're hoping for down here in the dumpster… a touchdown.
NFL DFS Defense / Special Teams
New England Patriots – Christian Darrisaw being out is going to be a problem for the Vikings. Matthew Judon should have a field day.

Dallas Cowboys – This defense is on another planet right now and the matchup is lovely against the Giants.

Buffalo Bills – Likely very low-owned against Jared Goff…
NFL DFS GPP Core (DraftKings)
Unfortunately, we will not be doing a Thanksgiving livestream as most of us will be spending time with our families and likely have too many beers early and often, lol! Here's my NFL DFS GPP core for the Thanksgiving slate:
Rhamondre Stevenson
Stefon Diggs
Amon-Ra St. Brown
CeeDee Lamb
Be sure to follow me on Twitter at @stixpicks and be sure to sign up for an ALL ACCESS GOLD ACCOUNT account here at Win Daily Sports. Gain access to our Projection Model powered by AETY and jump into our Discord where we will have our experts talking plays across every sport and DFS slate.
Content Director for Win Daily Sports NFL/MLB. Creator of the AETY Model. Chicago White Sox die-hard. Focusing on helping others manage their bankroll and cross the pay line in NFL/MLB Cash Games & GPP's. CoFounder of thoroughbred horse racing partnership, Reta Racing LLC.