NFL DFS: The Inside Look- Week 3 – Win Daily Sports
Published
2 months ago
on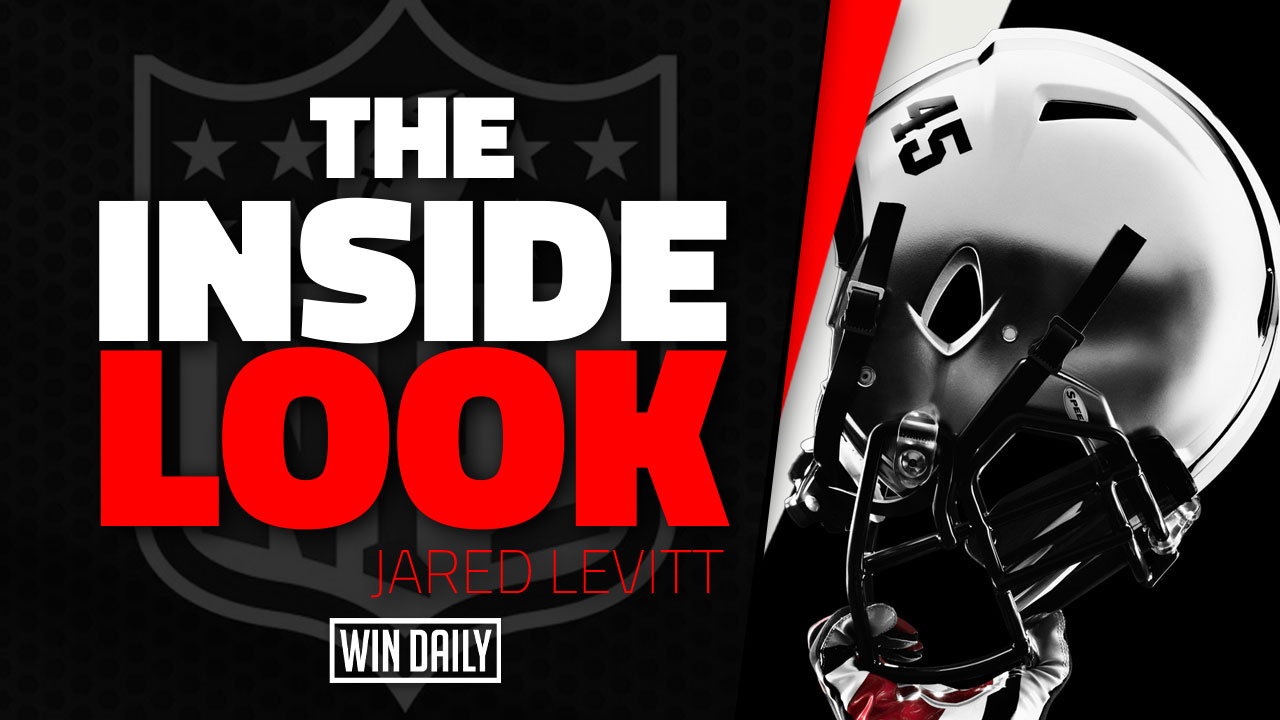 Welcome to the Week 3 edition of The Inside Look for the 2022 NFL season.  This will be a data-driven article and will go under the hood to see if the box scores tell the whole story about what transpired during the weekend.   My goal here will be to either calm your nerves about a player that may have underperformed or cause you to rethink some of the spots you may have taken.
Let's dig into the data!
Wide Receiver Targets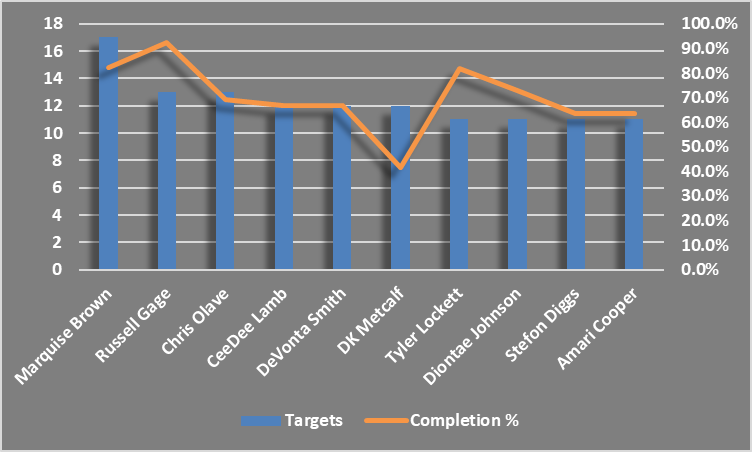 Before we dig into individual player performances I wanted to take a moment to talk about why we focus so heavily on Targets. Targets equal opportunities and in fantasy opportunity more often than creates production. The more targets that a player gets the better chance there is that the player will return on value.
Hollywood! With Kyler Murray throwing the ball 55 times in Week 3, Marquise Brown was the biggest beneficiary. The Ravens cast-off was targeted a career-high 17 times this past weekend. Prior to this weekend, the most he had ever had in a game was 14. He somewhat made the most of it as he finished with 14 catches and 140 receiving yards. The 140 were the most he's had in a game since his first career game back in 2019. The only thing that Brown didn't do this weekend was find the endzone.
Thanks to the early exits of Michael Thomas and Jarvis Landry this weekend, it was the Chris Olave show. Olave had 13 targets for a second straight week. Unlike last week though, he was able to make the most of them as he caught 9 of the 13 for 147 yards. With 29 targets so far through 3 games, Olave is playing an important part in this offense. Up next for the Saints will be a matchup with the Vikings, a team that has given up the sixth most receiving yards to wide receivers so far this season.
DeVonta Smith, have yourself a day! With targets being spread out thanks to the acquisition of A.J. Brown we probably won't see games like this often. But when they do, oh we'll want to enjoy them. Smith had one of the most productive games of his young career thanks to the 12 targets. He was able to catch 8 of them for 169 yards and found the endzone once. The 169 yards receiving were the most he's ever had in an NFL game.
Running Back Targets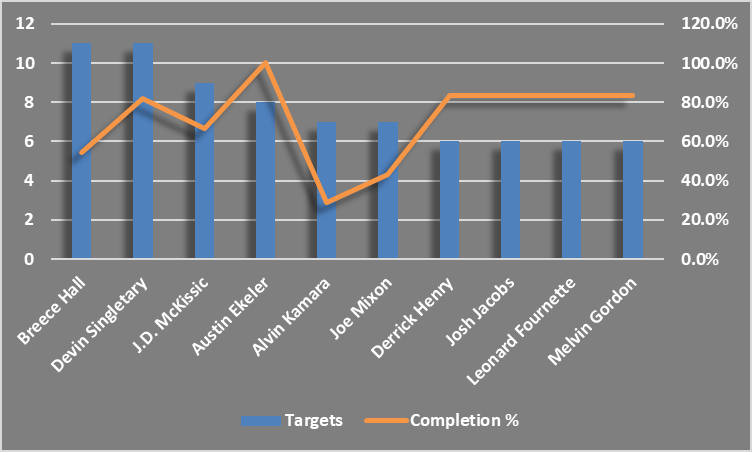 This week was a little bit more back to normal for the running backs and targets. We had 2 guys surpass double digits, compared to just 1 last week. Jets running back Breece Hall was tied for the lead this weekend in running back targets with 11. The rookie running back has now had 2 games where he had at least 9 targets. He's quickly become a focal point of this offense. With the return of Zach Wilson expected to be this week, it will be interesting to see if Hall continues to get a healthy amount of targets.
While Austin Ekeler's ground game was MIA this weekend, his targets were not. He was targeted 8 times this weekend and is now up to 22 targets on the year. He hasn't been able to get much going on the ground, but through the air is where continues to be more productive and more important to this Chargers team.
Tight End Targets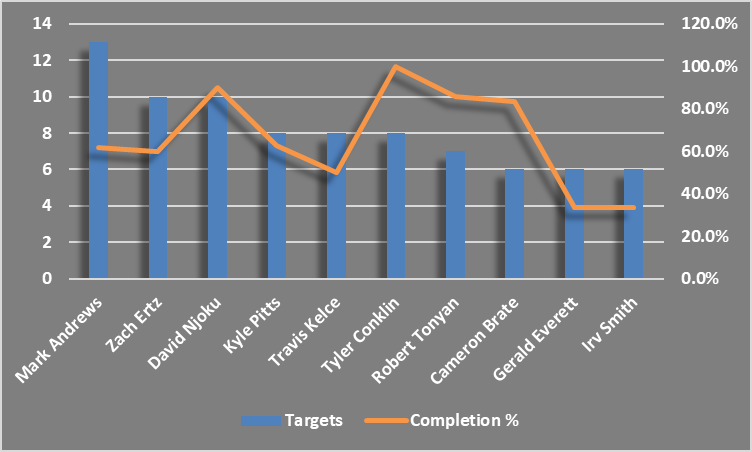 As someone that lives in Baltimore and is part of a family that is crazy for Ravens football, it's been extremely fun to be able to watch Mark Andrews and Lamar Jackson grow together. This QB/TE tandem may be the best in the game. Andrews had a monster game on Sunday, finished with 8 catches on 13 targets and 2 TD. This weekend will be a much tougher task for him though as the Bills have been one of the best teams in the league at defending tight ends.
Marquise Brown wasn't the only Cardinals player to get into the fun this weekend, well at least in terms of targets. Zach Ertz was the second most targeted tight end this weekend with 10. This was the second straight week with double-digit targets. It was also the second straight that Ertz did very little with the targets. He was able to catch just 6 of the targets this weekend for 45 yards. All in all a pretty disappointing weekend for him.
Quarterback Target Share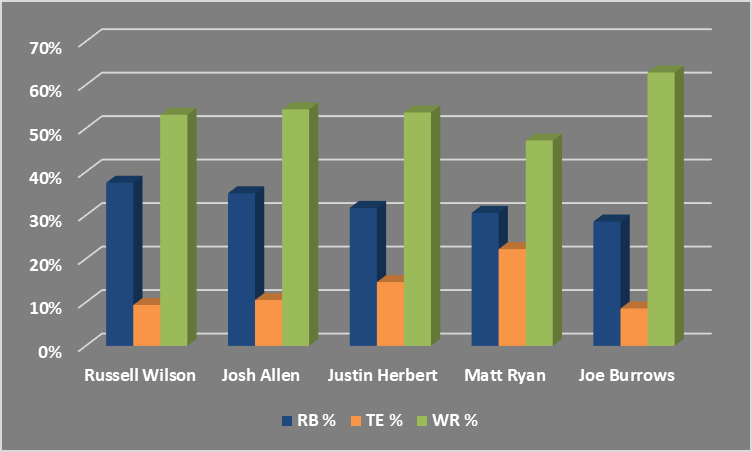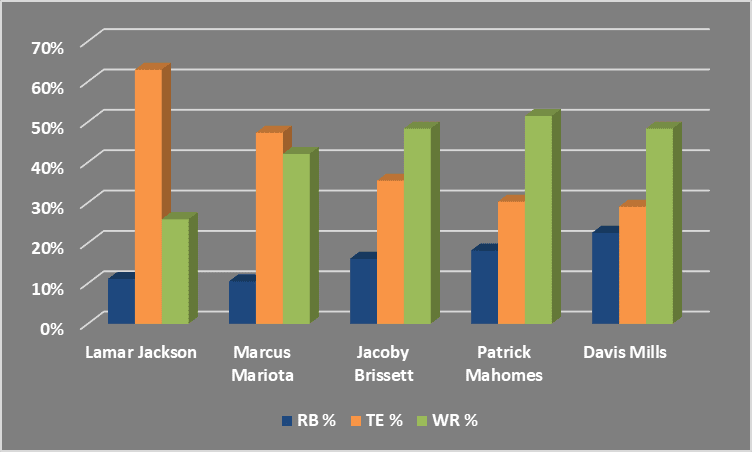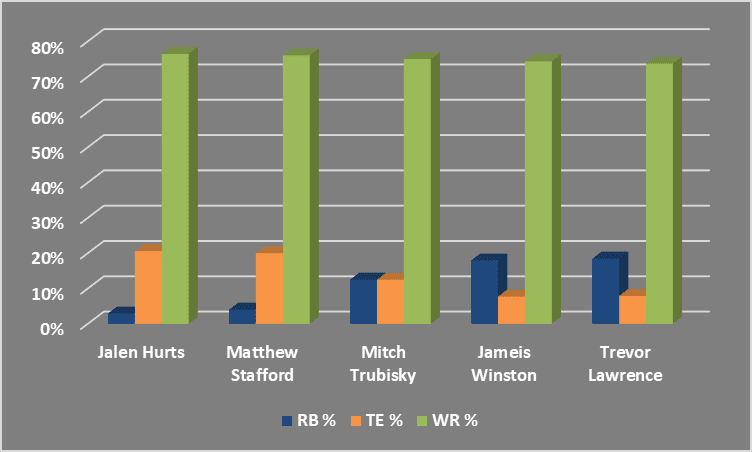 The Russell Wilson experiment in Denver is not off to a great start. Although the Broncos pulled out the victory in Week 3, Wilson had an awful game. He finished with just 184 passing yards on 33 throws. Of his 33 passes, he relieved heavily on his backs as they accounted for nearly 40% of his targets.
When you have 2 stud receivers in DeVonta Smith and A.J. Brown, there's really no need to throw the ball to anyone but them. Of Jalen Hurts' 34 pass attempts, 22 of them went to that duo and more than 70% of his passes in total went to receivers.
Running Back Touches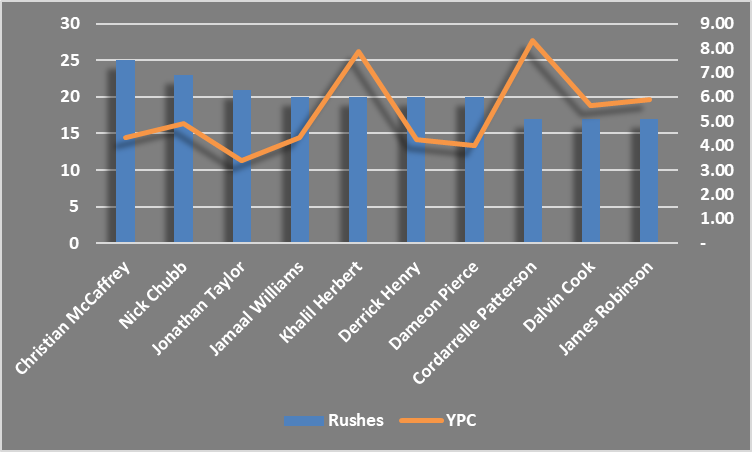 I said it earlier with the targets, but we saw a little bit of a return to normalcy with running backs in Week 3. A healthy Christian McCaffrey led all running backs with 25 rushes this past weekend. He was able to convert those rushes into 108 yards rushing. The 25 rushes were the most he's had in a game since all the way back in Week 7 of 2019. The second consecutive week with over 100 yards rushing was also the first time he's done that since 2019. A healthy McCaffrey is good for fantasy and also good for the NFL.
If you rostered David Montgomery in Week3 in DFS, you were probably left disappointed and outside the cash line. The matchup was pristine and the end result for his replacement was simply amazing. Khalil Herbert stepped in after Montgomery's injury and had himself a career game. He rushed 20 times for 157 and 2 TD. This was his second career 100-yard game. If he's available in your season-long league, go snatch him up. Now.
Playbook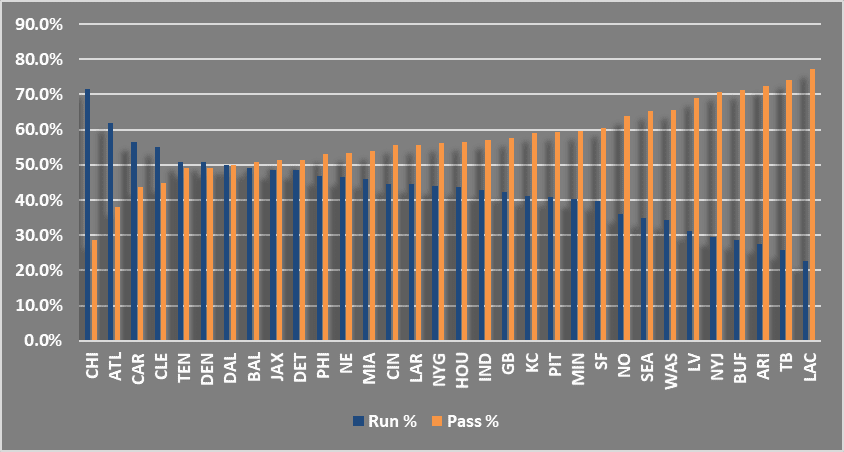 The 'Playbook' as I like to call it shows a breakdown of the play splits that teams used this past weekend.
The Chicago Bears so far this season have just run, and run, and run. Justin Fields is nowhere close to a fantasy option as the Bears' offense relies heavily on the run.  This week they threw the ball less than 30% of the time, a trend now for 3 consecutive weeks.
With the run game completely ineffective this weekend, the Buccaneers went with a pass-heavy offense. Tom Brady threw the ball 42 times this weekend, the most he's had in a game this season. The Bucs' offense was a disaster as a whole as they only scored 12 points this weekend. That said, you can certainly use the excuse that they were missing some key weapons with Evans, Jones, and Godwin all out.
Make sure to check out our new PrizePicks model.
Make sure you follow me on Twitter at @rangerzfan79 and be sure to sign up for an ALL ACCESS GOLD ACCOUNT here at Win Daily Sports. Gain access to our Projection Models and jump into our Discord where we will have our experts talking plays across every sport and slate!
New to the DFS writing world but have been playing DFS since BVP was cool. Started play season long fantasy when sporting news was used to calculate weekly scores. Originally from Brooklyn, NY but now a Baltmore resident.