NFL DFS: The Inside Look- Week 2 – Win Daily Sports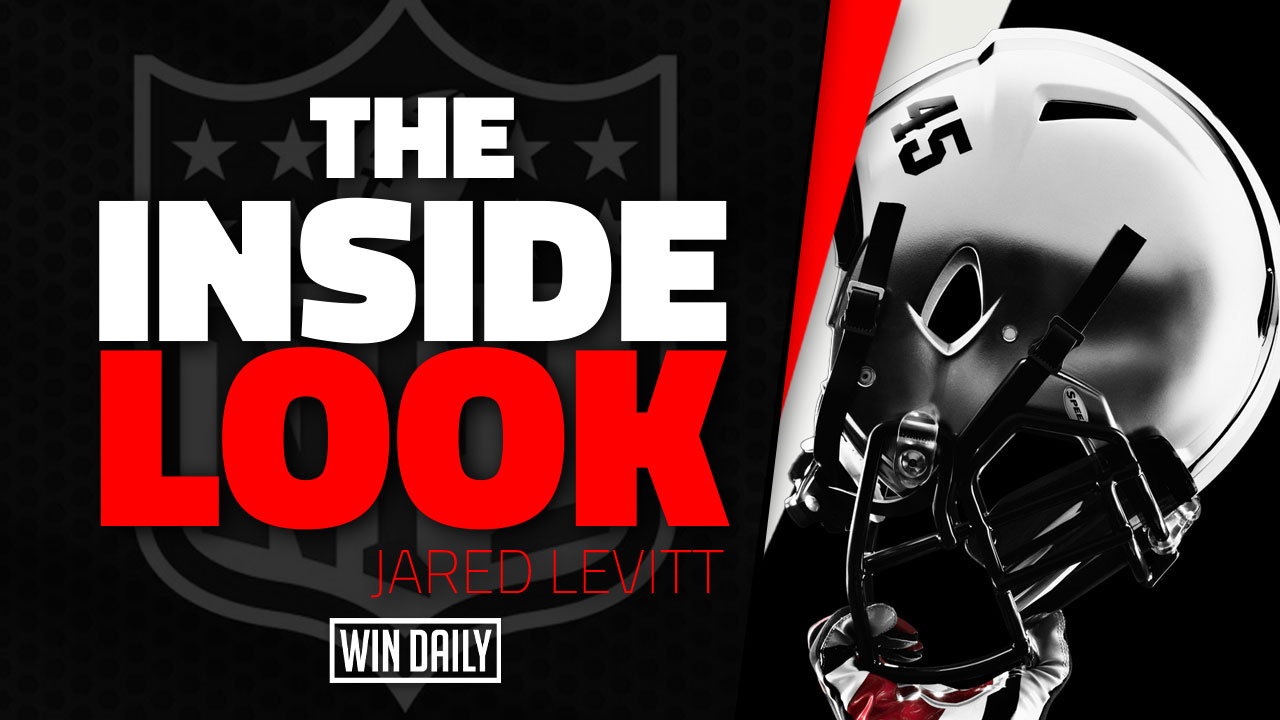 Welcome to the Week 2 edition of The Inside Look for the 2022 NFL season. This will be a data driven article and will go under the hood to see if the box scores tell the whole story about what transpired during the weekend. My goal here will be to either calm your nerves about a player that may have underperformed or cause you to rethink some of the spots you may have taken.
With Week 2 now complete one thing is very clear, Ravens fans are not happy!
Let's dig in to the data!
Wide Receiver Targets
Before we dig in to individual player performances I wanted to take a moment to talk about why we focus so heavily on Targets. Targets equal opportunities and in fantasy opportunity more often than creates production. The more targets that a player gets the better chance there is that the player will return on value.
Thanks to trailing by 21 heading into the fourth quarter on Sunday, Tua Tagovailoa was forced to throw often.  That led to monster games from both Jaylen Waddle and Tyreek Hill.  The 19 targets were by far the most that Waddle has ever had in a game, as were the 171 yards receiving.  Waddle now has touchdowns in 2 consecutive games to start to the season.
Waddle's teammate Tyreek Hill also had himself a monster game, finishing with 11 catches and 190 receiving yards on 13 targes.  Like Waddle, he found the endzone twice.  There are going to be games where Hill gets you almost no fantasy points.  That said, there's no receiver that has the pure upside that he has due to his breakaway speed and ability to get past any secondary in the league.  Next weekend will be a much tougher task for the Dolphins as they'll face off against a Bills defense that has given up only 363 passing yards on the year. 
Now on to non-Dolphins receivers!  With no Gabe Davis last night, it was the Stefon Diggs show for the Buffalo Bills.  And oh what a show it was!  Diggs finished with 12 catches on 14 targets and 148 receiving yards and 3 TD.  The 148 yards were the most he's had in a game since Week 10 against the Jets last season. 
What a start to the year for Amon-Ra St. Brown!  The second year receiver for the Detroit Lions had one of the finest games of his young career this past weekend.  He was targeted a team leading 12 times (second straight week with 12 targets) and caught 9 of them for 116 yards and 2 touchdowns.  Up next week for St. Brown and the Lions will be the Vikings, a team that has given up close to 600 passing yards on the year. 
Running Back Targets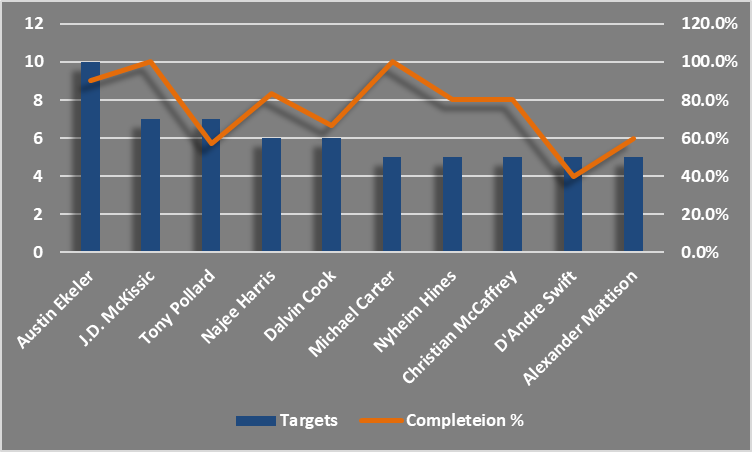 As you'll see when we get to the Running Back Touches section, this was a weird week for running backs.  Only Austin Ekeler was over 7 targets this weeks as he finished his game with 10 targets.  If we compare that to least week, there were 6 running backs that had more than 7 targets.  Ekeler was able to catch 9 of his 10 targets for 55 yards. 
Tight End Targets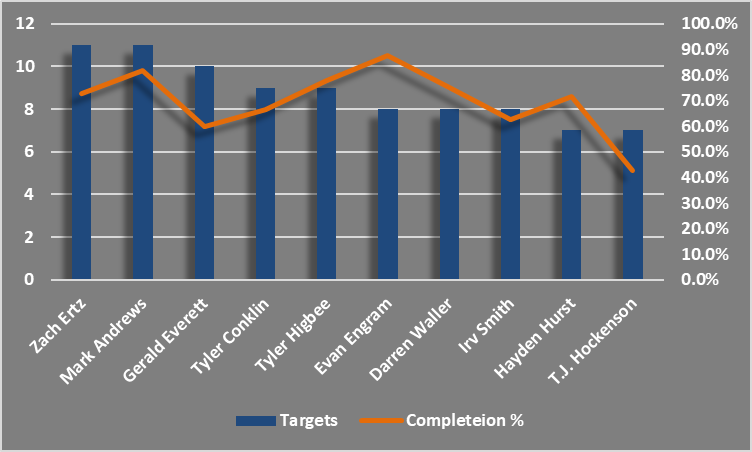 The first 2 names on this chart are names we often see on this list.  Both Zach Ertz and Mark Andrews are favorites of their respective QB's as both have strong abilities to catch balls thrown their way.  Ertz led all Tight Ends this week with 11 targets, finishing with 8 catches and 75 yards.  The only negative was that he failed to find the end zone. 
Mark Andrews had his first 100-yard game of the young season. He is, by far, Lamar Jackson's favorite target. In Week 2, Andrews was able to catch 9 of the 11 balls thrown his way for 104 yards and 1 TD. Up next will be a tough matchup with the Patriots, a team that has only given up 37 yards to Tight Ends so far this season through the first 2 weeks.
Quarterback Target Share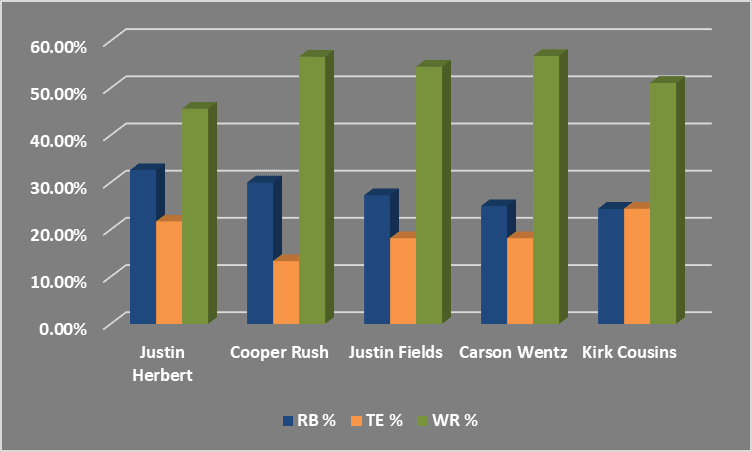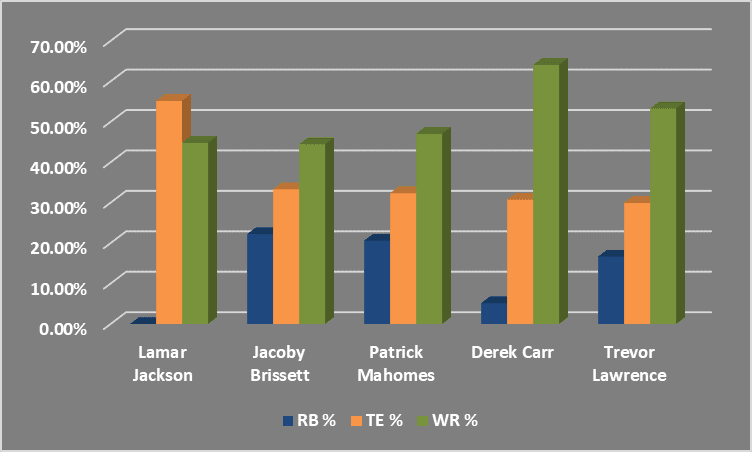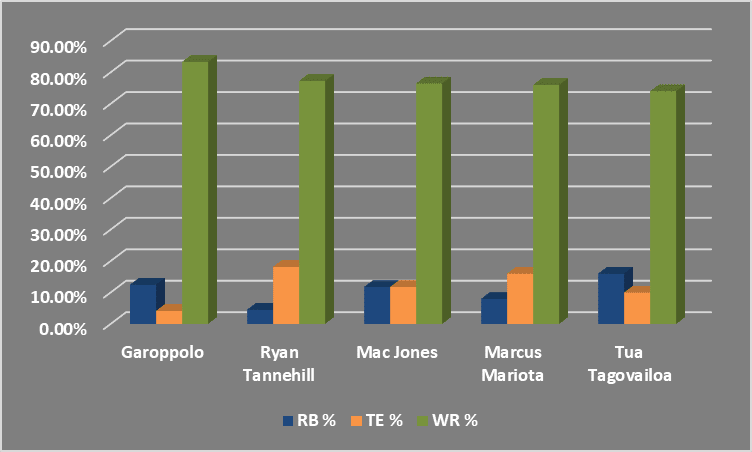 Justin Herbert threw the ball 46 times this week past week.  Nearly a third of those passes were thrown to his backs.  While Austin Ekeler saw the bulk of the 15 targets to his backs, both Zander Horvath and Josh Kelly saw action too with 2 targets each.  Should Keenan Allen return in Week 3 for the Chargers, I'm sure we'll see a swing back to more target share to his receivers. 
Of Lamar Jackson's 29 passes this weekend, more than half of them went to his Tight Ends.  The combo of Andrews and Isaiah Likely combined for 16 targets this weekend.  Likely's 5 targets were the third most of anyone on the Ravens this weekend.
If you missed what happened in Baltimore this weekend with Tua Tagovailoa, it's time to put down the book or whatever you were doing and search for some highlights. The Dolphins trailed throughout in this one and it caused Tua to throw often. Tua threw the ball 50 times on Sunday, with more than 70% of those passes going to his receivers. Hill and Waddle accounted for 32 of the 50 targets.
Running Back Touches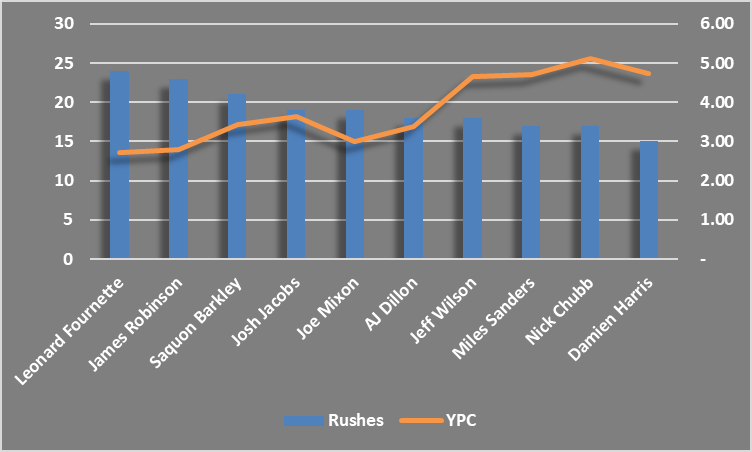 I said it earlier and I'll say it again, this was a weird weekend for running backs.  Out of all the running backs with more than 15 touches this weekend, none finished with more than 90 yards rushing.  Nick Chubb was the "best " of the bunch as he finished with 87 yards on 17 carries.  His 5.1 yards per carry were the most of anyone in the top tier of running backs and carries.  Not what you want to see in season-long fantasy and DFS.
That said, there were a handful of running backs that did have solid games.  They didn't finish in the top of carries, but Aaron Jones, David Montgomery, and Christian McCaffrey all finished with over 100 yards rushing on 15 carries.  Again, rough week for Running Backs. 
Playbook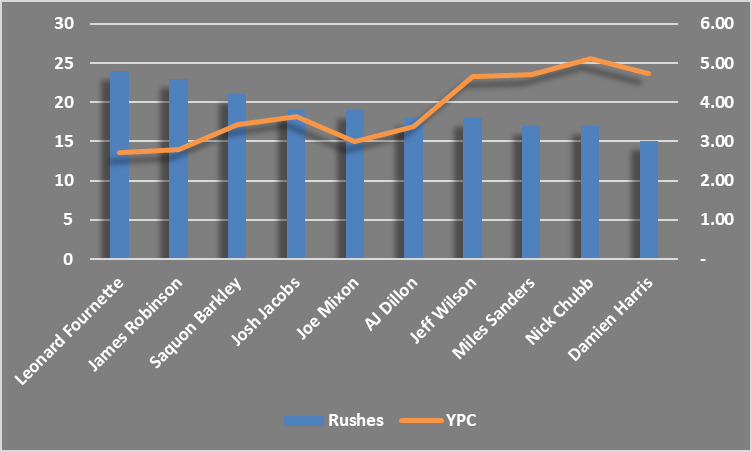 The 'Playbook' as I like to call it shows a breakdown of the play splits that teams used this past weekend.
For the second consecutive week, Chicago went with a run heavy offense.  The only difference this week was they did not play in a monsoon.  Justin Fields threw the ball just 11 times this weekend against the Packers.  I don't need to state the obvious, but he's not really an option for fantasy at this point.  
On the other end of the spectrum, the Vikings threw the ball 80% of the time last night vs. the Eagles.  Trailing from the moment of the coin flip and the run game of Dalvin Cook non-existent, the Vikings were forced to throw often.  Of the 56 plays for the Vikings last night, 45 were passes. 
Before setting your weekly lineups, make sure to check out our Optimizer.
Make sure you follow me on Twitter at @rangerzfan79 and be sure to sign up for an ALL ACCESS GOLD ACCOUNT here at Win Daily Sports. Gain access to our Projection Models and jump into our Discord where we will have our experts talking plays across every sport and slate!
New to the DFS writing world but have been playing DFS since BVP was cool. Started play season long fantasy when sporting news was used to calculate weekly scores. Originally from Brooklyn, NY but now a Baltmore resident.