NFL DFS: The Inside Look- Week 17 – Win Daily Sports
Published
6 months ago
on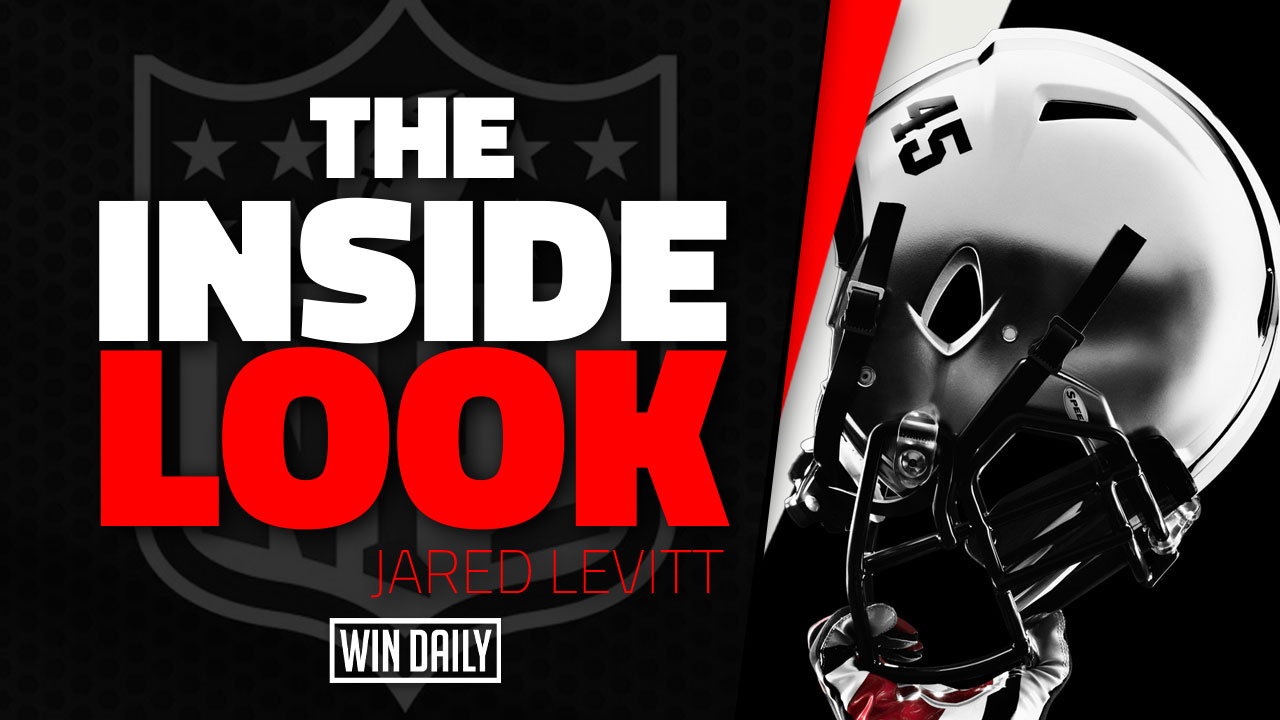 Welcome to the Week 17 edition of The Inside Look for the 2021 NFL season.  This will be a data-driven article and will go under the hood to see if the box scores tell the whole story about what transpired during the weekend.   My goal here will be to either calm your nerves about a player that may have underperformed or cause you to rethink some of the spots you may have taken.
Outside of the MNF game, we have a pretty good sense of what transpired this past weekend. 
Let's dig into the data!
Wide Receiver Targets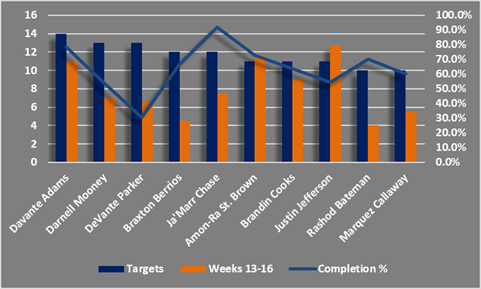 Before we dig in to individual player performances I wanted to take a moment to talk about why we focus so heavily on Targets. Targets equal opportunities and in fantasy opportunity more often than creates production. The more targets that a player gets the better chance there is that the player will return on value.
The leader in targets yesterday was Mr. Davante Adams. For the third time in 3 weeks, Adams had at least 13 targets. His 14 targets this weekend were the most he's had since week 14 vs. the Chiefs. Adams has just been a model of consistency of late. His 136 yards marked the fifth time in six games where he exceeded 100 yards receiving. Aaron Rodgers has hinted that this may be it for him. If it is, the Rodgers/Adams combo will be sorely missed as it's been one of the most fun combos to watch.
Last week it was Tee Higgins, this week it was Ja'Marr Chase.  Chase had himself a day yesterday, catching 11 of his 12 targets for a whopping 266 yards and 3 touchdowns.  The season high 266 yards were the second time that Chase has reached at least 200 yards in a game this season. 
His 11 receptions were also a season high for Chase.  With Chase having 12 targets this weekend, it marked the fifth time this season where he had double digit targets.  He'll look to keep padding his rookie stats next weekend against their state rivals the Browns.
Another guy that had a splendid day in week 17 was Amon-Ra St. Brown. St. Brown has seen a steady progression in play all season. He now has 5 straight weeks of at least 11 targets. His 111 yards this weekend marked the first time in his young career that he reached the coveted 100 yard mark. While Chase is the lock to win the rookie of the year award, St. Brown has put together a very impressive rookie campaign. He'll look to close it out next week vs. the Packers.
Running Back Targets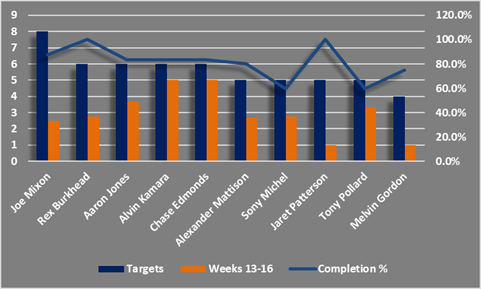 This was as boring of a week for pass catching running backs as we've had all year.  Not a single running back had double digit targets and none had more than 70 receiving yards.  That said, we'll still want to highlight at least one person and that will be Alvin Kamara.  This wasn't quite the season that Kamara had envisioned. 
He's on pace to have career lows in receptions, receiving yards, and his lowest rushing output since his rookie year.  He did however have a pretty good week 17.  For the first time since week 7, he had a receiving touchdown.  His 68 receiving yards were also the most he's had since then.  Up next week is a matchup vs. a poor Falcons defense.  He'll look to end the regular season on a positive note next week vs. the Falcons.
Tight End Targets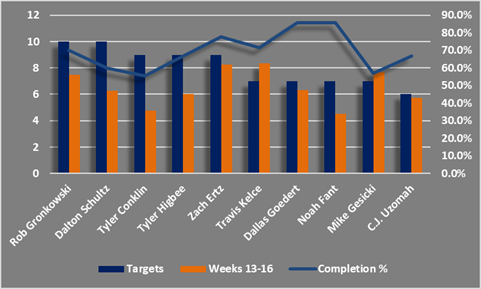 With Chris Godwin out and Antonio Brown leaving mid game, Rob Gronkowski became a favorite weapon for Tom Brady.  After averaging 7.5 targets per game in the last 4 games, Gronk reached double digit targets in week 17 with 10.  It marked the second time in the last 3 games he had double digit targets. 
Of the 10 targets, he was able to catch 7 of them for 115 yards.  The 115 yards was just the second time all year he was able to reach the 100 yard mark.  Although he had a solid target and receiving game, this is now the fourth straight week with no touchdowns.  He'll look to end that streak next week vs. the Panthers.
The only other tight end to have double digit targets in week 17 was Dalton Schultz of the Dallas Cowboys.  Schultz' 10 targets marked the first time this season he had double digit targets.  His targets have been increasing over the last few weeks as he's had 8, then 9, and now 10 targets. 
While he had a ton of targets this weekend, he did little with them as he only caught 6 of them for 54 yards and zero touchdowns.  Does Dak target him again this much next week vs. the Eagles in a prime-time game on Saturday night? 
Quarterback Target Share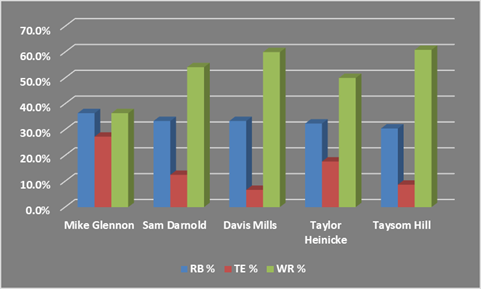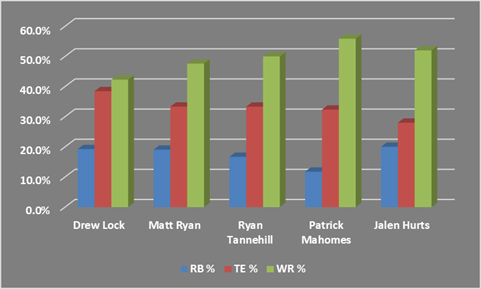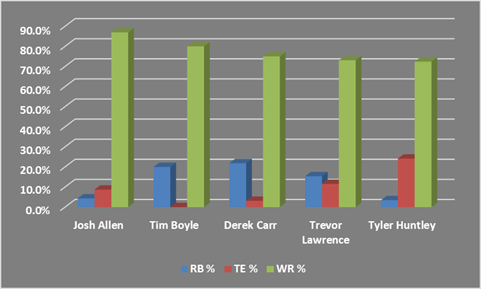 I know Mike Glennon is tops on the list in terms of using his running backs in the passing scheme in week 17, at least in terms of %. We'll get to him much later. To start I want to focus on Jalen Hurts. Hurts has really become a fan of throwing the ball to Dallas Goedert. This week Goedert was his most used pass catcher. Last week Goedert was his second most used receiver. Week in and week out Hurts' favorite targets are Goedert and Smith.
This week was a very different feel for the Baltimore Ravens.  On most Sundays Mark Andrews is far and away the most targeted guy on the Ravens.  This week, not so much.  Andrews was the third most targeted pass catcher for the Ravens in week 17.  Huntley looked more often for his wide receivers and unfortunately, it wasn't overly successful as the Ravens lost another one and will need a miracle next week to squeak into the playoffs.
Running Back Touches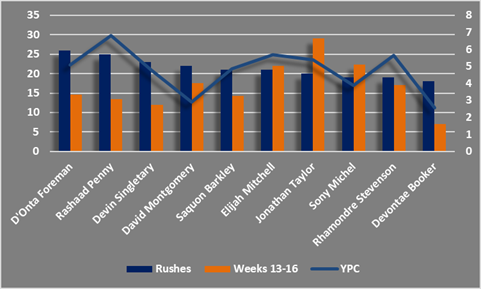 Rashaad Penny is on a heater folks. Over the last 4 weeks Penny has games of 137 rushing yards, 135, and 170! Going into week 17, Penny hadn't had more than 17 carries. This week he ended up with 25 carries. The Seahawks had a dominant performance yesterday vs. the Lions and Penny was a huge part of it. He'll look to close out a disappointing Seahawks season next week vs. a tough Cardinals team.
Jonathan Taylor has more games over 100 yards rushing this year than he has less than it.  He's put together just an amazing season.  On 20 carries this weekend, he was able to gain over 100 yards rushing for the fourth consecutive week and seventh out of his last 8 games. 
After disappointing his fans last weekend, he was able to find the end zone once again in week 17.  That makes it 17 rushing touchdowns on the year.  He'll look to add to his already impressive sophomore season next weekend vs. the Jaguars. 
If you're confused with how the Titans use their backs, you're not alone. After getting 22 carries in week 15, Foreman dropped to just 9 carries in week 16. In week 17 he had a season high 26. For the third time in the last 5 weeks, Foreman broke the 100 yard mark and had a season high 132 rushing yards. Up next week is a matchup vs. the Texans and your guess is as good as mine as to who will get the bulk of the carries.
Playbook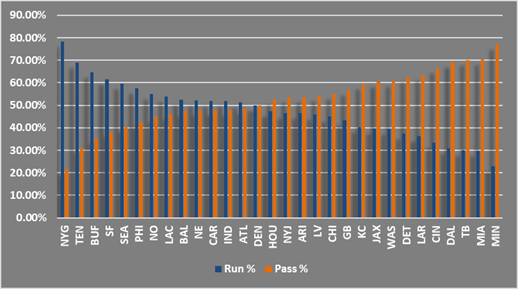 The 'Playbook' as I like to call it shows a breakdown of the play splits that teams used this past weekend.
We need to talk about he game that Mike Glennon of the New York Giants had.  Thanks to a handful of sacks, Glennon had an NFL record low -10 yards passing.  That's not a mark on your screen.  It's really a negative sign next to the yardage.  Yesterday's performance by Glennon will go down as one of the worst individual performances of all time.  There's a reason the Giants ran the ball 80% of the time yesterday…
If your fantasy team was relying on Dalvin Cook to guide you to your season long fantasy championship yesterday, sorry.  With the Vikings not being able to get anything going on the ground, they passed the ball 80% of the time.  That didn't work much either as Sean Mannion couldn't get much going.  The Vikings will hope to get Kirk Cousins back for their week 18 matchup against the Bears.
Inside Look Wrap Up
While Joe Burrow didn't throw for over 500 yards again this week, he did come close.  Those in their championship games that had Burrow this weekend should be hopefully feel good about their chances to raise their trophies.  This was another fun week of football, as long as your name was not Antonio Brown (I truly hope he gets the help he needs).  In week 17 we saw just 5 guys get over 100 yards receiving, compared to 11 last week.  We saw a lot more success on the ground though this weekend as 7 guys had over 100 yards rushing.  We're almost at the finish line folks!
When setting lineups each week, make sure to our optimizer here.
Make sure you follow me on Twitter at @rangerzfan79 and be sure to sign up for an ALL ACCESS GOLD ACCOUNT here at Win Daily Sports. Gain access to our Projection Models and jump into our Discord where we will have our experts talking plays across every sport and slate!
New to the DFS writing world but have been playing DFS since BVP was cool. Started play season long fantasy when sporting news was used to calculate weekly scores. Originally from Brooklyn, NY but now a Baltmore resident.