NFL DFS: The Inside Look- Week 14 – Win Daily Sports
Published
7 months ago
on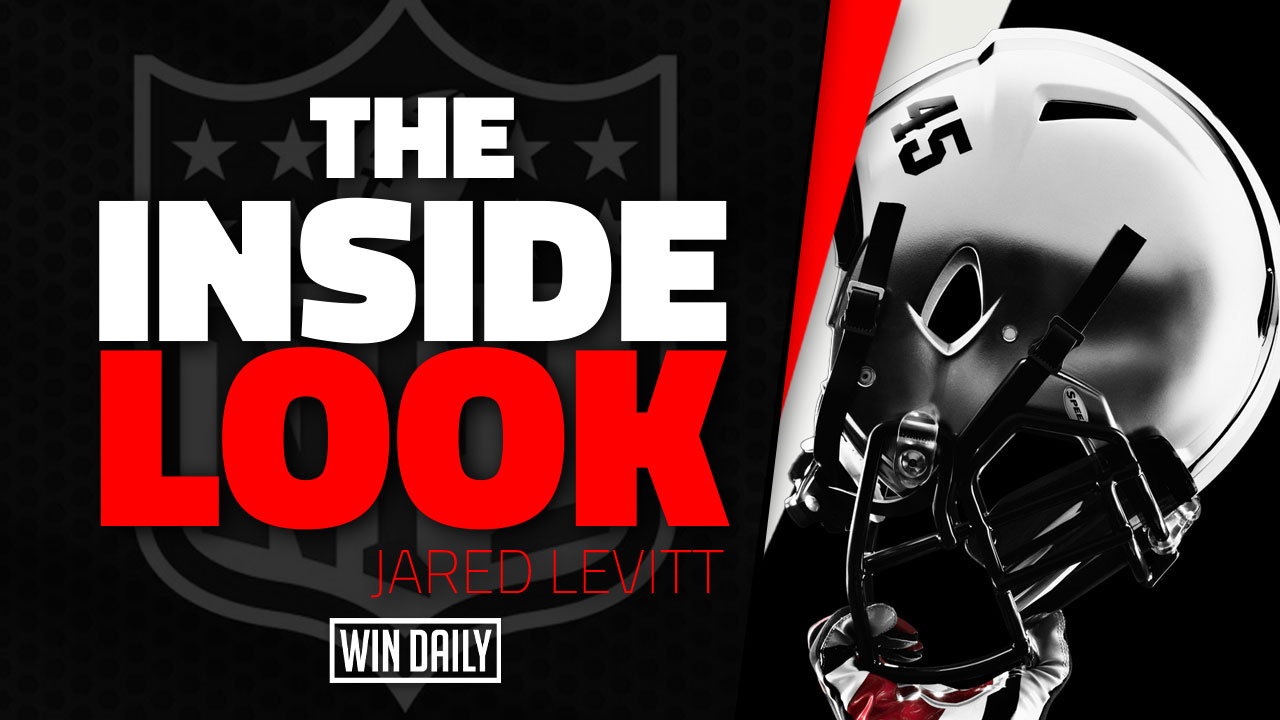 Welcome to the Week 14 edition of The Inside Look for the 2021 NFL season. This will be a data driven article and will go under the hood to see if the box scores tell the whole story about what transpired during the weekend. My goal here will be to either calm your nerves about a player that may have underperformed or cause you to rethink some of the spots you may have taken.
Outside of the MNF game we have a pretty good sense of what transpired this past weekend.
Let's dig in to the data!
Wide Receiver Targets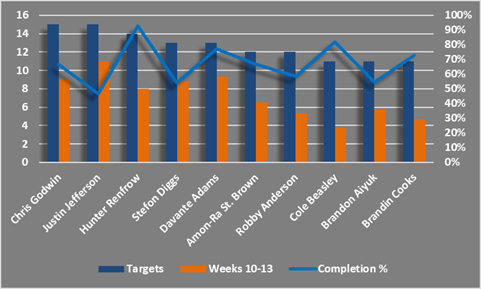 Before we dig in to individual player performances I wanted to take a moment to talk about why we focus so heavily on Targets. Targets equal opportunities and in fantasy opportunity more often than creates production. The more targets that a player gets the better chance there is that the player will return on value.
Chris Godwin now has back to back weeks with at least 15 targets. After getting targeted 17 times in week 13 Godwin saw another 15 targets in week 14. And for the second straight week he broke the 100 yard mark. Although it was a third consecutive week where he did not find the end zone, Godwin fantasy owners have to be happy with his level of production. Good ole Tom Brady continues to look his way and you have to think we a match up vs. the Saints next weekend, we'll see more of the same.
We need to start talking more about Hunter Renfrow. Since their bye in week 8, Renfrow has seen at least 9 targets in all but 1 game. Over the last 2 weeks he's been targeted 24 times. He now has 3 straight weeks of at least 100 yards and this week he scored his first touchdown since week 10. The man is currently on a mission and is quickly becoming one of Derek Carr's favorite weapons.
After a little bit of a mid season swoon, Davante Adams is back folks. Coming off the bye Adams exploded for 121 yards yesterday against the bears. He was targeted 13 times, the most targets he's had since week 9 against the Chiefs. For the second time in 3 three weeks Adams finished the game with 2 touchdowns. Up next week is a big game vs. a Ravens team that is seeing its season spiral out of control.
Running Back Targets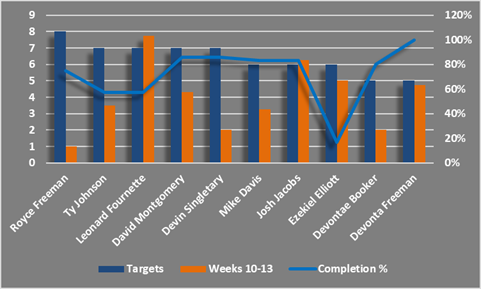 Opportunity came knocking at Royce Freeman's door on Sunday. With David Johnson ruled out prior to the game with Covid and Rex Burkhead leaving the game early with an injury, someone had to take snaps next to Davis Mills and that was Royce Freeman.
Freeman more than doubled his season's worth of targets with 8 on Sunday. Those 8 were more than any other back in the game. He actually did a little bit of work with them as he finished with 6 catches and 51 yards. This will probably be a 1 and done though depending on injuries and Covid protocols.
Devin Singletary was another guy that saw productivity come out of nowhere in terms of receiving. After having been held to just 6 targets between weeks 10 and 13, Singletary was targeted 7 times on Sunday. He also made the most of them as he caught 6 and went for 37 yards. With the Bills seemingly down the entire game, Allen through often and Singletary was a beneficiary of that.
Tight End Targets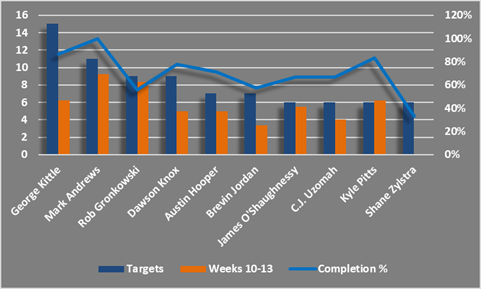 George Kittle is on an extremely impressive run right now. While he didn't top his week 13 output, he came pretty darn close. After going for 181 yards in week 13, he went for 151 yards yesterday. His 15 targets yesterday were the most he's seen all year and his 13 catches were also the most. Kittle found the end zone once and now has touchdowns in 5 of his last 6 games. This combo of Garoppolo and Kittle has been a ton of fun to watch.
No Lamar Jackson, no problem for Mark Andrews. He continues to be the main target for whoever is behind center for the Ravens. Andrews' 11 targets this weekend were the most he's seen since week 5 against the Colts. His late touchdown almost helped the Ravens come back from what seemed like an insurmountable deficit. The Ravens look to get back on track with a tough assignment next week against the Packers.
Quarterback Target Share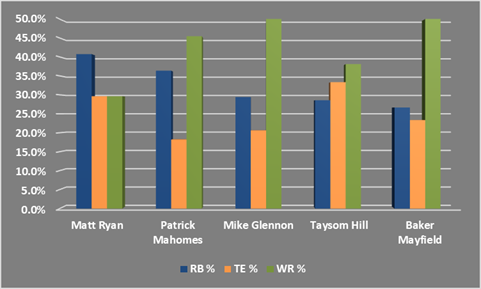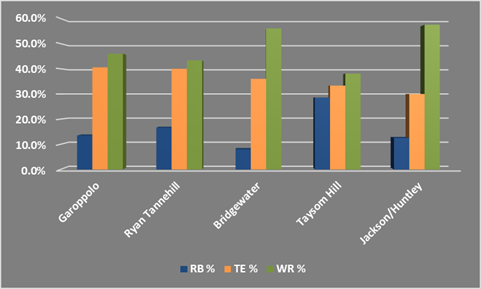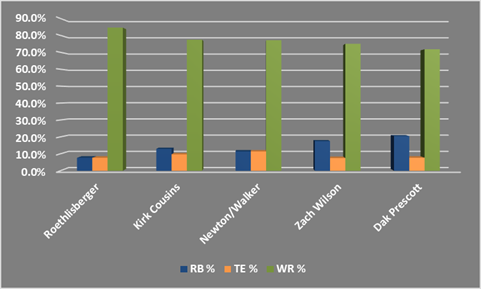 Matt Ryan only threw the ball 27 times this weekend, but the majority of those went to non-receivers. Of his 27 passes, 19 went to either running backs or tight ends. He targeted 3 people 6 times each, 2 of which were Patterson and Pitts. The loss of Ridley has really hit the team hard in terms of where to pass. Week in and week out Ryan has been forced to use his running backs and tight ends in the pass game.
Jimmy Garoppolo has a favorite weapon and it's not even close. Garoppolo threw the ball 37 times on Sunday, with 15 going to Kittle. He was by far the most targeted person in the passing game. The next closest person was Brandon Aiyuk at 11. If it isn't broken, no need to fix it. Look for that type of game plan to continue in the weeks to come.
When you have a main receiving corps of Chase Claypool and Diontae Johnson, is the really a reason to throw to anyone else? Of Big Ben's 39 passes on Thursday night, 19 went to the duo of Claypool and Johnson. Only 6 of his passes went to non-receivers. While the Steelers didn't win on Thursday, it wasn't due to a lack of offense. This is a game plan that works well for Roethlisberger and it's something we'll see often as the season winds down.
Running Back Touches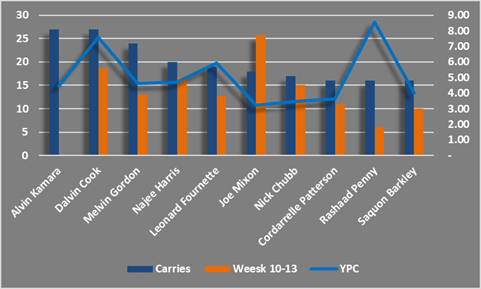 For the first time in weeks we got to see a healthy Alvin Kamara.  Boy was it fun to watch.  Kamara carried the ball 27 times in week 14 and was extremely successful.  For the first time since week 4 against the Giants, Kamara broke the 100 yard mark.  His 27 carries were also the most he's had all year.  The stars aligned for Kamara this week as he got to face the Jets and his back up running back was out due to covid.  Next week he gets a much tougher assignment in the Buccaneers.  
After sitting out week 13 with a shoulder injury, Dalvin Cook came back with vengeance in week 14.  Playing in a prime time game against the Steelers, Cook showed off a skillset only a few have.  He carried the Vikings offense with 205 yards on the ground with 2 touchdowns.  Cook had season highs in every aspect of his game.  Most carries, most yards, and most touchdowns.  He should wear that shoulder harness more often.
Playbook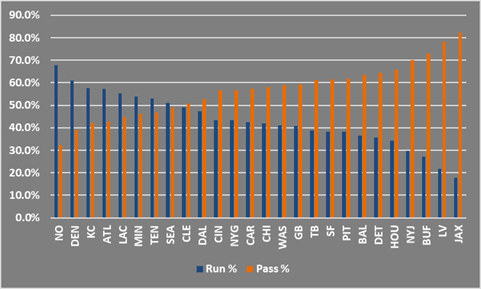 The 'Playbook' as I like to call it shows a breakdown of the play splits that teams used this past weekend.
With the Eagles on a bye in week 14 we'll need to find another team to talk about.  With Taysom Hill behind center and having an injured finger on his throwing hand, the Saints went with a run heavy offense.  They ran the ball almost 70% of the time this weekend.  While the Jets have many weaknesses, the run defense is one of the biggest.  The Saints finished with 44 run plays and over 200 yards rushing with 3 touchdowns. 
The Jaguars are a mess. There's no other way to put it. They were down seemingly from the start of the game. With Meyer refusing to use his star running back, Trevor Lawrence was forced to throw the ball more than 80% of the time on Sunday. He threw the ball 40 times. You would think that many passes you'd have a respectable final line. Nope, Lawrence finished with only 221 yards and 4 INT's. Urban Meyer, if you're reading this: Give. The. Ball. To. James. Robinson
Inside Look Wrap Up
Week 14 was another fun weekend of football.  We saw some solid performances from people we've come to expect, Alvin Kamara, Dalvin Cook, and George Kittle.  And some we normally wouldn't expect it from, Rashaad Penny, Rashod Bateman, and Brandon Cooks.  Make sure to use our
Don't forget to check out our projection models and cheat sheets which will be updated throughout the week.
Make sure you follow me on Twitter at @rangerzfan79 and be sure to sign up for an ALL ACCESS GOLD ACCOUNT here at Win Daily Sports. Gain access to our Projection Models and jump into our Discord where we will have our experts talking plays across every sport and slate!
New to the DFS writing world but have been playing DFS since BVP was cool. Started play season long fantasy when sporting news was used to calculate weekly scores. Originally from Brooklyn, NY but now a Baltmore resident.