NFL DFS: The Inside Look – Week 1 – Win Daily Sports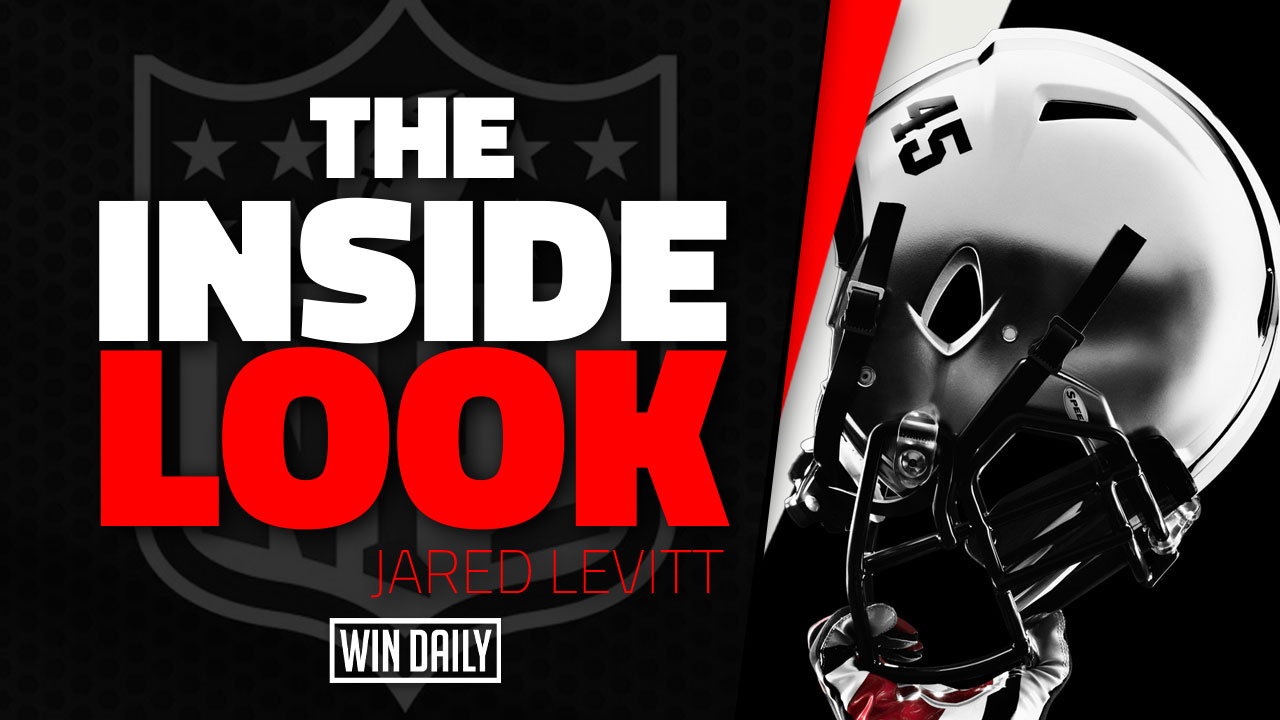 Welcome to the Week 1 edition of The Inside Look for the 2022 NFL season. This will be a data driven article and will go under the hood to see if the box scores tell the whole story about what transpired during the weekend. My goal here will be to either calm your nerves about a player that may have underperformed or cause you to rethink some of the spots you may have taken.
With the completion of the Monday Night game between the Broncos and Seahawks, Week 1 is finally over. And what a week it was!
Let's dig into the data!
Wide Receiver Targets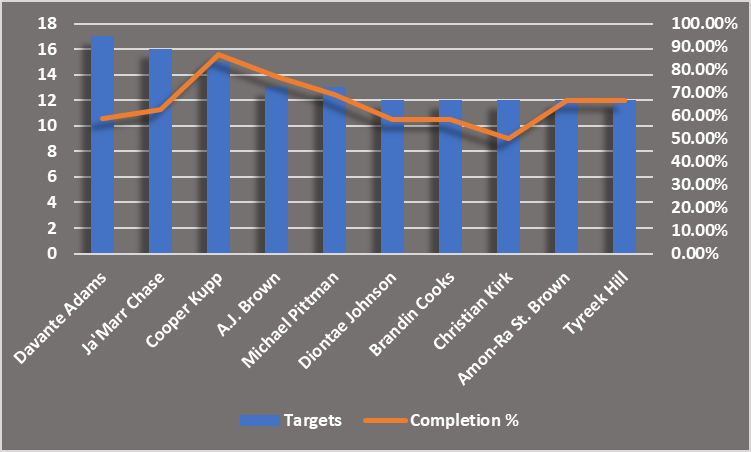 Before we dig into individual player performances I wanted to take a moment to talk about why we focus so heavily on Targets. Targets equal opportunities and in fantasy opportunity more often than creates production. The more targets that a player gets the better chance there is that the player will return on value.
Of the top 10 receivers in terms of targets this past week, 4 were new weapons in new cities. Davante Adams led the way this week with 17 targets. Adams and Derek Carr clicked instantly as he went for 141 yards on 10 receptions and even found the endzone. Adams's 17 targets were nearly half of the passes thrown by Carr. It's clear right from the start that the Raiders' offense will go through Adams. Adams will have the benefit of facing off against a Cardinals team in Week 2 that saw their defense give up 360 passing yards, more than any team in the league.
A.J. Brown was another new face in a new city as the former Titans receiver made his Eagles debut. Brown's 13 targets were the most of any Eagles player. His final stat line in Week 1 was 10 receptions for 155 yards. Although he didn't find the end zone in Week 1, the Eagles were able to win in a shootout vs. the Lions. Up next will be a date with the Minnesota Vikings. The Vikings were middle of the pack this week against the pass, giving up 260 passing yards.
A mainstay of this article from last year, Cooper Kupp went out and did Cooper Kupp-type things on Thursday night. While the rest of the Super Bowl Champion Los Angeles Rams struggled mightily in Week 1, Kupp was the bright spot of the night. He was targeted 15 times and caught 13 of them for 128 yards and a TD. Stafford and the Rams will look to get back on track next week vs. a Falcons team that gave up 2 passing TD this weekend.
Running Back Targets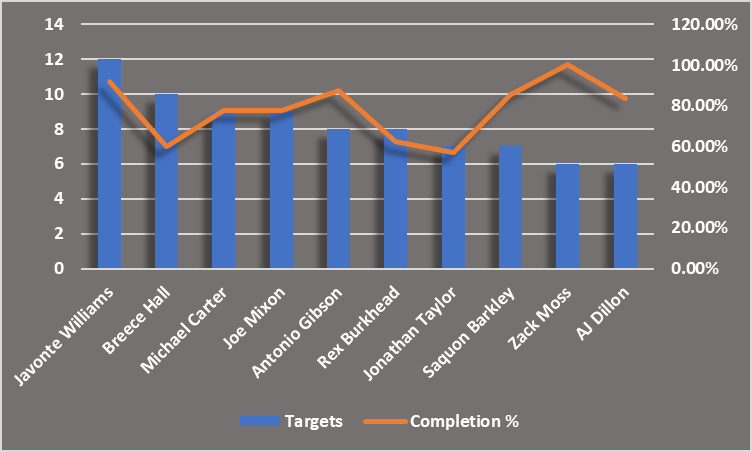 With the Broncos down seemingly the entire game, Russel Wilson went with a pass-heavy offense and that included Javonte Williams. Williams led all backs in Week 1 with 12 targets. Of those 12 targets, he was able to reel in 11 of them for 65 yards.
When it comes to pass-catching running backs, Joe Mixon is normally at the top of the list. Mixon ended Sunday with 9 targets and was able to reel in 7 of them for 63 receiving yards. Some of the extra targets that Mixon received this weekend were partly due to Tee Higgins missing most of the game with a concussion. It will be interesting to see in Week 2 if he has that big of a target share should Higgins return. Up next, the Bengals will face off against the Cowboys in Week 2.
Tight End Targets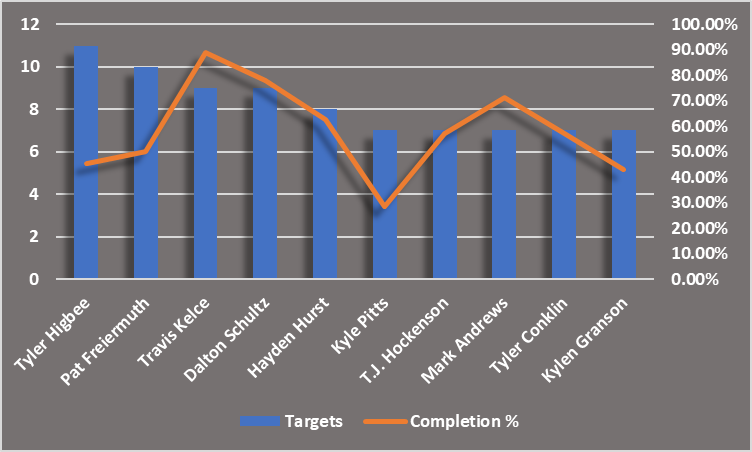 With the Rams down most of the game, Stafford was forced the throw the ball quite often. Only a handful of QB's threw the ball more than Stafford this weekend. Kupp was near the top of the list in targets for receivers, but Tyler Higbee was all the way at the top of the list for tight ends and targets. Although Higbee led all tight ends in targets, he was only able to catch 5 of them for 39 yards. Higbee owners are hopeful that the targets will continue in Week 2, but more hopeful that he'll catch a few more than he did in Week 1.
After a solid rookie season, Pat Freiermuth picked up right where he left off. His 10 targets trailed only Higbee. He was able to catch 5 of the 10 targets and finish with 75 yards. Next up for Freiermuth and the Steelers will be a matchup with the Patriots.
Quarterback Target Share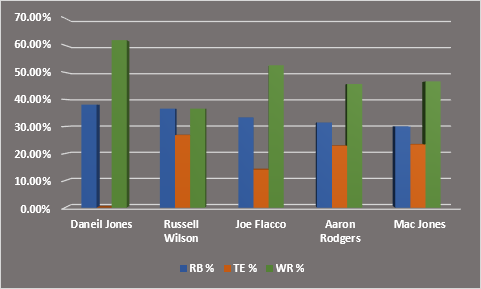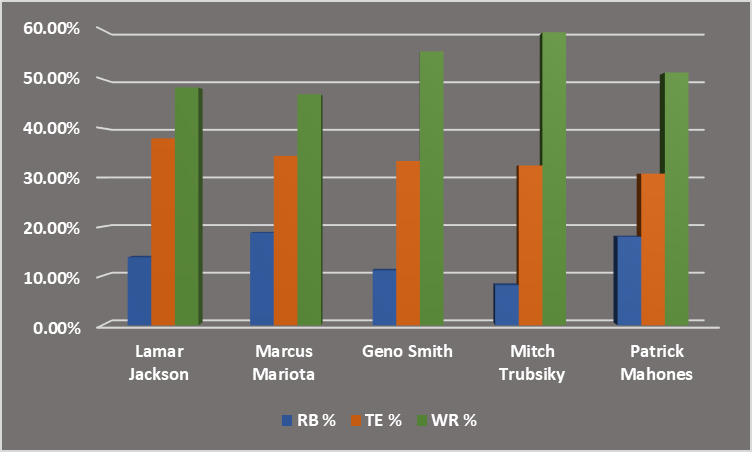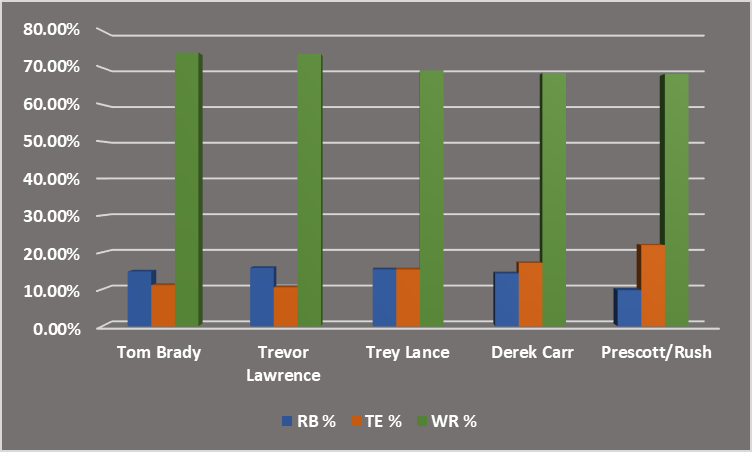 It was the Saquon Barkley show on Sunday, on the ground and in the air. Daniel Jones only threw the ball 21 times on Sunday, but nearly a third of those targets went to Barkley. Finally healthy, Barkley is back to being the focal point of this Giants offense. His 7 targets led the team and Jones targeted his running backs a total 8 times.
Of the 38 passes Trevor Lawrence threw on Sunday, more than 70% went to his wide receivers. He clicked instantly with his shiny new weapon as Christian Kirk accounted for 12 of his targets. Zay Jones wasn't too far behind that number with 9 himself. In what will be a pass-heavy offense this season, we can feel comfortable using his receivers because we know they will get plenty of looks.
Running Back Touches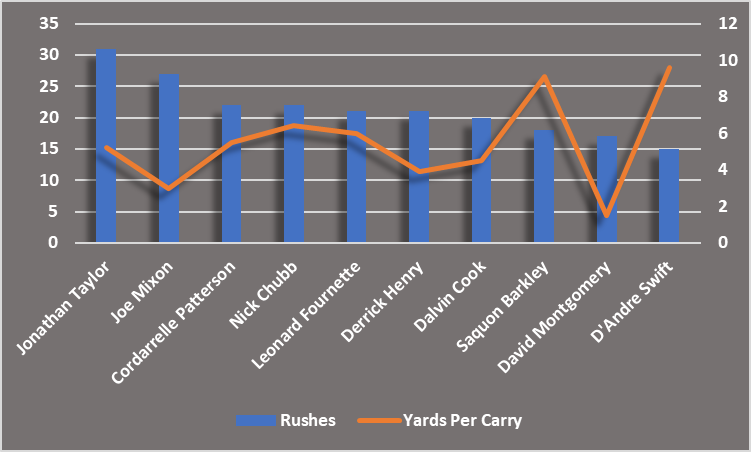 Jonathan Taylor picked up right where he left off. Taylor rushed 31 times on Sunday for 161 yards and 1 TD. If you were lucky enough to snag him in season-long drafts or were able to keep him from last year, consider yourself extremely lucky. If he isn't already, he's on his way to becoming the top back in the league. In Week 2 the Colts will face off against a Commanders team that gave up only 66 yards on the ground in Week 1.
Joe Mixon had not only a ton of targets on Sunday but also a ton of touches. He trailed only Taylor on Sunday. It was all good news though as he had one of the lowest yards per carry of any of the top backs. On 27 carries, he finished with just 82 yards.
Is this the Saquon Barkley the Giants were hoping for when they drafted him? Barkley had one of the best games in his career Sunday. On 18 carries, he finished with 164 yards on the ground and found the endzone. Finally healthy, Barkley will look to surpass the 1,000-yard rushing mark for the first time since 2019. He's well on his way after a great Week 1.
Playbook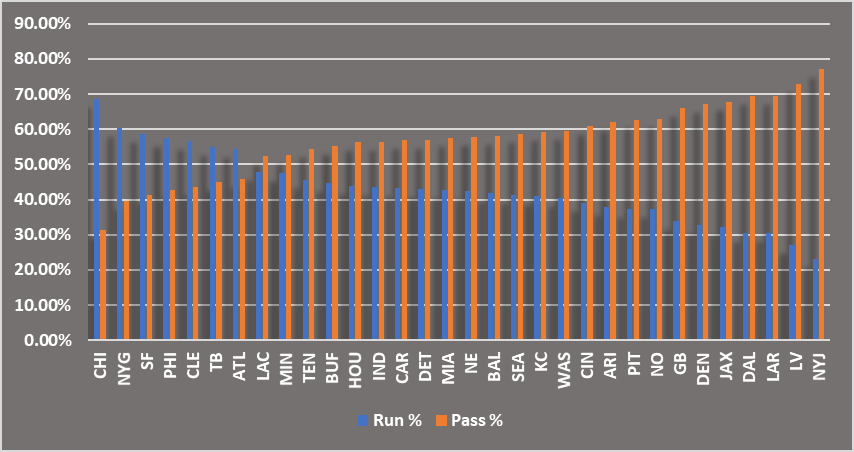 The 'Playbook' as I like to call it shows a breakdown of the play splits that teams used this past weekend.
With the weather being just absolutely awful, the Bears ran the ball nearly 70% of the time on Sunday. As the weather gets better for them, I'm sure we'll see Justin Fields throwing the ball just a bit more than he did on Sunday.
Facing off against a tough run defense in the Ravens and also being down the majority of the game, Joe Flacco and the Jets went with a pass-heavy offense. They threw the ball nearly 80% of the time. Flacco threw the ball 59 times on Sunday, finishing with 307 yards.
Another team that had a pass-heavy offense was the Las Vegas Raiders. They threw the ball just a bit more than 70% of the time on Sunday. This is a trend that will more than likely continue as Carr will continue to throw heavily at Adams.
Not already a member? Join today for a low price of $5.99 weekly.
Make sure you follow me on Twitter at @rangerzfan79 and be sure to sign up for an ALL ACCESS GOLD ACCOUNT here at Win Daily Sports. Gain access to our Projection Models and jump into our Discord where we will have our experts talking plays across every sport and slate!
New to the DFS writing world but have been playing DFS since BVP was cool. Started play season long fantasy when sporting news was used to calculate weekly scores. Originally from Brooklyn, NY but now a Baltmore resident.