NFL DFS RUNNING BACKS REPORT – WEEK 3 DraftKings & FanDuel Lineups
Published
2 months ago
on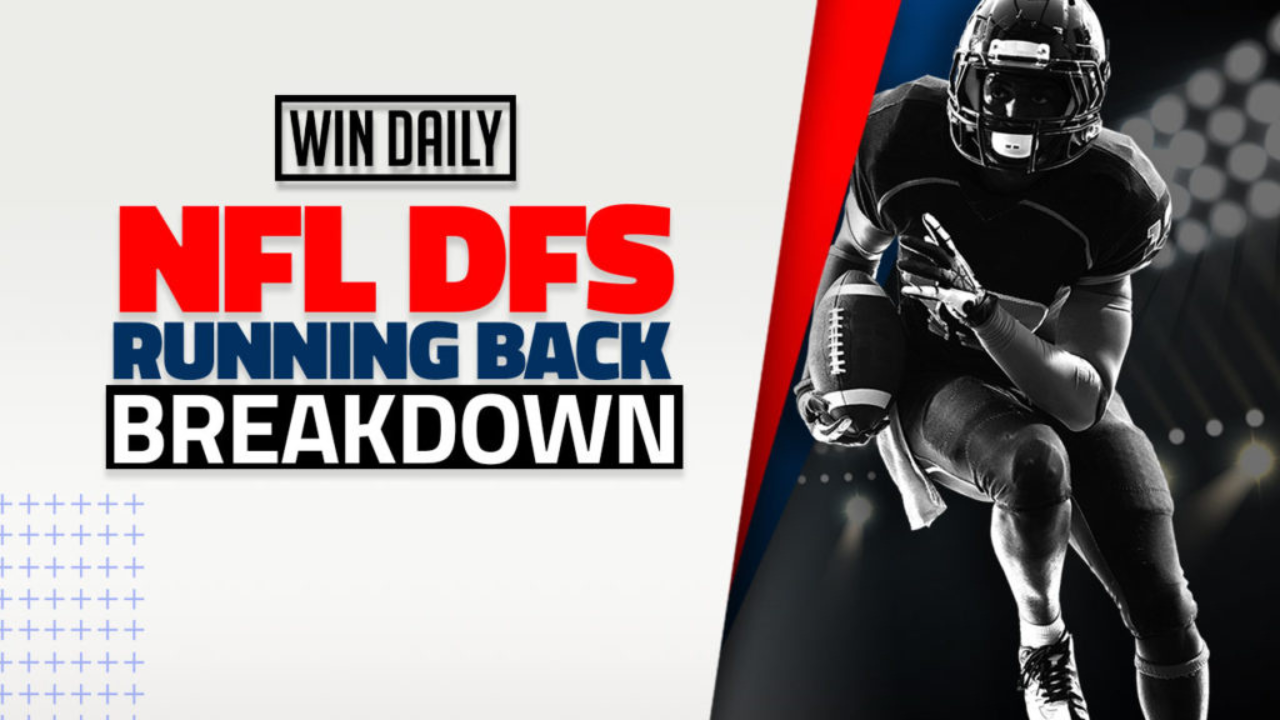 Week 2 brought us moderate success at the Running Back Report. CMac ended up scoring the 2nd highest points at the RB position but it was only 19.8 DK points which produced 2.2x value. And we hit on the top RB in Tier 2 as D'Andre Swift recorded 16.70 DK points which was good for 4th most on the card. The running backs were all cold last week except Nick Chubb but I expect that to change this weekend as we have some intriguing matchups to dissect.
Please be sure to check out Stix's projections each week when evaluating NFL DFS using the NFL Projection Model. It's the best predictive tool on the market and will give you a competitive advantage against the competition! Also don't forget to check out our NFL DraftCast we did earlier this week here at WinDaily, which breaks down our favorite plays on the entire slate.
CLICK HERE TO SIGN UP FOR DRAFTKINGS SPORTSBOOK
As for my strategy this week, I like the top RB's as 4 of the 6 highest salaried backs have matchups against the bottom 3rd of the league in rushing fantasy points allowed. I also think there is value popping in Tier 3 that could give us an advantage for being able to spend up for a higher priced WR.
TIER 1 DFS RUNNING BACKS
JONATHAN TAYLOR $9000 DraftKings $10,000 FanDuel
Ok so Jonathan Taylor finally imploded and sent many fantasy owners into an early downward spiral. But truth be told, it all starts with Frank Reich and his game plan. In the first half, 15 of the Colts first 21 plays were passes. And after seeing their 5 drives end in an interception and four punts, they headed into the tunnel down 17-0. In total, Taylor saw just 9 carries and 1 catch. On his 10 touches he did get 63 yards which was good for 6.3 per play. But I guess Reich thinks Matt Ryan, with no Michael Pittman, was a better option against the Jags than his All-Pro Running Back.
So take that information and tuck it away. Because I think there will be a drastic shift in the game plan this week when the Colts host the Chiefs. Indianapolis is in a big spot in Week 3 as they have 0 wins after facing the two worst teams in their division. Expect JT to get a heavy dose on the ground and more importantly through the air. In 2 weeks, the Chiefs have allowed 20 receptions to RB's including 9 to Austin Ekeler last week. I think Taylor has a very juicy matchup and will be one of the top scoring RB's this week.
DEREK HENRY $8100 DraftKings $9000 FanDuel
It's time for the Titans to get back to their roots and run the ball. In the first 3 quarters of this NFL season, Derrick Henry had 19 carries for 80 yards. In the ensuring 5 quarters of Titans football, he had 15 carries for 27 yards. That has to change if the Titans want to turn around their season. And that should start on Sunday as they get the Raiders who are 16th in run DVOA this season. So far this year, the Raiders have allowed 110 rush yards/game. Last week alone they allowed 143 yards to the Cardinals in a disappointing defeat. So I think there is value in the Titans RB this week and I think we could see a classic "King Henry" game this week against Las Vegas.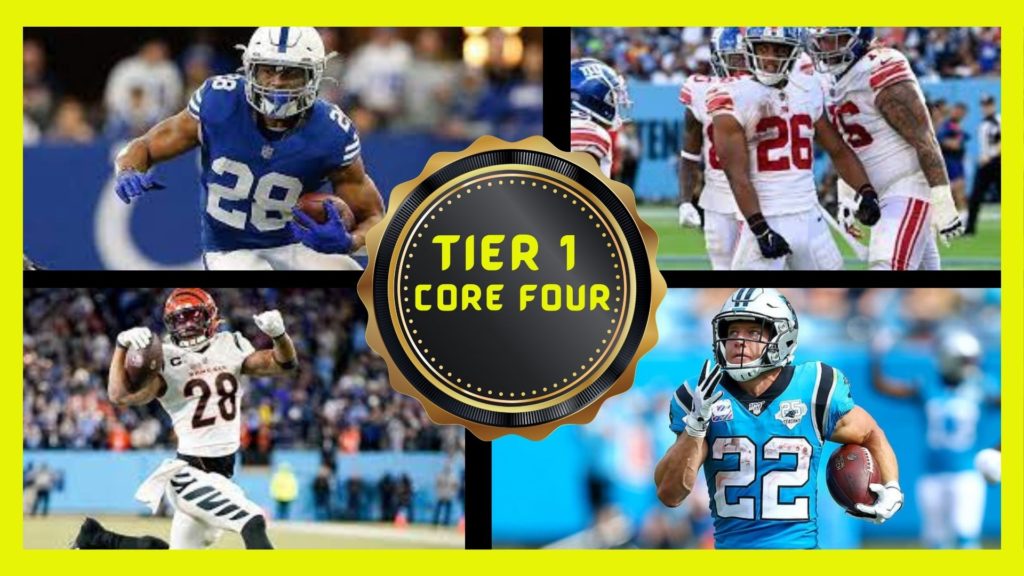 AUSTIN EKELER $8000 DraftKings $8800 FanDuel
The Chargers star RB has had a slow start on the ground as he's averaging less than 3 yards per carry. But he has 13 receptions in his two games which has got him to a solid game average of 14.8 DK points. So we've seen decent return from Ekeler even though he has just 75 yards rushing and 0 TD's. However, he's back home this week and faces an opponent that I think he can exploit. Forget last week's performance by the Jags D, which most DFS players will focus on. Remember Week 1 when the Jags allowed 20 DK points to Antonio Gibson which included 7 receptions. I do and think Ekeler can give a similar performance especially once Herbert opens up the field like Wentz did in Week 1 against the Jags.
JOE MIXON $7600 DraftKings $8300 FanDuel
Mixon is back in the Tier 1 list and for good reason. The Jets are allowing 123.5 rushing yards per game and allowed Nick Chubb to put up the highest RB performance in Week 2. Mixon is still without a TD, but he has 56 touches in 2 games and is averaging 16.4 DK points per game. Attack this matchup with confidence as the Jets have a soft defensive front and the Bengals need to establish a ground game to keep Burrow upright for once this season.
TIER 2 DFS RUNNING BACKS
D'ANDRE SWIFT $7200 DraftKings $8200 FanDuel
Swift is at the top of our Tier 2 list of RB's based on his early season usage and opponent. First, D'Andre Swift has scored the second most points for RB's this season trailing only Nick Chubb. And that's with limited action last week due to an ankle sprain. As for his opponent, the Minnesota Vikings, they are allowing 137 yards rushing per game and are 18th in points allowed against RB's. And this game projects as the second highest scoring game on Sunday with a total set at 54 points. So keep an eye on his injury status but if healthy this is a great spot for Swift.
ANTONIO GIBSON $6400 DraftKings $7300 FanDuel
Antonio Gibson is averaging just 3.0 yards per carry so far this season. But he is receiving 59% of the snaps and has touched the ball 37 times in 2 games. He faces the Eagles this week who are allowing the 28th most points to RB's on the season. The Eagles stifled Dalvin Cook last week but that was because he saw the ball just 6 times. Last year Gibson played 2 games against the Eagles and averaged13.8 DK points. I think we're in line for a similar output and if he adds a TD to that then we'll have a steal at this price.
JAMES ROBINSON $6100 DraftKings $7400 FanDuel
It's clear that James Robinson is the #1 ball carrier for the Jaguars. He ran the ball 23 times last week against the Colts and scored 15.8 points. He is getting all the carries near the goal line and has 3 total TD's this year. The Chargers have not given up a lot of yards on the ground (78.5 per game) but they have allowed the 17th most points to RB's. This game could be high scoring which would put Robinson in line for a lot of touches. The only downside to his play this week is whether the Chargers start the game with margin and force TLaw into a big passing game.
TIER 3 DFS RUNNING BACKS (VALUE TIER)
DAVID MONTGOMERY $5900 DraftKings $6500 FanDuel
The Bears RB is one my favorite plays this weekend as he gets to lineup against the Houston Texans. The Texans were 31st against the run in 2021 and they've started 2022 on a similar note. Houston is allowing 163 yards rushing per game and the 30th most points to RB's. Montgomery has 37 touches in this first 2 games and I see that number going above 20 this week. With that being said, I project Montgomery for a top 10 RB production this week.
MILES SANDERS $5500 DraftKings $5900 FanDuel
There were a lot of question marks around Miles Sanders coming into the season. He was banged up and the Eagles had stocked the backfield with Gainwell, Scott and Sermon. But we can put to rest a backfield by committee approach for the Eagles because they are clearly feeding Miles Sanders. Sanders has 30 of the 45 rush attempts (66%) by Eagles RB's. And he's averaging 5.9 yards/carry. This week he gets to face the Commanders who are allowing 157 yards rushing per game (28th in the NFL). Last year, he faced the Commanders once and had 131 yards on 18 carries. This is a great spot and a great price for the Eagles lead RB.
BONUS PICKS
I do like DAMEON PIERCE ($5000 DraftKings $6200 FanDuel) against the Bears. Pierce received all the carries last week for Houston and seems to be in position to be the lead RB for the Texans. The Bears allowed 203 yards rushing to the Packers last week including 132 to Aaron Jones.
RB PROP BETS
We will post our RB props on Saturday when the market has finalized some of the player lines. We are 2-2 in this spot so far this season.
Now that you finished reading the NFL RUNNING BACK REPORT article make sure to check out our YouTube Channel for constant content for every game and slate in the NFL this season and hop in our Discord Expert Chat.
Also, be sure to follow me on Twitter (@dgloeck) and my other content that is part of the WinDailySports family.