NFL DFS RUNNING BACKS REPORT – WEEK 1 DraftKings & FanDuel Lineups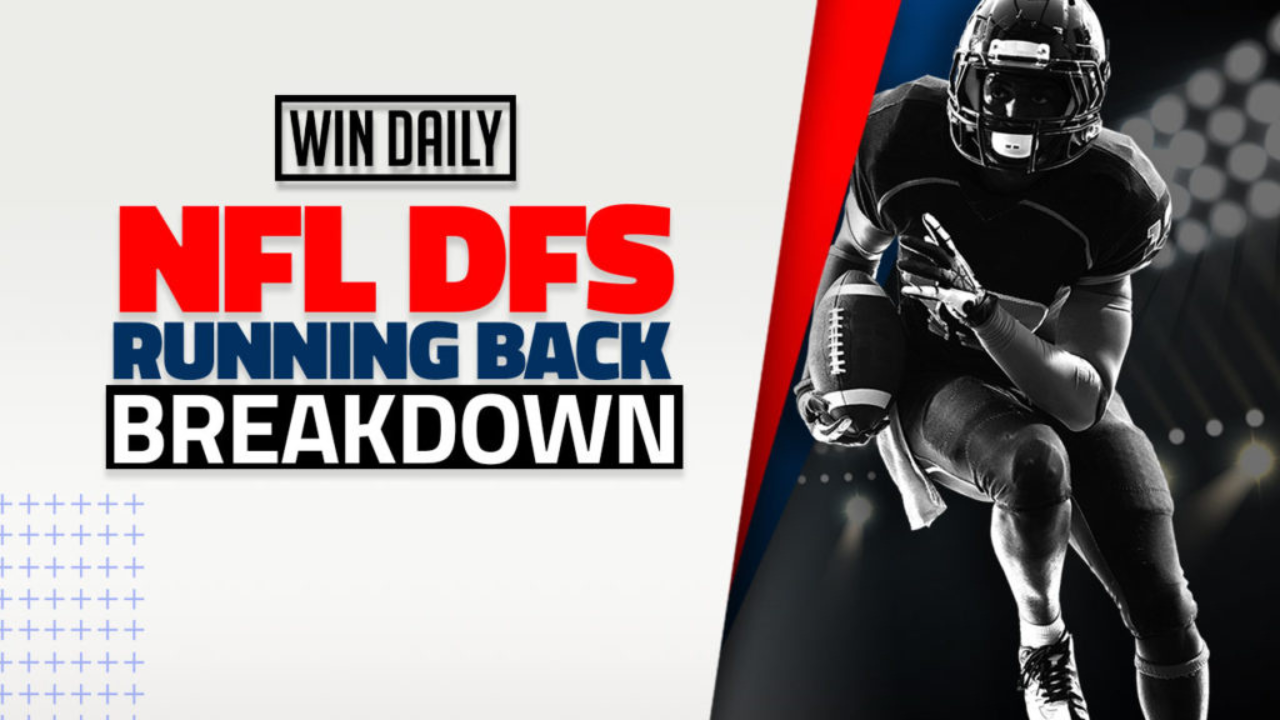 NFL is King! That's all we keep saying here at Win Daily as we know the value of bringing you, and us, the winning edge in NFL. It's because of that we are committed to putting out new content daily. And with that being said, welcome to the Thursday edition of your upcoming NFL DFS weekend; The NFL DFS Running Backs Report where we breakdown the DFS Running Backs position. I will look at all RB's and bring you my favorite plays from the top of the card to the bottom. I'll even give you an RB prop or two to consider for your betting interests.
Please be sure to check out Stix's projections each week when evaluating DFS Running Backs using the NFL Projection Model. It's the best predictive tool on the market and will give you a competitive advantage against the competition! Also don't forget to check out our NFL DraftCast we did earlier this week breaking down the entire slate.
The card is deep this week as we have 13 games on Sunday to choose from. As for my strategy this week, I see value across the board so I will look to balance a top of the line RB with someone in Tier 2 or 3.
TIER 1 DFS RUNNING BACKS
JONATHAN TAYLOR $9100 DraftKings $10200 FanDuel
I will be hard pressed to argue with anyone who rosters Taylor this week. In fact, he has the highest projected point total outside of QB's in our model. Houston was 23rd in the league in DVOA last season. Overall, the Texans allowed the 2nd most rushing yards (2418) and rushing touchdowns (25) in the NFL in 2021. And Taylor tore them up in 2021 as he averaged 30.1 DK points in his 2 games against them. In those contests, he ran for 288 yards and 4 touchdowns.
So what did Houston do to address this issue in the offseason? Well, it actually started at the end of last season as they sacrificed a safety to play in the box, putting 8 or more defenders up close, at the 3rd highest rate in the league after their BYE week last year. It did improve their run defense but also hurt their pass defense. And in 2022 they gave Lovie Smith the reigns as Head Coach promoting him from DC. We expect to see a similar concept, but Lovie's preference will be to revert back to his Cover 2 scheme. And he may actually be able to do that as the Texans brought in Jerry Hughes, Mario Addison and Steven Nelson to boost the D.
Overall, I still see Taylor as a play here in week 1. While he only managed one catch against the Texans last year, I believe he may get more opportunities in space if the Texans do go back to true Cover 2.
DERRICK HENRY $8600 DraftKings $9700 FanDuel
The King is entering the 2022 season healthy and that is good news for DFS and fantasy owners. Henry missed the last 9 regular season games in 2021 and when he returned, he looked ineffective in the Titans playoff loss to the Bengals. But let's not forget how good Derrick Henry was until he was sidelined with injury. In the 8 regular season games he played, he averaged 25.7 DK points and 117.1 yds/game on the ground.
He is automatically in play almost every week. And when we look at his opponent this week, the New York Giants, he rises to the top of the list. The Giants allowed the 8th most rushing yards in the league last year by giving up 129 yds/game. Looking at predictive measures, the Giants are 30th in defensive DVOA entering 2022. The Giants did hire "Wink" Martindale as DC, the ex-Ravens coordinator of years past. And his motto will be to stack the box and put pressure on the QB. That can come at the risk of the running game, as all Henry has to do is break one level and he could be gone. This is a prime matchup for one of the best RB's in the league.
CHRISTIAN MCCAFFREY $8500 DraftKings $9500 FanDuel
I like McCaffrey the least of the big name RB's. Cleveland brings a solid defensive front with Garret, Clowney and JOK. But it finished just 23rd in rushing defense DVOA. They lack a true nose tackle and rely on creating pressure from the edges. And while that could play into McCaffrey's hands, my concern is that Cleveland will stack the box and try to make Baker Mayfield beat them with his arm. Last year, Carolina averaged just 3 yard per rush with 8 in the box and was a -39.3% DVOA. I also think it's possible we'll see McCaffrey's workload reduced with Foreman and Hubbard getting sporadic action. While I can still see value in McCaffrey, I just like Henry and Taylor more.
AUSTIN EKELER $8200 DraftKings $9400 FanDuel
Ekeler has a quality matchup in Week 1 as he gets to face the Raiders who were 29th in the league against RB's in DFS last year. And all the noise the Raiders had in the offseason has been on offense. They come into this season as the 17th ranked defense in projected defensive DVOA. Ekeler put up two massive games against the Raiders, averaging 30.7 DK points in those outings. He scored 4 touchdowns in those games including 2 in the air. This game has the 2nd highest total on the board in Vegas which adds to the value of the Chargers RB.
TIER 2 DFS RUNNING BACKS
JOE MIXON $7100 DraftKings $8300 FanDuel
Joe Mixon is going up against the Steelers in Week 1 and that is a good thing for the Bengals RB. The Steelers finished 2021 as 27th in rush defense DVOA. And Mixon was a big reason for that as he posted his best game of the season last year in Week 12 when he rushed for 165 yards and scored 35.3 DK points.
AARON JONES $6700 DraftKings $7400 FanDuel
Aaron Jones faced Minnesota just once last year and he was sidelined in one game due to injury. In his one game against the Vikings, Jones scored 15.6 DK points on just 13 touches. Jones recorded 5 catches in that game which is one of the big benefits he brings to DFS and fantasy. On the other side, Minnesota gave up 130.7 yards/game on the ground in 2021 which was 26th in the league. I like Jones to get 20 touches, including 5+ targets, which gives him very high value in Week 1 against a defense that was ranked in the bottom 3rd in the league last year.
SAQUAN BARKLEY $6100 DraftKings $6800 FanDuel
It's another year where we have Saquan Barkley hope and promise. And if it's like the past few, it will die fast with some type of injury. However, I am a believer in Barkley and think he is being undervalued in both fantasy drafts and DFS. Giants new HC, Brian Dabol, will employ an offense that is no longer run on first down (they were 2nd in the league at running on 1st down with a 42% clip). Instead, I think we'll see more throwing on traditional running downs mixed with more play action and bootlegs. This should move LB's out of the box and open the field for Barkley.
As for the Titans, they did allow the 2nd least yards on the ground and 2nd least DFS points to RB's. But that's because their schedule as well as teams often just passed against them. I see value here as Tennessee was 14th in rush DVOA in 2021. It's a new year and I'm buying the Barkley hope…at least for the first few weeks until he does something to hurt himself (again).
TIER 3 DFS RUNNING BACKS (VALUE TIER)
ANTONIO GIBSON $5800 DraftKings $6800 FanDuel
Gibson looks to be in the driver's seat to get the majority of the carriers in Week 1 against Jacksonville. The injury to rookie Brian Robinson means just JD McKissic will challenge for carries and his role is mostly that of a 3rd down receiving back. Jacksonville was 21st against RB's last year as it pertains to DFS points. And the Jags are not expected to improve in 2022 as they are projected 22nd defensively.
ELIJAH MITCHELL $5400 DraftKings $6700 FanDuel
We truly never know how San Francisco will attack the run game as they are multi-dimensional especially with adding Trey Lance to the rushing equation. But they have cleared the picture in the backfield and look truly committed to Eli Mitchell being their lead back. He ran for 1132 yards in his rookie season and registered 7 TD's (including playoffs). He averaged 15.4 DK points in 2021 and we should see that number go up in 2022. The Bears allowed the 9th highest rushing yards in the league last year, giving up 125 yds/game on the ground.
BONUS PICKS
I do like MIKE DAVIS ($4400 DraftKings $5600 FanDuel) against the Jets and KENNETH GAINWELL ($4600 DraftKings $5300 FanDuel) against the Lions. Mike Davis looks in line to get most of the carries for Baltimore in week 1 as JK Dobbins is slowly progressing but questionable for the game on Sunday. If he does play, I don't see him getting a heavy workload. Plus, the Jets allowed the most fantasy points to RB's last year. Expect a heavy dose of Davis and Lamar Jackson.
As for Gainwell, he has good value even though Miles Sanders has been removed from the injury report. However, he didn't play in the preseason and there are reports it will be a split backfield in Philly. If that is the case, Gainwell could be the recipient of added touches. Detroit allowed the 3rd most points to RB's last season, including 18 DK points to Boston Scott in a limited role. So the Eagles have shown, and will show, they can run the ball against a weak Lions front.
RB PROP BETS
ELIJAH MITCHELL over 59.5 rushing yards (-110 DK) – The 49ers RB averaged 87.5 yards/game rushing in his 11 regular season games last year.
AARON JONES over 3.5 receptions (TBD) – This number hasn't been posted yet but keep an eye out once it does. In last year's playoff game, Jones reception line was 3.5 so that's where I predict it will land. I'm comfortable with as high as 4.5. Anything more and I'll pass.
Now that you finished reading the NFL RUNNING BACK REPORT article make sure to check out our YouTube Channel for constant content for every game and slate in the NFL this season and hop in our Discord Expert Chat.
Also, be sure to follow me on Twitter (@dgloeck) and my other content that is part of the WinDailySports family.