NFL DFS RUNNING BACK REPORT – WEEK 13 MAIN SLATE DraftKings & FanDuel Lineups
Published
2 months ago
on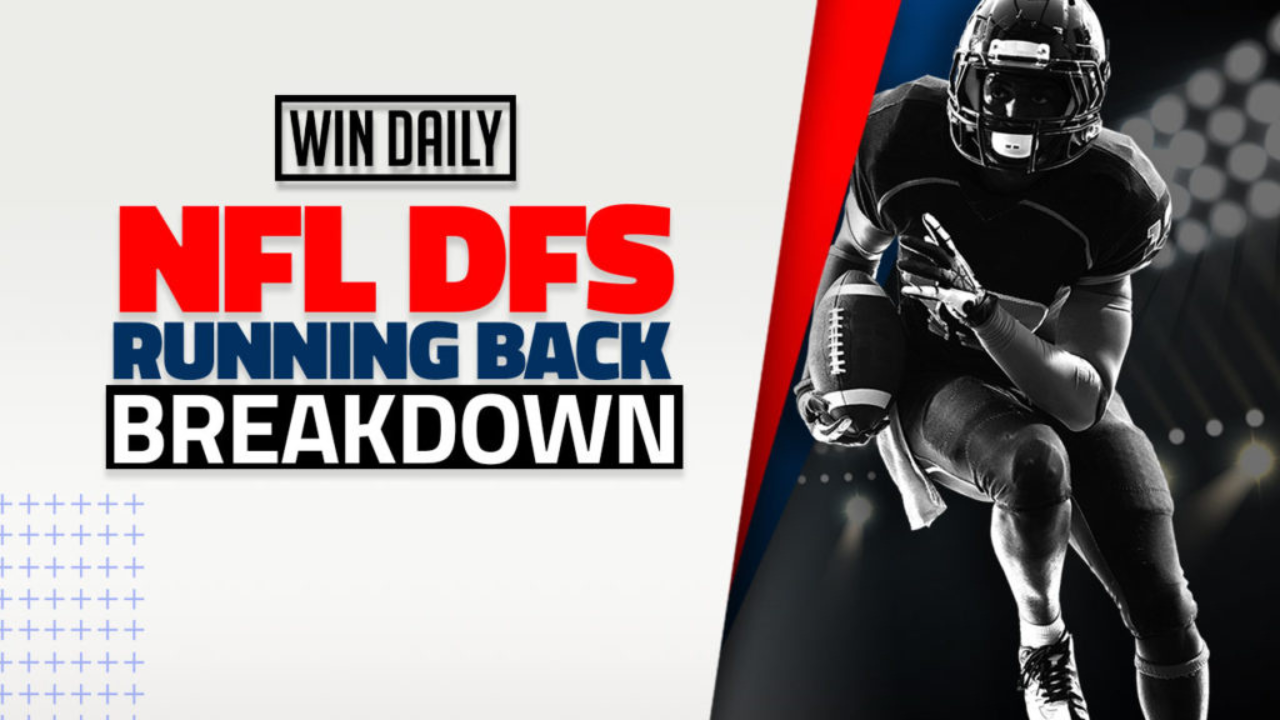 We had another banger in Week 13 as an RB that I've touted all year, Josh Jacobs, popped for 50 DK points. I was also on James Conner and Austin Ekeler who provided great returns in a solid game environment. But now it's onto Week 13 where we have a full slate and a lot of good options at the ball carrier position.
Please be sure to check out Stix's projections each week when evaluating NFL DFS using the NFL Projection Model. It's the best predictive tool on the market and will give you a competitive advantage against the competition! Also don't forget to check out the NFL Pre Lock Show on Sunday at 11am on YouTube.
As with the past weeks I highlight my favorite 10 RB's below and break them up into Tiers (Tier 1 = $7K above, Tier 2 = $6K to $7K, Tier 3 = below $6K).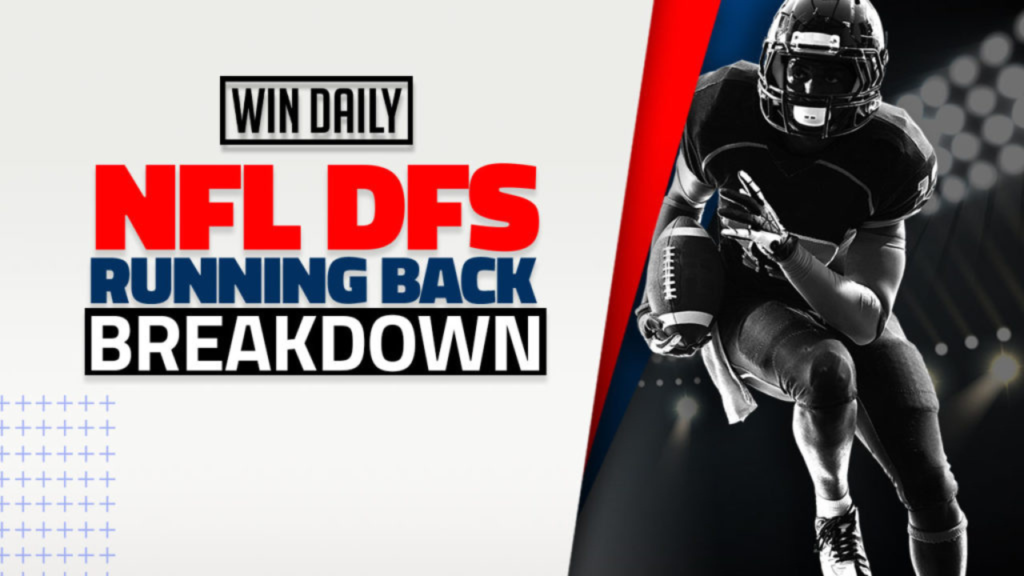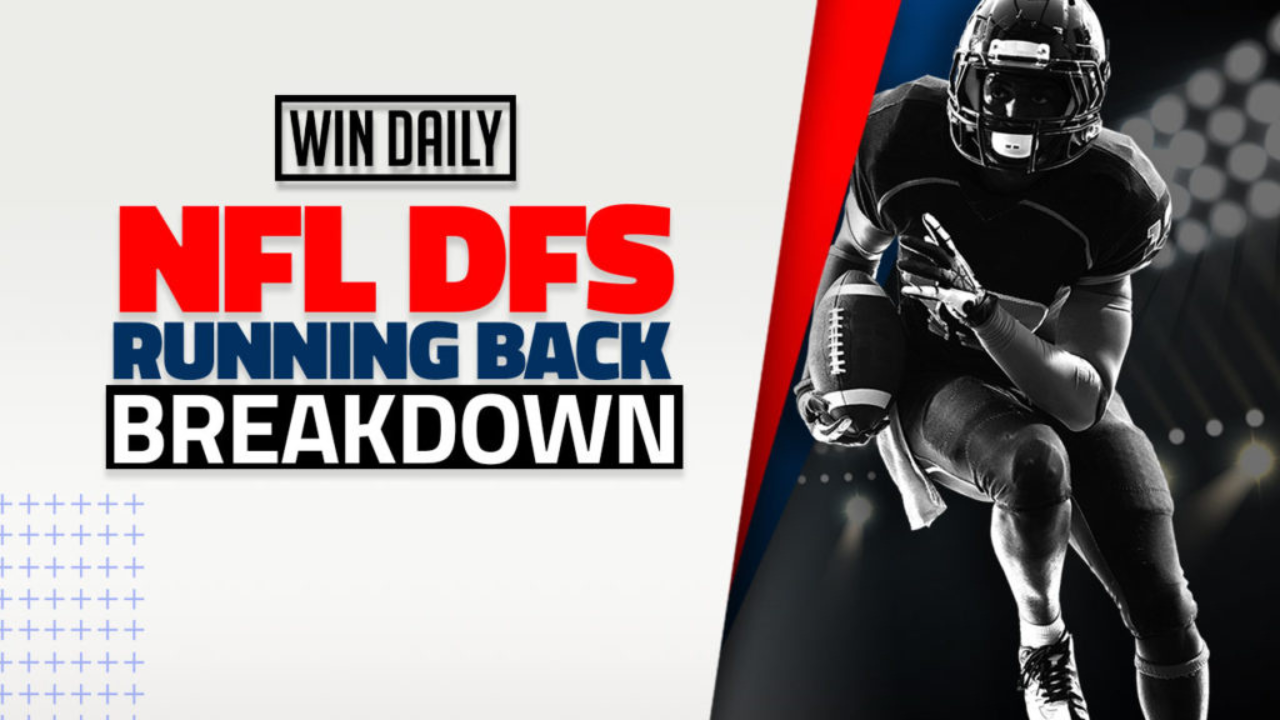 TIER 1 DFS RUNNING BACKS
AUSTIN EKELER $8500 DraftKings $8800 FanDuel
Ekeler is back on the top of my list for many reasons. First is his opponent, the Las Vegas Raiders. They all the 4th most fantasy points to RB's this season. The Raiders have allowed a rushing TD in 5 straight games and 8 of 11 this year. Second reason is that Ekeler averages the most points for RB's this year. He leads the league in targets for RB's with 98 (~9 per game). Even if the Chargers get off script and abandon the running game, he's a threat to pop based on his extensive use in their passing game. This shouldn't slow down against the Raiders and I expect another big game from #30 on Sunday.
DERRICK HENRY $8100 DraftKings $9500 FanDuel
I'm an Eagles fan. And you probably know that by now. And you likely know that the Eagles cannot stop the run. They allow the 10th most points to RB's and are 24th in run defense DVOA. Yes, Jordan Davis is returning this week. But that won't immediately solve the problem as they have issues on the back end of their defense now with CJ Gardner Johnson hurt. Derrick Henry let us down last week but he won't do that two games in a row. Henry has 1048 yards rushing already this year which is good for 2nd in the NFL. He has a great matchup with quality weather in Philly tomorrow. Henry looks like a smash play.
NICK CHUBB $8000 DraftKings $8700 FanDuel
Tier 1 is packed with great matchups this week and Nick Chubb is our next one to make the list. The Browns are rolling out Deshaun Watson at QB as he is eligible to play for the first time in 2 years. This should result in a conservative game plan to allow Watson to get his timing and rhythm back. Which should mean Chubb and more Chubb against the 32nd ranked rushing defense of the Houston Texans. Last week the Texans D held solid against Jeff Wilson but that was because the Dolphins threw 70% of the time. Kevin Stefanski won't let them off the hook that easy as I expect a 55/45 split this week. Play Chubb with confidence.
JOSH JACOBS $7900 DraftKings $8700 FanDuel
This is where the Josh Jacobs fan club originated and we're not gonna stop just because people are now all in on the Raiders RB. His 51.3 DK point output was the highest for a RB this year as he totaled 303 yards of offense against the Seahawks in Week 12. Now he gets to face the Chargers who are 29th in rushing defense DVOA. They also allowed the 3rd most points to RB's in 2022. Add in the fact that Jacobs has averaged 26 carries in the last 3 games and you see the Raiders commitment to the run. After all, they are 4-2 in games in which he's received 20+ carries and 0-5 when he hasn't. It would be kind of smart to run him 20+ times if you were a coach that likes winning.
DALVIN COOK $7200 DraftKings $8700 FanDuel
Here's one that is somewhat off the radar. The Jets are a good rushing defense that ranks 6th in DVOA and 12th in yards allowed. But they are better against the pass ranking 5th in DVOA and 8th in yards allowed through the air. I believe the Vikings will try to run the ball this week to keep the aggressive D line off QB Kirk Cousins. Dalvin Cook is known for breaking tackles (7th in NFL) and being able to win in a physical game (he ran for 119 against the Bills) which is exactly what this game should be. Vikings will play tough and it will be because of their success in the run game.
TIER 2 DFS RUNNING BACKS
TRAVIS ETIENNE $6400 DraftKings $8400 FanDuel
Etienne let down owners last week because he was forced out of the game in the 2nd quarter with an injury. And what was even more unfortunate is that his backup, JayMichael Hasty, scored 20.5 DK points in Etienne's absence. So the game script was there but the availability wasn't. However, Head Coach Doug Pederson said that Etienne is healthy and will suit up this week against the Lions. Which means it's time to seriously consider the Jags RB this week as Detroit ranks 30th in rush defense. And when Etienne is healthy, he's had snap counts of 78%, 80%, 79%, and 80% in the last 4 games. Give me 80% Etienne snap counts against Detroit and I can guarantee a game of 18+ fantasy points.
DAVID MONTGOMERY $6200 DraftKings $7000 FanDuel
Montgomery concerns many fantasy owners as he never seems to live up to his potential. And once again in 2022, he's been a disappointment with just 580 yards and a 3.9 ypc. But with the Khalil Herbert injury, he's the main back and will get the primary workload against an awful Packers run defense as shown with a 69% snap count last week. This Packers D allowed 363 rushing yards to the Eagles last Sunday Night. They are 31st in the league in rushing yards allowed at 155 per game. It's looking like QB Justin Fields will play this week which should open up holes for Montgomery in the RPO game. I'm not in love with the Bears RB, but I do think he's a safe play with potential to pop for 20+.
TIER 3 DFS RUNNING BACKS (VALUE TIER)
DAMEON PIERCE DraftKings $5900 FanDuel $7700
The NFL season is a long one. And Dameon Pierce is learning that the hard way as he's rushed for just 16 yards total in the past 2 games. However, he gets the benefit of facing the Browns this week who own the 31st rated run defense according to DVOA. Even the hapless Bucs rushed for 96 yards against the Browns defense. So while the struggles are real, I'm willing to take a chance on an RB under $6K who has talent and is facing the 2nd worst run defense in the league.
ISIAH PACHECO DraftKings $5600 FanDuel $6600
The Chiefs rookie RB is averaging 17.5 carries per game over the past 3 weeks. He's trending in the opposite direction of his fellow rookie RB Dameon Pierce. And that's because Pacheco took his time to learn the offense and was slowly phased in. And as of today, it's definitely Pacheco's job to lose as the primary RB as he's averaged 53% snap count over the past 3 games. This week is a tough matchup, but the Bengals will need to respect Travis Kelce and the Chiefs passing game which should open up holes for Pacheco. I'm confident he'll get 15+ touches and in this offense this should lead towards a solid amount of points. It's a good price and a good game environment for the Chiefs RB this week.
ZONOVAN KNIGHT DraftKings $4600 FanDuel $6400
If you watched the WinDaily Draft Cast this week, then you know my affinity for Zonovan Knight. He burst on the scene out of nowhere last week and led the Jets backfield in rushing and receiving. Knight scored 13.3 fantasy points by posting 103 total yards. It looks like Michael Carter will be out this week which opens the door for Knight. He faces the Vikings who are 20th in points allowed to RB's. Play this one lightly as there is always potential for Tyler Johnson or James Robinson to carry the load. But at $4600, Knight is worth a flier in GPP's.
NFL DFS BONUS PICKS
My bonus pick this week is AARON JONES ($6900 DK). Things haven't gone right for the Packers all year but Jones has been a steady option in fantasy despite his teams' struggles. Jones averages 17 DK points per game and has only had 3 games under 10 points. He faces the 6th worst rush defense in the league in the Bears and with Aaron Rodgers under center he should be able to be an effective part in both the running and passing game.
RB PROP BETS
We were 2-0 in this spot in Week 12. Let's see if we can keep this streak going with the below plays for Week 13.
AUSTIN EKELER Anytime TD (-155 DK)
NICK CHUBB over 93.5 yards (-110 DK)
Now that you finished reading the NFL DFS RUNNING BACK REPORT article make sure to check out our YouTube Channel for constant content for every game and slate in the NFL this season and hop in our Discord Expert Chat.
Also, be sure to follow me on Twitter (@dgloeck) and my other content that is part of the WinDailySports family.