NFL DFS Game by Game Breakdown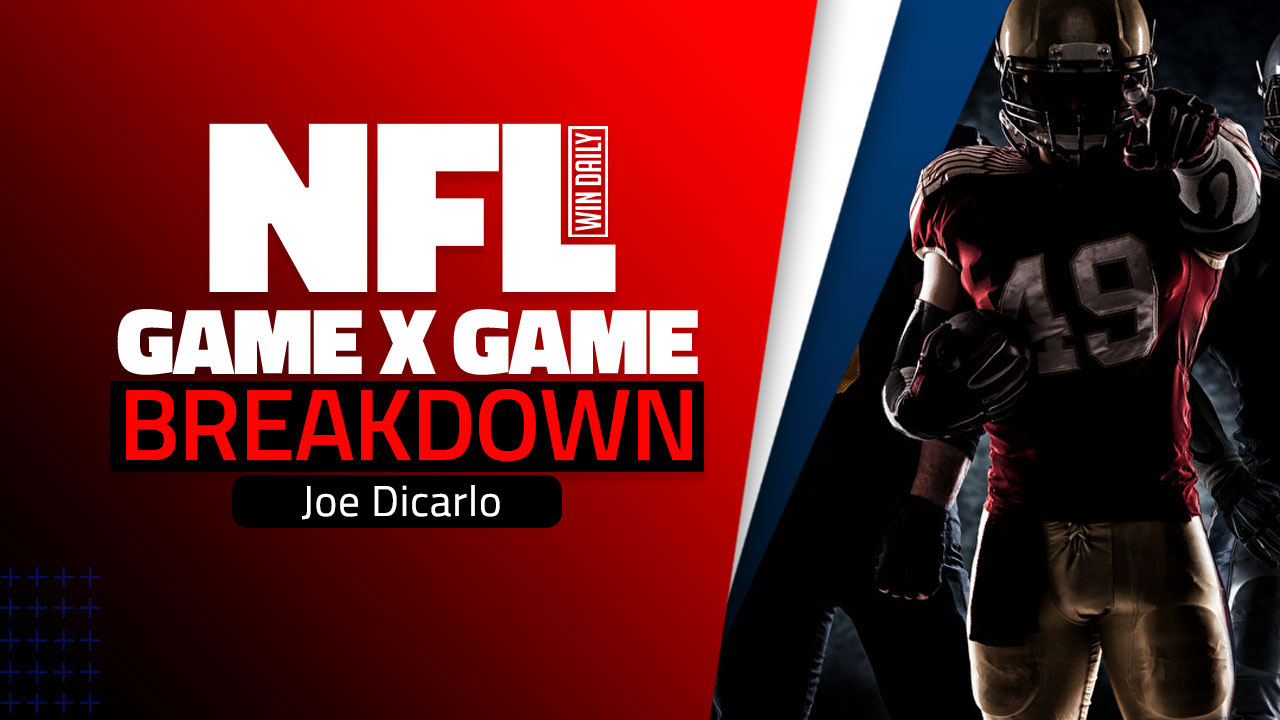 Welcome back to the NFL season, we have a loaded 13-game slate to chop up! Hey everybody I'm Joe DiCarlo, a new addition to the WinDailySports.com DFS writing squad, and welcome to my NFL Week One breakdown! I'm happy to be on board and ready to help you build some money-making lineups. After a long and busy offseason around the league, so let's start analyzing these games…
Sunday Main Slate 9/11/22
Eagles @ Lions, 1 p.m. (+4) (O/U 49)
Eagles
The Eagles are in Detroit for what looks to be a slam dunk for Jalen Hurts to show off his new skill set and shiny new receiver A. J. Brown. Great stack, especially for cash games. Tight end Dallas Goedert will be in play too, since Hurts prefers throwing to the big fellas. We could also see a sprinkle of Devonta Smith but I think he is just a little too priced up, let's not carried away. I'm fading running back Miles Sanders, he's banged up with a hamstring, plus I'm feeling a Kenny Gainwell breakout this year. His salary is too cheap to pass up, and could easily produce three times his value against Detroit.
Lions
The Lions' defense may still look bad on paper, but they will still put points on the scoreboard. Having one of the strongest O'lines in the league will help running back D'Andre Swift get back to the fantasy promise land again. PPR machine Amon-Ra St. Brown racked up double-digit targets in the final six games last season and quarterback Jared Goff came out saying he is his now go-to guy. To complete the trifecta is T. J. Hockenson if he can stay on the field. Goff loves to check it down and his tight end could benefit from it.
Cash: Jalen Hurts, A. J. Brown, Dallas Goedert
GPP: Kenny Gainwell, Amon-Ra St. Brown
Saints @ Falcons, 1 p.m. (+5.5) (O/U 42.5)
Saints
New Orleans looks to be at full strength on offense to start the year and will be getting eased back in facing Atlanta. Jameis Winston should do well in his first game back from an ACL tear, the Falcons bled out close to 4,000 air yards and 31 passing touchdowns in 2021. Receivers have a sweet match-up especially Michael Thomas, ($5,700 DK/$6,200 FD) but he's a little risky since he hasn't suited up in over a year and a half. But Alvin Kamara you can set and forget as one of your RB's. He's in one of the most smash spots this weekend projected to hit at least 20 FPTS.
Falcons
Atlanta has a futures win total (O/U 4.5) across many of the sportsbooks…news flash, they are tanking in 2022! For this matchup, I'm out on everybody for DFS. Maybe a sprinkle of a little Kyle Pitts, the only proven pass-catcher on the squad. I can't trust Marriota's legs yet, especially against a Saints' number-one-ranked run defense that averaged only 3.7 YPA. I can't resist that he's just so inexpensive, and in a game as a such a huge dog, tremendous value can be made from Mariota even in garbage time.
Cash: A. Kamara, Saints DST
GPP: J. Winston, M. Thomas, K. Pitts, M. Mariota
Jaguars @ Commanders, 1 p.m. (-3) (O/U 44)
Jaguars
Year two for Trevor Lawrence will begin in Washington under new head coach Doug Pederson, who will look to reignite the dreadful offense in Jacksonville. Christian Kirk was also signed in free agency and got a huge multi-year (overpaid) contract, so he should see most of Lawrence's targets. Now that running back James Robinson has been given the green light for Week One, the Travis Etienne hype train has pumped its breaks for a minute. I'm out on the Jags except for TE, he's worth the flyer at ($5,600 DK/$6,200 FD). Him and Trevor had a bro-mance going on back at Clemson and we may see Etienne get peppered with check-downs out of the backfield.
Commanders
Washington has something to be excited about this year… a slight upgrade at QB and a team name finally! Carson Wentz will start for his third team in three years and I just don't feel any good vibes yet, but come on Jacksonville? The same team that pulled off the biggest upset of the year and cost him his job. Best believe Wentz will be out and ready to roll, way too cheap and a flyer for GPP. Rookie Johan Dotson has already formed some chemistry with him and has already solidified a starting spot. After all the chatter around Washington about Bryan Robinson, I can see Antonio Gibson playing with a chip on his shoulder. This week up against one of the worst run-defenses of 2021 (24th overall against the run; 125 rushing YPG.), Gibson will have a second chance to prove himself worthy of being the top back in town.
Cash: Antonio Gibson, T. Etienne
GPP: Johan Dotson, C. Wentz, T. Lawrence
Colts @ Texans, 1 p.m. (+ 8) ( O/U 45.5)
Colts
Indy traded away a third-round draft pick for a bargain with veteran QB Matt Ryan. Opposing defenses will have to respect the Colts' passing game even more, which should open up the box for bell cow running back Jonathon Taylor. Given the eight-point spread and the Texans' reputation for spilling out points, the Colts will lean on the run. A few darts I like are tight-end Mo Alie-Cox and rookie wide-out Alec Pierce, although the Colts' alpha Michael Pittman will line up across from rookie Derek Stingley Jr.and is way under-priced, lock him up as a WR.
Texans
Sophomore quarterback Davis Mills could be chasing a double-digit lead by the Colts at halftime and forced to throw. But go-to guy Brandin Cooks may see a lot of Colts' veteran corner Stephon Gilmore, sending Second-year receiver Nico Collins more balls in his direction. I didn't forget about Houston's stand-out rookie Dameon Pierce, leave him alone for the opener. Houston will be playing from behind mostly and forced to throw it more, and Rex Burkhead is their passing-down back for now.
Cash: J. Taylor, M. Pittman
GPP: N. Collins, M. Alie-Cox, A. Pierce
Browns @ Panthers 1 p.m. (-2.5)(O/U 41.5)
Browns
We gotta love the NFL and their scheduling… Browns will face their former number-one overall pick, Baker Mayfield, after deciding on Deshaun Watson in the off-season. Don't get me wrong, I love the Baker revenge game narrative, but I feel Cleveland will show up to play some solid defense. Myles Garrett and Jadeveon Clowney will show up and keep Mayfield honest in this reunion. I predict low ownership for the Browns DST, sweet for GPP. And by the way, are we serious with Jacoby Brissett? Week 13 can not get here any soon for Watson to suit up. I have no interest this week in anybody on offense for Cleveland… Gimme Carolina's D!

Panthers
We all knew Baker would win the job in Carolina and he deserves it. He's not known for his numbers really, it's his competitiveness. But the numbers will align this Sunday, he is way underpriced for one of the biggest games of his career. He's got one of the most efficient receivers in D J Moore and the most electrifying players in the game of Christian McCaffrey at his disposal. Baker will look to put on a show and these two will benefit 100 percent.
Cash: C. McCaffrey, D. Moore, Carolina DST
GPP: B. Mayfield, Browns DST
Ravens @ Jets 1 p.m. (+7) (O/U 44.5)
Ravens
Let's get one thing straight… the Ravens want to run the ball, but they have NOBODY to hand the ball off to. Kenyon Drake, Mike Davis? Is Dobbins going to be ready this week? Nope. Baltimore's RB1 is Lamar Jackson, period. everyone else in the backfield since he took over has been second fiddle. The Jets were horrid against the run last year (24th, 125 YPG.) Don't try to be cute and slip Mike Davis in your lineups either, not worth the risk if you ask me. Jackson will still have to throw too, and why not to his favorite target who finished in 2021 as TE1, Mark Andrews. Baltimore could have struck gold in the draft with rookie tight end Isaiah Likely, who had an awesome training camp and preseason…($2,500 on DK is a no-brainer) Second-year receiver Rashod Bateman should also see an uptick in usage, but he may have New York's first round pick Sauce Gardner shadowing him.
Jets
New York is still not 100 percent on who will be starting at quarterback yet, I'm leaning towards Joe Flacco and the Jets do not want to rush Zach Wilson back too soon from surgery. Flacco is so priced down and I would throw him in a GPP. Starting at home against his former team where he won Super Bowl MVP, we just need 15 FPTS. to hit value. He would be surrounded by young talent, so Zach please sit this one out.
Update: Zach ruled out!
Cash: L. Jackson, M. Andrews
GPP: Joe Flacco, I. Likely
Pats @ Dolphins 1 p.m. (-3) (O/U 47)
Patriots
Former offensive coordinator Josh McDaniels landed a head coaching gig in Vegas, so here comes Joe Judge and Matt Patricia to the rescue. Head coach Bill Belichick never reveals anything to the public, so we can only speculate on their drafts and roster moves. Fellas it looks to me the only safe play is Mac Jones as a cheap GPP for now, but with so many other ways to go this week, why stress over drafting a Patriot in DFS? You could also go Rhamondre Stevenson too, with him in the news as getting all the passing down work and Damien Harris in his last year of his contract. A DeVante Parker revenge game in the mix perhaps? At ($4,800 DK/$5,700 FD) sure why not…even better without Byron Jones already ruled out.
Dolphins
Many eyes will be on QB Tua Tagolvailoa on Sunday afternoon. Forty-Niners' former O.C. Mike McDaniel brought over some serious talent, trading for Tyreek Hill to line up opposite second-year sensation Jaylen Waddle, who may be still slightly banged up. The Cheetah (Hill) will hold the lion-share of the action for Miami if Waddle is not fully healed. The Pats also have a lot of inexperience in the secondary, Tyreek and Tua will look to exploit them in the open field. If you believe in the talent around Tua than you have to like him overall.
Cash: T. Hill
GPP: T. Tagovailoa, D. Parker, R. Stevenson, M. Jones,
Niners @ Bears 1 p.m.(+7) (O/U 41.5)
49ers
San Fran is rolling out with Trey Lance to take over the reigns for Jimmy G finally, but I feel he will have a few growing pains in his debut as the starter. Trey will need to get Deebo the ball if the Niners want to put any points on the board. Samuel is risky this week in what looks like a low-scoring game, but he is the centerpiece of this offense. The Bears have made some improvements on defense, stocking up in the draft and free-agency. Roquan Smith and Robert Quinn are still in town and will be waiting for their shot at Lance too. Another team I'd like to wait and see what happens before I invest in DFS, let's be patient guys and gals.
Bears
Now everything I just wrote above, this Bears DST is smelling pretty good right? Trey Lance's first start on the road at Soldier Field, I can see picks and sacks all day. But than Chicago has their own problems developing at the QB position with Justin Fields. He can easily have as bad a day as Lance against the Niners, who are no slouches on defense either. Pick your poison I'm fine with either or defenses, Chicago is extremely cheaper ($2,200 on DK, $3,800 on FD)
Update: G. Kittle may sit out
Cash: D. Samuel
GPP: Bears DST, 49ERS DST,
Steelers @ Bengals 1 p.m. (-6.5) (O/U 44.5)
Steelers
Pittsburgh named Trubisky as their starter with less than a week until the season opener, and he gets the defending AFC champs on the road. YIkes, way too many unknowns again here in this game. We still know that Steeler O-Line is shaky, so Mitch will need to use his legs or get rid of the ball fast. Guys, he, is dirt cheap ($5,000 DK/$6,400 FD).He will produce in fantasy because of his scrambling ability, let's try him in a GPP. The Bengals as your defense would be pretty sneaky too, they have been very underrated and given a lot of headaches to opposing offenses all last year. Tight end Pat Freiermuth did look good catching 5 balls for 80 yards in August, and he is affordable on both formats too. If Mitch has to get rid of it quickly, Freiermuth could be a PPR hero.
Bengals
Cincinnati announced that franchise quarterback will be a go to start the season after having an emergency appendectomy in late July. The bad news is that as much as I like Joe Burrow, we can't justify paying his mid-range salary against a divisional opponent. Joe Mixon, Ja'Marr Chase, and Tee Higgins are all in the same boat, too expensive to start. Oh…well what about the new tight end in town Hayden Hurst? He is definitely on my radar at that discount ($3,300 on DK, $4,900 on FD).
Cash: Pat Freiermuth
GPP: Hayden Hurst, Bengals DST, M. Trubisky
Chiefs @ Cardinals 4:25 p.m.(+4.5) (O/U 54)
Chiefs
Here we go, now we're talking with a 54 point total, a shoot-out in the desert! Mahomes and his new entourage of receivers want to come out guns blazing in this match-up. 159 targets left for Miami when they traded Tyreek Hill, so we love Kelce even more this year. Totally comfortable paying up on this stack. As for the new faces Ju Ju, MVS, and the rookie Skyy Moore, we can make it a double stack with a side of CEH. Across the board their price tags are reasonable, but just don't get too carried away.
Cardinals
Kyler Murray got his pay day this off-season, it's showtime. The former number one overall pick in 2019 has his work cut out for him this Sunday and will need to keep up the pace with Mahomes. He's not as weaponized and will need some help from James Connor in the ground game. KC has been suspect to the rush, and in PPR, Connor could benefit this game. Murray himself could scurry for chunks of runs which he's been famous for.
Cash: P. Mahomes, T. Kelce, CEH, J. Smith-Schuster, K. Murray, J. Connor
GPP: MVS, S. Moore
Packers @ Vikings 4:25 p.m. (+1.5) (O/U 48)
Packers
Can the back-to-back reigning MVP return to greatness again without his main man Davante Adams? The water is still a little muddy in Green Bay for who will be favored by Aaron Rodgers. He has a couple rookies in Watson and Doubs, over-the-hill guys in Watkins and Cobb, Tonyan coming off an ACL, and Allen Lazard who recently started missing practice. In cash I'm not getting the warm and fuzzies from any of them, only Rodgers alone(super sneaky for a GPP). A little history from not too long ago, before Adams emerged on the scene The Pack were pretty run-heavy. Their O-line today is one of the best in the NFL, so they may just rip a page out of from 2015. Aaron Jones and A J Dillon probably the best one-two punch there is and Green Bay may utilize it until the passing game clears up.
Vikings
Minnesota hired the Rams' O.C. Kevin O'Connell as their new head coach this off-season, who plans on opening up the passing game. So much hype is over Justin Jefferson becoming the 2022 version of Cooper Kupp and the kid has the talent to make it happen. Going up against one of the best corners Jaire Alexander and in a new offensive scheme, we can't risk all that salary this time. Pivotting to Adam Thielen may be the smarter play here, who is cheaper and viable in the red-zone.
Cash: A. Jones
GPP: A. Rodgers, A. Dillon, A. Thielen
Giants @ Titans 4:25 p.m. (-5.5) (O/U 43.5)
Giants
New York made some changes in the front office and at head coach by signing Brian Dabal, Buffalo's former O.C. who molded the number one QB Josh Allen. So will Daniel Jones be the next Allen? For his measly salary, he's worth the risk. 3X value is foreseeable against this Tennessee defense (25th in PaYDA/G in 2021) Saquon Barkley has been pumped up by the media, word out of camp is he will be more utilized on offense, especially in the passing game. The salary is mid-range and our model shows him to reach decent value (16.5 DK/14.7 FD FPTS.) Tough match-up though… Number one ranked rushing defense. Let's hope Dabal keeps his word and throws it to his stud in the backfield.
Titans
After losing to the Bengals and throwing 4 picks in the AFC Wild Card game, quarterback Ryan Tannehill will be out for blood. The Giants are even worse this year in their secondary, cutting loose James Bradburry, replacing him with former Titan Adoree Jackson. Derrick Henry is also back at full strength, and is set to regain his seat at the throne, owning all the goal line work.Tennessee could get up to a comfy lead in this one, and he'll be used to eat up that clock.
Cash: D. Henry, S. Barkley
GPP: R. Tannehill, D. Jones
Raiders @ Chargers 4:25 p.m. (-3.5) (O/U 52.5)
Raiders
Gotta love the league and the way they schedule, a rematch of the sudden death game that put Vegas into the playoffs back in January. Derek Carr led the way to victory last season, but this time he is bringing more to the table…his college buddy Davante Adams. This game needs no intro, get these two in a stack, and let's not forget about Waller, the Chargers were dead last defending the tight end in 2021. We like all three here and have them locked in for 3X value.
Chargers
LA lost that game on bad play calling, not by their performance by any means. Justin Herbert and company have been counting down the days to sink their teeth into this lousy Raider defense again. Keenan Allen is up in age but showing no signs of regression. Mike Williams got paid and has a huge ceiling. Ekeler will ball out as usual with his safe floor. It's ON in LA to cap off the afternoon.
Cash/GPP: J. Herbert, K. Allen, M. Williams, A. Ekeler, D. Adams, D. Carr, D. Waller
Cash Core 4
A. Kamara, L. Jackson, T. Kelce, T. Hill
GPP Core 4
A. Rodgers, P. Freiermuth, D J Moore, A J Dillon
Stacks
P. Mahomes/T. Kelce J. Herbert/K.Allen/M.Williams B. Mayfield/D. Moore/CMC
D. Carr/D. Adams/D. Waller
Thank you for reading my NFL DFS Game by Game Breakdown for Week 1 and make sure you follow me on Twitter @JoeDiCarlo78 or in our Discord hit me up @JDiCarlo78. Be sure to sign up for an ALL ACCESS GOLD ACCOUNT here at Win Daily Sports. Gain access to our Projection Models and jump into our Discord where we will have our experts talking plays across every sport.
Born and raised in New Jersey, married father of three awesome boys and grandfather of one. Experienced Fantasy DFS player/writer in NFL and NBA.