NFL DFS Cash Games – Week Two Checkdown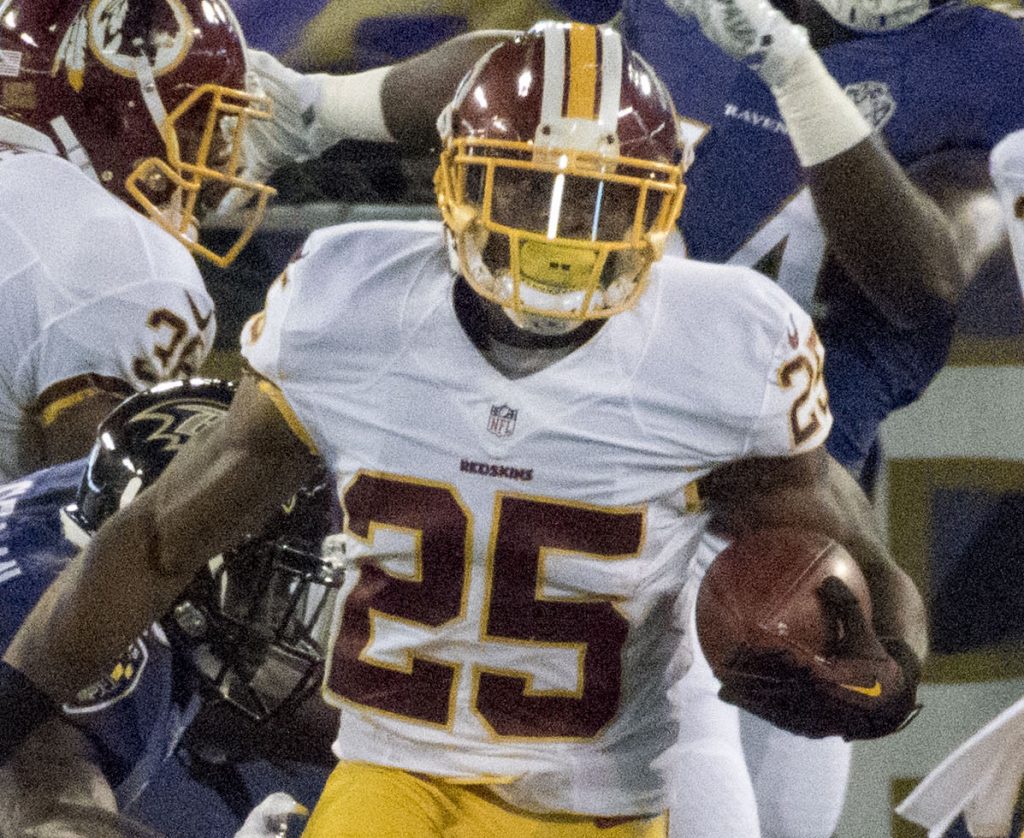 Hopefully everyone had a great Week One of their NFL DFS season! If you read last week's Checkdown, you probably nailed all of your NFL DFS cash games. Out of the 18 skill-position players we targeted, only four of them did not hit value (Nick Chubb, Leonard Fournette, Travis Kelce, and George Kittle).
Sign up NOW for WIN DAILY Premium Gold right here! Projections, weather reports, wagering info, 24/7 expert chats and more!
My articles will be mainly meant for DraftKings, but you can certainly use this information for other DFS websites.
If you have any questions and would like some further help when building your lineups, please do not hesitate to reach out to me directly on Twitter. I'm always available to help NFL DFS players make the most of their investments!
Quarterbacks
Lamar Jackson ($6,700) – the number one Quarterback of Week One is on the top of my Quarterback model for NFL DFS Cash Games in Week Two. There is no chance Jackson will throw for 300+ yards with five Touchdowns again, but he should have his way with the poor Arizona Defense and if the game stays somewhat close, Lamar Jackson should use the best weapon he has: his legs.
Tom Brady ($6,400) – The Miami Dolphins are awful and Tom Brady is still Tom Brady. With or without Antonio Brown suiting up in Week Two, Brady should have absolutely no issues hitting value for NFL DFS Cash Game players on Sunday (with a respectable salary of only $6,400 on DraftKings).
Josh Allen ($5,300) – if you need to save some salary, Josh Allen is your man in Week Two. The New York Giants' defense looked inept in Week One and they are a defense we should be picking on. Dak Prescott just torched the Giants for 400+ yards and four touchdowns… Allen is not Dak Prescott, but he should have no issues putting up at least half of the production that Prescott had in Week One, and that's all we need for Allen to hit value.
Running Backs
Saquon Barkley ($9,200) – We never have to say much about Saquon Barkley. In a cash game format, NFL DFS players want volume and upside. That is the definition of Saquon Barkley. This is a great week to put a lot of focus on paying up for your top running back in DFS (maybe even two).
Alvin Kamara ($8,200) – If you don't want to pay up for Saquon Barkley, there is no harm in dropping down to Alvin Kamara (who has a very reasonable price tag). In two match-ups against the Rams last season, Kamara tallied 227 all-purpose-yards, 15 receptions, and three total touchdowns! In a PPR format like DraftKings, Kamara is an excellent play for NFL DFS Cash Games in a fast-paced matchup against the Rams.
Mark Ingram ($6,000) – The Baltimore Ravens are a 13-point home favorite against the Arizona Cardinals. Similar to the situation Chris Carson was in in Week One, this screams like a positive game-script for Mark Ingram. Lock him in for at least 100 yards and a touchdown.
Devin Singletary ($4,200) – The rookie running back showed it all in his debut on Sunday. Vision, patience, ability, speed, awareness, etc. You name it, Singletary showed it. The Bills' RB finished Week One with a 70% snap count and I'm confident that will rise a bit more in Week Two. Singletary is going to be a special running back in the NFL someday (probably sooner than later).
Austin Ekeler ($6,100) – What a monster performance by Austin Ekeler in Week One! As long as Melvin Gordon is out of the picture in Los Angeles, Ekeler is going to remain heavily active in the Chargers' offense (both the running and passing attacks). At this price, Ekeler is a borderline must-play in NFL DFS Cash Games.
Matt Breida ($5,200) – I don't love the price, but Tevin Coleman is going to miss a few weeks for the 49ers, so this should be Breida's job to lose until further notice. I'm sure we'll see Mostert take 25-35% of the snaps at running back, but everything else should go through Breida. The 49ers are not the Seahawks, but they should be able to run the ball with success on Sunday, similar to how Chris Carson and the Seahawks ran it in Week One.
Chris Thompson ($3,700) – Despite what we saw early Sunday in Week One, this Redskins' team is going to be trailing in most games this year. Starting running back Derrius Guice is going to miss a few weeks of game action, and assuming the Redskins are playing from behind a lot, Chris Thompson will be incredibly busy in this offense. I love this price point in Week Two as Thompson is in a perfect spot against Dallas for any DFS player looking for salary relief.
Wide Receivers
DeAndre Hopkins ($8,100) – I don't know about you, but I certainly missed having the option to roster consistent Top 10 target leaders, DeAndre Hopkins or Michael Thomas in Week One DFS. I'm leaning Thomas here in the WR One slot, but don't be shy to play Hopkins against the Jaguars.
Michael Thomas ($8,000) – See above.
Keenan Allen ($7,600) – Hardly anyone played Keenan Allen in Week One DFS, and I cannot understand why. All Keenan Allen does is show up and get 10-plus targets. If you can't pay up for Hopkins or Thomas, Keenan Allen is a solid option for your number one receiver in NFL DFS Cash Games this week.
Tyrell Williams ($4,400) – He is a free square playing in what should be a very positive game script for the Oakland passing attack. Play him.
Tyler Boyd ($6,500) – Volume. I do not love his upside, but he is going to continue to get 10 or more targets in every game until A.J. Green returns.
Danny Amendola ($3,900) – This dude just had 13 targets from Matthew Stafford in the overtime tie against the Arizona Cardinals. Yes, the targets are eye-popping, but what really impressed me was the way Amendola ran his routes. He's not that fast, but he was constantly creating separation from defenders. This Chargers and Lions game has the ability to shoot out, so Amendola should be a lock for another eight or more targets. This is a great value for NFL DFS Cash Games.
Cooper Kupp ($6,000) – Cooper Kupp is back. I was a little skeptical about all of the reports that were saying Kupp was healthier than ever in camp this summer, but he made me a believer last Sunday. We all know Jared Goff loved to pepper Kupp with targets last season and it appeared that the two were making up for lost time right away in Week One against the Panthers. Kupp should see eight or more targets every time he suits up for a Jared Goff led Rams' team.
Deebo Samuel ($3,700) – The 49ers "number one" receiver, Dante Pettis, played two snaps in Week One… TWO! Deebo is clearly their most talented wideout and it is only a matter of time before his price increases significantly. Buy in now while it's cheap.
Dede Westbrook ($5,400) – I'm not in love with the play, but he's rather affordable and will continue to see seven plus targets for Jacksonville in what should be a play-from-behind game script against the Texans.
Cole Beasley ($3,800) – Nothing sexy here. If you want a cheap guy that will bring you eight to twelve points, Beasley is your man.
Tight Ends
Travis Kelce ($7,300) – Thanks to Patrick Mahomes' brilliant idea to throw a no-look pass to Kelce when he was wide open in the corner of the end-zone, Kelce did not hit Cash Game value for us in Week One. As long as he is under $7,500, I'll always have Kelce as my number one tight end in NFL DFS Cash Games.
George Kittle ($6,800) – Kittle was a mismatch nightmare for Tampa Bay all day in Week One. The 49ers' tight end had ten targets on Sunday and should be the main feature of the 49ers offense for quite some time. I have him projected for 12 targets in this Week Two matchup against the Bengals.
Evan Engram ($5,200) – Engram is more of a wide receiver than he is a tight end, and at this price, that is something DFS players will continue to take advantage of. Engram finished second on the Sunday slate with 14 targets and will continue to receive the majority of Eli's attention in the pass game.
T.J. Hockenson ($3,000) – Just take advantage of DraftKings making the Week Two pricing before Hockenson dominated the Arizona defense. This kid is special.
Darren Waller ($3,300) – See the write-up above for Tyrell Williams. You're going to want to get someone in the Oakland passing game as they are pretty much free to roster. Waller had an excellent showing on Monday Night and should continue to be a focus of Derek Carr's.
Defense/Special Teams
Denver Broncos ($2,700) – Unless Matt Nagy completely flips his playbook around from whatever it was he tried to do on Thursday Night Football, Vic Fangio and the Broncos will eat this Bears' offense up.
Baltimore Ravens ($3,800) – Kyler Murray and the Arizona Cardinals offense did not impress me, whatsoever. The Ravens' will destroy what could be the worst offensive line in the NFL.
New England Patriots ($3,700) – They're playing the Miami Dolphins.
Chicago Bears ($3,900) – I have a feeling the Bears' defense will be very chalky in Week Two, so tread lightly. There are concerns that this defense is not nearly in good enough shape early in the season to go play in the Denver altitude. They always have incredible upside though, so I had to mention them here.
Sample Lineup
QB: Josh Allen
RB: Saquon Barkley
RB: Alvin Kamara
WR: Keenan Allen
WR: Tyrell Williams
WR: Dede Westbrook
TE: T.J. Hockenson
FLEX: Devin Singletary
DST: Denver Broncos
Chris Thompson Featured Image via Keith Allison