NBA DFS Strategy Guide: Win Daily Fantasy Basketball
Published
11 months ago
on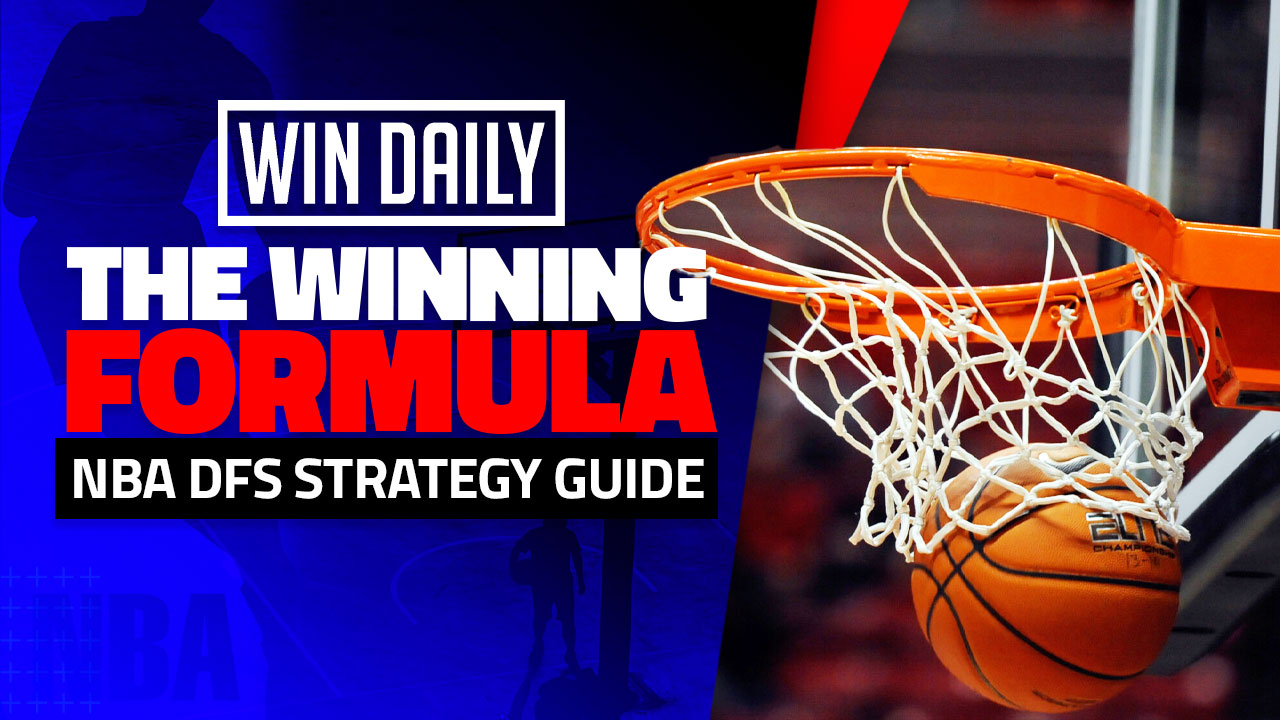 Fantasy basketball is a totally different beast than baseball or football. NBA DFS is ruled by the players who stay constantly connected, their eyes glued to their phones or their laptops as crucial lineup changes are announced throughout the day. This game isn't for the faint of heart or the casual player. In order to win big in NBA DFS players must be on top of it 24/7.
The game is all about value. With NBA DFS, your strategy is about getting the most bang for the buck. In order to understand the strategy that will help you do that, let's first look at how the scoring breaks down for DraftKings and FanDuel, so you know what each site values and what you should prioritize when you build your lineups.
| | | |
| --- | --- | --- |
| Offensive Scoring | DraftKings | FanDuel |
| 2-Point FG | +2 | +2 |
| 3-Point FG | +3.5 | +3 |
| Free Throw | +1 | +1 |
| Offensive Rebound | +1.25 | +1.2 |
| Assist | +1.5 | +1.5 |
| Turnover | -0.5 | -1 |
| Double-Double | +1.5 | N/A |
| Triple-Double | +3 | N/A |
For the most part, these two scoring systems are the same—with some key differences. For one, FanDuel penalizes turnovers with a -1, but DraftKings only docks turnovers at a -0.5 clip. This may lead you to target more accomplished ball handlers on FanDuel to keep from incurring lots of those -1 penalties cutting into your point totals.
Offensive rebounds are virtually the same (1.25 versus 1.2). Free throws and two-point field goals are exactly the same between the two sites, so for your big men, the two sites are pretty much the same on the offensive end. While twos are the same, three-pointers are a little more valuable on DraftKings (3.5 points) versus FanDuel (3 points), so a dead-eye shooter from distance like Steph Curry is worth a little more on DraftKings.
One thing that stands out, too, is that DraftKings rewards big games. In NBA DFS, they give out an extra 1.5 points for double-double games (double-digit scores in two statistical columns between points, assists, rebounds, blocks, and steals) and an extra three points for triple-doubles (double-digit scores in three of those statistical columns). Across sports, DraftKings loves the breakout game.
Defensive scoring is calculated as follows:
| | | |
| --- | --- | --- |
| Defensive Scoring | DraftKings | FanDuel |
| Block | +2 | +3 |
| Steal | +2 | +3 |
| Defensive Rebound | +1.25 | +1.2 |
Defensive scoring is pretty similar here, too, but with some differences: steals are two points on DraftKings and three on FanDuel, just like blocks. Also, just like with offensive rebounds, defensive rebounds are 1.25 to 1.2. Overall, there is a slight advantage to picking up the premium defender in your FanDuel lineup if all other considerations are the same.
Let's take a look at the different lineups:
| | |
| --- | --- |
| DraftKings | FanDuel |
| PG | PG |
| SG | PG |
| SF | SG |
| PF | SG |
| C | SF |
| G | SF |
| F | PF |
| UTIL | PF |
| | C |
Here we see more differences between the sites. On DraftKings, you get eight players, the five standard positions plus three utility-type roles. The first is a guard, and that player can be a PG or SG. You also get a utility forward position, where you have the option to choose a SF or PF. The third utility role is a true utility position, as DraftKings gives you the opportunity to plug in any player.
The lineup construction for FanDuel is a little more standard than DraftKings with a total of nine players: at PG, SG, SF, and PF, and one at C. With no utility player wiggle room here, your job is a little bit easier. An important distinction, though, is that starting this year on FanDuel, only your top eight players count toward your point total. Be mindful of this: while you technically get one more player, the same number of players counts toward your points total. This is a new change, so it's unclear how it is going to affect strategy, but it seems to favor a stars-and-scrubs approach where you have eight legit players and one guy who is more of a value pick with high upside. That way, if he doesn't produce for you, that's OK: you didn't dedicate too much space in your salary cap to that pick.
Because NBA DFS is so intense to play, knowing the right statistics is important. Start by looking at a player's fantasy points. If you don't have time to get into anything else while building your lineups, here is where you can see who has been the most effective day in and day out. The downside, of course, is that everybody else can see that, too. You won't be able to uncover any value picks here as you survey the slate and build your lineups. Especially as you get started, it's good to get familiar with these numbers.
The next thing to look at is the standard statistic lines. For anything that is valued by these sites (field goals, free throws, assists, rebounds, steals, blocks, and turnovers), it's easy to find every player's per game average in that column. Looking at what you're likely to get from these players and calculating an expected fantasy output is pretty easy thanks to these averages. Look for the type of guys who fill up the box score and add value in all sorts of ways, not just the Carmelo Anthony types who are one dimensional fantasy players because all they add in value are field goals and free throws.
You also want to take a look at how often each player is on the floor. Looking at a player's minutes-per game on the floor can give you a sense of how integral they are to a team's offense. You may be looking at two players who have similar stat lines, but if one is on the floor more often than the other guy, you'd want to take the guy who stays out longer, as he's going to have more chances to rack up points for you. It's a good rule of thumb to fill your lineups full of players who start for their respective teams, because even the best sixth or seventh man off the bench gets left there some nights.
It is worth your time to take a look at the minutes distribution on different teams. Some teams have a pretty small rotation of key players, with maybe seven or eight guys on the roster actually racking up serious minutes. There are other teams in the league who have really deep rosters and like to rotate ten or twelve guys through each game. Be realistic when assessing a player's time on the court. Even if a player seems like he should be getting more time on the court, if the coach and front office don't see it that way, that player will be splitting time and won't be on the court long enough to get you many points.
Knowing which coaches have a reputation for keeping their starters on the floor will also be beneficial. If a game gets lopsided, some coaches might pull their starters in order to get their reserves some more time on the floor, which would be bad news for you if you have any starters in that lineup. You want your guys to stay out on the court as long as they can to keep racking up the points for your squad.
As you're deciding between players, though, be sure to look at workload. Some players aren't impacted much by playing games on back-to-back nights, but some players' production really takes a hit in those situations. If you're looking at taking a flier on a player, be sure that they're not worn out from a tiring game the night before. Especially if your lineup hinges on that player providing big value, be sure that they're going to be 100 percent for you.
Minutes might tell you who gets on the court a lot and stays there, but if you pick a defensive specialist who isn't a big part of his team's offense, you won't get much fantasy production out of that player. This is why you want to look at a player's usage. Usage percentage will also help to illuminate how important a player is to his team. This is an advanced statistic that calculates how often the ball is in a player's hands while he's on the court.
Ideally, you want to build a lineup full of starters who stay on the court and keep the ball in their hands. Even if they don't all go for thirty points that night, you're likely to get some assists, while guys who only touch the ball on field goal attempts won't have many opportunities to rack up assists for their team (and yours).
"I've missed more than 9,000 shots in my career. I've lost almost 300 games. Twenty-six times, I've been trusted to take the game-winning shot and missed. I've failed over and over and over again in my life. And that is why I succeed."
–Michael Jordan
Something that makes the NBA different than other sports, though, is streakiness. An NBA player might get hot over a stretch of games and see his numbers shoot up. His attempts may increase too because of his newfound confidence. Targeting these players with the "hot hand" is a good strategy as long as you aren't overpaying.
As with the MLB, it isn't just about the players you choose and their strengths, it's also about who they're facing off against. A great statistic for you to use when considering defenses is defense versus position (DVP). This stat is the average number of fantasy points that a team allows to a certain position on the court. You typically know who's going to be guarding who one-on-one, so DVP will help you identify who the weak defenders in the league are. Once you know who these guys are, you should target who's going up against them.
If you can, target the players who play in up-tempo offenses and are playing against another up-tempo team. Hopefully, the two teams will have a back-and-forth game that gets both of them into the 120s and above.
Team points per game (PPG) is a great statistic to help you figure out how potent an offense is. Ideally, you are looking to match two equal, high-scoring offenses who play at a fast pace and play below-average defense. When you're looking at matchups trying to find that fast-paced shootout, make sure you check out each team's pace. A team's pace is the average number of possessions a team gets per game. More possessions mean more scoring opportunities. You want guys playing on teams with a really high pace factor. Defensive efficiency is a very good statistic for pace, too. It represents the effectiveness of a team's defense, giving you the average number of points a team allows in every one hundred possessions. If both teams have high numbers with this statistic, this is the kind of game you want to target.
You might wonder what happens when a faster-paced team plays a slowerpaced, better-defending team. In that situation, things typically average out. That tells you that finding one up-tempo team in a matchup isn't ideal, as it would be better to find a game where two are facing off against one another.
"You can't get much done in life if you only work on the days when you feel good."
–Jerry West
Strategy in NBA DFS is what will separate you from the rest of the players out there. While it might be tempting at first, you can't just play LeBron James, Kevin Durant, and Steph Curry every game. NBA players are very consistent from one game to another, so building a lineup with top players and expecting to get more value than their price is a bad decision. The key to winning money at NBA DFS is by using math to find the undervalued players in great matchups, those great value picks.
The system I like to use is 5x, 6x, 7x. If you pick up a top-end guy like a LeBron or KD for $10,000, you need him to produce five times that number, with fifty points for you that night in order for it to be worth it. Because those type of players eat up so much of your salary cap, you need them to do more than just have their average or expected night. You need them to break out for a huge game.
However, you can't just fill up a lineup full of superstars. You're going to have to have some mid-level and lower-level salary guys in there too, so for the mid-level guys you want to get six times his salary in terms of fantasy points. Remember that a few bad games might change even a very good player's valuation and therefore his pricing. This is why it's so important to do your research: there are always good players out there who are undervalued.
With lower-level salary guys, you're looking for them to produce seven times their salary. This might seem like a lot to ask, but there are good values to find every night. How do you get these huge breakout value picks, though? That's the million-dollar question with NBA DFS. Because players are so consistent night in and night out, and there are so many great statistics out there to help players predict fantasy success, it's not just about picking good players and sitting back hoping to beat the system that way. That won't work.
What you need to do with NBA DFS is stay up on the news. It sounds like a pretty basic concept, as it seems like every player should be doing this. Still, that really is what separates great fantasy players from mediocre ones. There is a definite skill to acquiring the news and quickly analyzing it. Each night is a new puzzle and only the best problem solvers walk away with the cash each night.
You can follow player updates on various sources throughout the day and if you follow all the NBA beat writers on Twitter, you'll be up on the latest news from the people closest to the team up until tip-off. That may be a lot to ask, though, because there are so many beat writers and they won't only be tweeting out injury updates. Everyone has their own method of staying on top of the news, so make sure to find a process that works for you. Be sure to follow the experts and make sure you're near your computer or phone, so you can get the inside scoop to all the late-dropping news as the lineup lock approaches.
Now, let's say you find out that a star player is injured and out of the lineup that day. Consider the effect that's going to have on their team. Imagine the minutes of every game as a pool to be distributed among the players on that team. If a player who is typically on the court for forty minutes a night is now out of the lineup, there are a lot of minutes in that pool up for grabs. There's also a lot of usage that gets transferred over, too.
Typically, the way it works is that the usage transfers mostly to the other original starters, and the minutes go to the bench players who are now in the lineup. There's a bump on both sides, though. There are tools that can help you decide what's going to happen when a starter is out of a team's lineup. Good projection systems will adjust the usage with the new combination of guys on the court. As injuries linger, more data will become available. The larger the sample size of minutes played together, the more accurate the data on usage and other categories will be. Always check the sample size.
It used to be that both DraftKings and FanDuel locked their lineups at 7:00 p.m. ET, so if a player was a late scratch, fantasy players' lineups got blown up. This was especially true when teams were getting late into the season with no hope of making the playoffs, so they started tanking to get better draft picks the next year. Because this delay of information was such an issue, DraftKings recently changed their rules. You can swap players in and out until their game tips off.
Again, staying up on the latest news is important. If you're following Los Angeles beat writers on Twitter and they announce five minutes before tip-off that LeBron is out of the lineup because of a strained calf, you can swap in a player just in time to save your team's chances that night. Without making that swap, all your research would be down the drain because you're not going to win money with a zero in your lineup.
These injury scratches are common in other sports too, of course, but in MLB, even though the teams play almost every day, the lineups are typically announced a couple hours prior to the first pitch. In the NFL, teams announce their injured players' statuses throughout the week and their official inactive players are announced hours before the game. But in the NBA, teams play almost every day and often will pull a player out with only a few minutes to spare before game time, so DraftKings changed their policy on swaps. This is good news for you, but it also means that you need to pay attention to the news for longer, so you don't miss a single last-minute change.
Unless you can be near your computer from 6:00 p.m. to at least 7:00 p.m. ET every night, playing NBA DFS is probably not for you. It is a serious time commitment. If you're going to play, you need to make sure that you can play well. If you commit a significant portion of your salary cap to a superstar player, expecting him to rack up major points for you, but then he gets pulled out of the lineup in the few minutes before tip-off and you're out at dinner, you can kiss your chances of winning good-bye. The players who stay focused don't get burned like this.
One strategy to use with the late swap is to enter a mock lineup during the day. Hold off on submitting until all the information rolls in from your sources. Then take that extra time to make your optimal lineup. So, if you don't like any players from the 7:00 p.m. games, you can wait to lock in your players until the 8:00 p.m. games, allowing you an extra hour of research and more time to wait for news to drop.
An important thing to know is that pricing for players is set the night before each game. This means that if one of your starters gets pulled, you may not have to look far for his replacement. If that team has a good sixth man at your starter's position, you may just want to plug him in as your replacement, especially if the offense is catered toward getting the ball to a player with his profile. Also remember that players from the second unit are priced accordingly, so in this situation you could get a guy at a minimum (or near minimum salary) who will be in the starting lineup for the night, with increased overall usage and minutes.
You can use this knowledge to your advantage when looking for value picks, as well. If you want to set up a stars-and-scrubs lineup, you could do pretty well for yourself by taking a couple superstars who are in great matchups that should play out for 5x points, two to three guys who will produce 5-6x value, and a player or two who are filling in for injured starters but have the skills and role in the offense to produce six or seven times what their cost is to you in terms of salary.
Another way to get the most value is by stacking. Just like in the other sports, you can stack one team or both teams in a game. It would be smart to pick up two to three guys from one team who are set up to provide a lot of value. Maybe you could find a couple guys who are going to be on the floor a lot in a fast paced back-and-forth game or a couple minimum-priced players who are filling in for the night. Let's say both teams score a lot of points and move the ball quickly up and down the court, so it's going to be a shootout. Take a look at how the second team's offense works. If you can, target two to three players from that team who are also key contributors. A shootout— especially one that goes to overtime—will result in a lot of points for you.
Another thing to take a look at is the depth of the whole team. If there are a lot of injuries on their squad and their bench is depleted, they'll be leaning on five or six guys to produce for them that night. It might be smart to stack that team in a high-scoring game. Stacking three to four players on the same team can be a smart play on occasions where a team is really thin on depth and only has seven or so players in their rotation. Each player will be forced to play heavy minutes, which will translate to good production for you.
Ideal games to stack are games that come down to the final whistle. Not only do you want a high-scoring affair, you also want a game where all the starters and players you roster stay on the court until the buzzer goes off. This is where you can use Vegas to your advantage. Take a look at the spreads in the games. If a spread is five points or less and the over/under is maybe 230 or more, Vegas is predicting a back-and forth high-scoring close game, which will be one for you to stack both sides on. Each time players go up and down the court, whoever it is, you'll be racking up the points. This is especially true on the off chance the game heads to overtime, as unlike with other sports, the two teams will be scoring points back and forth for the entire overtime period.
Something to remember, especially when paying up for superstars, is that you want your players to be on the court the whole game so that they provide the kind of value you need from them. If you're going after a player like LeBron, be sure that this game isn't going to turn into a blowout or that his team isn't going to pull him off the court early to rest him for the playoffs or to ensure a loss if the team is tanking.
The biggest thing to remember with NBA DFS, though, is that you want to get the picks right. Let the other guys take all sorts of risks on players who they think will have breakout games. What you're looking to do is build a lineup that has the highest floor possible with some upside, so you know with a certain amount of confidence that your team is going to produce for you. Get the guys who are consistent night in and night out and are underpriced on that given night. Get the guys who are going against a weak defender. When news comes out about players getting pulled for injuries, or sickness, rest, or "rest" late in a losing season, be the player who quickly adjusts on the fly and produces optimal lineups.
To prepare for an average night with a seven-game slate, here's what I do. The night before or first thing in the morning, I go to the schedule and look at the slate. My plan is to find the potential shootout game by looking at each game's over/under. I want to find the two to four highest-scoring games and notate them as the potential game stack games. From there, I look to see what players are already ruled out and who is questionable for the slate that I need to keep an eye on throughout the day. Next, I look at who the potential value players will be and look for the high-priced players that are in a juicy matchup that I also want to target.
I try to start each of my lineups by locking in my favorite value players that provide the best lock for 5-7x value. I also lock the higher-priced players who I think have the floor for safety along with the highest ceiling for their price tag. From there, I round out my lineups from a position-by-position standpoint to see who to fill into the proper slots. I notate which positions look deep and which positions look scarce.
I try my best to narrow and adjust my player pool, listing out my favorite four to eight plays at each position. As the day goes, I like to create five to ten mocks and play out different scenarios in my head. For instance: "If the Warriors versus Rockets game turns into a shootout, this would be the lineup that would crush" or "If these two value guys hit and Harden does his thing, this should be a great cash lineup."
As the day progresses and news is released, I readjust the earlier mocks and create new ones. The part that gets tricky is how much to listen to the "experts." Throughout the day, podcasts and articles get posted on various sites. With all the new information that comes out and with all the injuries and lineup changes, it's difficult to adjust your old opinions and keep track of all the potential combinations. If you're not available and don't have the time to focus and grind from 6-8:00 p.m. during the NBA season, you should really take the season off because this is when the money is won. It's crucial to decipher all this information throughout the day and readjust your lineups on the fly. Your 9:00 a.m. lineups will get crushed on most nights if you don't readjust at least portions of your lineup in response to the new info.
When the news drops, you can find me at my desk focused in, adjusting my lineups as every minute goes by. The feeling of pressure and anxiety is a bit like sitting in a college classroom during a final with only three minutes left, knowing that any second the teacher will tell the class, "Pencils down." Now, add the fact that you have thousands of dollars at risk.
To be honest, on some days I don't know how I reached the point where I'm rostering guys I have never even heard of and have $5,000 riding on some scrub getting the first start of his career, but that's how a typical night of NBA DFS goes. When the games start on those days, I'm sick to my stomach and look at my lineup thinking, "How did I end up with this team? This one guy I took a shot on is going to make or break my lineup." There is such a sense of relief as 7:00 p.m. comes, though. The only thing left is for the players to play.
Now you can understand the grind of the game and specifically how much skill and effort is needed to be successful. Every day is a new challenge and a new battle to win. The best players out there have found ways to simplify their process and avoid the clutter. Not only do they readjust one lineup, but they have the power to adjust ten, twenty, fifty, or one hundred fifty lineups on the fly. Stay cool under the pressure, be confident, and trust your process. Develop a daily routine that you're comfortable with. Then constantly refine it until you've found a system that works with your schedule and is profitable more often than not.
They say the harder you work, the luckier you get, and one thing I guarantee you is this: the hardest workers in the NBA DFS industry are the ones on top of the leaderboards on most nights. Some call them lucky, but the veterans in the game know the truth.
FREE EXPERT DISCORD CHAT: discord.com/invite/KEFD2Kr
FOLLOW Win Daily Sports: https://www.youtube.com/channel/UCY2I3VNyf_dtW-2xl5vwv0Q
CHANGE YOUR GAME & CHANGE YOUR LIFE
FIND WIN DAILY SPORTS SHOW ON APPLE PODCAST: https://podcasts.apple.com/us/podcast/win-daily/id1461164275?ign-mpt=uo%3D4
FOLLOW WIN DAILY SPORTS ON TWITTER: https://twitter.com/windailysports