NBA DFS: Ghost's Gems 11/28
Published
2 months ago
on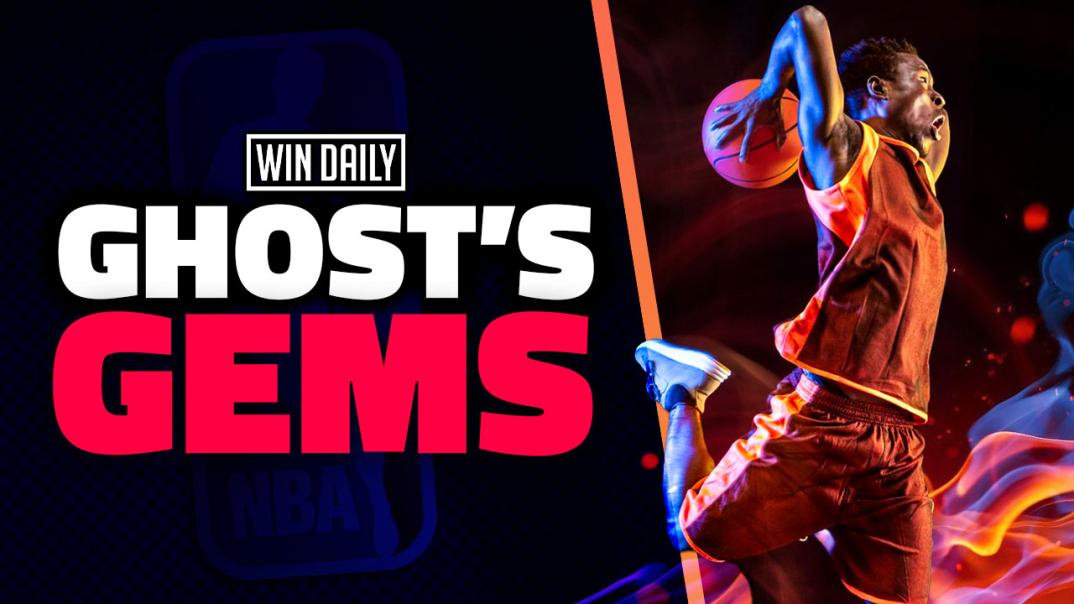 There is a strong possibility that many stars will be missing on this NBA slate. Injury reports are already riddled with questionable tags and there are surely more to come. However, there are a few games that stand out above the rest amongst the uncertainty. It's a Mojito Monday edition of the Gems – let's ride.
While some players have already been ruled out, the availability of many more is up in the air. Thus, be sure to use our proprietary NBA projections and cheat sheet to build your lineups as the news rolls in. Moreover, join the conversation in the Win Daily Discord to get the insight you need from both subscribers and staff.
OKC Thunder @ New Orleans Pelicans (-4.5)
OKC Thunder (+4.5)
Assuming Brandon Ingram (toe) misses this game, the Pelicans backcourt is extremely overmatched tonight. The duo of Shai Gilgeous-Alexander and Josh Giddey have been leading one of the most entertaining offenses the NBA has to offer. Over their last four games, the Thunder are only 1-3, but they have averaged 118.25 points per game. During the same span, SGA and Giddey have usage rates of 33.1% and 24.4%, respectively, which are the top two on the team. Moreover, SGA continues to lead the team in scoring with a 30.8/5.8/7 scoring line over his last four, while Giddey has averaged 14.5/7.8/6. SGA has a higher ceiling in terms of raw points, but Giddey has one of his own given his rebounding and assist upside.
New Orleans Pelicans (-4.5)
CJ McCollum remains out for this game and it looks like Brandon Ingram (toe) will be joining him. Currently listed as doubtful, the Pelicans backcourt will be a popular spot for value on this NBA slate. The duo of Jose Alvarado and Devonte' Graham will both see a notable uptick in minutes should Ingram miss this game. In their last three games, both Alvarado and Graham has been efficient with their time on the court. The duo sport usage rates of 15.9% and 21.1%, respectively, while combining for 22.3 points per game. Zion Williamson instantly becomes the primary option on offense should Ingram be ruled out, but this rotation will be highlighted by the value it brings to the table.
Chicago Bulls @ Utah Jazz (-3.5)
Chicago Bulls (+3.5)
The Bulls take on a reeling Jazz squad and are all affordable. Moreover, the Jazz are ranked 24th in the NBA in defensive efficiency, making this game environment one of the best on the slate. There are four players of interest here: DeMar DeRozan, Zach Lavine, Nikola Vucevic, and Patrick Williams. While the duo of DeRozan and Lavine have the higher ceiling of the trio, Vucevic has the best matchup. The Bulls center has four double-doubles in his last five games where he has sported an 18.4% usage rate. Moreover, he has posted a 14.2/11.4/4 scoring line on 49.2% shooting. The Jazz rank 29th in the league against true centers, giving him the ceiling he needs at an affordable price tag. Lastly, Patrick Williams makes for an intriguing value play. He has now logged 26 or more minutes in four straight games, scoring in double digits in all four.
Utah Jazz (-3.5)
Exposure to the Jazz will depend on the status of Lauri Markkanen. Currently battling a knee injury, Markkanen collided with Deandre Ayton the other night and it did not look good. However, there has been no confirmation just yet, so be sure to monitor this injury report closely. Utah has drastically condensed their rotation and it makes for an interesting scenario for fantasy purposes. In a matchup against the Bulls, Collin Sexton, Jordan Clarkson, Malik Beasley, and Kelly Olynyk will log heavy minutes in a fast-paced environment. The Bulls are weakest on the wing, meaning Beasley will be intriguing off the bench, but look for updates in Discord once we get confirmation on Markkanen.
Indiana Pacers @ Los Angeles Lakers (-4.5)
Indiana Pacers (+4.5)
At the top of the pricing grid, Tyrese Haliburton is an intriguing play for tournaments. Not only does he currently lead the NBA in assists per game with 11.1, but the second ranked player, Trae Young, averages 9.1. There is a sizeable improvement in Haliburton's playmaking and a matchup against a Lakers defense that ranks 28th versus primary ball handlers is hard to pass on. However, both Myles Turner and Buddy Hield are intriguing options as well. The two have been at the center of trade rumors with their opponent and certainly have something to prove. Turner will have no minutes concern given the need to have him match Anthony Davis in the paint, while Hield gets a friendly matchup versus a Lakers defense that ranks 27th against wings.
Los Angeles Lakers (-4.5)
Exposure to the Lakers depends on the status of Anthony Davis. While LeBron James is also listed as questionable, there is little doubt that he will play. However, a calf injury forced Davis to miss the second half of a back-to-back against the Spurs. Nonetheless, there are elite options are both ends of the pricing grid here. Obviously, at the top, both James and Davis are strong options. Moreover, Dennis Schroder has now logged 20 or more minutes in four straight games. While he is clearly the third, if not fourth option on offense, he has been efficient on offense with limited opportunity while posting just under one DraftKings point per minute. Not only do the Lakers lead the NBA in pace, but their opponent is ranked sixth.
Honorable Mentions:
Atlanta Hawks @ Philadelphia 76ers (-1.5)
Phoenix Suns @ Sacramento Kings (-1.5)
You can find me on Twitter @BetsByGhost and in the Win Daily Discord
Nicholas Di Tommaso has been playing daily fantasy sports everyday for the past five years, in addition to his season-long expertise across various sports. He has since set out to combine his passions of finance and sports to successfully become a professional DFS player. Having multiple GPP wins over the course of the last year (2019), the Canadian known as "Ghost" is seeking bigger and better things in the future. Nick loves a healthy balance of both cash games and tournament play, but prefers the latter, especially in NFL and NBA, where he mostly plays single entry GPPs and 3-max tournaments. The Montreal, Canada native is looking to put Win Daily Sports on the map by representing the North of the border in all fields, specifically NBA, NFL, NHL, MLB, and eSports.