NBA DFS: Ghost's Gems 11/23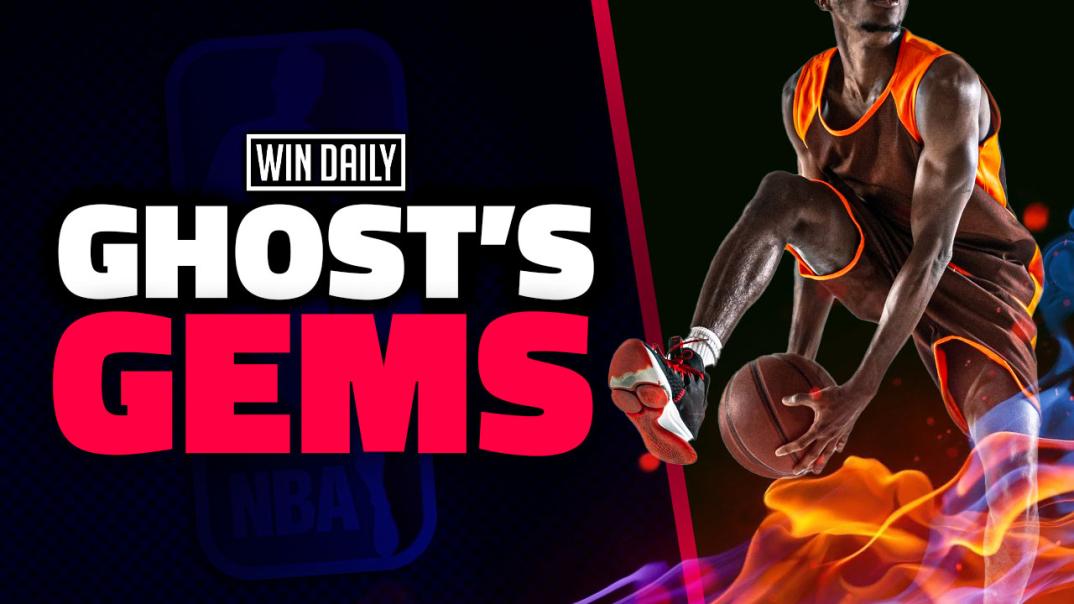 There are many elite game environments and plenty of stars on this NBA slate. Unfortunately, some have already been ruled out and will be missing in action. Injuries have derailed slates over the last few weeks, and tonight is no different. It's a Wet Wednesday edition of the Gems – let's ride.
A single injury can alter an NBA slate. As has been the theme of the past few weeks, there hasn't just been one, but many major injuries to monitor. Thus, be sure to use our proprietary NBA projections and cheat sheet to build your lineups as the news rolls in. Moreover, join the conversation in the Win Daily Discord to get the insight you need from both subscribers and staff.
Philadelphia 76ers @ Charlotte Hornets (-4.5)
Philadelphia 76ers (+4.5)
I wrote up Shake Milton for yesterday's NBA and the same applies on the second half of a back-to-back: "Although he figures to be one of, if not the most rostered player on the slate, it will be hard to avoid Shake Milton tonight. Over his last two games, Milton has a 25.5% usage rate. Moreover, he has posted a 21/4.5/4 scoring line on 59.3% shooting, including 44.4% from deep." With Joel Embiid, James Harden, and Tyrese Maxey still out for the 76ers, Milton is as close to a free square as it gets.
Charlotte Hornets (-4.5)
In the absence of LaMelo Ball, Terry Rozier will carry this offense. However, with stronger intrigue for other guards on the NBA slate, I cannot find a spot for him in my NBA lineups. Thus, I'll be looking at Kelly Oubre Jr. and PJ Washington. Now, you don't have to force exposure to this offense. Rather, the two make for low rostered plays to get different. In their last two games since Ball reaggravated his injury, it is Oubre Jr., not Rozier, who leads the team in usage rate at 27.8%. Moreover, Oubre Jr. has posted a remarkable 28.5 points per game on 53.7% shooting in his last two appearances. Not only has Oubre Jr. been outperforming Rozier, but it is PJ Washington, not Rozier, who is second on the team in scoring in their last two. With the 76ers being forced to roll out a small lineup in the absence of Embiid, Washington will have ample opportunity in the paint.
Sacramento Kings @ Atlanta Hawks (-6.5)
Sacramento Kings (+6.5)
If you are looking for a back and forth between two elite offenses, this is the game for you. Turning heads in November, the Kings have been one of, if not the best team in the NBA lately. Not only do they currently have the #1 ranked offense, but they have a formidable duo in De'Aaron Fox and Domantas Sabonis complemented with elite shooting. If you have been following over the past few years, you already know how I feel about both Fox and Sabonis. Rather than writing them both up once again, I'll emphasize what Kevin Huerter brings to this offense. Sporting an 18.6% usage rate on the season, Huerter has posted a 16.6/2.9/3.5 scoring line on 50% shooting. Moreover, he has the seventh best three-point shooting percentage in the NBA at 49.5%. A tough matchup looms on the perimeter, but this offense is scorching.
Atlanta Hawks (-6.5)
Despite the Hawks cooling off after starting their season with a 4-1 record, Trae Young has been heating up. For the eighth consecutive contest, Young posted 20 or more points versus the Cavaliers. During that span, Young has a team-leading 33.3% usage rate and has posted a 25.9/3/9.6 scoring line on 42.1% shooting. While the Kings have greatly improved their team defense, they can still be beaten by primary ball handlers, allowing over 26 points and 8 assists per 36 minutes. Enter Young, who is one of the best to do it in today's NBA.
Los Angeles Clippers @ Golden State Warriors (-6.5)
Los Angeles Clippers (+6.5)
Lengthly injuries is once again costing the Clippers. It only gets worse, as both Kawhi Leonard (ankle) and Paul George (hamstring) are set to miss tonight's game. As a result, this is going to be one of the most interesting rotations on the NBA slate. There are different ways to get exposure here, depending on how the rest of your lineup shakes out. Reggie Jackson and Ivica Zubac figure to carry the bulk of the offensive looks in the starting lineup. The two are both averaging approximately 33 minutes per game over their last three. Moreover, Jackson has posted a 23.3/3/3.7 scoring line on 58.1% shooting during that span, while Zubac has the better matchup of the two with Golden State ranked 26th versus centers. If you want scoring power off the bench, both John Wall and Norman Powell are elite options on the slate as well.
Golden State Warriors (-6.5)
Amidst early season troubles, the Warriors seem to have their groove on offense. With the majority of their starters having rested last game, Golden State figures to be back at full strength tonight. Thus, there is a lot of firepower here between two Western Conference title contenders. In a matchup against the Clippers, the Splash Brothers will once again be at the focal point of the offense. Klay Thompson is coming off a season-high 41 points, making 10 of 13 three-pointers against the Rockets. Moreover, Steph Curry made seven three-pointers of his own, posting a 33/6/15 scoring line on 55% shooting. Sporting a 31.2% usage rate on the season, Curry has been posting better numbers than his unanimous MVP season, making him one of the best plays on the NBA slate.
Honorable Mentions:
Portland Trail Blazers @ Cleveland Cavaliers (-8.5)
Brooklyn Nets @ Toronto Raptors (-1.5)
New Orleans Pelicans @ San Antonio Spurs (+6.5)
You can find me on Twitter @BetsByGhost and in the Win Daily Discord
Nicholas Di Tommaso has been playing daily fantasy sports everyday for the past five years, in addition to his season-long expertise across various sports. He has since set out to combine his passions of finance and sports to successfully become a professional DFS player. Having multiple GPP wins over the course of the last year (2019), the Canadian known as "Ghost" is seeking bigger and better things in the future. Nick loves a healthy balance of both cash games and tournament play, but prefers the latter, especially in NFL and NBA, where he mostly plays single entry GPPs and 3-max tournaments. The Montreal, Canada native is looking to put Win Daily Sports on the map by representing the North of the border in all fields, specifically NBA, NFL, NHL, MLB, and eSports.