NBA DFS: Ghost's Gems 11/17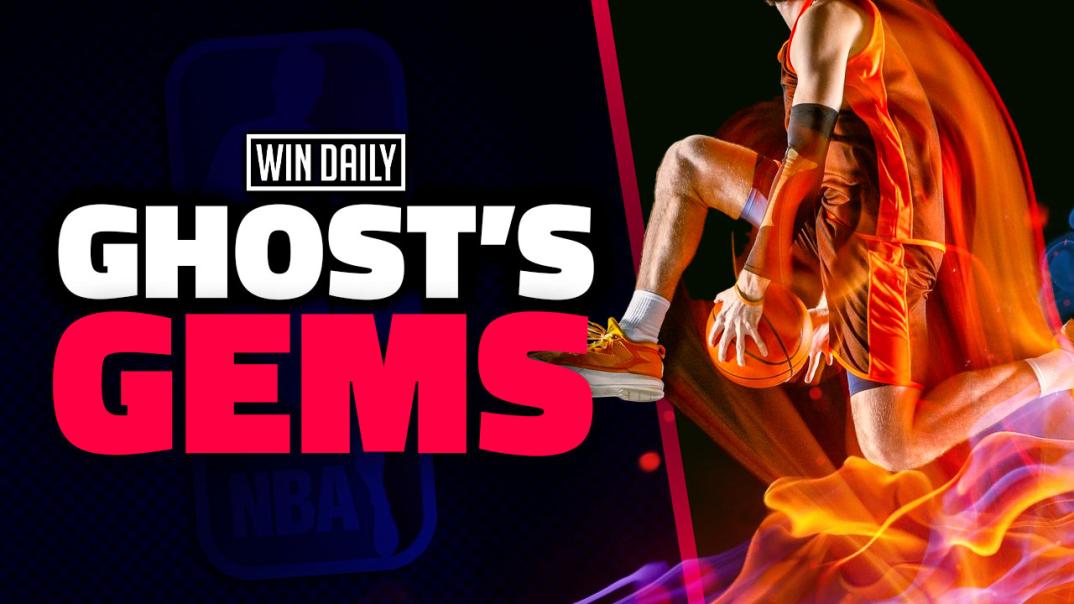 Tonight's NBA slate is one of the oddest the season has to offer. Not only are there only six teams in action, but all three games tipoff at 10pm EST. There are elite studs at the top of the pricing grid, while two of three games stick out above the other. It's a Thirsty Thursday edition of the Gems – let's ride.
With only three games on the schedule tonight, a single injury can alter the outlook of the slate. Thus, be sure to use our proprietary NBA projections and cheat sheet to build your lineups as the news rolls in. Moreover, join the conversation in the Win Daily Discord to get the insight you need from both subscribers and staff.
San Antonio Spurs @ Sacramento Kings (-6.5)
San Antonio Spurs (+6.5)
If you are looking to build a more balanced lineup for tonight's NBA slate, there are two Spurs to monitor. With the Kings ranked 28th in the NBA to wings, the duo of Devin Vassell and Keldon Johnson are once again at the forefront. While I have been fond of Vassell's game since his draft year, his point/dollar upside is limited given his reliance on scoring. Therefore, I prefer to target Keldon Johnson in this game. Leading the team with a 27.7% usage rate, Johnson is having a breakout campaign. Amidst the departure of Dejounte Murray in the offseason, Johnson has taken his offensive game to new heights. Not only is Johnson averaging a career high in points, but his efficiency has greatly improved. His 16.9 field goal attempts per game is also a career high, while still shooting 45.1% from the field. Moreover, Johnson is averaging nearly nine three-point attempts per game while shooting 42.3% from deep.
Sacramento Kings (-6.5)
Since I'll be turning to the top of the pricing grid in the next game, I'll recommend the Kings' role players in this spot. The key to this will be the availability of Keegan Murray. The rookie left last game with a back injury and did not return. Should he be forced to miss tonight's game, there are a trio of options to us. Kevin Huerter, Malik Monk, and Terence Davis will all see increased time should Murray sit out. While the field will likely chase Davis' 31-point outburst from last game, this is a prime spot for Kevin Huerter. Huerter has now made four or more three-pointers in his last three games, shooting 52.6% from deep and is in a great matchup. The Spurs currently rank last in the NBA versus off-ball spot-up shooters. Moreover, the Spurs rank 29th in three-point percentage allowed and 22nd in three-pointers made per game.
Brooklyn Nets @ Portland Trail Blazers (-2.5)
Brooklyn Nets (+2.5)
After an embarrassing 32-point loss to the Kings on Tuesday, the Nets' week has been filled with drama. Not only did the Nets get humiliated on the road, but Kevin Durant later questioned the talent of the team's roster in a press conference. Considering Durant has never held anything back in the media before, this shouldn't be all that surprising. However, he needs to come out and dominate this game more so than ever now. Despite the hefty price tag, there is no better bet than Durant leading the NBA slate in scoring. Whether he is optimal remains to be seen, but having the slate's leading scorer in your lineups is never a bad thing. Simply put, there is no one on the Trail Blazers that can guard Durant.
Portland Trail Blazers (-2.5)
If you are looking for a back and forth in the best game on the NBA slate, Damian Lillard is an elite target. However, rostering both he and Durant severely limits your options with the remaining spots in your lineup. Thus, I want to highlight the duo of Jerami Grant and Anfernee Simons. Specifically, the former has been on a tear lately. Sporting a 27.4% usage rate during their last three games, Grant has posted a 31/7.3/2.3 scoring line on 56.1% shooting. Moreover, he has scored 27 or more points in all three games. Likewise, Simons has been producing well also. Simons is no slouch either, sporting a 26.5% usage rate and carrying a 23.3/4.3/3.3 scoring line on 38.9% shooting during the same span. With Simons having attempted a whopping 34 three-point attempts in his last three games, including ten or more in all three appearances, he has the ability to drastically alter this slate. The Nets currently rank 28th in the league in three-point percentage allowed and allow 13.5 three-pointers made per contest, good for 27th in the NBA.
Detroit Pistons @ Los Angeles Clippers (-9)
Detroit Pistons (+9)
Of the three games on tonight's NBA schedule, this is far and away my least favorite. However, with Cade Cunningham set to miss a fourth consecutive game, there will be intrigue here. In the absence of Cunningham, Jaden Ivey and Bojan Bogdanovic have led the the team in usage at 28.6% and 27%, respectively. While Bogdanovic has led the team in scoring during that stretch, it is Ivey who has a better matchup tonight. With the Clippers ranked 25th in the league versus primary ball handlers, this has been a matchup we've picked on for the longest time. Ivey has posted a 19/3.7/5 scoring line on 42.9% shooting in his last three without Cunningham, making him the preferred target in this one.
Los Angeles Clippers (-9)
As mentioned above, this is my least favorite game of the three on tonight's NBA slate. Thus, I have little intrigue in the Clippers offense. However, what can shake things up is the availability of Paul George. The Clippers star is currently questionable with a hand injury. Considering this is the team's third game in four days, there is a serious chance he sits out tonight. Should that be the case, John Wall is an elite target in the mid range. Currently second on the team in usage rate at 28.2%, Wall has been efficient with his time on the court. It has been five straight games where Wall has scored in double digits, posting a 13.6/3.4/5.6 scoring line on 42.6% shooting. Additionally, the Pistons currently rank last in the NBA against primary handlers.
You can find me on Twitter @BetsByGhost and in the Win Daily Discord
Nicholas Di Tommaso has been playing daily fantasy sports everyday for the past five years, in addition to his season-long expertise across various sports. He has since set out to combine his passions of finance and sports to successfully become a professional DFS player. Having multiple GPP wins over the course of the last year (2019), the Canadian known as "Ghost" is seeking bigger and better things in the future. Nick loves a healthy balance of both cash games and tournament play, but prefers the latter, especially in NFL and NBA, where he mostly plays single entry GPPs and 3-max tournaments. The Montreal, Canada native is looking to put Win Daily Sports on the map by representing the North of the border in all fields, specifically NBA, NFL, NHL, MLB, and eSports.